Learn UX design and grow your career
Take all our online courses. Pay a flat fee
Get industry-recognized Course Certificates (see example)
Self-paced: never miss a class or deadline.
Specialized in design—that's why the industry trusts us.
Don't know where to start?
UX Designer Learning Path
Become a great UX Designer with 10 courses in 4 parts. As a UX Designer, you are an expert in the user-centered design process and play a jack-of-all-trades role—this learning path allows you to gain a keen sense of usability, psychology, and business to excel in your job.
Part 1: Foundation (2 courses)

These foundation courses provide an excellent introduction to UX design and are recommended for everyone.

Part 2: UX Designer Beginner (2 courses)

Learn the basics of UX design and how to run a user-centered design project, as well as how to build your UX portfolio.

Part 3: UX Designer Intermediate (2 courses)

Get equipped with the most important tools of the UX designers toolbox—UI design and user research.

Part 4: UX Designer Advanced (4 courses)

Gain holistic knowledge so you can make your UX project matter not only to your users, but also inside your organization.
Unable to get your desired learning path. Please try again later.
Beginner user experience courses
Intermediate user experience courses
Advanced user experience courses
UX design is a booming industry
Job opportunities are increasing for UX Designers like never before (an estimated 13% increase from 2010 through 2020), and UX Designer wages are soaring – in fact, upwards of $110k in cities such as San Francisco and New York.1
Job Opportunities
UX Designer Pay
Gain Industry-recognized UX Certificates
Use your certificates to make a life-changing shift into UX or stay ahead in your UX career. Salaries are among the highest in the world.
76,472 members (and counting) have advanced their careers with the IDF. See reasons to join.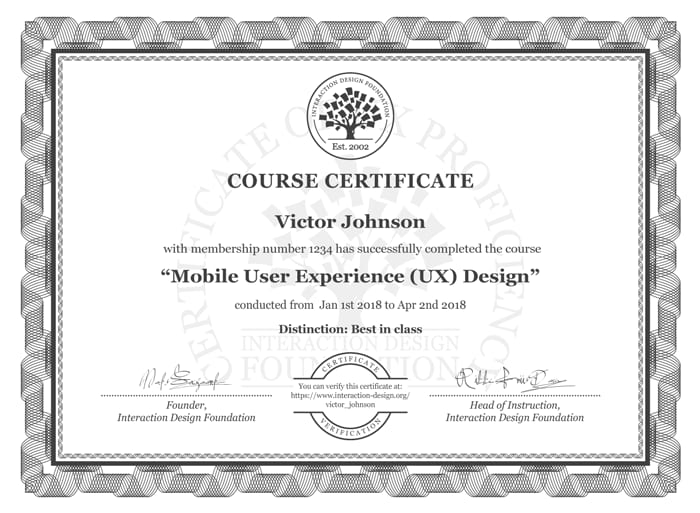 How it works
Take lessons by industry experts

Lessons are self-paced so you'll never be late for class or miss a deadline.

Get a Course Certificate

Your answers are graded by experts, not machines. Get an industry-recognized Course Certificate to prove your skills.

Advance your career

Use your new skills in your existing job or to get a new job in UX design. Tap into our community to help you.
Design faster with our exclusive resources
Want to create a user persona? Just fill out our template.
Throughout our courses you'll find 100+ exclusive templates and guides that help you learn and execute super fast.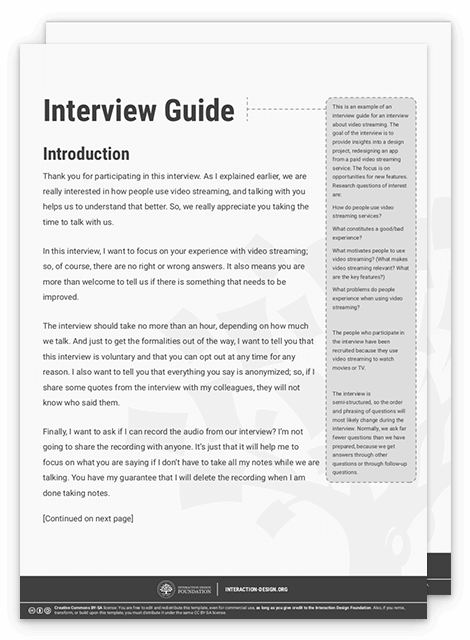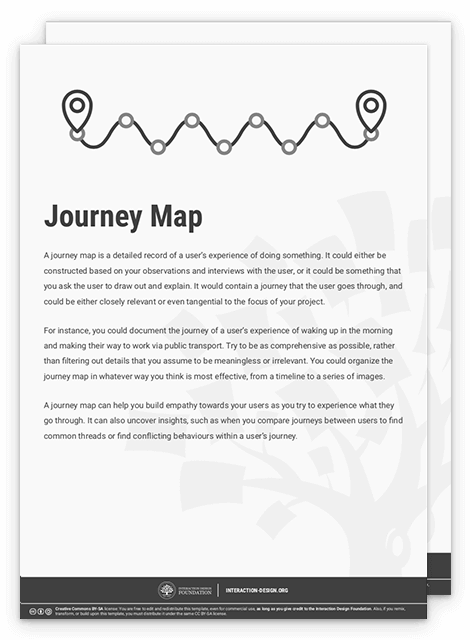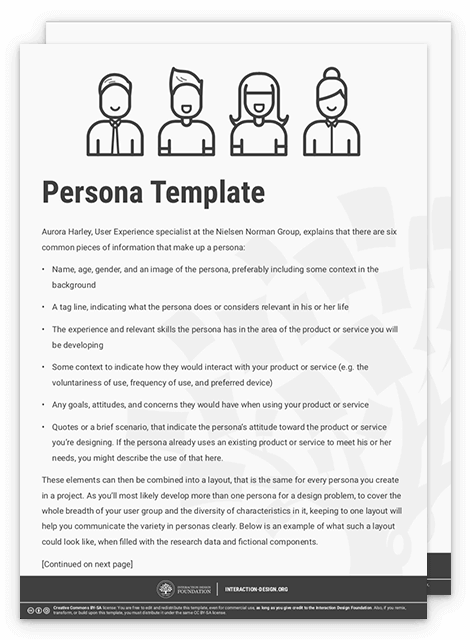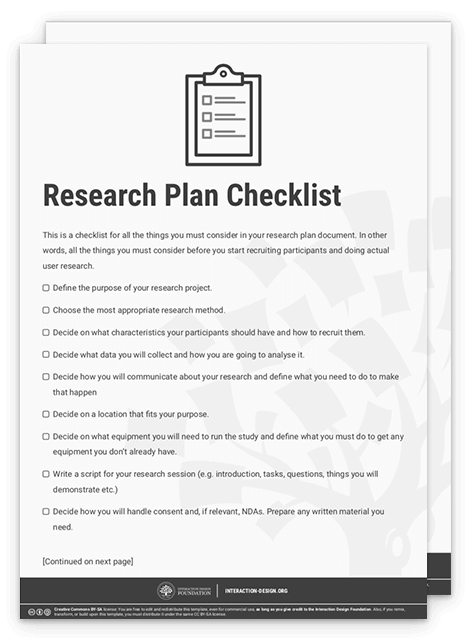 What are others saying?

The course certificates I earned helped me prove my newly acquired UX design skills at my place of work. It's an honor to be part of your organization, and I am looking forward to growing and contributing to the field, thanks to your amazing courses.
Vera Dragilyova
, United States

I've just published my first UX case study in 3 months of joining the IDF and I'm so happy about it! It wouldn't have been possible without the IDF—thank you for providing such a great platform for young designers to learn and practice UI / UX design.
Preeti Rana Mehalwal
, United States

I originally joined the IDF to get a job in UX. Back then, I just graduated from university, and used the IDF courses to get industry-relevant skills. The courses are very high quality, and when I put my certificates on LinkedIn and my resume it helped me land a job.

My IDF membership has paid itself about 20 times after getting a pay raise based on my new skills. The education provided by the instructors, designers, and support staff at IDF is superb. I have learned so much in such a short time, and all of it has been applicable to my professional goals. Truly, a world class experience.
Clayton Whittle
, South Korea

Thank you for providing such wonderful, university-level design education! I found that IDF courses are incredibly in-depth and specialized in UX design. It's no wonder IDF course certificates are trusted by employers.

The courses I've taken have opened many doors for my career. I wanted to say thank you! IDF is just the best thing ever. Just ever! Simply awesome!
Phillip Dodson
, United States
Your courses have been life-changing! I have embarked on a new career starting with the courses on your website. I'm grateful to have come across your foundation that will allow me to continue to build my career as a designer without having to spend a fortune and feel the stress on top of what comes with other family responsibilities.
Anu Vilvala
, United States
I'm definitely enjoying the courses so far, and looking forward to learning more. The website is an incredible resource for learning UX design skills and industry best practices. Big thanks for creating such a treasure trove of courses.

I am recommending membership for IDF to everyone in this space—and everyone buys in because it's so incredibly industry-relevant.
Dereck du Toit
, South Africa
IDF is the right place for you if you're in search for the perfect balance between academic rigor and practical relevance… Sometimes you need more than learning. You need someone to believe in you, because motivation is more important than knowledge. Motivation is what pushes you to learn. Interaction Design Foundation is all about that.

You are a great team of human, cognitive and pedagogy centered professionals. I'm really glad that I've become a member and have all of these tons of information for self-paced learning!
Fernando Martinez Carreon
, Mexico

For a while I had been looking for online interaction design courses and I am really happy I found you guys. You're doing a great job!
Gisele Le Chevallier
, Norway

I became a member of the Foundation to learn specifically about dashboards and to improve my English language skills. But I had a great surprise when I found that I could learn so much more! I always thought that online courses had a very limited grasp in learning, but the way that all the content was structured showed me that it is possible to build really good stuff in this format!

Interaction Design Foundation offers a fantastic catalog of UX courses. Members can take unlimited courses for free!
Darren Hood
, United States

What a great lesson by Frank Spillers on Mobile UX Design at Interaction Design Foundation!!

I will definitely refer my friends to join the Interaction Design Foundation. 'Innovative' and 'Informative' are the two terms that describe the Interaction Design Foundation.

My first impression of the site: brilliant design, almost perfect UX. I felt at home immediately!
Frequently asked questions
Course introduction
How much will I have to pay for the courses?

As a member, you can take as many courses as you want with no additional costs. This means you only have to pay our membership fee to take an unlimited number of courses. There are no further charges on top of the membership fee.

Can I take more than one course at a time?

Yes, you can take as many courses as you would like. For example, if there are 30 active courses, you can enroll in all 30 courses at the same time and move from one to the other as you please.



There are no further charges once you have paid for your membership.


Please note: If you have a student membership, you can take a maximum of two courses at the same time. As a student, you can thus still take as many courses as you would like – free of extra charges – just as long as you finish them (or drop them) so that you don't have more than three ongoing courses at the same time. Please note that if you drop a course, progress is not transferable between cycles. So, you'll have to redo the lessons and answers you already completed in the current cycle.

Can I get my manager to pay for my membership?

Here is how to get your manager or company to pay for your membership:

Get approval from your manager (e.g. using the email template below).
Please pay with your credit card (either your own or your corporate credit card).
Your invoice will instantly be ready — and we can modify it to meet your manager's requirements.
You and your manager are protected by our 30-day money-back guarantee.


Example email for your manager



Dear manager,


I would like to get reimbursement for my membership of the Interaction Design Foundation. This membership can benefit our team and company in the following ways:

I can enroll in all the Interaction Design Foundation's self-paced, online courses (in my spare time), which will help me complete current projects with a better result.
I can network with peers from all over the world and find out how others have addressed issues we are currently facing.
I will be able to continuously educate myself on UX topics through the Interaction Design Foundation's courses and eBooks. I can use my newfound knowledge to save our company from hiring someone to do certain UX tasks in the future.
I can get a mentor from the Interaction Design Foundation's members from companies like SAP, Google, Apple, Oracle, and universities like Stanford, MIT, Carnegie Mellon, Cambridge and many more.
Because of the breadth of educational materials I will be able to learn how to solve specific design problems. And I can acquire new skill sets that our company is lacking.
I would like to offer to share the key take-aways from the courses with my team.

PS: To give you some background, the Interaction Design Foundation is an educational foundation comprising the world's design and UX elite, and you can read more about the foundation at

https://www.interaction-design.org/about

I missed the enrollment date and now the course is closed. Will I have any opportunity to take the course in the future?

Don't worry if you missed the course. We will re-run it shortly. One of the reasons we continually open and close courses is to be able to control the classroom size.

Networking is a large part of our value proposition, so we want just the right number of people inside the courses. That is also why we display the "XX % percent booked" on our course icons.

We'll re-schedule the course and make it available for sign-up on https://www.interaction-design.org/courses in only about a week (or perhaps a little bit longer). The actual start date of the course will be a few weeks after sign-ups begin too. We've found that this is the best way to maximize flexibility and convenience for everyone, especially you as you put your course program together.