Choosing a UX Design Bootcamp can be daunting and overwhelming. From the wealth of choice, to varying price points and reviews, it's difficult to know where to start. We're here to help! This comparison looks at Springboard's and the Interaction Design Foundation's Bootcamps in terms of time commitment, cost, content, career opportunities and more. By the end of this, you should be in a much better (and more relaxed) position to make an informed decision, and the right one for you.
We're discussing Springboard UI/UX Design Bootcamp and UX Bootcamp and the IxDF Bootcamps, to help you along your UX design journey. In particular, we will cover course topics, approach, grading and tutors, community, cost, and career opportunities. Check out our other comparison pieces, Google UX Design Professional Certificate, CareerFoundry and General Assembly, for more guidance.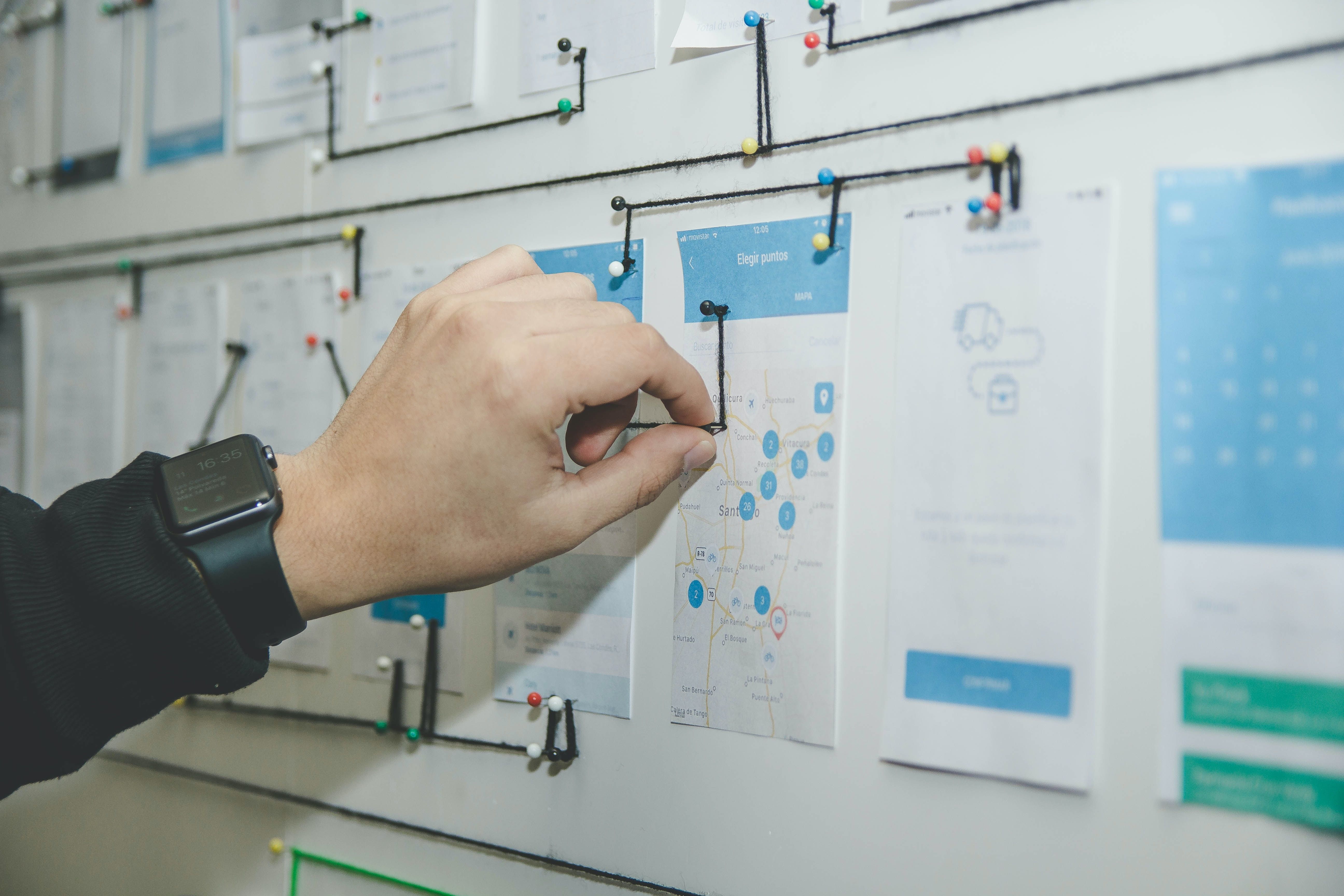 ©Alvaro Reyes, Unsplash License
Overview
The Springboard UX Bootcamp and the UI/UX Design Bootcamp are a 6-month and 9-month part-time, online program respectively. Both are aimed at beginners who want to expedite their entry into the UX industry.
You can expect a similar experience from most UX bootcamps: short-term (under a year) online, remote, part-time, foundational and career guidance and mentorship for the aspiring designer. Bootcamps will equip you with valuable, relevant knowledge and provide you with the experience needed for an entry-level UX job. Perhaps the most important factors in selecting a bootcamp or UX certification are your specific budget and needs.
Both Springboard's Bootcamps are part-time, completely remote and open to people from all over the world.
The IxDF offers 4 Bootcamps (UX Portfolio and Career, UX Fundamentals, User Research and User Interface Design), and hosts regular Master Classes. The entire IxDF bouquet is 100% remote; you can live anywhere in the world to be an IxDF student. In addition, the IxDF offers over 30 courses covering different fields and topics within UX design, for varying levels of experience, all of which are included in the flat membership fee.
All IxDF bootcamps are 12 weeks long, part-time and apart from the live sessions, are flexibly paced too. Students work on guided projects and at the end of each Bootcamp, have a complete project to include in their portfolio. The UX Fundamentals bootcamp is designed for beginners, while UX Portfolio and Career helps you build on your portfolio and further advance your UX career. The User Research and User Interface Design bootcamps allow you to specialize your skillset and make you more competitive in the job market.
Content and Topics
In terms of content, the IxDF bootcamp UX Fundamentals is the most like Springboard's 6-month UX Bootcamp; however, Springboard's bootcamp is for individuals with at least 1 year of working experience (in areas related to UX design) while UX Fundamentals is for beginners. The Springboard 9-month UI/UX Bootcamp, on the other hand, is for people from all backgrounds, no previous experience required.
The learning outcomes for the IxDF and Springboard UX bootcamps include:
A comprehensive understanding of the UX field, why it's important and up-to-date industry insights.

A deep dive into key design principles and concepts of UX design.

How to empathize with users and conduct user research in order to create personas, prototypes and user journey maps and oversee surveys and interviews.

How to apply the five stages of the design thinking process: empathize, define, ideate, prototype, and test.

Understand the foundations of interaction design.

How to build a UX portfolio to land yourself a UX role, and what the typical UX designer deliverables are.

Working with UX teams and understanding design processes.
Springboard UI/UX and the IxDF User Interface Design cover these additional learning outcomes:
Understand the difference between UX and UI.

UI design roles and the skills needed to land them.

Learn about UI principles, terminology, trends and methodologies such as accessibility, design patterns and usability.

Handoff and presentation skills.
The IxDF User Interface Design bootcamp goes even deeper into UI design. In addition to the above, you can expect to learn about gamification and animation in interface design as well as concepts from cognitive science and service design.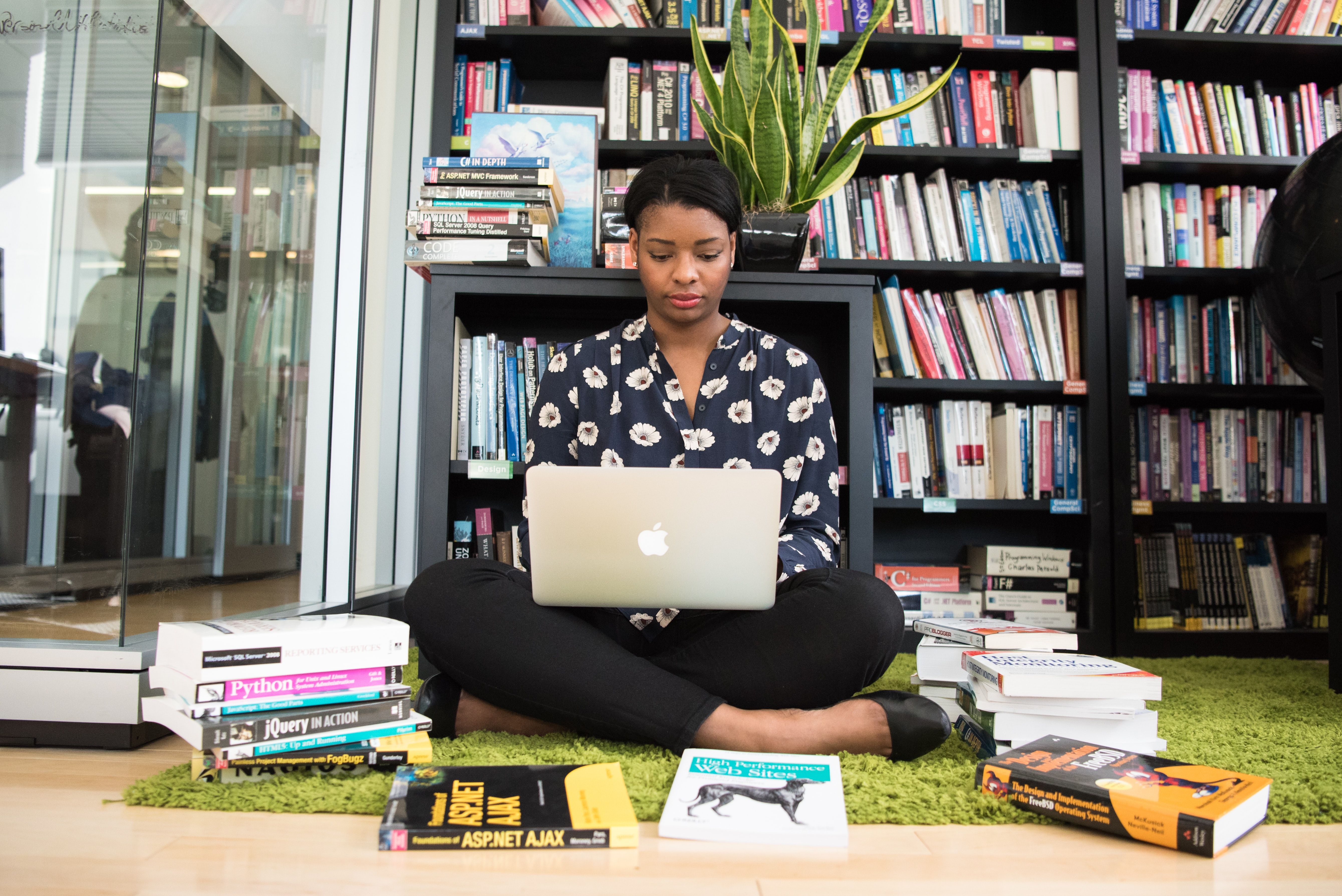 ©Christina @ wocintechchat.com, Unsplash License
Approach
Keeping a student engaged, inspired and committed is a challenge for any learning platform or education provider. Bootcamps have become exceedingly popular because of their practical and hands-on approach. Few of us can quit our jobs to switch to a new career, so bootcamps are designed to get you industry- and job-ready in the shortest time possible while you carry on working. As discussed, both the IxDF and Springboard are remote and part-time to accommodate your personal and professional commitments. Ensure you check the recommended time commitment before enrolling.
Delivery
Springboard
Part-time and flexibly paced

Completely online and remote

15-20 hours a week

A mix of reading, theory, group and individual practical projects
IxDF
Part-time and flexibly paced

Completely online and remote

8-10 hours a week

A mix of reading, theory, group and individual practical projects
As mentioned, Springboard's UI/UX bootcamp is open to people from all backgrounds—previous experience isn't required. Whereas their UX bootcamp recommends you have at least 1 year of experience in a related field.
The IxDF caters to all experience levels, whether you're a rookie with an interest in UX design or a UX professional looking to upskill. Courses range from beginner to advanced and all bootcamps are beginner-friendly; however, UX Portfolio and Career requires prior experience.
Balance of Theory and Practice
IxDF Open-Source Literature Library: More theoretical with practical tips and insights.
IxDF Courses: Slightly theoretical, with optional portfolio and practical exercises.
IxDF Bootcamps: Mostly practical, with a mentor-guided portfolio project.
IxDF Master Classes: 50:50, with expert's industry insights.
Springboard Bootcamps: Slightly theoretical with practical exercises and assignments.
Check out the infographic below for the full range of IxDF bootcamp benefits.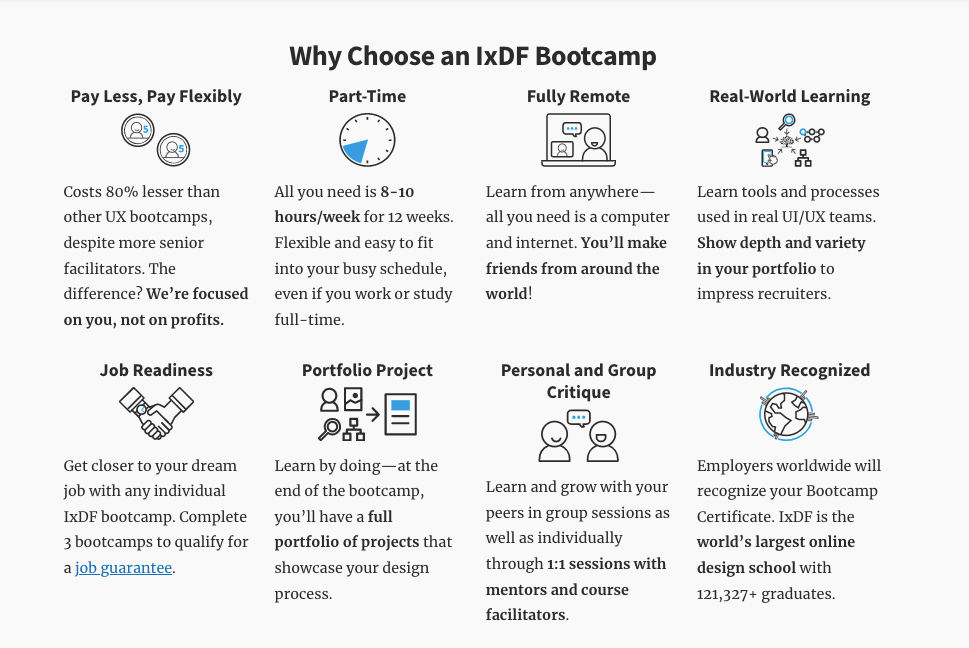 A portfolio is a fundamental requirement for becoming a UX and/or UI professional; you won't land a job without one. Bootcamps will provide you with the foundational knowledge so that you understand design principles, techniques and methodologies, but also you will work on several practical projects that you can add to your growing portfolio.
IxDF Bootcamps are flexible and only require 8-10 hours of work per week for 12 weeks. For a full comparison in terms of time, interaction, theory and balance, see the comparison table below. IxDF courses on the other hand, grant you full access with no time limit for completion. Lessons are spread over several weeks, which vary from course to course.




IxDF Open-Source Literature

IxDF Courses

IxDF Bootcamps

IxDF Master Classes

Springboard UX Bootcamp

Springboard UI/UX Bootcamp

Price

Free for everyone

Free for members

$10-17 USD per month for membership

$3,000 or $2,800 paid upfront

$5 For Members

$50 For Non-Members

$7,900 with payment plans available

$11,900 with payment plans available

Time Commitment

A few minutes to ∞

15-30 Hours spread over several weeks, depending on course

8-10 hours per week

1-2 hours once-off

15-20 hours a week

15-20 hours a week

Time Limit

None

None

10 Months

None (Available On Demand)

6 months

9 months

In-Person interaction

None

Local Meet-Ups (optional)

1:1 Professional Mentoring + Peer-based cohorts

Expert-Led + Q & A

1:1 Professional Mentoring + Peer-based cohorts





1:1 Professional Mentoring + Peer-based cohorts




Theory & Practice Balance

More theoretical with practical tips and insights

Slightly theoretical, with optional portfolio and practical exercises

Mostly Practical, with a mentor-guided portfolio project

50:50, with expert's industry insights

50:50

50:50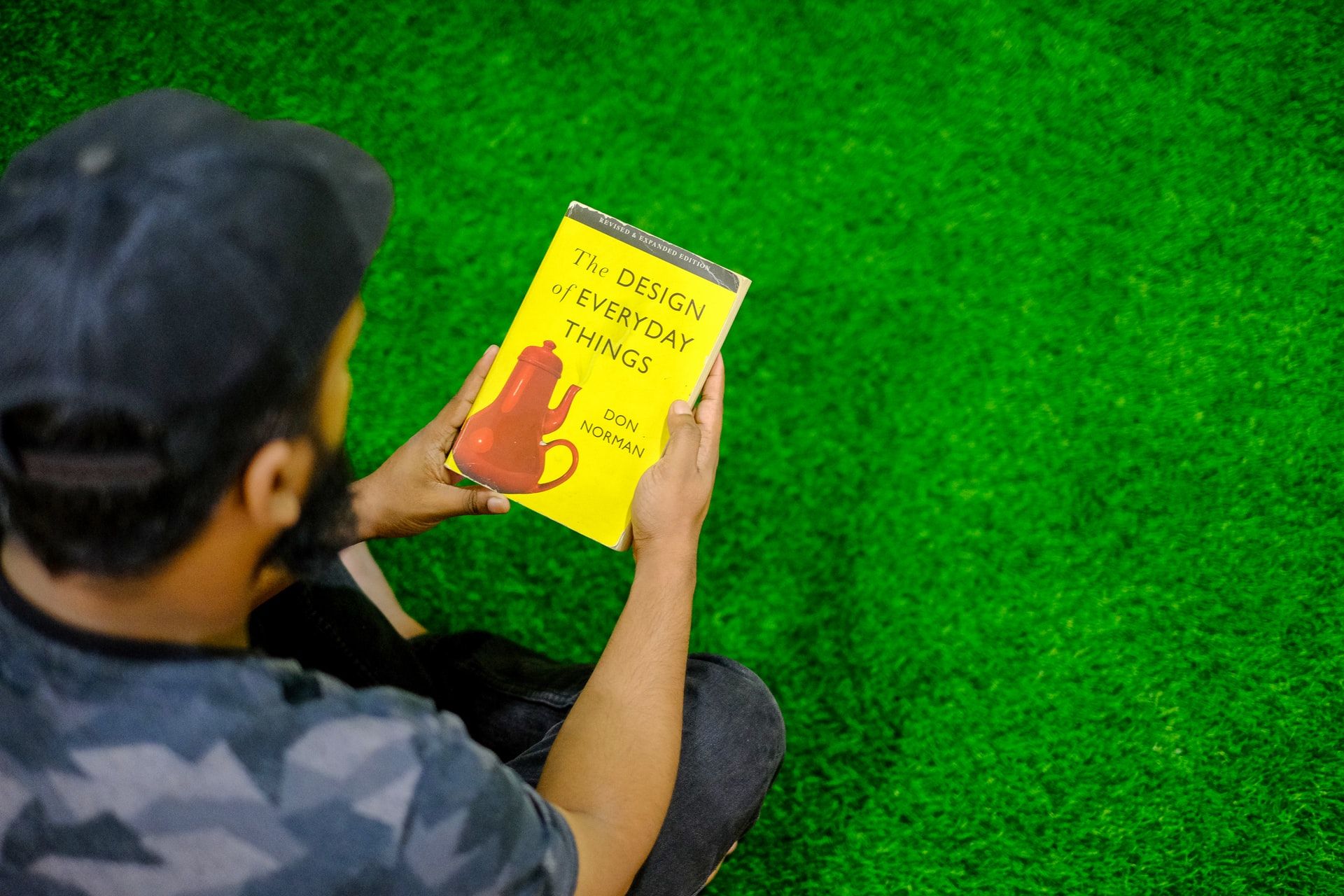 ©Ofspace Digital Agency, Unsplash License
Grading and Tutors
In order to graduate from your bootcamp or online courses, you must complete (and pass) various assignments and tests to complete your course and receive your certification.
Both Springboard's and the IxDF's curriculum have been designed by a range of UX professionals with industry-relevance, practicality and application in mind. Similarly, your assignments will be graded by experts and course instructors whose experience come from the broad spectrum of the UX design field.
Both the IxDF and Springboard offer 1:1 mentoring. With Springboard you will also have access to a student advisor, career coach and hiring manager reviewer. They're there to guide you, answer all your questions and help you to be successful in your program and subsequent job search.
As an IxDF bootcamp student you'll be personally matched with a mentor from a curated pool of 200+ experts. Your mentor will give you personalized guidance, inspiration and insights into the industry, help you with your portfolio and future job search. You will also engage with your Course Coordinator and bootcamp Facilitator, who will lead your weekly live class sessions, run workshops, attend progress reviews and support 1:1 sessions with students, host Q&A sessions and provide group critique sessions.
Community
UX design is a growing industry with a thriving community—and by becoming a UX design student, you become connected to that community. Both Springboard and the IxDF are established online learning providers, so you'll have access to their vast online communities. In addition, IxDF bootcamps are cohort-based and have a large network—you will get to join and interact face-to-face with the broader UX community almost immediately.
On top of all of that, the IxDF have Local Groups so you can meet like-minded people offline, make valuable connections and who knows, maybe even meet your future employer. With close to 500 groups in 100 countries, you can grow your network by simply attending a virtual or in-person meetup. Don't see a local group in your area? You can start one! It's important to note that being a UX designer is not a requirement; you just need an interest and an appetite to learn.
Cost
Springboard: The 6-month UX Bootcamp is $7,900 and the 9-month UI/UX Bootcamp is $11,900. Payment plans are available.
IxDF Bootcamps: Cost $3,000 if you choose to pay through a payment plan, but you can save $200 and pay $2,800 if you settle upfront.
IxDF Membership: $10-17 USD per month, paid yearly. Includes full access to all 30+ courses and a special members rate of $5 per Master Class.
Career opportunities
You already know how important portfolios are, and bootcamps reflect that in their emphasis on portfolio projects and preparation. At the end of your bootcamp, you will be job-ready with a portfolio to back it up. While all IxDF bootcamps help you build up your portfolio, if you're looking to strengthen and refine your portfolio and get extra help with your UX career, the IxDF UX Portfolio and Career bootcamp is the ideal choice.
Springboard's career coach will help you during your job hunt and can give networking, resume and interview tips. With Springboard's Job Guarantee, you can get 100% of your tuition refunded if you don't land a job within 6 months of graduating.
As mentioned above, your IxDF mentor will help you with your portfolio and offer individualized guidance for your new career path. The IxDF also offers a job guarantee; if you complete 3 IxDF bootcamps, you can apply for The IxDF Certification Program which will equip you with a globally-recognized certification, a polished portfolio and job guarantee that will get you hired in a junior, mid-level or senior UX role.
What's next?
After reading through this comparison piece (and the others) we advise that you thoroughly research all your options; after all, this is an investment of your time, money and career. Reach out to the various schools you're interested in; they'll be more than happy to help.
Already completed the Springboard Bootcamp? Keep it up! If you're looking for a new challenge or new job, broaden or specialize your skillset through an IxDF course, Bootcamp or Master Class.
The Take Away
The Springboard and IxDF bootcamps are much alike in content, experience, guidance and program delivery. Both schools offer a remote and part-time experience, provide a firm foundation in UX design, and equip you with the skills and opportunities to successfully break into the field or switch careers. The main differences between the two offerings are the length of the program, the cost and the experience level. The Springboard bootcamps are 6 and 9 months, $7,900 and $11,900 respectively (versus 12 weeks and $2,800). While their UX bootcamp suggests that you have at least one year of related experience, both Springboard bootcamps are aimed at UX newcomers. The IxDF also caters for beginners, but there are opportunities for seasoned professionals to upskill through bootcamps, courses and master classes. IxDF bootcamps are 12-weeks long, flexibly-paced, remote and cost $3,000. And there it is, an overview of two schools and their great programs; it's up to you to do the rest! We wish you well on your UX design journey.
References and Where to Learn More
Learn more about IxDF Bootcamps: https://www.interaction-design.org/bootcamps
Find out more about Springboard's UX Design Bootcamp: https://www.springboard.com/courses/ux-career-track/
And Springboard's UI/UX Bootcamp: https://www.springboard.com/courses/ui-ux-design-career-track/
Learn more about IxDF Master Classes: https://www.interaction-design.org/master-classes
Check out the IxDF's online courses: https://www.interaction-design.org/courses
For more resources on building a UX Design portfolio, see these: https://www.interaction-design.org/courses/how-to-create-a-ux-portfolio
https://www.interaction-design.org/bootcamps/ux-portfolio

Apply for the IxDF Job Guarantee Certification: https://www.interaction-design.org/bootcamps/job-guarantee
Image
Hero Image: © UX Indonesia, UnSplash License