Bringing Numbers to Life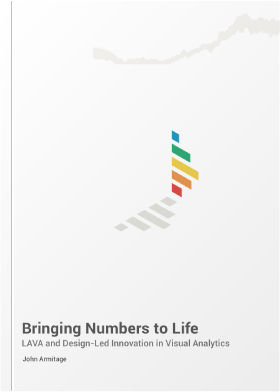 The evolving digital landscape is changing how we interact with numbers in our work and personal lives. The Internet, unprecedented data creation & access, accelerating computing power, dynamic digital displays, social networks, and mobile content consumption are enabling breakthroughs in how quantitative data is presented, manipulated, and acted upon. In parallel, the Design Thinking movement is popularizing innovation methods long known by designers, allowing us to challenge deep-seated conventions of how the built world appears and behaves.

Bringing Numbers to Life: LAVA and Design-Led Innovation in Visual Analytics presents the context, process, and results of a multi-year investigation, at business software giant SAP, into how computing technology can better enable people to discover and make sense out of the numbers that impact them. The results will change how you view quantitative information. The story will empower you to achieve design goals despite seemingly impossible resistance. The book is packed with full-color and detailed examples, and includes Web access to videos, animations, documents, and design artifacts from the project.

John Armitage is a strategic digital product designer and practice leader. During his 25-year career in the software industry, he has performed principal designer and team/practice leadership roles in consulting and development organizations. Since 2002, he has led user experience design teams with Peoplesoft, BusinessObjects, SAP, and Host Analytics.