UX Designers consider the Why, What and How of Product Use
As a UX designer, you should consider the Why, What and How of product use. The Why involves the users' motivations for adopting a product, whether they relate to a task they wish to perform with it or to values and views which users associate with the ownership and use of the product. The What addresses the things people can do with a product—its functionality. Finally, the How relates to the design of functionality in an accessible and aesthetically pleasant way. UX designers start with the Why before determining the What and then, finally, the How in order to create products that users can form meaningful experiences with. In software designs, you will need to ensure the product's "substance" comes through an existing device and offers a seamless, fluid experience.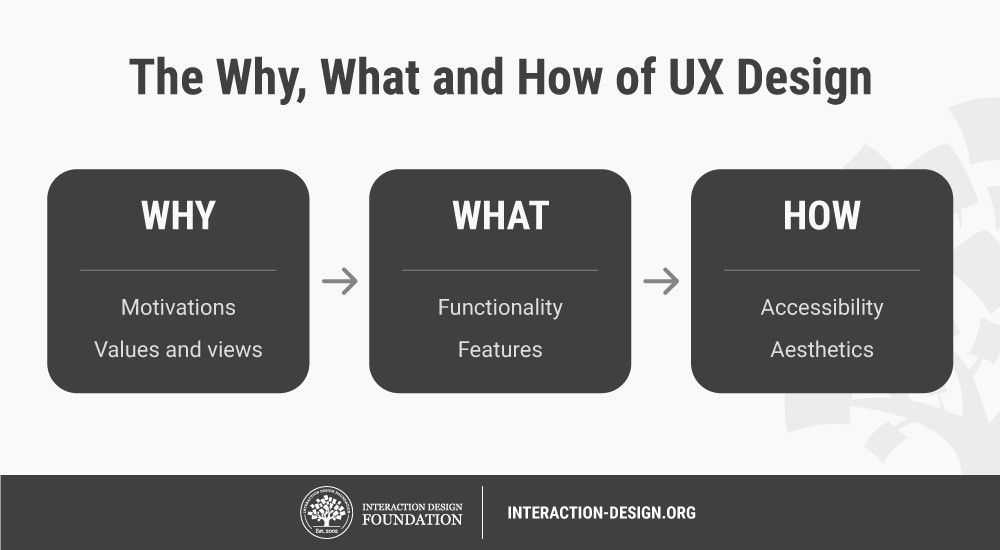 UX Design is User-Centered
Since UX design encompasses the entire user journey, it's a multidisciplinary field – UX designers come from a variety of backgrounds such as visual design, programming, psychology and interaction design. To design for human users also means you have to work with a heightened scope regarding accessibility and accommodating many potential users' physical limitations, such as reading small text. A UX designer's typical tasks vary, but often include user research, creating personas, designing wireframes and interactive prototypes as well as testing designs. These tasks can vary greatly from one organization to the next, but they always demand designers to be the users' advocate and keep the users' needs at the center of all design and development efforts. That's also why most UX designers work in some form of user-centered work process, and keep channeling their best-informed efforts until they address all of the relevant issues and user needs optimally.

User-centered design is an iterative process where you take an understanding of the users and their context as a starting point for all design and development.
Learn More about UX Design
You can read and watch more about UX design from the inventor of the term, Don Norman, right here:https://www.nngroup.com/articles/author/don-norman/
Medium.com has a wealth of insightful, funny and inspiring material on UX. Start reading here: https://medium.com/tag/ux
If you want to start learning how to work in UX Design now, the Interaction Design Foundation's online courses are a great place to begin. You can read more about all the courses we offer here: https://www.interaction-design.org/courses