Information Architecture
Your constantly-updated definition of Information Architecture and collection of topical content and literature
What is Information Architecture?
Information architecture (IA) is the discipline of making information findable and understandable. It includes searching, browsing, categorizing and presenting relevant and contextual information to help people understand their surroundings and find what they're looking for online and in the real world.
IA is used in physical spaces like museums or department stores, as well as in websites and applications. For instance, in a natural history museum, you will find fossils from the Jurassic period exhibited together, just as your favorite packet of chips will always be in the snack aisle of your supermarket.  
Information architecture operates from two perspectives:
People perceive information, products and services as places made of language. 

These places or information environments can be arranged for optimal findability and understandability.
Language in this instance means visual elements, labels, descriptions, menus, content. We can arrange this language so that it works together to facilitate understanding.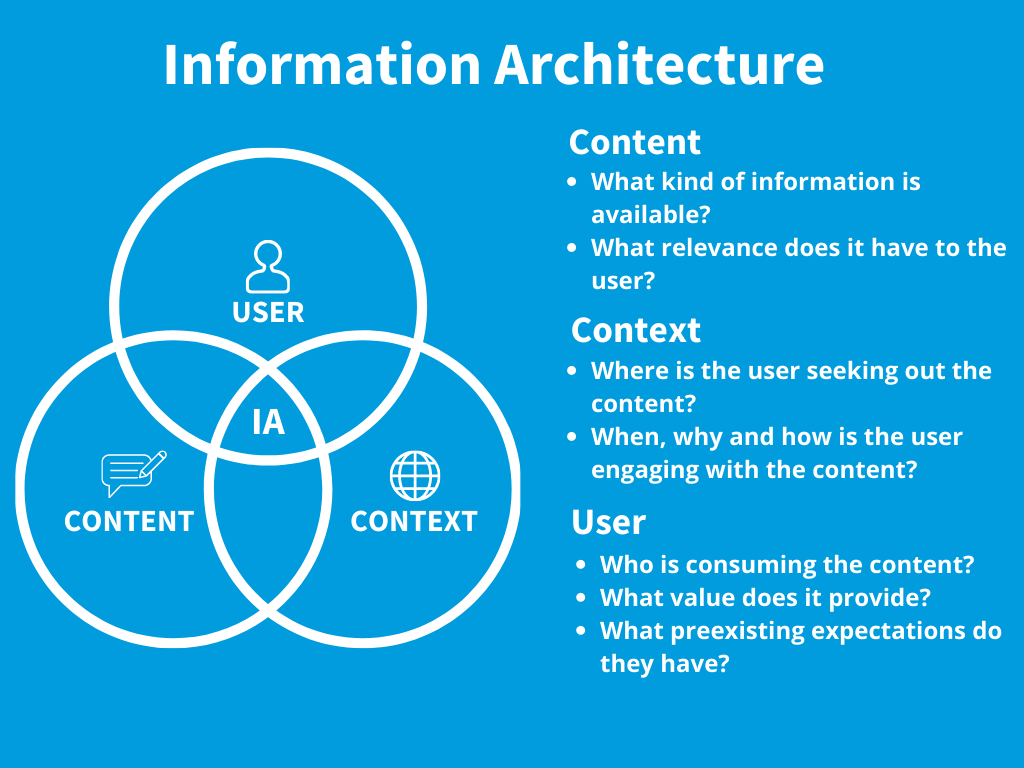 Good IA is informed by content, context and users. 
© Interaction Design Foundation CC BY-NC-SA 3.0

In the book Information Architecture for the World Wide Web, Louis Rosenfeld, Peter Morville, and Jorge Arango describe the concept of "information ecology" which comprises users, content, and context "to address the complex dependencies" that exist "in information environments". The Venn diagram above illustrates the nature of these relationships. "The three circles illustrate the interdependent nature of users, content, and context within a complex, adaptive information ecology." 
Context relates to business goals, funding, culture, technology, politics, resources and constraints. Content consists of the document or data types, content objects, volume and existing structures. Users comprise the audience, tasks, needs, experiences and how they seek information. 
Good information architecture is informed by all three areas, all of which are in flux depending on the information environment. 
IA and UX design
As with all aspects of UX design, information architecture starts with understanding people—namely, their reasons to use a product or service. A methodical and comprehensive approach to structuring information is needed to make it findable and understandable irrespective of the context, channel, or medium employed by the user.
Once you understand how a user behaves and seeks information, you can design a successful sitemap (like the one shown below), website navigation, user flows and so on.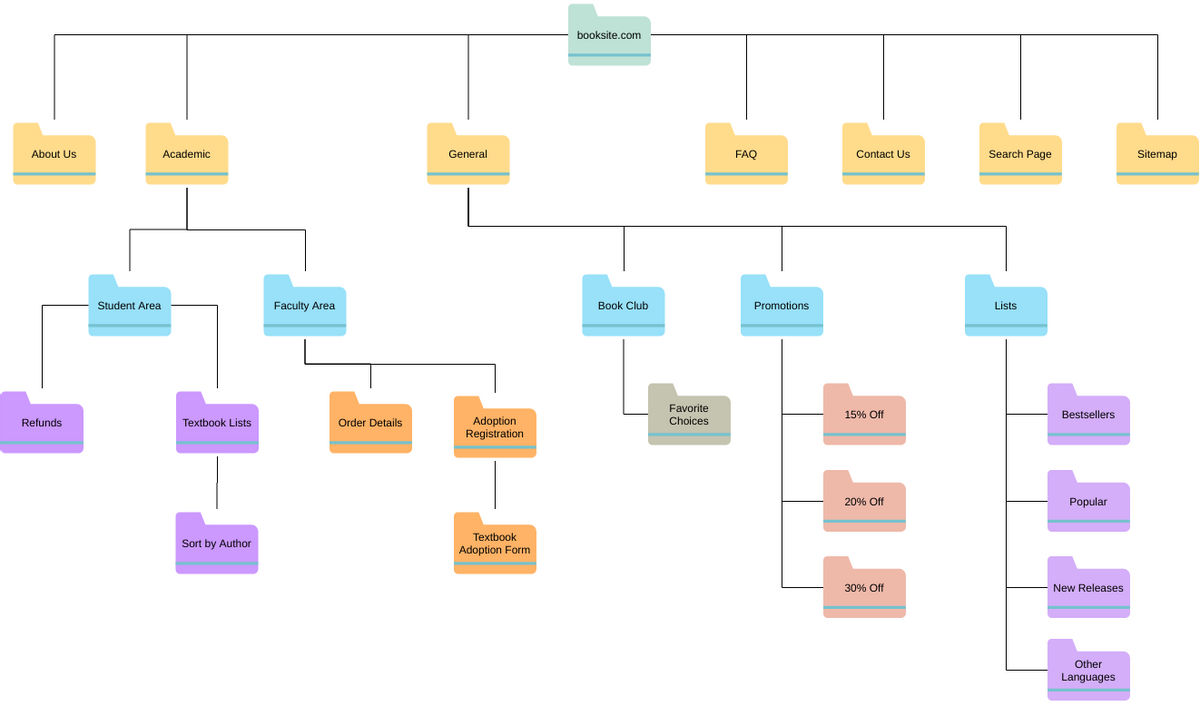 A bookstore's sitemap
© Visual Paradigm, Fair Use
Designers need to understand the following when designing websites and applications:
the information needs of users

the site or app's content

the business goals of the website, app, or organization
An information architect's deliverables typically include:
site maps

wireframes

hierarchies 

navigation

and metadata. 
Information architecture should be a holistic process, so when a new product or service is being designed, it's important to start with IA. Good IA serves as the foundation of effective user experience design. 
Learn More About Information Architecture
Card sorting is one of the most popular methods to understand how users classify information. Learn how to conduct effective cart sorts in this Master Class:
https://www.interaction-design.org/master-classes/how-to-use-card-sorting-for-better-information-architecture
The guidebook to information architecture, Information Architecture, 4th Edition: https://www.oreilly.com/library/view/information-architecture-4th/9781491913529/ 
Better understand the practice of information architecture in relation to UX design:
https://www.uxmatters.com/mt/archives/2011/09/framing-the-practice-of-information-architecture.php 
For principles and the importance of IA in UX design, read this article:
https://www.uxmatters.com/mt/archives/2020/05/the-importance-of-information-architecture-to-ux-design.php 
Literature on Information Architecture
Here's the entire UX literature on Information Architecture by the Interaction Design Foundation, collated in one place:
Learn more about Information Architecture
Take a deep dive into Information Architecture with our course Become a UX Designer from Scratch .
If you want to join one of the most rapidly growing fields in design, then look no further—this is the course for you. Through covering the ins and outs of the role, and throwing the doors wide open to the exciting world of UX design, "Become a UX Designer from Scratch" will take things right back to the beginning; it will offer a 'hard reset' in order to show you how to embark on a new career in UX design.
All products, whether digital or otherwise, must deliver a high-quality user experience (UX) or risk losing users to competitors—after all, a product is useless without its users! Products with good UX sell better; in fact, design-centric businesses have consistently outperformed the industry average by more than double, according to the Design Management Institute. Demand for UX designers is therefore higher than ever before; they are already prevalent in tech companies, and there is a growing need for them within other industries. UX impacts UI design, web design, and graphic design, and understanding the field of UX will improve your efforts within all of those areas.
Through this course, you will learn all the skills you need to assist companies in delivering the right UX for their products. All techniques included in the teaching are tried-and-tested industry standards, which will equip you with the very best knowledge to start you off on your new professional path. You will learn how to create various UX deliverables from the beginning of a UX project right to the end, ranging from customer journey maps to paper prototypes and even heuristic evaluations. You will also take your first steps towards creating a UX portfolio—something that will truly make an impact on your UX job applications.
You will also find a number of optional exercises and home assignments that build on one another and follow a design process—from the first idea, right through to the point where you can start testing your prototype. We highly recommend that you take up the challenge and complete all the exercises involved, because not only will you get hands-on experience with UX design but, by the end, you will also have a design case study that you can include in your portfolio.
In "Become a UX Designer from Scratch", you will gain access to interviews with UX hiring managers and experts from companies such as SAP and Google. Through these interviews, you will understand what hiring managers and senior designers look for when hiring a new member of the team—all so that you can gain an advantage over fellow candidates. We have also filmed a series of interviews with members who have successfully landed a UX job. These will provide you with inspiration for your own career prospects, as well as invaluable advice about how to transition into a career in UX and what daily life as a UX professional really looks like.
Wait no longer to begin your professional UX career!
All Literature