UX Case Studies
Your constantly-updated definition of UX Case Studies and collection of topical content and literature
What are UX Case Studies?
UX case studies are examples of design work which designers include in their portfolio. To give recruiters vital insights, designers tell compelling stories in text and images to show how they handled problems. Such narratives showcase designers' skills and ways of thinking and maximize their appeal as potential hires.
"Every great design begins with an even better story."

— Lorinda Mamo, Designer and creative director
See why powerful UX case studies help win contracts.
How to Approach UX Case Studies
Recruiters want candidates who can communicate through designs and explain themselves clearly and appealingly. While skimming UX portfolios, they'll typically decide within 5 minutes if you're a fit. So, you should boost your portfolio with 2–3 case studies of your work process containing your best copywriting and captivating visual aids. You persuade recruiters by showing your skillset, thought processes, choices and actions in context through engaging, image-supported stories.
Before selecting a project for a case study, you should get your employer's/client's permission – whether you've signed a non-disclosure agreement (NDA) or not.
Then, consider Greek philosopher Aristotle's storytelling elements and work with these in mind when you start building your case studies:
Plot – The career-related aspect of yourself you want to highlight. This should be consistent across your case studies for the exact role. So, if you want to land a job as a UX researcher, focus on the skills relevant to that in your case studies.
Character – Your expertise in applying industry standards and working in teams.
Theme – Goals, motivations and obstacles in your project.
Diction – A friendly, professional tone in jargon-free plain English.
Melody – Your passion—for instance, as a designer, where you prove it's a life interest as opposed to something you just clock on and off at for a job.
Décor – A balance of engaging text and images.
Spectacle – The plot twist/wow factor—e.g., a surprise discovery. Obviously, you can only include this if you had a surprise discovery in your case study.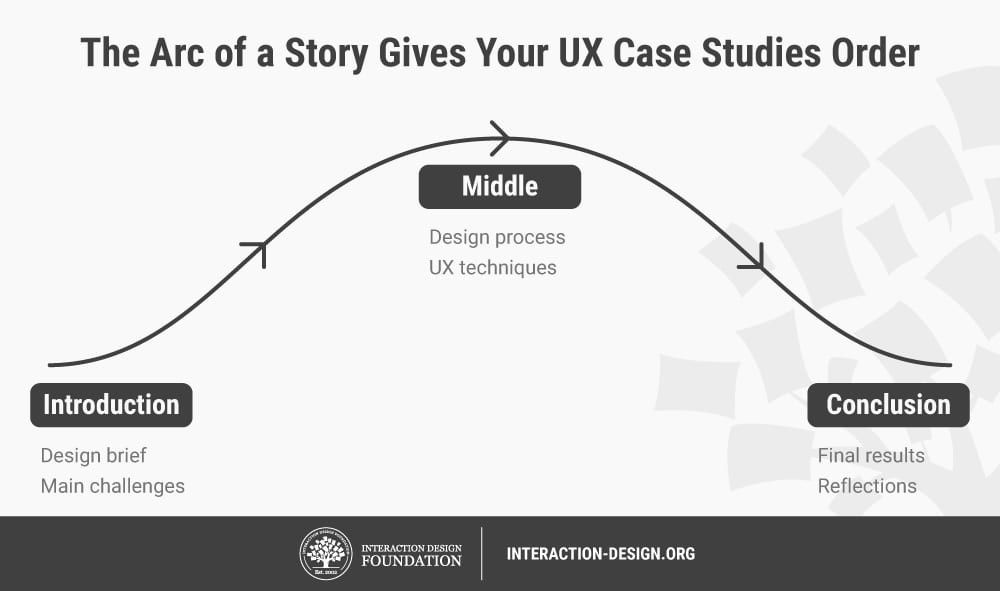 Author / copyright holder: Teo Yu Siang and the Interaction Design Foundation. Copyright license: CC BY-NC-SA 3.0.
How to Build UX Case Studies
You want an active story with a beginning, middle and end – never a flat report. So, you'd write, e.g., "We found…", not "It was found…". You should anonymize information to protect your employer's/client's confidential data (by changing figures to percentages, removing unnecessary details, etc.).
You can use German novelist-playwright Gustav Freytag's 5-part pyramid:
Exposition – the introduction (4–5 sentences). Describe your:

Problem statement– Include your motivations and thoughts/feelings about the problem.
Your solution – Outline your approach. Hint at the outcome by describing your deliverables/final output.
Your role – Explain how your professional identity matched the project.
Stages 2–4 form the middle (more than 5 sentences). Summarize the process and highlight your decisions:
Rising action – Outline some obstacles/constraints (e.g., budget) to build conflict and explain your design process (e.g., design thinking). Describe how you used, e.g., qualitative research to progress to 1 or 2 key moments of climax.
Climax – Highlight this, your story's apex, with an intriguing factor (e.g., unexpected challenges). Choose only the most important bits to tighten narrative and build intrigue.
Falling action – Show how you combined your user insights, ideas and decisions to guide your project's final iterations. Explain how, e.g., usability testing helped you/your team shape the final product.
Stage 5 is the conclusion:
Resolution – (4–5 sentences). Showcase your end results as how your work achieved its business-oriented goal and what you learned. Refer to the motivations and problems you described earlier to bring your story to an impressive close.
Overall, you should:
Tell a design story that progresses meaningfully and smoothly.
Tighten/rearrange your account into a linear, straightforward narrative.
Reinforce each "what" you introduce with a "how" and "why".
Support text with the most appropriate visuals (e.g., screenshots of the final product, wireframing, user personas, flowcharts, customer journey maps, Post-it notes from brainstorming). Use software (e.g., Canva, Illustrator) to customize good-looking visuals that help tell your story.
Balance "I" with "we" to acknowledge team-members' contributions and shared victories/setbacks.
Make your case study scannable – E.g., Use headings as signposts.
Remove anything that doesn't help explain your thought process or advance the story.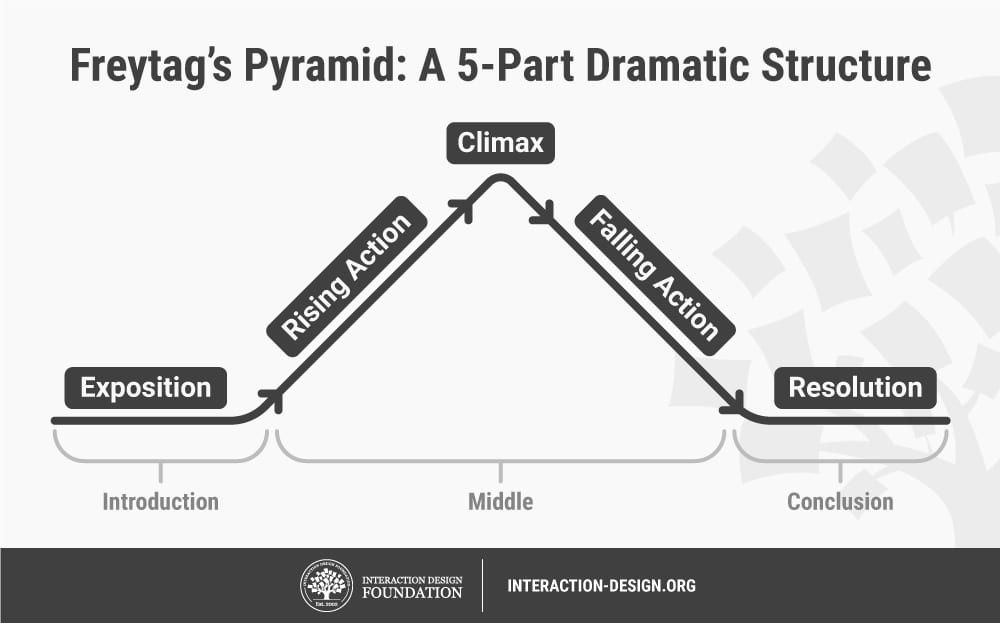 Remember, hirers want to quickly spot the value of what you did—e.g., research findings—and feel engaged every step of the way. They'll evaluate how you might fit their culture. Use the right tone to balance your passion and logic in portraying yourself as a trustworthy team-player. Sometimes, you may have to explain why your project didn't work out ideally. The interaction design process is iterative, so include any follow-up actions you took/would take. Your UX case studies should project the thoughts, feelings and actions that define how you can shape future designs and create value for business.
Learn More about UX Case Studies
Take our UX Portfolio course to see how to craft powerful UX case studies: https://www.interaction-design.org/courses/How-to-create-a-UX-portfolio
UX designer and entrepreneur Sarah Doody offers eye-opening advice about UX case studies: https://www.invisionapp.com/inside-design/how-to-write-a-ux-case-study/
Learn what can go wrong in UX case studies: https://blog.uxfol.io/case-study-mistakes/
See fine examples of UX case studies: https://medium.com/bestfolios/6-ux-design-case-studies-done-right-4bec060d719
Literature on UX Case Studies
Here's the entire UX literature on UX Case Studies by the Interaction Design Foundation, collated in one place:
Learn more about UX Case Studies
Take a deep dive into UX Case Studies with our course How to Create a UX Portfolio .
Did you know the average UX recruiter spends less than 5 minutes skimming through your UX portfolio? If you want to join the growing and well-paid field of UX design, not only do you need a UX portfolio—you'll need a great UX portfolio that showcases relevant skills and knowledge. Your UX portfolio will help you get your first job interviews and freelance clients, and it will also force you to stay relevant in your UX career. In other words, no matter what point you're at in your UX career, you're going to need a UX portfolio that's in tip-top condition.
So, how do you build an enticing UX portfolio, especially if you've got no prior experience in UX design? Well, that's exactly what you'll learn in this course! You'll cover everything so you can start from zero and end up with an incredible UX portfolio. For example, you'll walk through the various UX job roles, since you can't begin to create your portfolio without first understanding which job role you want to apply for! You'll also learn how to create your first case studies for your portfolio even if you have no prior UX design work experience. You'll even learn how to navigate non-disclosure agreements and create visuals for your UX case studies.
By the end of this practical, how to oriented course, you'll have the skills needed to create your personal online UX portfolio site and PDF UX portfolio. You'll receive tips and insights from recruiters and global UX design leads from SAP, Oracle and Google to give you an edge over your fellow candidates. You'll learn how to craft your UX case studies so they're compelling and relevant, and you'll also learn how to engage recruiters through the use of Freytag's dramatic structure and 8 killer tips to write effectively. What's more, you'll get to download and keep more than 10 useful templates and samples that will guide you closely as you craft your UX portfolio. To sum it up, if you want to create a UX portfolio and land your first job in the industry, this is the course for you!
All Literature