Qualitative Research
Your constantly-updated definition of Qualitative Research and collection of topical content and literature
What is Qualitative Research?
Qualitative research is the methodology researchers use to gain deep contextual understandings of users via non-numerical means and direct observations. Researchers focus on smaller user samples—e.g., in interviews—to reveal data such as user attitudes, behaviors and hidden factors: insights which guide better designs.
"There are also unknown unknowns, things we don't know we don't know."

— Donald Rumsfeld, Former U.S. Secretary of Defense
See how you can use qualitative research to expose hidden truths about users and iteratively shape better products.
Qualitative Research Focuses on the "Why"
Qualitative research is a subset of user experience (UX) research and user research. By doing qualitative research, you aim to gain narrowly focused but rich information about why users feel and think the ways they do. Unlike its more statistics-oriented "counterpart", quantitative research, qualitative research can help expose hidden truths about your users' motivations, hopes, needs, pain points and more to help you keep your project's focus on track throughout development. UX design professionals do qualitative research typically from early on in projects because—since the insights they reveal can alter product development dramatically—they can prevent costly design errors from arising later. Compare and contrast qualitative with quantitative research here:
| | | |
| --- | --- | --- |
| | Qualitative research | Quantitative Research |
| You Aim to Determine | The "why" – to get behind how users approach their problems in their world | The "what", "where" & "when" of the users' needs & problems – to help keep your project's focus on track during development |
| Methods | Loosely structured (e.g., contextual inquiries) – to learn why users behave how they do & explore their opinions | Highly structured (e.g., surveys) – to gather data about what users do & find patterns in large user groups |
| Number of Representative Users | Often around 5 | Ideally 30+ |
| Level of Contact with Users | More direct & less remote (e.g., usability testing to examine users' stress levels when they use your design) | Less direct & more remote (e.g., analytics) |
| Statistically | You need to take great care with handling non-numerical data (e.g., opinions), as your own opinions might influence findings | Reliable – given enough test users |
Regarding care with opinions, it's easy to be subjective about qualitative data, which isn't as comprehensively analyzable as quantitative data. That's why design teams also apply quantitative research methods, to reinforce the "why" with the "what".
Qualitative Research Methods You Can Use to Get Behind Your Users
You have a choice of many methods to help gain the clearest insights into your users' world – which you might want to complement with quantitative research methods. In iterative processes such as user-centered design, you/your design team would use quantitative research to spot design problems, discover the reasons for these with qualitative research, make changes and then test your improved design on users again. The best method/s to pick will depend on the stage of your project and your objectives. Here are some:
Diary studies – You ask users to document their activities, interactions, etc. over a defined period. This empowers users to deliver context-rich information. Although such studies can be subjective—since users will inevitably be influenced by in-the-moment human issues and their emotions—they're helpful tools to access generally authentic information.
Interviews

Structured – You ask users specific questions and analyze their responses with other users'.
Semi-structured – You have a more free-flowing conversation with users, but still follow a prepared script loosely.
Ethnographic – You interview users in their own environment to appreciate how they perform tasks and view aspects of tasks.

Usability testing

Moderated – In-person testing in, e.g., a lab.
Unmoderated – Users complete tests remotely: e.g., through a video call.
Guerrilla – "Down-the-hall"/"down-and-dirty" testing on a small group of random users or colleagues.

User observation – You watch users get to grips with your design and note their actions, words and reactions as they attempt to perform tasks.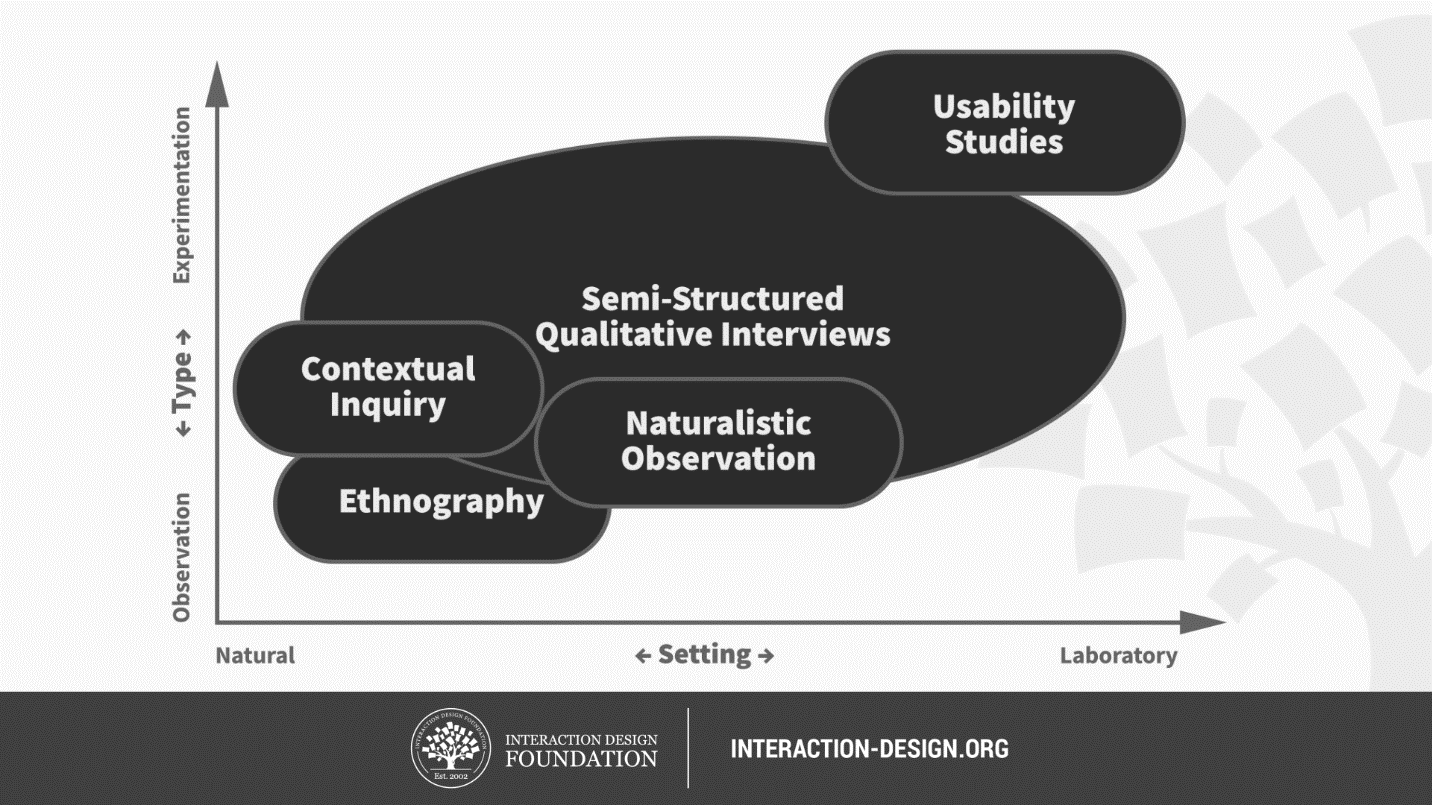 Qualitative research can be more or less structured depending on the method.
Qualitative Research – How to Get Reliable Results
Some helpful points to remember are:
Participants – Select a number of test users carefully (typically around 5). Observe the finer points such as body language. Remember the difference between what they do and what they say they do.
Moderated vs. unmoderated – You can obtain the richest data from moderated studies, but these can involve considerable time and practice. You can usually conduct unmoderated studies more quickly and cheaply, but you should plan these carefully to ensure instructions are clear, etc.
Types of questions – You'll learn far more by asking open-ended questions. Avoid leading users' answers – ask about their experience during, say, the "search for deals" process rather than how easy it was. Try to frame questions so users respond honestly: i.e., so they don't withhold grievances about their experience because they don't want to seem impolite. Distorted feedback may also arise in guerrilla testing, as test users may be reluctant to sound negative or to discuss fine details if they lack time.
Location – Think how where users are might affect their performance and responses. If, for example, users' tasks involve running or traveling on a train, select the appropriate method (e.g., diary studies for them to record aspects of their experience in the environment of a train carriage and the many factors impacting it).
Overall, no single research method can help you answer all your questions. Nevertheless, The Nielsen Norman Group advise that if you only conduct one kind of user research, you should pick qualitative usability testing, since a small sample size can yield many cost- and project-saving insights. Always treat users and their data ethically. Finally, remember the importance of complementing qualitative methods with quantitative ones: You gain insights from the former; you test those using the latter.
Learn More about Qualitative Research
Take our course on User Research to see how to get the most from qualitative research: https://www.interaction-design.org/courses/user-research-methods-and-best-practices
Read about the numerous considerations for qualitative research in this in-depth piece: https://www.invespcro.com/blog/guide-to-conducting-qualitative-usability-studies/
This blog discusses the importance of qualitative research, with tips: https://www.hotjar.com/blog/qualitative-vs-quantitative-user-research
Explore additional insights into qualitative research here: https://measuringu.com/qual-methods/
Literature on Qualitative Research
Here's the entire UX literature on Qualitative Research by the Interaction Design Foundation, collated in one place:
All Literature