Storytelling
Your constantly-updated definition of Storytelling and collection of topical content and literature
What is Storytelling?
Storytelling is used in design as a technique to get insight into users, build empathy and access them emotionally. With stories, designers speak via Aristotle's points of plot, character, theme, diction, melody, décor and spectacle to increase the appeal of what they offer and provide a solid understanding of the users.
See how Storytelling can help users latch onto your work.
Storytelling – Telling Tales to Win in User Experience Design
Storytelling is an ancient craft; its power is timeless because good stories will always captivate audiences, whatever the medium. UX designers typically tell on-screen stories, weaving narratives to make users invest their emotions in our messages. Vitally, we aim to hook users through their feelings, as opposed to describing our offerings from a functionalist/task-oriented viewpoint. Indeed, good user experience depends on the success of users' achieving their goals "usability-wise", but storytelling is the framework we use to reach users. As we learn about our world through metaphors, not bullet-point specifications, storytelling is the best way to relate to audiences. Effective storytelling means going beyond getting users emotionally invested, to keeping them engaged after their experiences, too, so they attach more meaning to our products/services. Brands do this—building an "auxiliary product" of an experience to advertise their goods and idealized lifestyles.
"People think that stories are shaped by people. In fact, it's the other way around."

—Terry Pratchett, English fantasy author
Storytelling – Using Captured Knowledge to Captivate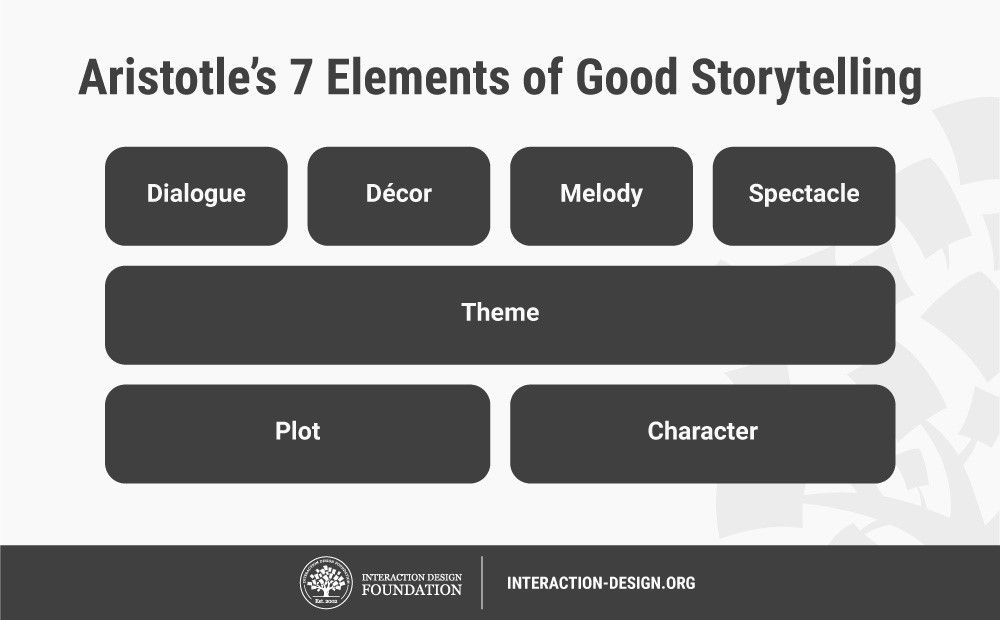 Author/Copyright holder: Teo Yu Siang and Interaction Design Foundation. Copyright terms and licence: CC BY-NC-SA 3.0
Storytelling often demands presenting highly complex notions meaningfully to many types of users. This demands transcending logical appeal, to resonate with them profoundly. Aristotle wrote extensively on persuasion; his understanding of empathy, although relating to classical-Greek drama, is essential for appreciating what users want. Aristotle's formula has seven elements:
Plot – what are users trying to achieve/overcome?
Character – who are the users: not just demographically, but what insights do you require to understand what they're truly like and their real needs?
Theme – how can you establish a trustworthy presence to them and still set yourself apart from competitors? How do you reflect the overall obstacles users must overcome?
Diction – what will your design say to users and how? Does a formal/informal tone match what they'd expect to find? How much text is appropriate?
Melody – will the overall design pattern appear pleasant and predictable to users, moving them emotionally?
Décor – how will you present everything so the graphics match the setting the users can sense? Is a classic design or a stylized, niche layout in step with their expectations?
Spectacle – how can you make your design outstanding so users will remember it?
Good stories inevitably involve conflict. Storytelling in design requires you to make users the hero and envision how they can overcome a specific problem using what you'll offer them. So, start by defining their aims, and clearly plan "user journeys" – steps showing how users might encounter and handle your design in order to achieve goals. The power of storytelling becomes obvious after looking harder at users' contexts. That translation of the human dimension (what users go through) should show in your earliest prototypes. For instance, a florist's website must reflect users' emotions – they want flowers because they're happy, hopeful or sorrowful/sympathetic. Hotel deal-finding apps must consider how users' stories differ regarding the pressure they're under.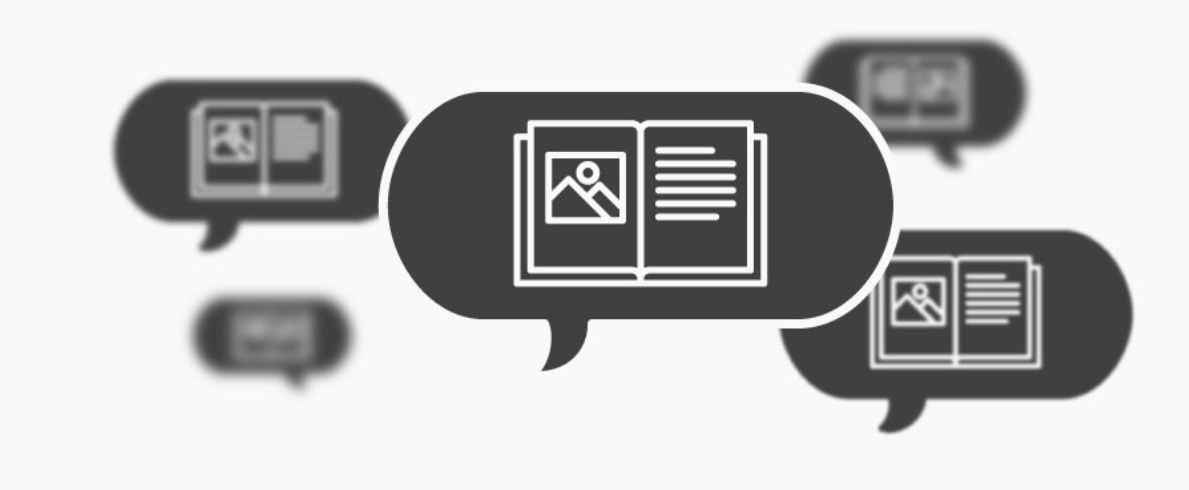 Author/Copyright holder: Teo Yu Siang and Interaction Design Foundation. Copyright terms and licence: CC BY-NC-SA 3.0
Use storytelling throughout the design process, incorporating user personas to help map out users' likely experiences and gain empathic insights. This will enable you to watch your users' world as you develop prototypes that can match their expectations, build rapport, surprise them with appropriate nice-to-haves, and leave positive, lasting impressions. Ultimately, your design should show you've used storytelling to predict your target users' actions at every level possible.The narratives in your stories are "magic mirrors"—representing your fine-tuned empathy and connecting with users' values—in which users discover how to make their own happy endings.
Learn More about Storytelling
For more on Storytelling, take the IDF's course Interaction Design for Usability: https://www.interaction-design.org/courses/interaction-design-for-usability
An in-depth, example-rich treatise on Storytelling: https://rosenfeldmedia.com/books/storytelling-for-user-experience/
See why Storytelling is important for apps: https://www.smashingmagazine.com/2013/03/art-of-storytelling-around-app/
Literature on Storytelling
Here's the entire UX literature on Storytelling by the Interaction Design Foundation, collated in one place:
All literature