Whether you're a UX designer looking for your first UX job or a seasoned designer looking to further your career, your UX portfolio is arguably one of the most important projects you'll work on. Your portfolio is the first touchpoint you have with the recruiters; it's your chance to make an impactful first impression, spark their curiosity and get an invitation for an interview.
Your portfolio is much more than a visual showcase of your skills; recruiters will review your portfolio expecting a glimpse of yourself. They'll look for what you can do and how you do it. Put yourself in the shoes of a hiring manager. They're looking for someone who'll be a good fit for the team even if they need to train them.
It can be hard to know how to create the perfect portfolio: the one that will land you an interview for the job you want. How many case studies should you include? Which ones should you choose? And how do you create a portfolio when you're looking for your first UX job? Find here some tips to make a successful UX portfolio.
1. Choose Your Case Studies Wisely
While there is no magic number, aim to include two to four UX case studies in your portfolio. When you apply for a job, read the description thoroughly. This description will give you clues about what you should include in your portfolio. Your UX case studies have to be relevant to the job role you want to apply for. You can tailor your portfolio by either creating a PDF version or a landing page with the most relevant UX case studies for that specific application. For instance, if you want to be a UX designer, your UX case studies should demonstrate your ability to work on an end-to-end design project, from the initial stage of empathizing with users to creating a prototype. Conversely, if you want to be a user researcher, your case studies should highlight your research skills.
If you'd like to showcase other work that you feel may help you get the interview, but you're not sure, add an "Other Works" section to your portfolio. This way, you still ensure that the most relevant work is the focus of attention.
How to create UX case studies if you have no UX industry experience
If you're a newcomer to UX, don't worry. Every single professional has started the same way, and recruiters know that. They may not expect you to have industry experience, but they still expect a UX portfolio. The good news is that there are many ways you can build a UX portfolio from scratch:
Join a UX course that includes UX portfolio projects.

Product redesigns. Have you ever used a product that you thought could provide a better UX? Go for it! And include the process in your portfolio.

Work as a volunteer on a project or help a friend.

Find an opportunity in your current workplace; for example, develop a solution for an internal UX issue.
If you're switching your career to UX, you already have something valuable to build on. Frame your past professional experience in UX terms. In this video, Cory Lebson, Principal and Owner of Lebsontech LLC, explains how to leverage your experience in a different field to get your first UX job.
This video is a part of Cory Lebson's Master Class on "How To Successfully Change Your Career To UX Design" (if you'd like to watch the full Master Class, you can sign up here).
2. Tell the Story of Your UX Case Studies
Emotion is the key to storytelling, and stories are your secret weapon to make your portfolio stand out. Remember that a recruiter is a human being, and stories are how people connect. There is nothing more captivating than a story.
In this video, Stephen Gay, UX Design Lead for Google One at Google, explains why it's important to tell your story and show how you think in your portfolio.
On average, recruiters will spend one to two minutes doing the first scan of your portfolio. You need to hook them in quickly and leave them wanting more. How? Before starting to write the case studies, ask yourself these questions: What does the recruiter want to see? What's your story from a career perspective? Are you a passionate self-taught UX designer? Are you a seasoned designer who is ready to take the next step? Whatever the answers are, write your UX case studies from that perspective. Show who you are instead of telling who you are. Show what's important to you, and what motivates you. This approach is what will differentiate your portfolio from the others.
Check out how Simon Pan tells the story of his case studies.

© Simon Pan online portfolio, Fair-Use (link)

Simon's case study showcases the whole process, from the design challenge to the solution. In addition, you can understand what his role was and also get a sense of who he is and how he works.

Recruiters need to understand what role you had in the project and how it would be working with you. They're as interested in your hard skills as your soft skills. Start by framing the challenge and how you or your team decided to approach it. Focus on the process, not on the final product. In other words, focus on the path.

In this video, Ellen Lupton—author of the books Thinking with Type, Graphic Design Thinking, Graphic Design: The New Basics, The Senses: Design Beyond Vision, and Extra Bold—explains how the path is treated as a character in successful storytelling.
This video is a part of Ellen Lupton's Master Class on "Storytelling Through Visual Design: A Practical Guide" (if you'd like to watch the full Master Class, you can sign up here).
Thinking of your path from design challenges to the finished product as one of the main characters of your story will help you create successful case studies.
3. Use Visual Elements to Highlight Parts of Your UX Case Studies
Many UX designers only include images of the final product. As we have established, recruiters are interested in the process from beginning to end. Use visual elements to support your story and highlight the most critical parts. Ensure that the visual details you add to your UX case study are relevant and help tell the story. Don't add decorative images. Find the ones that support your message; there may be more than you think.
Moreover, don't limit yourself to images; you can even create a video explaining parts of the process or record yourself while you work.
If you're still not convinced that it's worth spending the time, put yourself in the shoes of your recruiter. Try scanning through 100 text-heavy portfolios and then finding a portfolio that tells a straightforward story visually. It'll stand out.
In this video, Michal Malewicz, Creative Director and CEO of Hype4, explains how to successfully add visuals to your UX case studies.
4. Establish the Big Picture
Add business details to your UX case study and show that you understand the big picture. Indicate that you know the value that UX brings to the business.
Furthermore, include metrics about your project's impact. Measuring the impact and success of projects is still a hot topic within the UX industry, but if you have some numbers that you can share and have permission to divulge these numbers, don't hesitate to include them. However, be aware of non-disclosure agreements (NDAs) and anonymize all sensitive details.
5. Add Your Personality to Your UX Portfolio
As we have already established, recruiters are as interested in what you can do as they're in how you do it. Keep in mind that your profile is not suitable for all UX job openings, the same way not all UX job openings are suitable for you. Forget about the one-size-fits-all concept and find power in who you are. Think about it; if you manage to get a job that is not right for you, you'll be unhappy and burned out. For this reason, don't be afraid to show yourself in your portfolio because that is precisely its purpose.
You can show your personality in many elements within your portfolio. From the way you write your UX case studies to the overall visual design.
How will you know when your portfolio is ready? When it could only be your portfolio, no one else could have the same one.
Below, check out the UX portfolio of Joshua Taylor, whose personality you can see right away through the portfolio's visual design.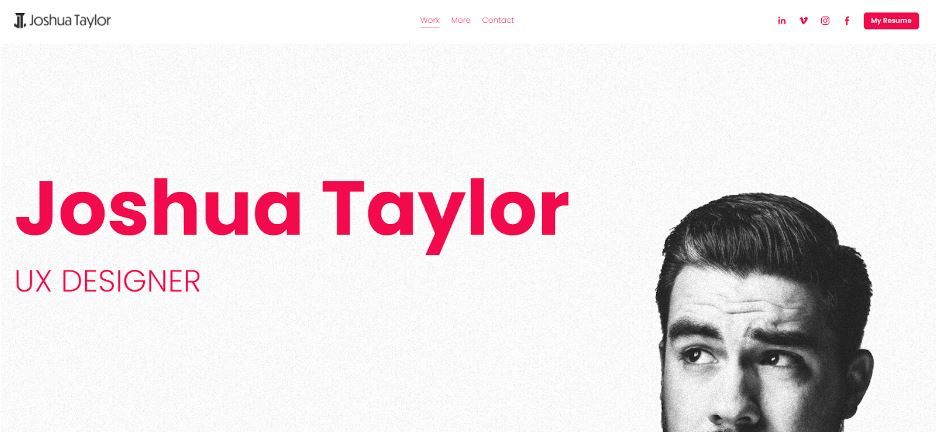 © Joshua Taylor online portfolio, Fair-Use (link)


Joshua injects a little more personality, and also uses a quote a little further down on the webpage.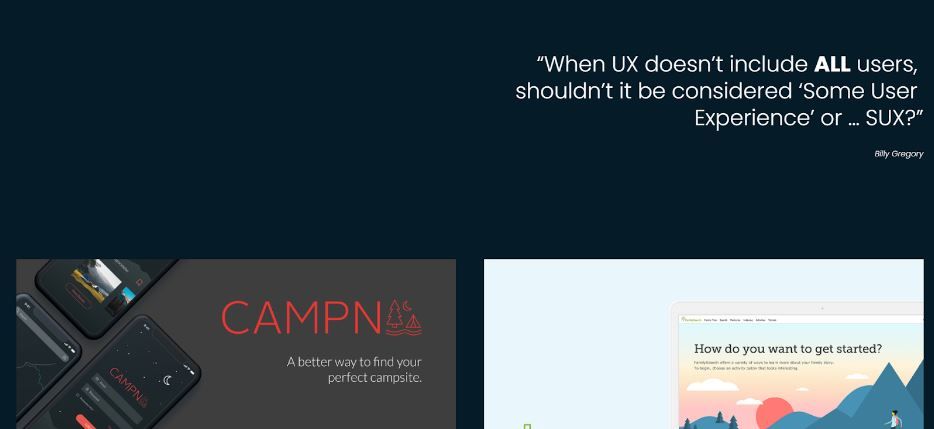 © Joshua Taylor online portfolio, Fair-Use (link)


Put yourself in the shoes of the recruiter once more. When you've reviewed many portfolios, most of them feel just more of the same. If you inject yourself into your UX portfolio, you'll stand out, and that's a good thing, as it might get you closer to an interview with a suitable employer—one that matches your skills and personality.

In short, recruiters should know precisely who you are and what you do within seconds of landing on your UX portfolio. Use all the tools at your disposal to craft a window into yourself as a professional.
6. Craft Your Personal Brand
Even if you're not an entrepreneur, thinking of yourself as a brand can help you get where you want to go. Your online portfolio, PDF portfolio, and LinkedIn profile should all reflect who you are as a professional and tell the same story. Be coherent; your writing style and visual style should go hand in hand. You might even find it helpful to make a short brand style guide. This guide will help you tell the same message through all your channels and will show your recruiters who you are clearly.
In this video, Cory Lebson, Principal and Owner of Lebsontech LLC, explains how to brand yourself as a UX designer.
This video is a part of Cory Lebson's Master Class on "How To Successfully Change Your Career To UX Design" (if you'd like to watch the full Master Class, you can sign up here).
You mustn't think of your portfolio as static material. As you evolve as a professional, your brand will evolve as well. It happens with all brands; consider Apple or Microsoft, or any brand you can think of. Do they look the same as they did 15 years ago? Do they sell the same products? Absolutely not. The world evolves, organizations evolve, and so do we, as professionals and as people. Think of your portfolio as an ever-evolving material. Even if you're not looking for a new job, take some time every six months to go over your online UX portfolio and your public profiles and see if there is anything you'd like to change. This approach will make sure you're always ready for new opportunities and help you value your professional journey and your evolution.
Last but not least, make sure you proofread your portfolio and all your public profiles. Typos, spelling mistakes and grammatical errors can hurt your chances of standing out for the right reasons. Proofreading is your chance to get an easy win and show hiring managers your attention to detail.
"Any sloppiness in the design of the [UX design portfolio], independent of the design of the artifacts that you've produced, tells the hiring manager a lot about you."

— Daniel Rosenberg, Global UX executive
How IxDF Courses Can Help You Create Successful UX Case Studies for Your Portfolio
If you're new to UX and want to build your UX design portfolio to get your first UX job, we highly recommend our courses with a Build Your Portfolio project.
Build Your Portfolio projects are practical and comprehensive projects built into our most popular courses. These optional projects provide a clear structure and sequence of tasks for you to carry out to develop your UX case study. They're beneficial if you're new to UX and want to build your first case studies. For instance, the Build Your Portfolio project in our Design Thinking course will help you carry out a design thinking project that you can use to write a UX case study.
Through each exercise, you'll create common UX deliverables which build towards your final design. This is similar to what happens "in real life" at work. UX designers carry out activities such as user interviews, create deliverables such as research reports and use those reports to help design the final product.
First, you'll need to enroll in our courses that contain Build Your Portfolio projects. They are:
The Take Away
Recruiters usually have minimal time to look through portfolios. Your portfolio should showcase your skills and give the hiring manager a glimpse of who you are, what you bring to the table and where you want your professional journey to go.
To make your UX portfolio stand out, you need to pour yourself into it. This approach will help you get the right UX job and contribute to a healthy and fruitful professional career. Use all the tools at your disposal to convey that message, from storytelling to visual design.
Where to Learn More
To read a deeper analysis of the aforementioned excellent examples of UX portfolios, read 4 Good and 1 Bad UX Design Portfolio You Can Learn From.
To learn more about building a successful portfolio, check out our How to Create a UX Portfolio course.
Image
© The Interaction Design Foundation, CC BY-NC-SA