UX Tools
Your constantly-updated definition of UX Tools and collection of topical content and literature
What are UX Tools?
User experience designers use UX tools—often purpose-built software—at different stages of their work. For example, designers test their assumptions using prototyping software (e.g., Balsamiq) and do usability testing with other software (e.g., Loop11). To stay competitive, brands make UX tools extremely easy to learn.
"I have never met a designer who got a job because of the tools they use... The tools we use are only ever as good as our reasons and methods for using them."

—Tanner Christensen, Product Designer, Lyft
See why what you know and how to do it is more important than the UX tools you use.
Several Levels of So Very Many UX Tools
Throughout the stages of the UX design process designers use tools to help create digital or physical representations of their ideas. "UX tool" may refer to any technology you use this way – be it to apply design principles in prototyping or simply record ideas. At the lower levels, UX tools are basic aids such as the markers, Post-its and whiteboards teams use during brainstorming sessions. Similarly, you use physical UX tools when you do paper prototyping.
At the higher levels, UX tools are the software you use to advance your and your team's ideas – ranging from free to premium options. You can divide these between software that helps in copywriting (e.g., Grammarly), team collaboration (e.g., Dropbox) and various other types of tools:
Questionnaire tools – To gather users' information and feedback in quantitative research: E.g., Google Forms, SurveyMonkey.
Flowcharting tools – To help predict users' needs, thoughts and actions and align these with business needs through flowcharts: E.g., LucidChart, OmniGraffle.
Low-fidelity prototyping/Wireframing tools – To realize more-basic visualizations of potential solutions to problem statements: E.g., Marvel, Balsamiq.
High-fidelity prototyping and user interface (UI) design tools – To realize sophisticated visualizations of design solutions: E.g., Sketch, Figma.
Usability testing tools – For qualitative research and to test the usability and accessibility of solutions (e.g., as prototypes): E.g., Loop11, UserTesting.
Handoff tools – To send completed design work to developers: E.g., Mockplus iDoc, Zeplin.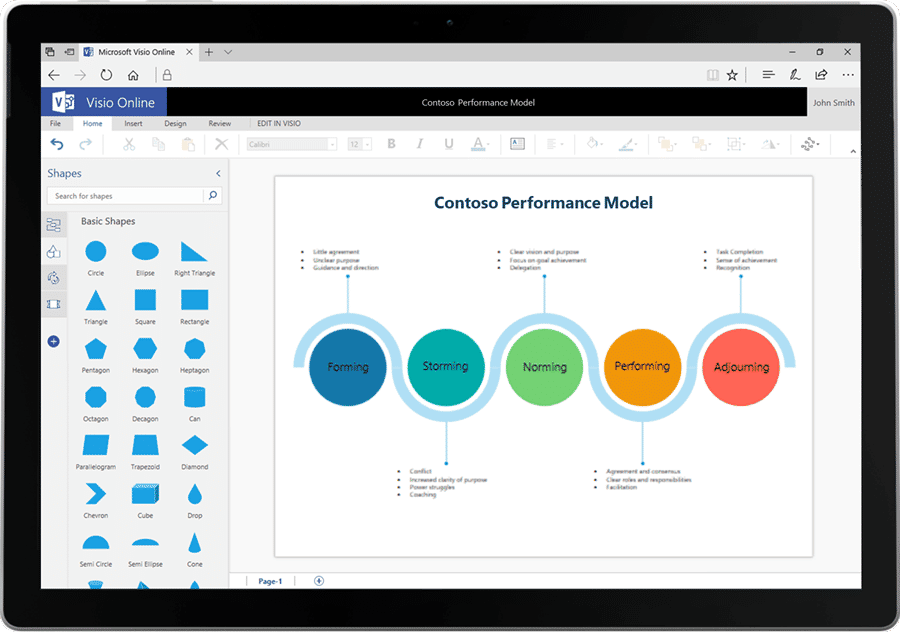 Author/copyright holder: Microsoft. Copyright terms and license: Fair Use.
Microsoft Visio is a feature-rich flowcharting tool that has a similar UI to the Microsoft Office suite of apps, which means you probably don't have to learn to use it.
How to Approach the Right UX Tools
Before reaching for any UX tools, you should consider:
What you do matters more than the tool you choose – UX tools are instrumental to—not guarantees of—your success. As a designer, you can only make impressive and useful solutions if you know what goes where and why. UX experts and recruiters agree that skills come first. So, you should always start with important UX considerations and know what you want to achieve. Then, you select the best tool for the job at hand, even if it's only pencil and paper. Otherwise, you'll constrict your vision because the tool can frame your ideas and blind you to users' needs. Beautiful, trendy-looking products won't necessarily prove you empathize with users.
UX tools are constantly evolving – New tools and third-party add-ons to existing ones keep appearing on the market. So, it's vital to stay grounded in the timeless principles of human psychology and your craft, instead of chasing the fleeting shadows of software's freshest updates. Software will keep changing; users' brains won't.
Organizations use different tools –Company practices—including choice of UX tools—vary. Moreover, with time, they'll switch to the next best thing for them.
Know your Tool like a Pro:

Learn by doing – Practice makes perfect.
Take advantage of the tool-makers' free tutorials – Intense competition means software brands must battle for customers. That translates to extremely detailed and easy-to-use walkthroughs for you. Should you need further guidance, however, you can turn to external resources and courses.
Overall, your brain is the most precious UX tool you'll ever have. Professionals are tool-users, but not all tool-users are professionals. What counts is that you can adapt to and learn different UX tools to apply your skillset. From the earliest design phase, you should guide your choice of UX tools with an eye for how your users might encounter your brand, move through subtasks and ultimately reflect on their experience.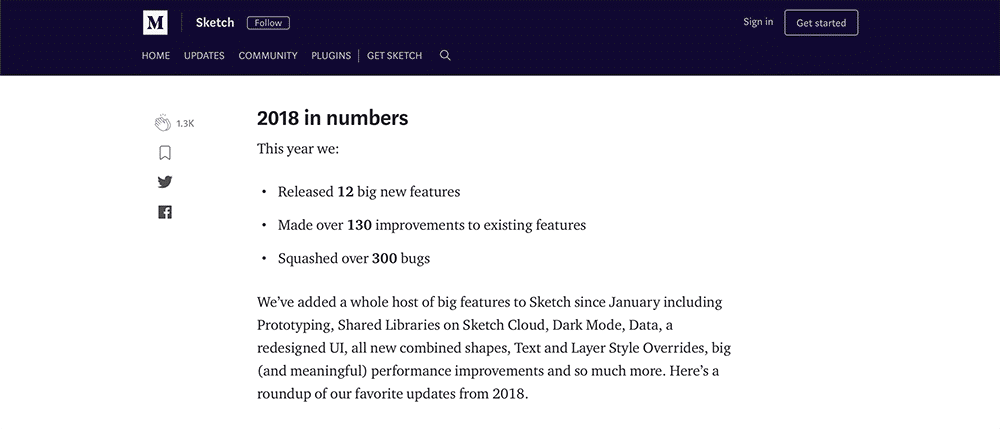 Author/copyright holder: Sketch. Copyright terms and license: Fair Use.
Sketch has released 12 big features in 2018—that's an average of one every month—according to its blog post.
Learn More about UX Tools
Take our UX Portfolio course to understand UX tools in depth: https://www.interaction-design.org/courses/How-to-create-a-UX-portfolio
Read enterprise and start-up designer Fabio Muniz's approach to UX tools: https://www.paulolyslager.com/ux-designer-tools/
Here's a constantly updated list of in-demand UX tools: https://uxmastery.com/resources/tools/
Literature on UX Tools
Here's the entire UX literature on UX Tools by the Interaction Design Foundation, collated in one place:
Learn more about UX Tools
Take a deep dive into UX Tools with our course How to Create a UX Portfolio .
Did you know the average UX recruiter spends less than 5 minutes skimming through your UX portfolio? If you want to join the growing and well-paid field of UX design, not only do you need a UX portfolio—you'll need a great UX portfolio that showcases relevant skills and knowledge. Your UX portfolio will help you get your first job interviews and freelance clients, and it will also force you to stay relevant in your UX career. In other words, no matter what point you're at in your UX career, you're going to need a UX portfolio that's in tip-top condition.
So, how do you build an enticing UX portfolio, especially if you've got no prior experience in UX design? Well, that's exactly what you'll learn in this course! You'll cover everything so you can start from zero and end up with an incredible UX portfolio. For example, you'll walk through the various UX job roles, since you can't begin to create your portfolio without first understanding which job role you want to apply for! You'll also learn how to create your first case studies for your portfolio even if you have no prior UX design work experience. You'll even learn how to navigate non-disclosure agreements and create visuals for your UX case studies.
By the end of this practical, how to oriented course, you'll have the skills needed to create your personal online UX portfolio site and PDF UX portfolio. You'll receive tips and insights from recruiters and global UX design leads from SAP, Oracle and Google to give you an edge over your fellow candidates. You'll learn how to craft your UX case studies so they're compelling and relevant, and you'll also learn how to engage recruiters through the use of Freytag's dramatic structure and 8 killer tips to write effectively. What's more, you'll get to download and keep more than 10 useful templates and samples that will guide you closely as you craft your UX portfolio. To sum it up, if you want to create a UX portfolio and land your first job in the industry, this is the course for you!
All Literature