In the digital landscape, user experience (UX) design holds a pivotal role. Every pixel, every interaction, and every piece of visual communication online is an element of UX design. 
UX design shapes the user experience and determines the success of businesses in this connected era.
Whether you're a seasoned professional or an aspiring designer, it is essential to stay up-to-date with industry best practices.  UX design is constantly evolving  and demands constant learning. One of the most efficient ways to acquire this knowledge is through reading. Books written by experts in the field can: 
Provide a solid foundation.

Equip you with fresh ideas.

Challenge you to think in new ways.
We've curated a list of the most influential UI/UX design books to read in 2023. We structured our UX design book recommendations to accommodate different levels of expertise. We'll start with beginners and gradually escalate to advanced UX design books. We've also made sure to encompass different areas of UX, from design and research to strategy.
So, let's get started!
The Best UX Design Books for Beginners
Starting your UX design journey may seem intimidating, but these carefully selected beginner UX books will guide you from novice to skilled beginner in no time.
UX for Beginners: A Crash Course in 100 Short Lessons by Joel Marsh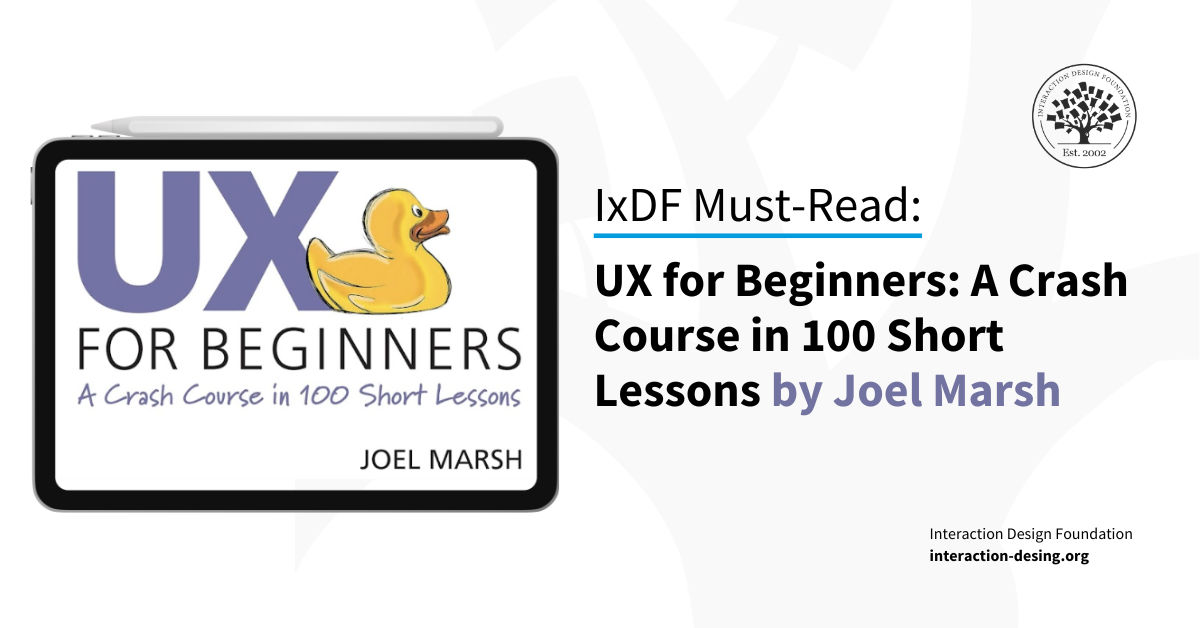 "UX for Beginners" is a comprehensive yet entertaining guide for anyone interested in user experience (UX) design. This book covers the fundamentals of UX across 100 self-contained, engaging lessons. 
It strays from dry, technical material and, instead, adopts Marsh's unique snarky humor to teach UX in a simple and practical manner. So, we highly recommend this book. It's an excellent resource for non-designers aspiring to become designers, managers teaching UX, and professionals from other fields seeking to understand UX design better.
Key Takeaway 
A key takeaway from this book is recognizing the diversity in user behavior and the importance of designing for these variations, akin to addressing differing behaviors in real life. Marsh's practical, humor-infused approach makes this a quick and enjoyable read, perfect to consume in one sitting.
"Everything has a user experience. Your job is not to create the user experience. Your job is to make it good."

― Joel Marsh
The Design of Everyday Things by Don Norman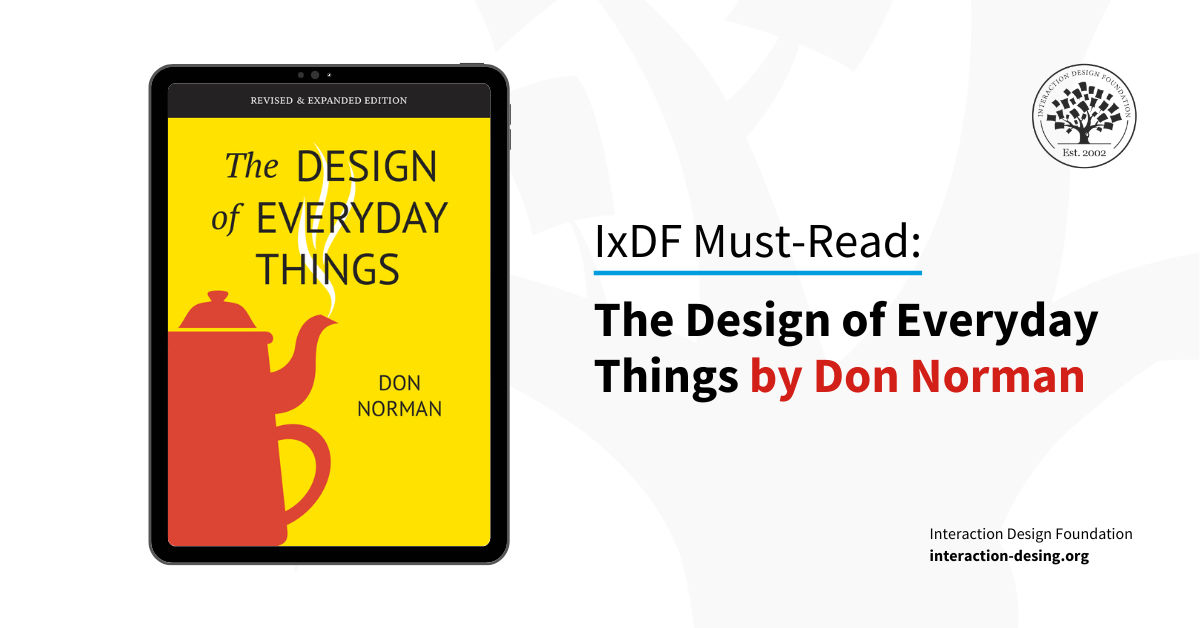 Don Norman's seminal work will fundamentally change your perspective on the world around you. Through examining everything from doors to software, Norman reveals the power of good design and the frustration of poor design.

Key Takeaway 
Don Norman's "The Design of Everyday Things" underscores the importance of user-centered design – a concept he helped popularize. He emphasizes that design should primarily focus on user needs rather than secondary factors like aesthetics. He illustrates the outcomes of adhering to or straying from this user-focused approach through detailed examples.
"Good design is actually a lot harder to notice than poor design, in part because good designs fit our needs so well that the design is invisible."

— Don Norman
In this video, Don Norman explains why design is "hot"!
User Friendly: How the Hidden Rules of Design are Changing the Way We Live, Work and Play by Cliff Kuang and Robert Fabricant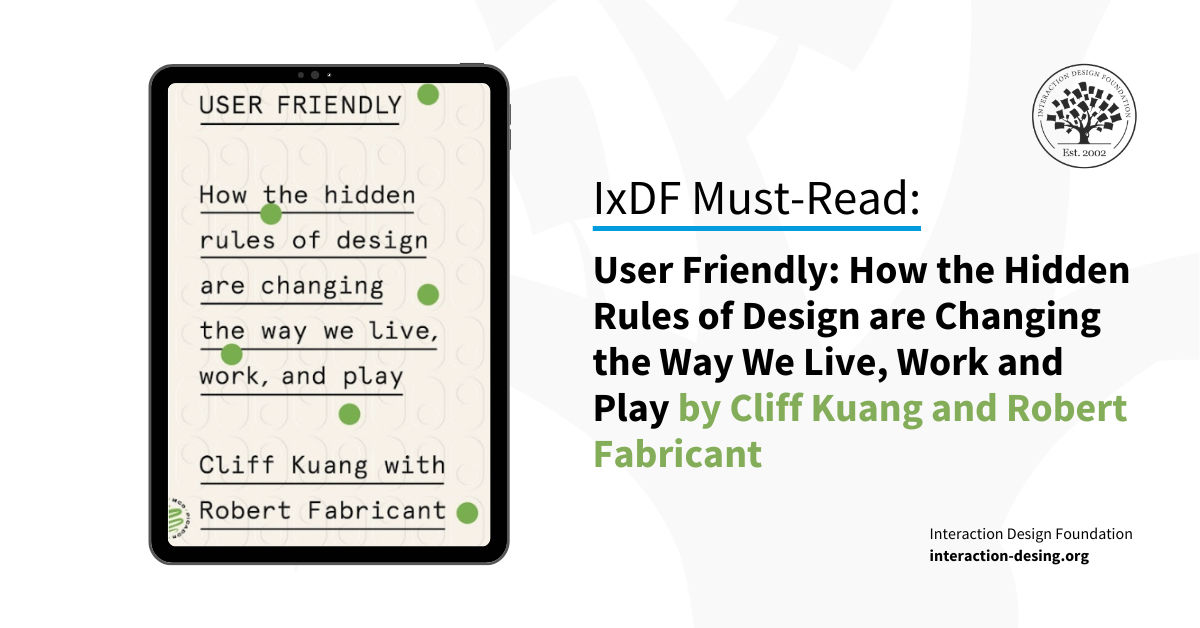 "User Friendly" by Cliff Kuang and Robert Fabricant explores how design principles subtly shape our daily lives and the world around us. The authors weave a historical narrative and chart the evolution of user-experience design from a niche concept to a universal reality in our digital age. They reveal the hidden impact of design on societal shifts, from major historical events to the dawn of the digital era.
Key Takeaway
This book sheds light on the often unnoticed role of user-experience design in our interactions with technology. Kuang and Fabricant underline the importance of design in making technology intuitive and user-friendly and its influence on molding our behaviors, habits, and, ultimately, our lifestyle. They stress that as we become more reliant on technology, understanding these hidden design rules is not just fascinating, but crucial.
"You have to know why people behave as they do—and design around their foibles and limitations, rather than some ideal."

― Cliff Kuang,
Don't Make Me Think (Revisited) by Steve Krug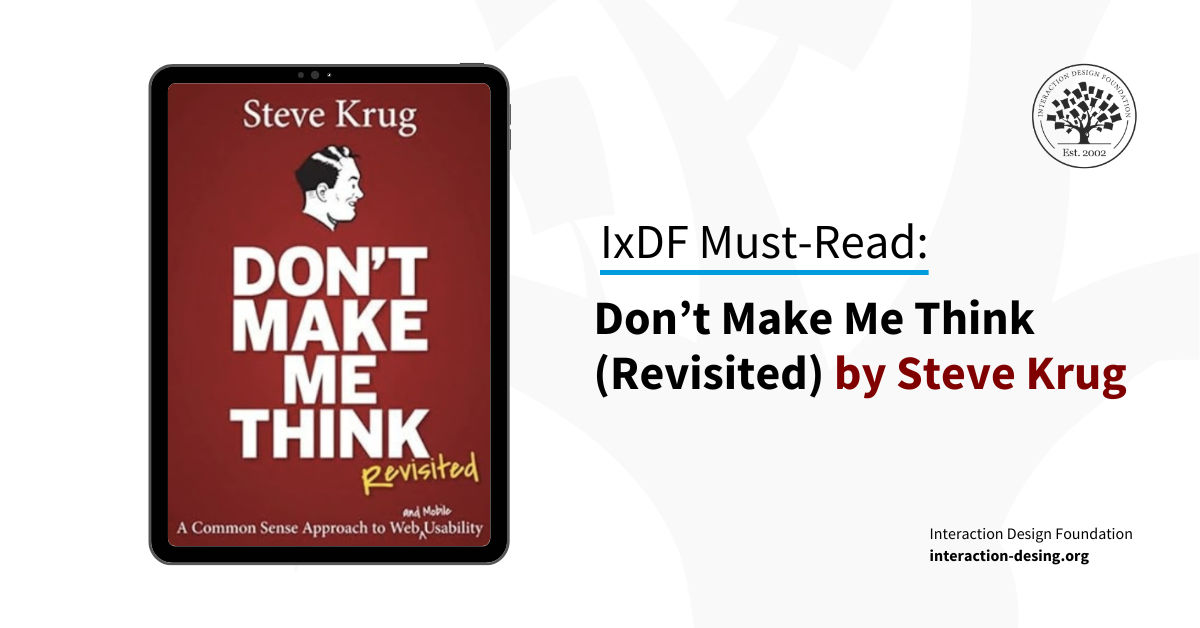 Steve Krug presents a common-sense approach to mobile and web usability with his engaging writing style. He focuses on functional aspects of design rather than form, offering concrete examples to improve usability and enhance the user experience.
Key Takeaway
Steve Krug's "Don't Make Me Think" underscores the power of simplicity and consistency in web design. He advocates for intuitive, skim-friendly interfaces and emphasizes the importance of user testing. Krug suggests that, while creativity is important, it shouldn't compromise the expected consistency unless it enhances the user experience.
"Usability is about people and how they understand and use things, not about technology."

— Steve Krug
Rocket Surgery Made Easy by Steve Krug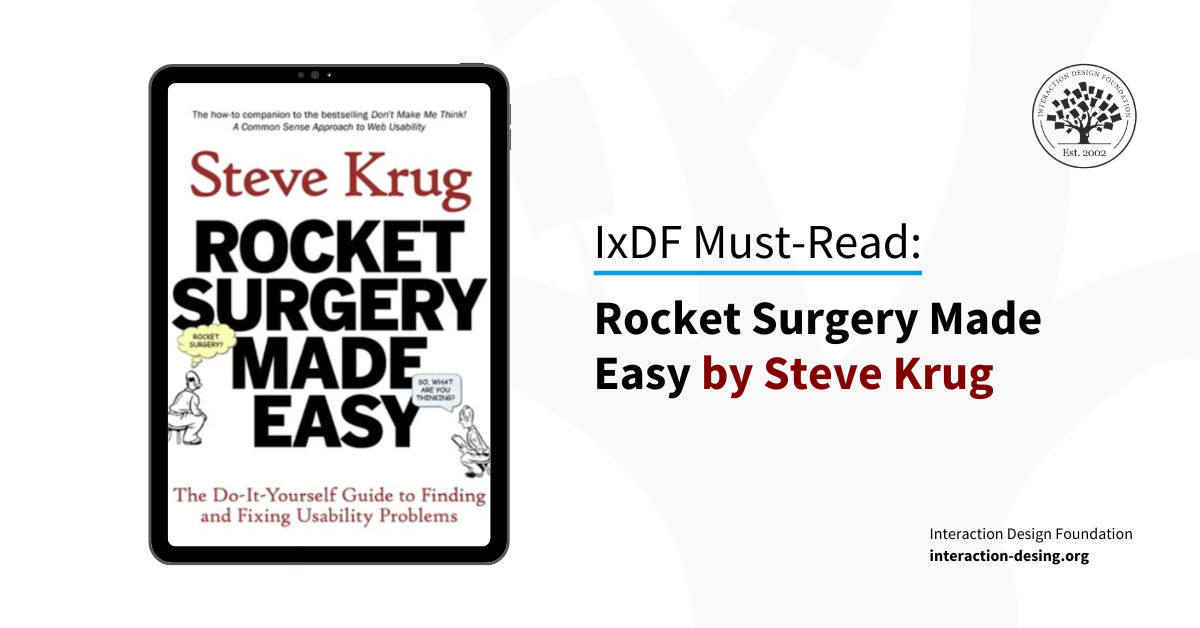 Regarded as the companion to "Don't Make Me Think," Krug's book provides a practical guide to usability testing. He emphasizes the importance of early and frequent testing, making problem identification and resolution a seamless part of your design process.
Key Takeaway
This book guides readers through the practical aspects of user testing. It highlights the importance of choosing the right participants, crafting effective tasks, and maintaining neutrality during the process. It also uncovers compelling insights from users. Krug offers a comprehensive roadmap to conduct effective user research.
"You're not interested in what it takes to uncover most of the problems; you only care about what it takes to uncover as many problems as you can fix."

― Steve Krug, Rocket Surgery Made Easy
HCI expert Prof. Alan Dix talks about the three guidelines of usability:
Top UX Books for Professionals 
UX design demands a profound understanding of design principles and an analytical mindset. Here are the best UX books that will offer experienced professionals fresh perspectives, deeper insights, and the tools to drive impactful change.
Lean UX: Applying Lean Principles to Improve User Experience by Jeff Gothelf with Josh Seiden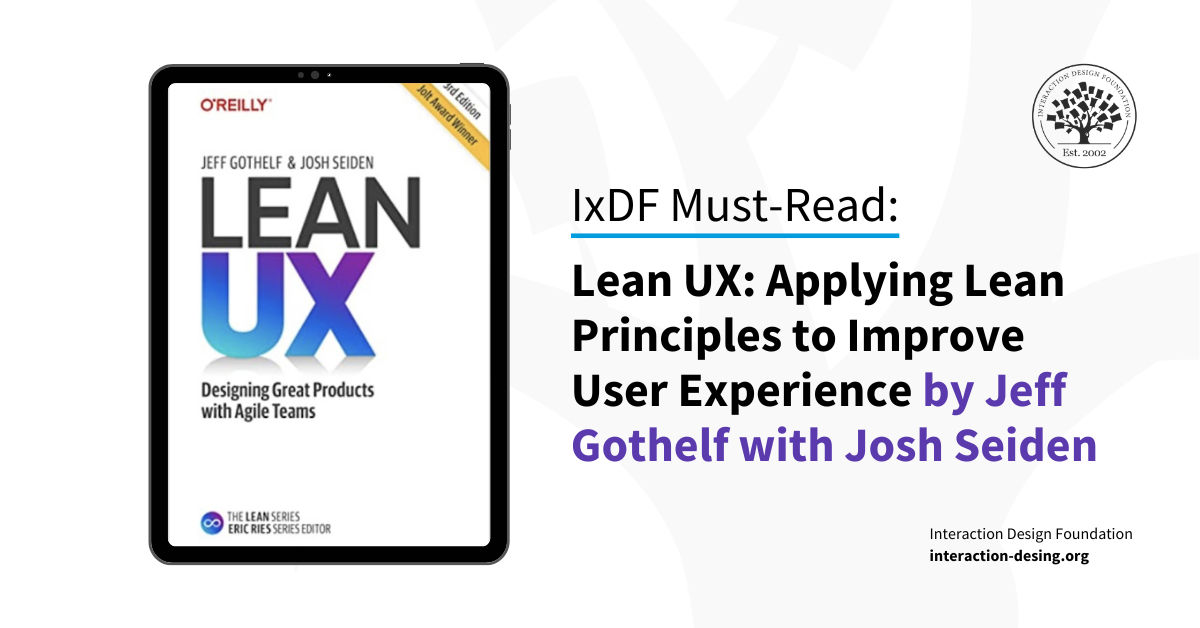 "Lean UX"  covers principles, tactics and techniques to incorporate design into Agile teams. It underscores the importance of collaborative projects focusing on solving user problems instead of merely adding new features. Gothelf's work encourages you to reflect on your role within the organization and the overall UX strategy.
Key Takeaway
This book dives into lean and agile principles in UX design. It promotes teamwork in product development, urging frequent feedback and short design cycles. "Lean UX" focuses on crafting an excellent user experience and shifting the focus from merely producing deliverables. Thus, it fosters a beneficial shift in the design process.
"Our goal is not to create a delivery, it's to change something in the world – to create an outcome."

— Jeff Gothelf with Josh Seiden
The Paradox of Choice: Why More Is Less by Barry Schwartz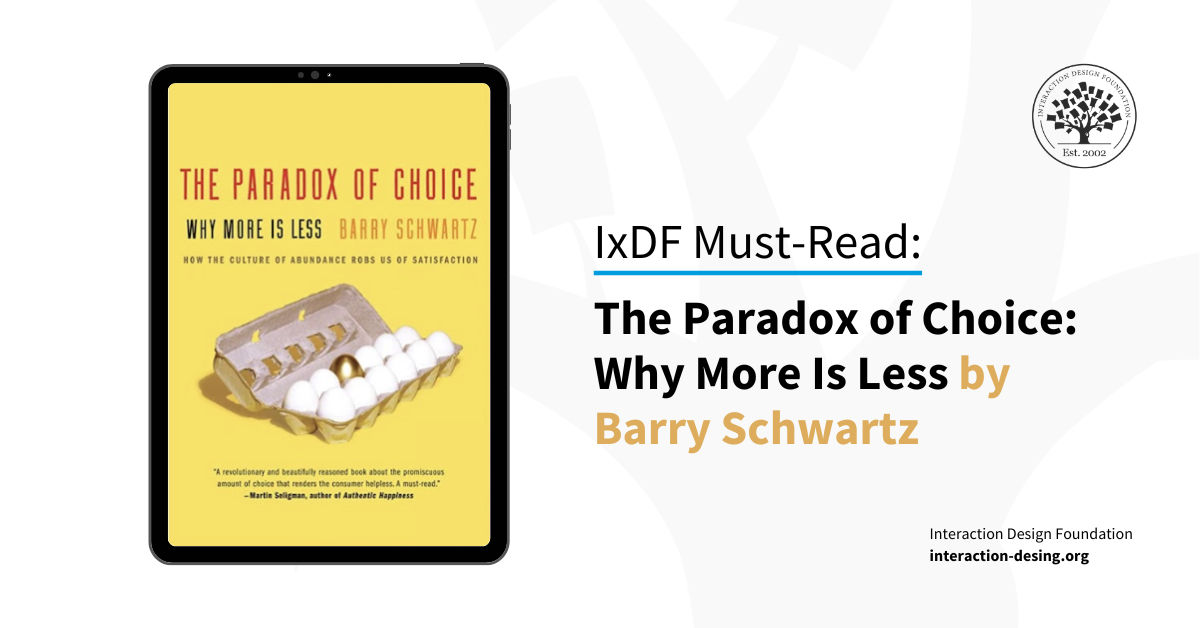 Through "The Paradox of Choice," Schwartz contends that while the abundance of choice may appear beneficial, it often leads to frustration and dissatisfaction. This book challenges the conventional wisdom that more is better. It argues for limiting choices to increase user satisfaction. If you understand how people think, you can make your designs better by focusing on what users need, not just what they want.
Key Takeaway
This book conveys that an abundance of options can lead to decision paralysis and lower user satisfaction. It suggests that "good enough" often trumps the "absolute best." "The Paradox of Choice" urges you to create experiences that satisfy users' needs rather than overwhelm them with excessive choices. This can enhance decision-making ease and user contentment.
"People choose not on the basis of what's most important, but on what's easiest to evaluate."

— Barry Schwartz
Build Better Products: A Modern Approach to Building Successful User-Centered Products by Laura Klein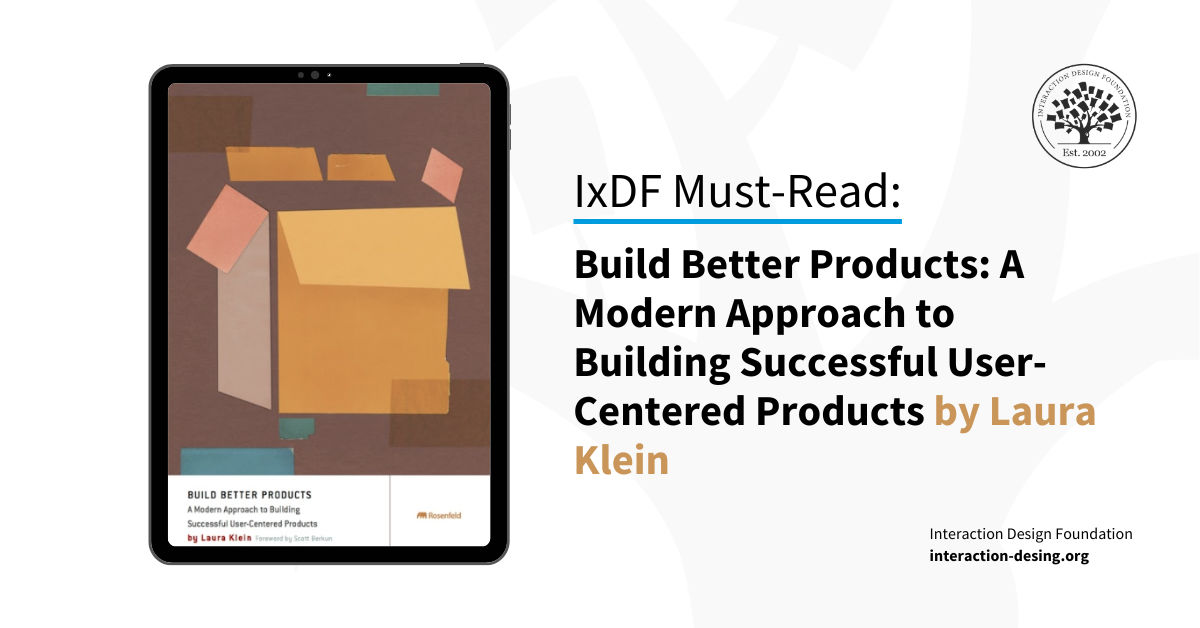 "Build Better Products" offers a comprehensive guide for all aspects of product development. It is valuable for product managers and anyone involved in creating a new product. Klein's step-by-step approach considers every potential scenario in the product development journey and even includes advice on team building. Her approach ensures that readers understand user experience design and product engineering in-depth.
Key Takeaway
The book provides a holistic framework for product management that is both practical and extensive. It encourages readers to step out of their comfort zone as it provides insights into various aspects of product development that they might not have explored before. Klein's advice on team building is particularly valuable as it recognizes the vital role of a well-coordinated team in the successful development and launch of a product.
"Trying new things constantly and then abandoning them without further study or work is not iterating. That's flailing."

― Laura Klein
Creative Confidence by Tom and David Kelley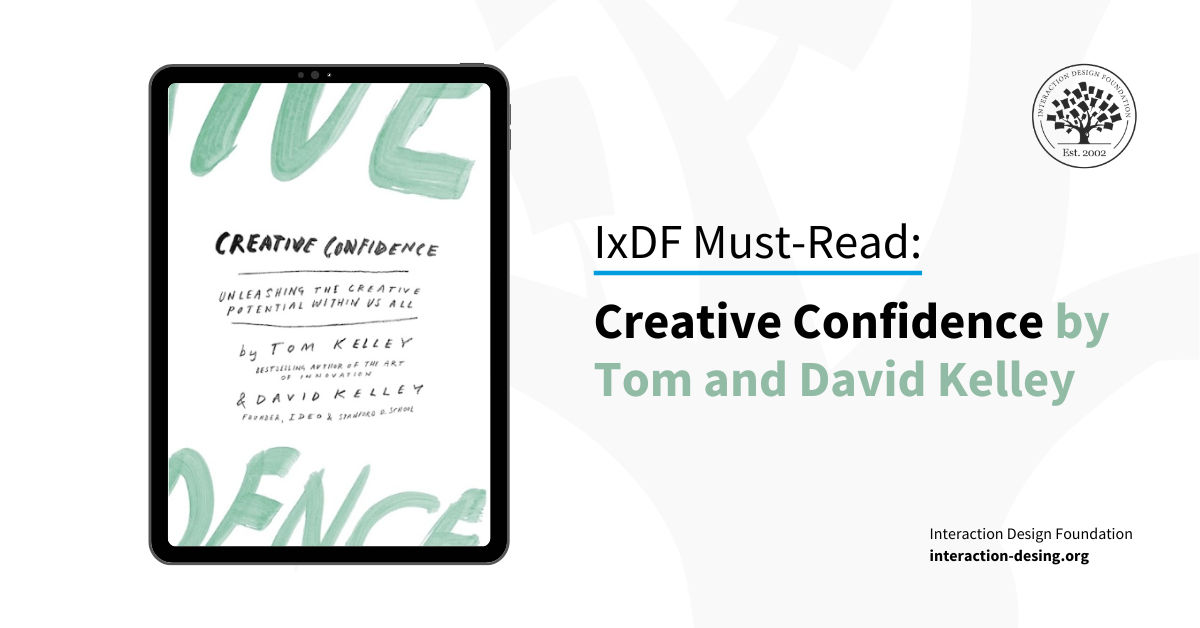 "Creative Confidence" debunks the "creativity myth"—that people are born creative. It empowers readers to tap into their inherent potential to create change. The authors share inspiring stories from their work at IDEO and teach you how to leverage everyday annoyances as design opportunities.
Key Takeaway
The book emphasizes the value of practice, empathy, curiosity, an abundance of ideas, and resilience in fostering creativity. It encourages the reader to view the world with fresh eyes and adopt an "abundance mentality." You must treat creativity as a flexible muscle that benefits from regular exercise and teamwork.
"That combination of thought and action defines creative confidence: the ability to come up with new ideas and the courage to try them out."

― Tom Kelley
100 Things Every Designer Needs To Know About People by Susan M. Weinschenk, Ph.D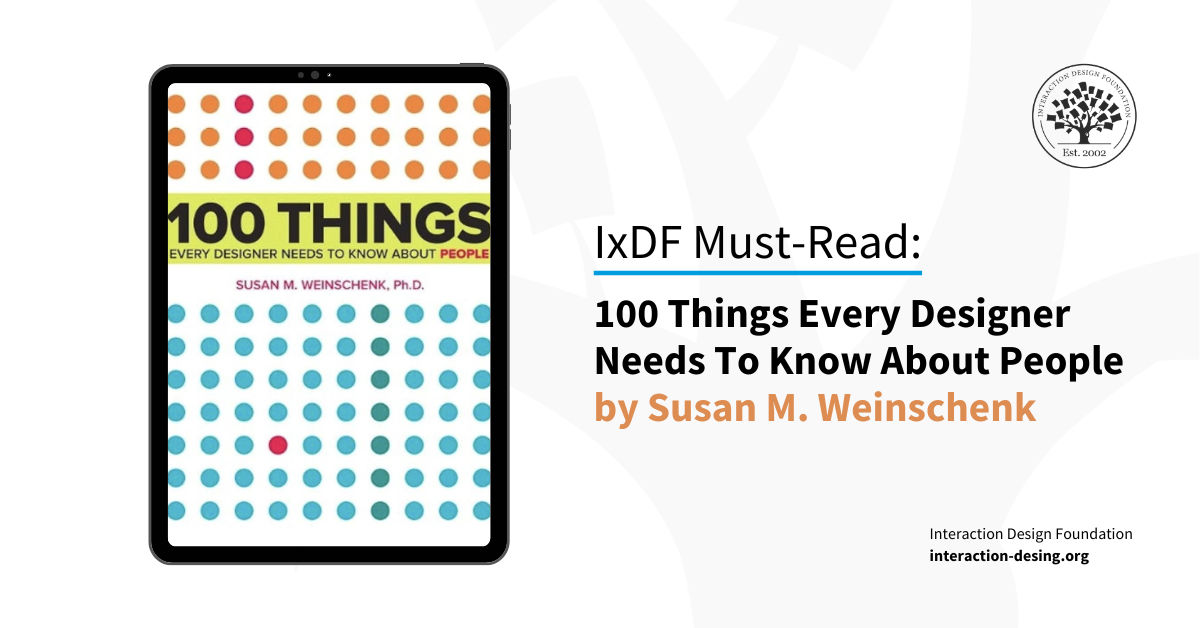 Serving as a comprehensive reference guide, "100 Things Every Designer Needs To Know About People" delves into the basics of how people see, think, read, and what motivates them. It provides valuable insights and tactics from cognitive, social, and perceptual psychology research for creating successful UX designs.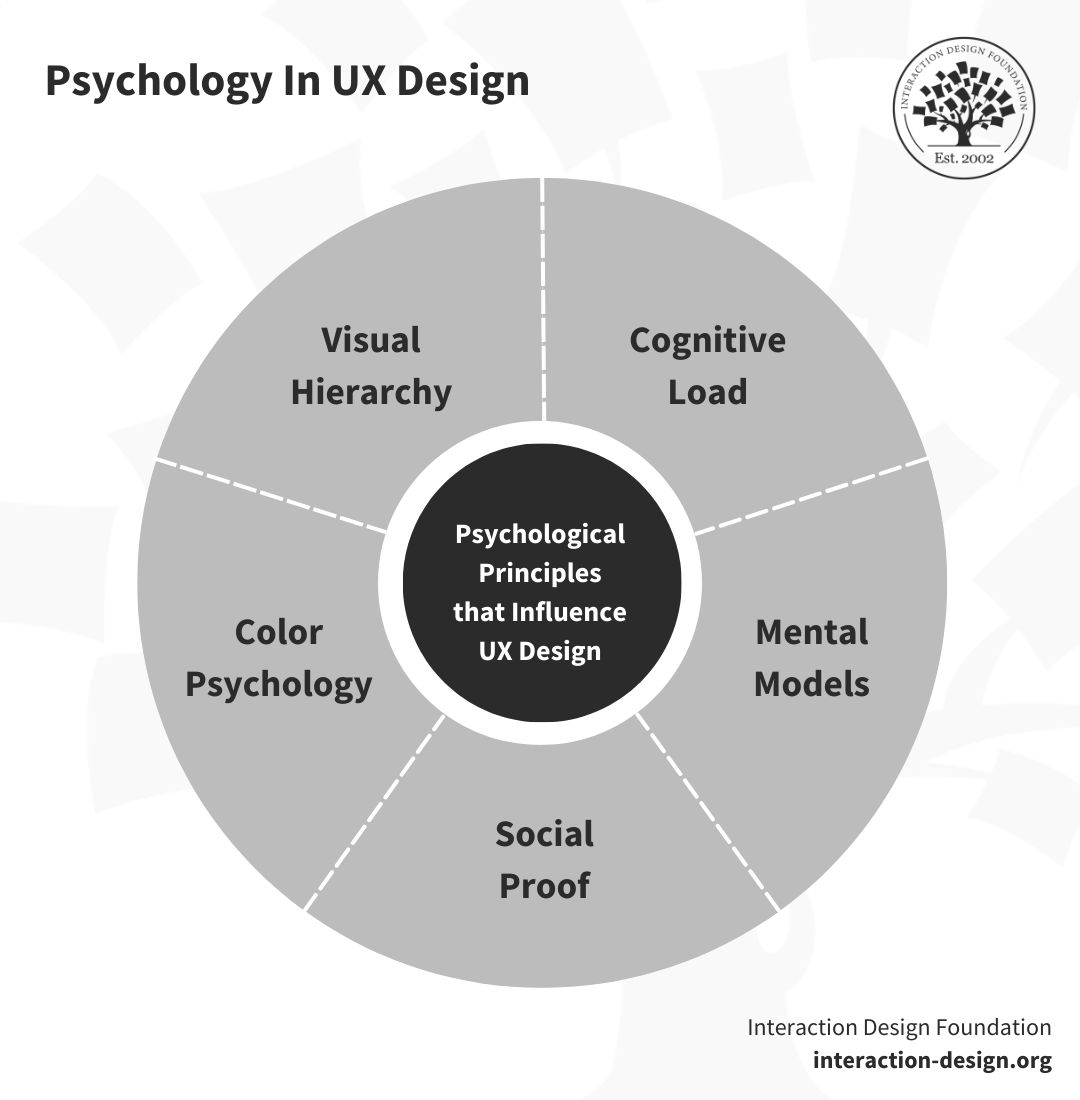 Key Takeaway
The book teaches that effective design stems from understanding human behavior and motivations. It applies psychology and neuroscience research to user-centric design. Thus, it offers practical advice on creating intuitive, accessible digital and physical products for varied audiences. You'll also find techniques to create compelling user experiences and get higher conversion rates.
"To design a product or Web site that persuades people to take a certain action, you need to know the unconscious motivations of your target audience."

― Susan M. Weinschenk
Essential UI Design Books
UI design is an integral part of product development. It requires both artistic creativity and technical understanding. Here are some prominent books that will serve as useful resources for your UI design journey:
UI is Communication by Everett N. McKay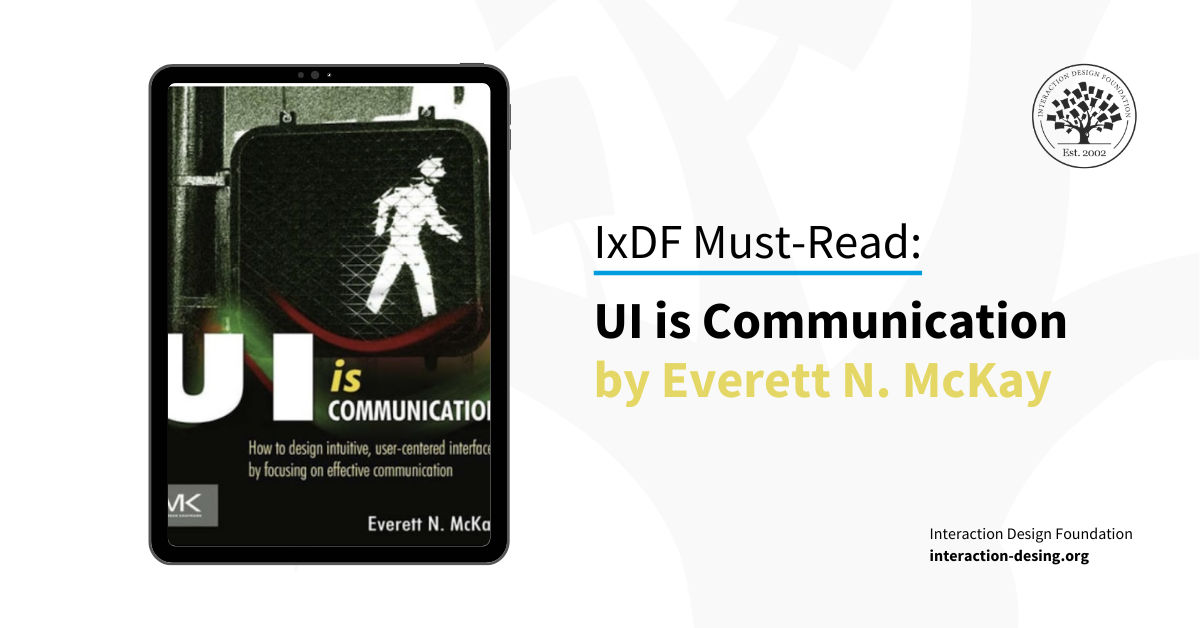 "UI is Communication" is a practical guide that focuses on UI design as an objective communication tool rather than aesthetics. The book draws a parallel between user interfaces and conversations, providing useful methods for real-world design challenges.
Key Takeaway
This book stands out for its rich, varied examples, easily digestible layout with bolded keywords, and inclusion of humor through comics. It goes beyond UI, discussing user-centered design and UX techniques. Suitable for diverse roles, it remains current, even exploring mobile conventions.
"If your product solves real problems, has a simple, intuitive interaction and an appealing, easy-to-read visual design, yet people aren't using it, chances are your product is failing to communicate at a human level."

― Everett N. McKay
Designing with the Mind in Mind by Jeff Johnson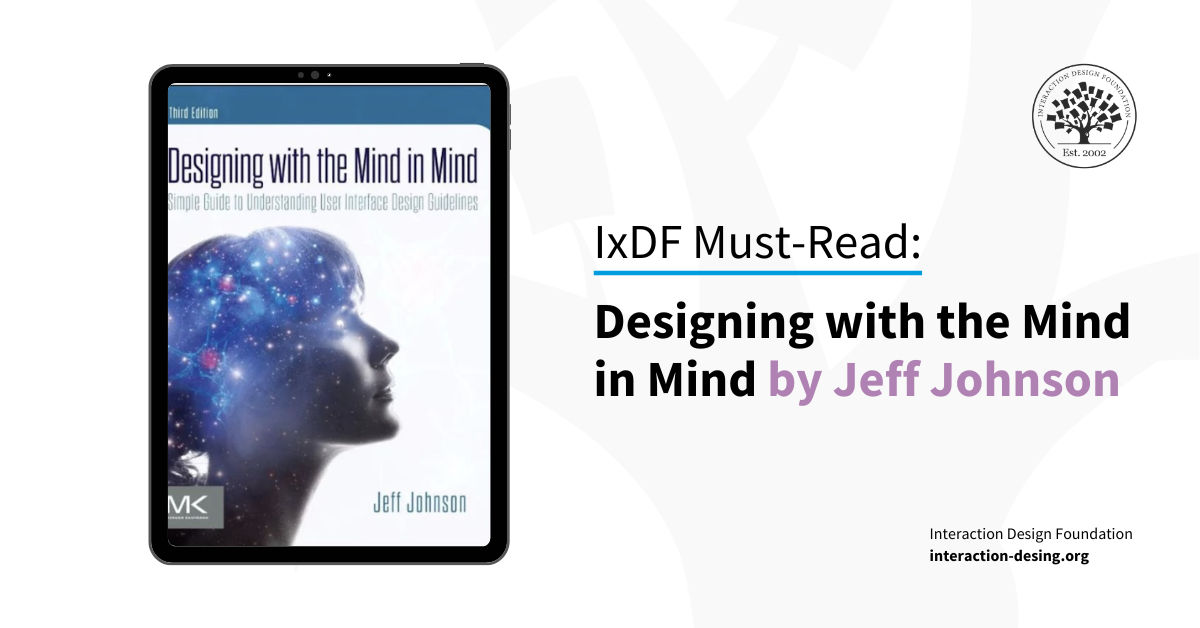 "Designing with the Mind in Mind" explores perceptual and cognitive psychology and how it can inform effective UI design. It provides insights into human decision-making, hand-eye coordination, color perception, and memory, offering a strong foundation for user-centric design.
Key Takeaway
The book imparts essential perceptual and cognitive psychology insights to UI designers. It enables them to understand and intuitively apply design rules rather than blindly follow them. The book helps designers make informed decisions, even in challenging situations like trade-offs, time limits, or resource constraints.
"Engineering does not replace art in a design, it makes it possible."

― Jeff Johnson
Evil by Design by Chris Nodder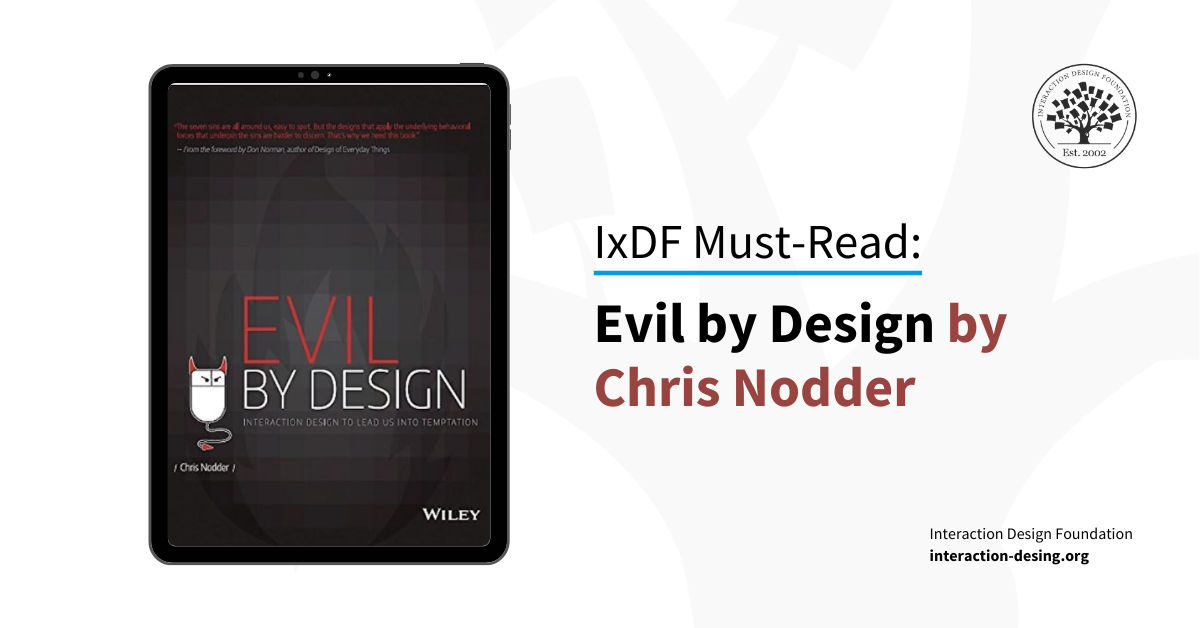 Nodder's work unravels the psychological aspects used in persuasive design techniques. The book dissects real website examples and displays how companies (and designers)  leverage UI design patterns and human psychology to trick people for commercial advantages.
Key Takeaway
The book uncovers the dark side of design. It reveals how some designers exploit users' vulnerabilities to enhance conversion rates. "Evil by Design" will help you  become aware of, and resist manipulative strategies. 
"It's ok to deceive people if it's in their best interests or if they've given implicit consent to be deceived as part of a persuasive strategy." 

— Chris Nodder
Simple and Usable Web, Mobile, and Interaction Design by Giles Colborne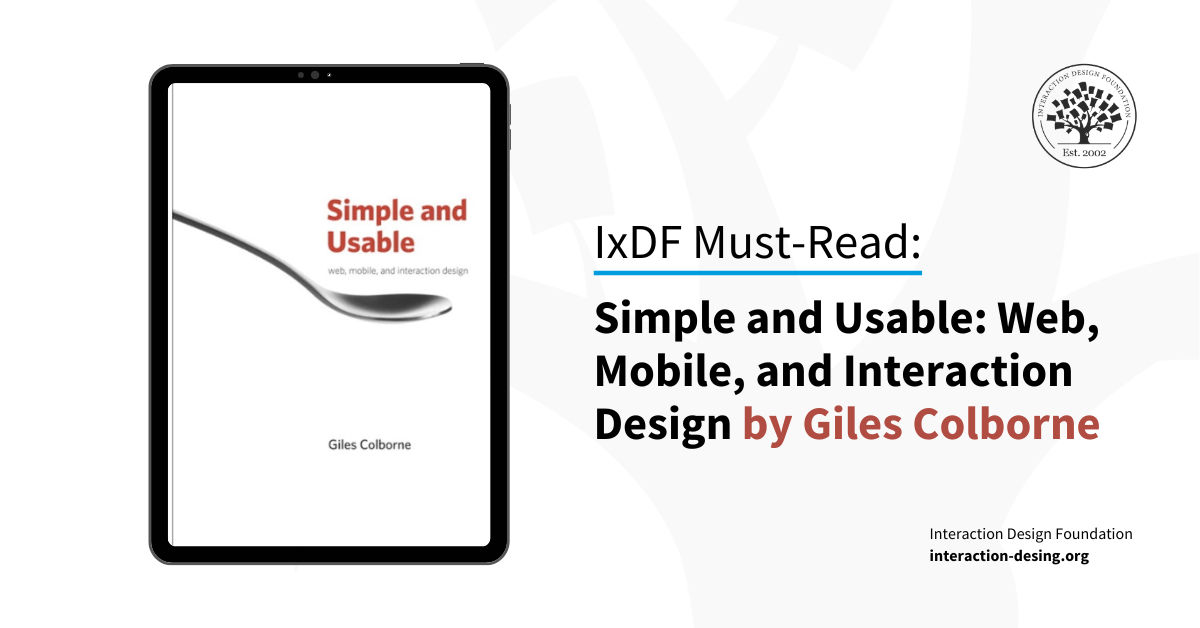 As the title suggests, "Simple and Usable Web, Mobile, and Interaction Design" is a practical guide to achieving simplicity in UI design. It focuses on removing, organizing, concealing, and displacing features and UI elements to enhance the user experience.
Key Takeaway
Simplicity and usability are crucial to a product's success. Giles Colborne presents four strategies (remove, hide, organize and displace) to achieve this simplicity. The book emphasizes that products that are the simplest to use often win customers.
"The better and longer way is to describe the experience I want the users to have. That means describing the users' world and how my design fits in."

― Giles Colborne
Designing Interfaces by Jenifer Tidwell, Charles Brewer and Aynne Valencia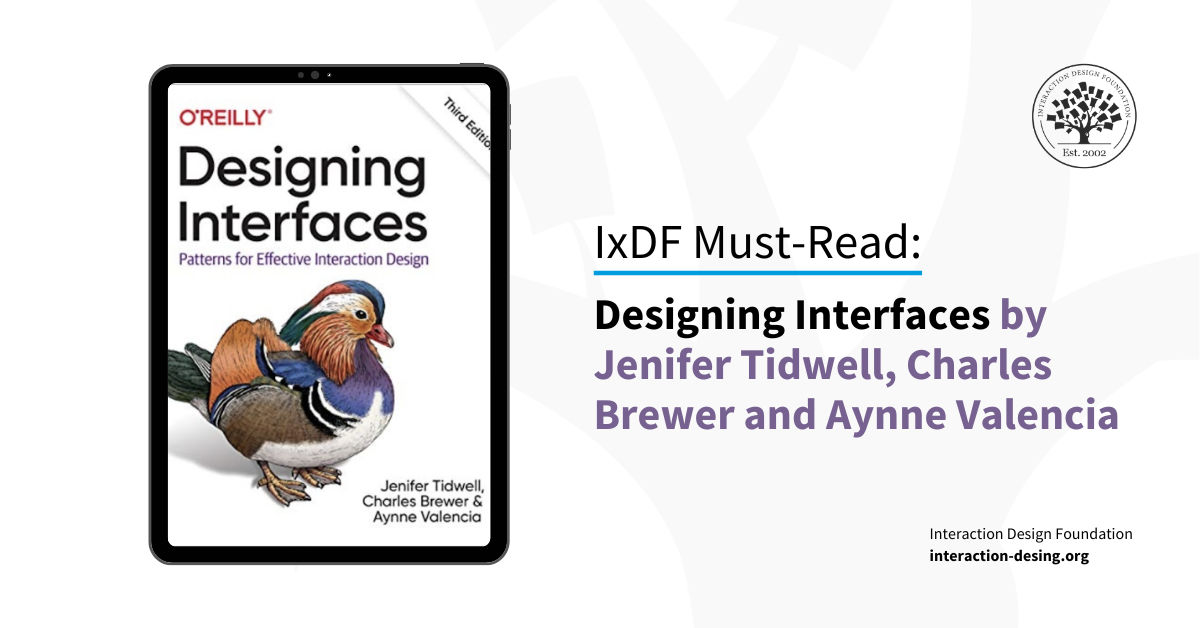 "Designing Interfaces" is essentially a comprehensive catalog of various UI patterns. It documents the best practices for each pattern's usage. It's a practical resource, particularly beneficial for those beginning their UI design journey.
Key Takeaway
This book  compiles common interaction design patterns used across web and desktop environments. The book adeptly navigates between generic and specific advice. It serves as a valuable reference for designers keen on creating effective user-facing software.
"Good design can't be reduced to a recipe."

– Jenifer Tidwell
Here's UX designer and co-founder of HYPE 4, Michal Malewicz with more on the importance of UI design.
UX Research and Strategy Books
UX research plays a crucial role in understanding users' needs, behaviors, and motivations. For experienced professionals seeking to delve deeper, here are five noteworthy books on UX research:
The User Experience Team of One: A Research and Design Survival Guide by Leah Buley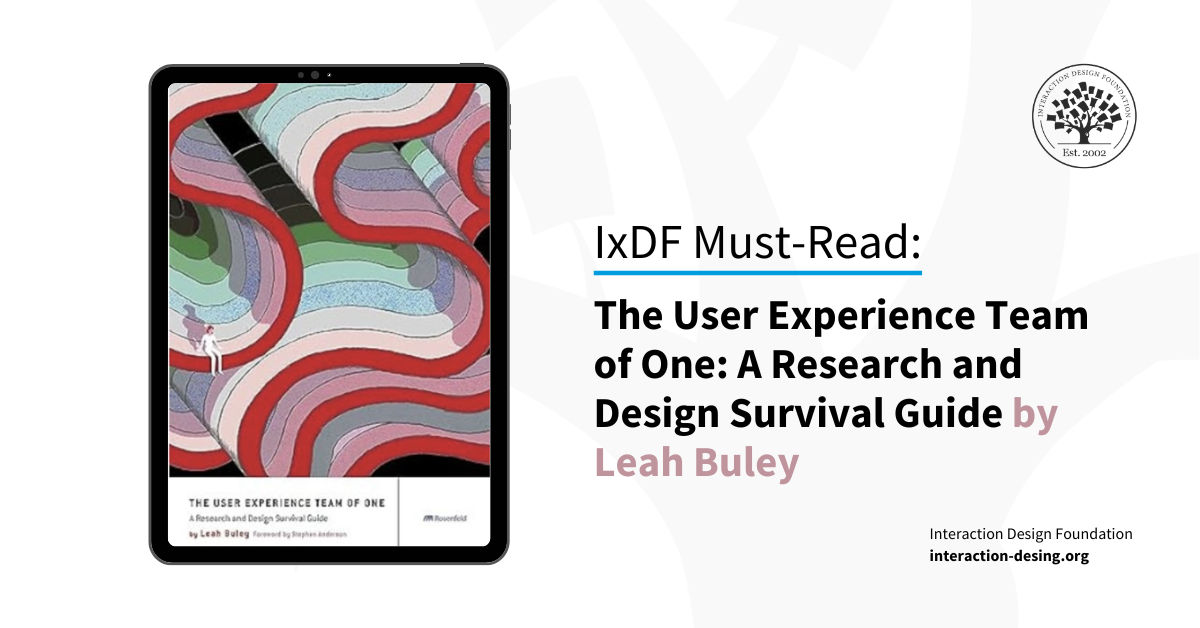 "The User Experience Team of One" is perfect for those seeking effective UX research with fewer UX design resources. Buley drew from her experiences at notable firms such as Publicis Sapient and InVision to write this book. She provides practical tips and techniques to guide readers through the entire design process and help quantify the user experience. 
Key Takeaway
Buley offers a valuable breakdown of different design phases. These design phases include planning, researching, designing, testing, and evangelism. The emphasis on outputs, inviting review, and fostering collaboration is particularly insightful. This book provides clear direction and suggests a focus point at the end of each chapter: If you can only do one of these, do X.
"Design is the act of creating new solutions under constrained circumstances, whether those constraints are aesthetic, technological, or resource-driven. That may sound like a restriction, but actually it's a gift. Constraints, in the end, are a designer's friend."

— Leah Buley
Just Enough Research by Erika Hall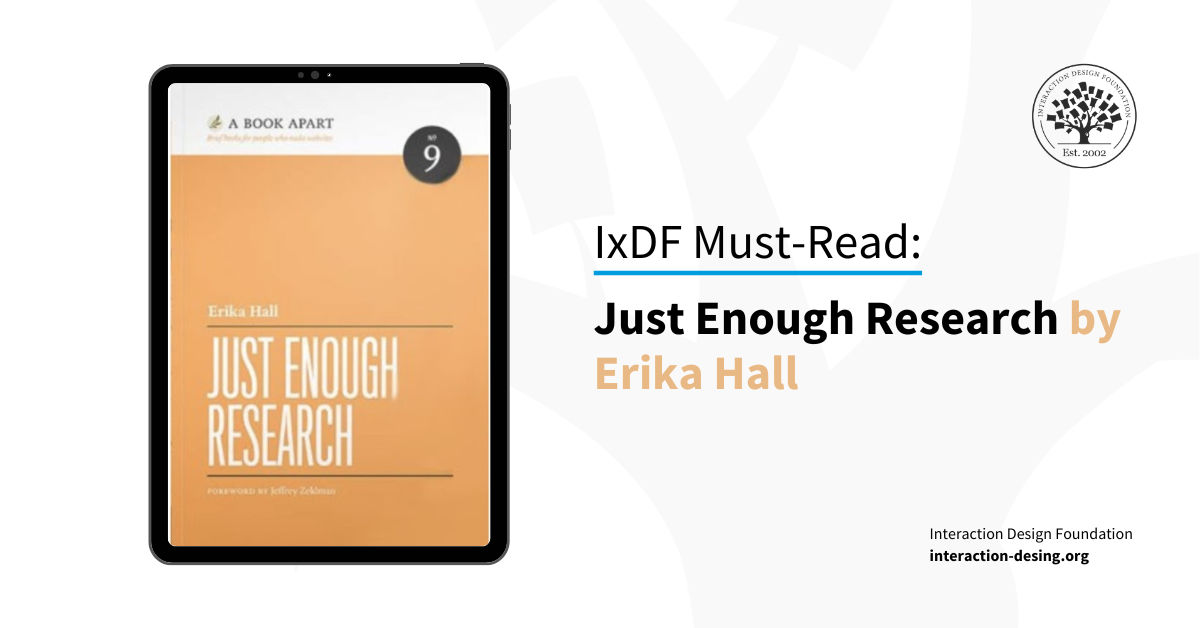 Co-founder of Mule Design Studios, Erika Hall, shares her wealth of knowledge in "Just Enough Research." It aims to improve questioning and critical thinking in research. Hall covers a wide range of topics and offers useful methods for better and faster research.
Key Takeaway
This book is an exhaustive yet approachable introduction to the multifaceted world of design research. This practical guide, peppered with humor and valuable tips, covers a wide range of topics beyond traditional user interviews and usability testing. Despite being short and concise, it prompts thoughtful reflections and questions about design research methodologies.
"You can optimize everything and still fail, because you have to optimize for the right things. That's where reflection and qualitative approaches come in. By asking why, we can see the opportunity for something better beyond the bounds of the current best. Even math has its limits."

― Erika Hall
Think Like a UX Researcher: How to Observe Users, Influence Design, and Shape Business Strategy by David Travis and Philip Hodgson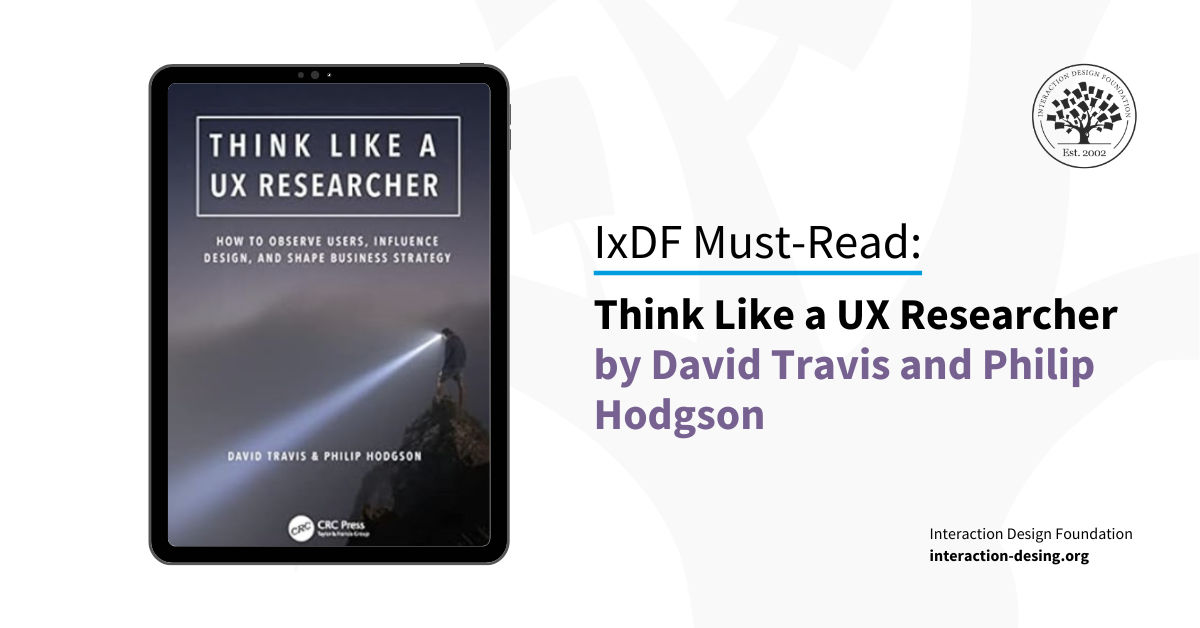 With a combined 50 years of UX research experience, Travis and Hodgson provide invaluable insights into UX research planning, data analysis, and team persuasion. The book includes thought-provoking exercises and stories from experienced researchers.
Key Takeaway
This book offers a solid overview of UX principles. It reinforces best practices and introduces new tools you can apply to future projects. Its unique feature is the summary of each topic with brief questions and exercises, such as the SCAMPER example. These exercises prompt critical thinking and remind readers that UX approaches should be adaptable and tailored to individual projects. It's an informative read that encourages questioning and flexibility in UX design.
"Companies say they value great design. But they assume that to do great design they need a rock star designer. But great design doesn't live inside designers. It lives inside your users' heads. You get inside your users heads by doing good UX research: research that provides actionable and testable insights into users' needs."

― David Travis
In this video, CEO of Experience Dynamics, Frank Spillers urges designers to "get out of the building" before designing anything.
Bottlenecks: Aligning UX Design with User Psychology by David C. Evans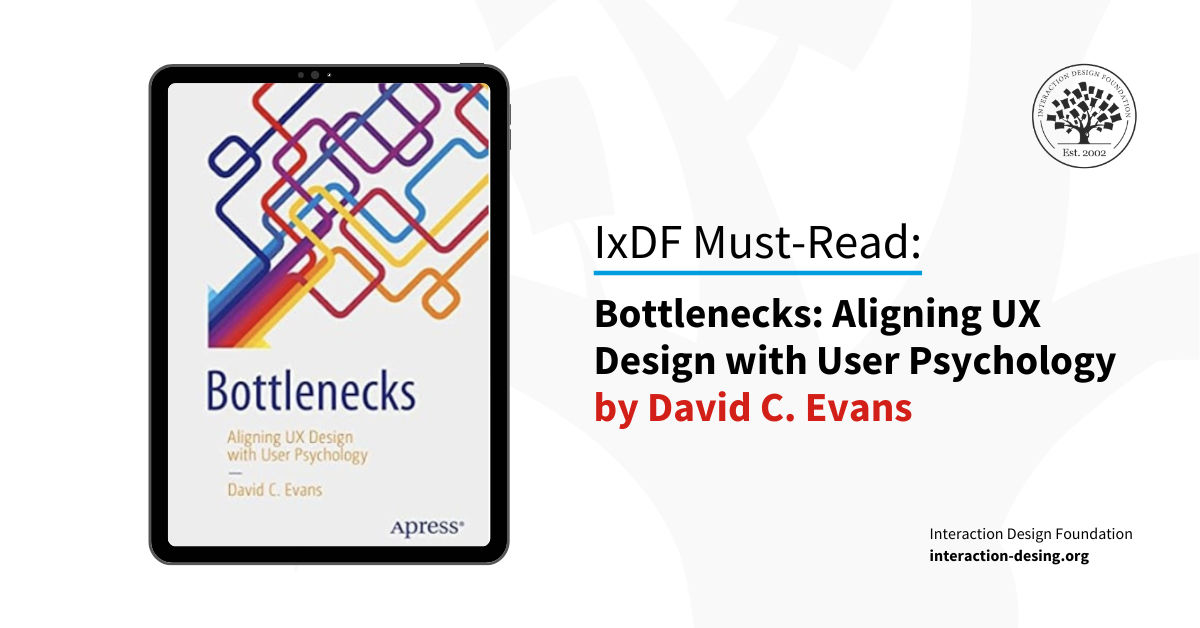 In this book, Evans links cognitive psychology with UX design principles. He explores the psychological processes that influence design success and shares hypotheses for research to meet user needs more effectively.
Key Takeaway
The key takeaway from this book is that understanding human psychological constraints is crucial for effective UX design. This book explains how to align digital designs with inherent bottlenecks in human nature. It provides case studies and strategies for marketing and product development in the social media age. Also, it highlights the vital role of behaviorism, development, personality, and social psychology in UX design.
"Bottlenecks brings together two very important aspects of user experience design: understanding users and translating this into business impact. A must-read for anyone who wants to learn both." 

– Josh Lamar, Sr. UX Lead, Microsoft Outlook
User Research: Improve Product and Service Design and Enhance Your UX Research by Stephanie Marsh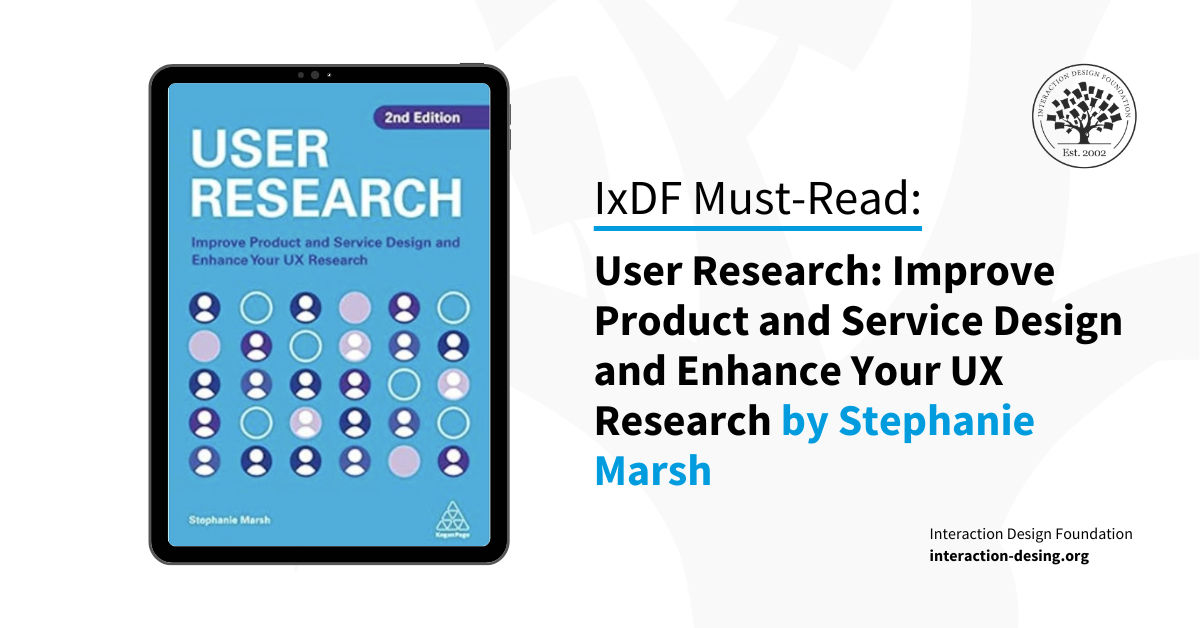 Marsh, a seasoned UX researcher, offers insights into implementing UX research effectively within an organization. The book provides practical advice on the most up-to-date  user research methods and data interpretation techniques.
Key Takeaway
This book provides a detailed, hands-on approach to user research. Marsh discusses the optimal timing for research implementation and showcases how a deep understanding of users can improve product and service design.
"This book offers a comprehensive overview of how to be a great user researcher and explains exactly how to plan, run and debrief impactful user research. This new edition is right up to date with modern research needs for ethical data handling, and operationalising research. An essential handbook for new and experienced researchers to keep by their side!"

— Steve Bromley, Principal User Researcher at Reach PLC
UX Design Ebooks and Online Resources
We understand that your time is precious, and flipping through lengthy books may not always be feasible. So, we've got you covered! Here are five ebooks and online resources that provide excellent UX advice and insights:
The Basics of User Experience Design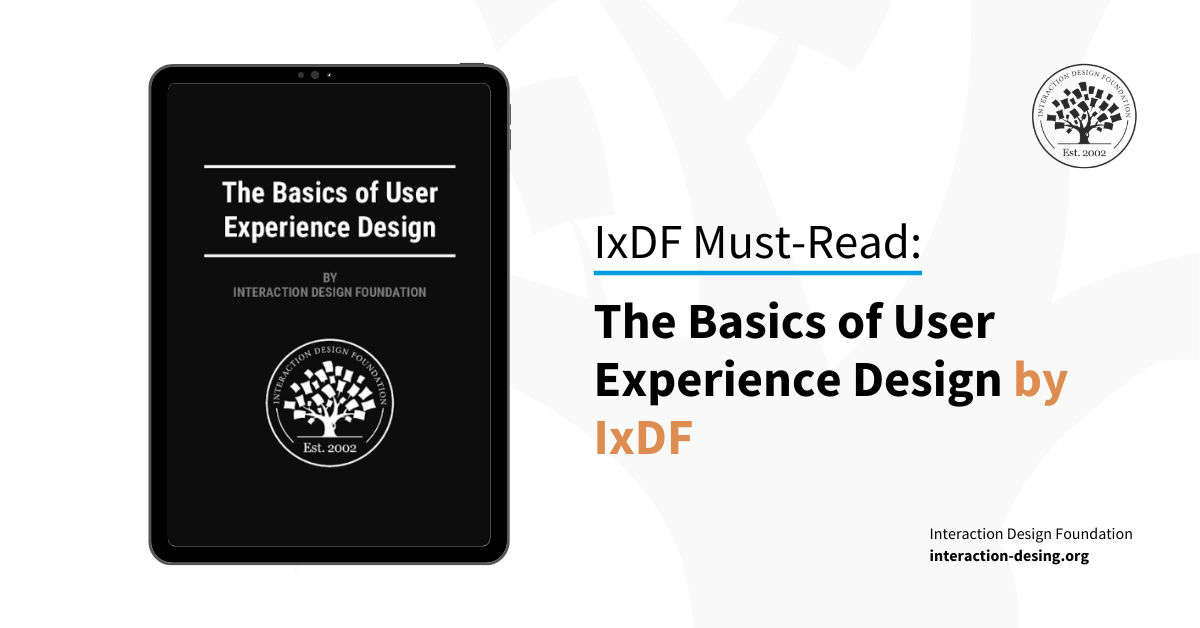 The Interaction Design Foundation's comprehensive guide covers the fundamental aspects of UX design. Over nine chapters, readers can learn about conducting user interviews, design thinking, interaction design, mobile UX design, usability, UX research, and more. Get this free ebook here. 
Key Takeaway
This e-book will help you understand the user-centered design process. It'll provide practical knowledge of various UX methods and techniques, and insights into modern UX design trends.
Bright Ideas for User Experience Designers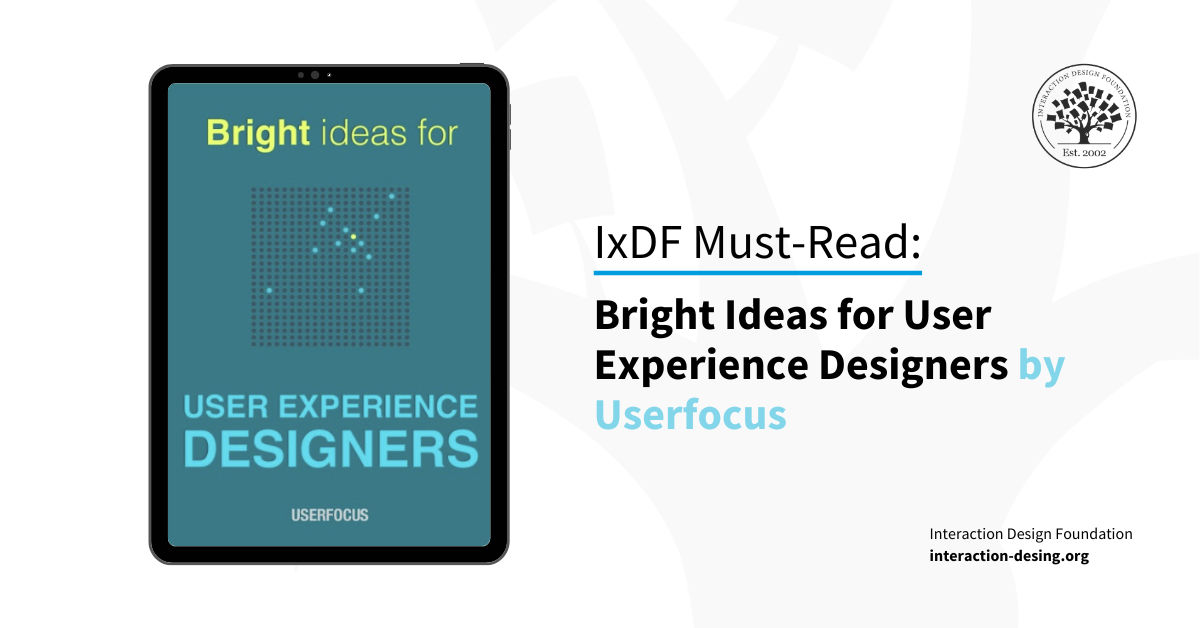 Userfocus's e-book offers a friendly and memorable approach to UX design concepts. From improving usability to mastering prototypes, the eBook illuminates key aspects of UX design with real-world examples. It also shares essential tips for writing support material, error communication, and even creating a compelling UX vision. 
Key Takeaway
This e-book delivers valuable insights into various aspects of user experience design. It helps you learn practical strategies for improving usability, efficient prototyping to create a user experience vision, and enhanced communication of errors. It also provides useful tips for writing user manuals and understanding the significance of "alt" text.
UX Design Trends Bundle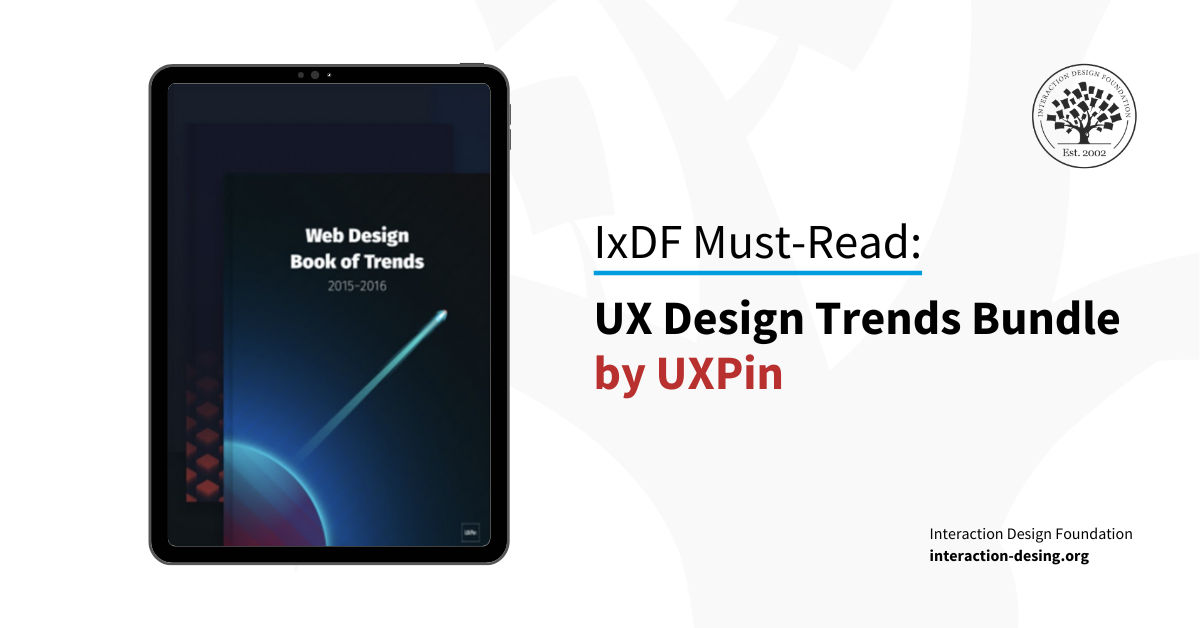 Compiled by UXPin, this bundle contains three e-books covering web and mobile UI design trends. This resource provides a comprehensive analysis of over 300 designs and is a great way to stay updated with the latest trends. You can download the ebooks from the UXPin website.
Key Takeaway
This e-book talks about key aspects of UX design. It provides insights into current design trends and showcases examples of superior designs. Furthermore, it encourages readers to contemplate the future trajectory of UX design. Its lessons prepare you to innovate, adapt, and create exceptional user experiences.
UX Storytellers: Connecting the Dots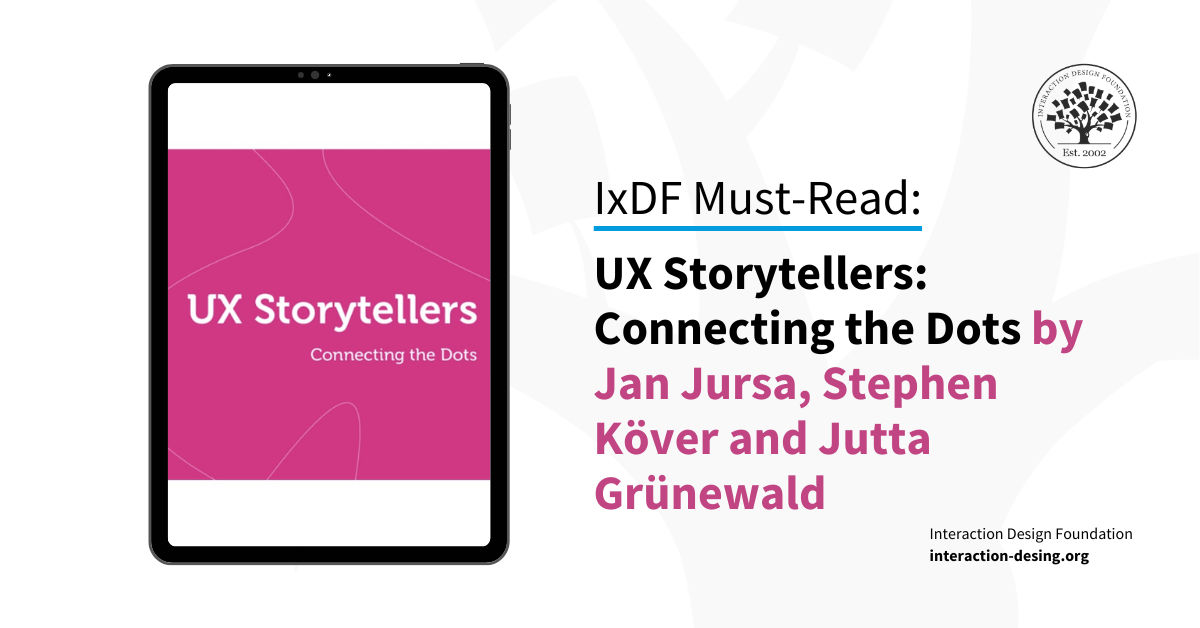 This e-book, published in 2009, offers timeless insights into the world of UX design. It contains anecdotes and advice from 42 UX professionals and provides a holistic view of the field. 
Key Takeaway
This e-book talks about common UX hurdles and shares practical ways to navigate them. It also highlights the crucial role of storytelling in design. It sheds light on the power of storytelling to create engaging and captivating user experiences.
GET INTO UX: A Foolproof Guide to Getting Your First User Experience Job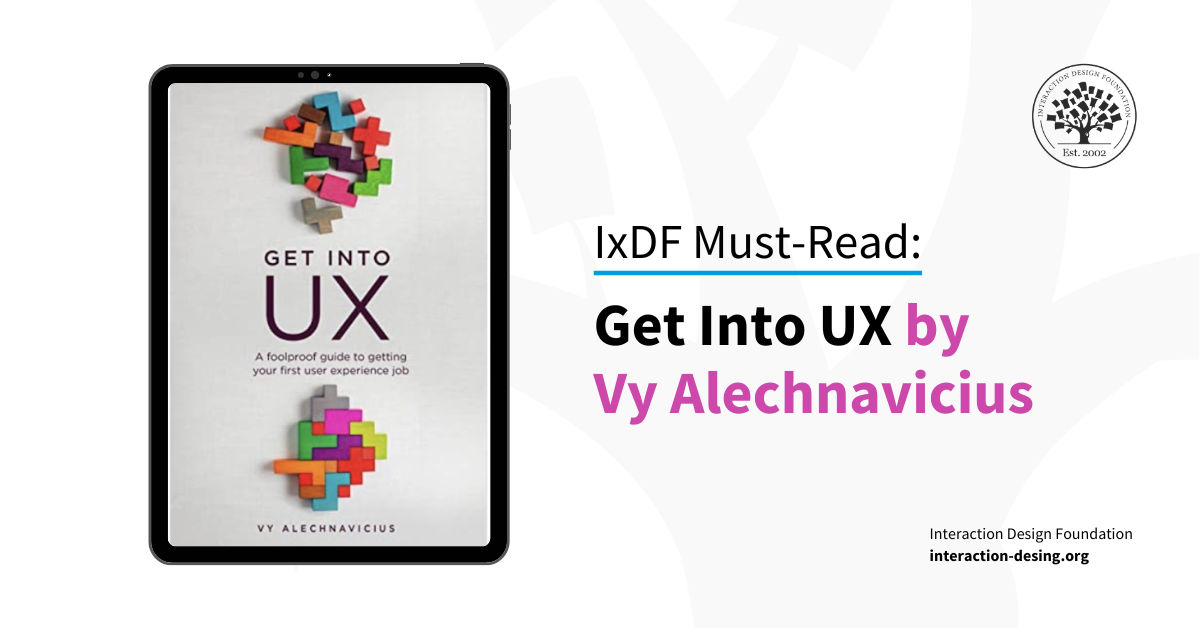 "Get Into UX" by Vytautas Alechnavicius is an illuminating guide aimed at equipping both aspiring and experienced designers with the necessary tools to secure their first UX job. Given the booming UX field and the influx of new talent, the book addresses the challenges that young designers face when trying to find jobs and offers a foolproof roadmap to breaking into the UX field. It comprehensively tackles various facets of UX, from understanding the fundamentals to building a strong portfolio, and provides actionable strategies to set up a successful UX career.
Key Takeaway
This e-book emphasizes the importance of truly understanding UX beyond the surface level. It sets up your UX career with a long-term perspective and practical tools to ace portfolios, resumes, and interviews. The book also underscores the significance of continuous learning and practice in navigating the evolving UX landscape. 
Learn from Great Design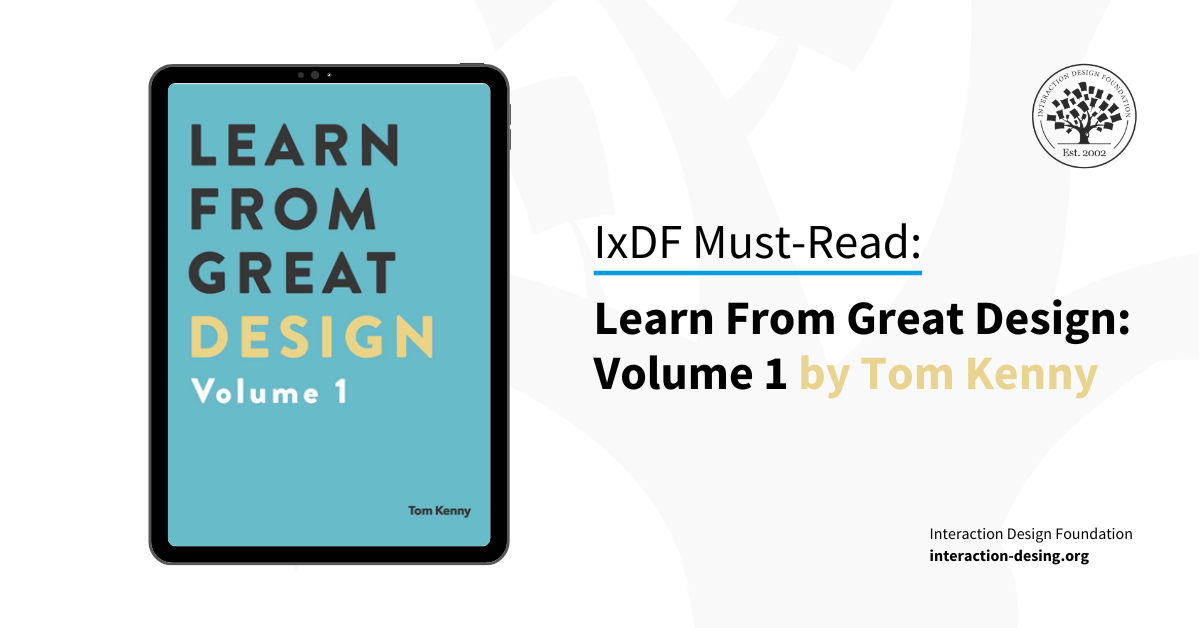 This e-book by web designer Tom Kenny provides an in-depth analysis of high-quality web designs. Although only a portion of it is available for free, the e-book provides valuable insights into what makes a design effective. 
Key Takeaway
The book primarily teaches the essentials of top-notch web design. It offers practical examples for better understanding and prompts self-evaluation to identify areas for improvement in your own work.
These e-books and UX resources are a wealth of knowledge for both new and experienced UX designers, offering a range of insights into the ever-evolving field of user experience design.
Honorable Mentions: More Noteworthy UX Design Books
Universal Principles of Design by William Lidwell, Kritina Holden and Jill Butler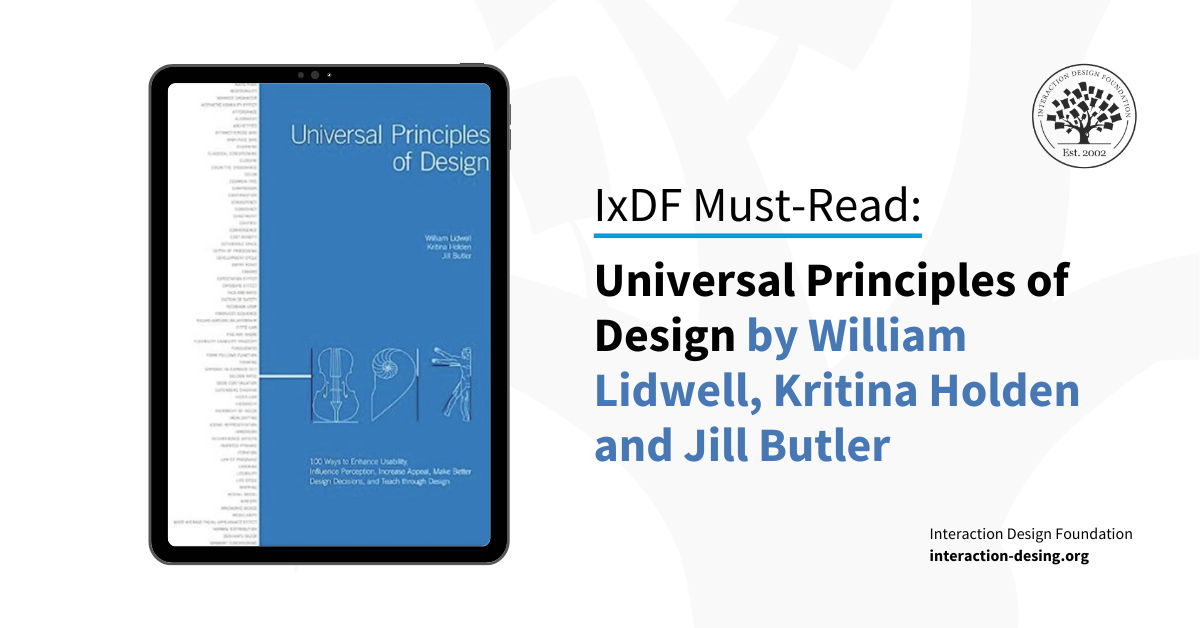 "Universal Principles of Design" by William Lidwell is a comprehensive UX design textbook. With Lidwell's extensive research background, the book underlines the science of design, providing well-curated data to aid the understanding of design principles. It covers every facet of the design spectrum, from usability to human behavior.
Key Takeaway
Key takeaways from the book are its solid grounding in UX design principles, which can be revisited anytime for insight. Furthermore, the book explores all design aspects to broaden a designer's perspective in their field and across various design disciplines. This broad-based approach makes it a rich source of inspiration for designers, regardless of their expertise.
A Project Guide to UX Design: For user experience designers in the field or in the making by Russ Unger & Carolyn Chandler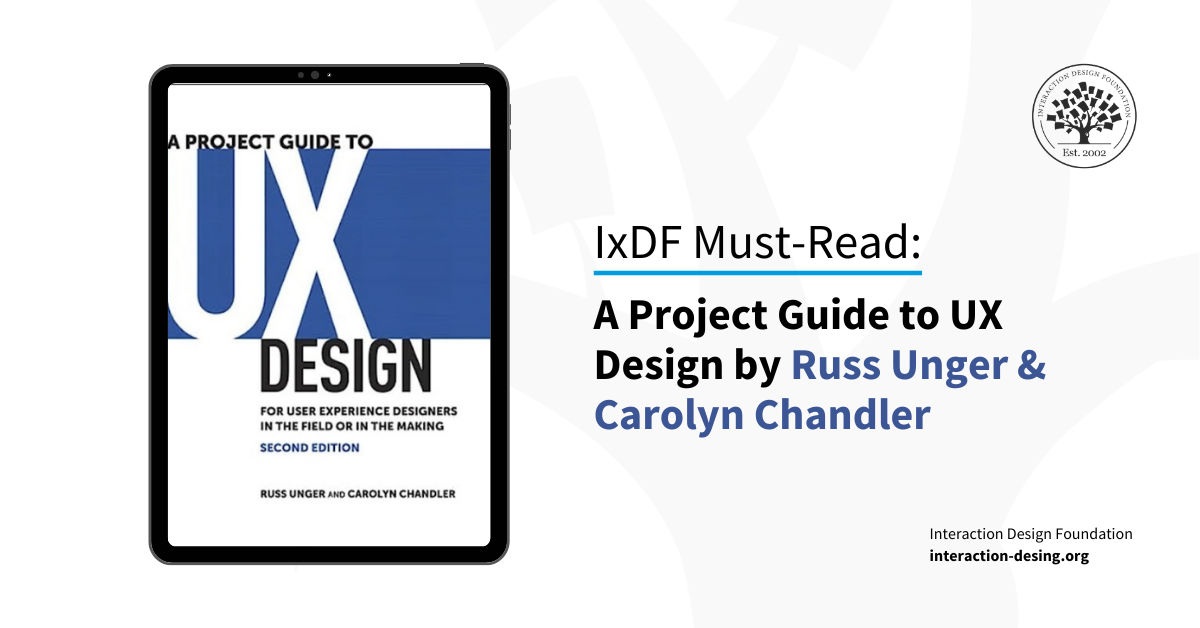 "A Project Guide to UX Design" by Russ Unger and Carolyn Chandler is an invaluable handbook for UX designers handling the complexity of design projects. It covers various skills, from understanding stakeholders' roles to conducting user research to SEO and persona creation.
Key Takeaway
This book imparts wisdom without prescribing a specific framework. It's a guide that gives you a firm grasp of what you need to know and what you should be cautious about in UX design. It's gained considerable popularity for being a reliable companion in challenging times for UX designers.
Writing Is Designing: Words and the User Experience by Michael J. Metts and Andy Welfle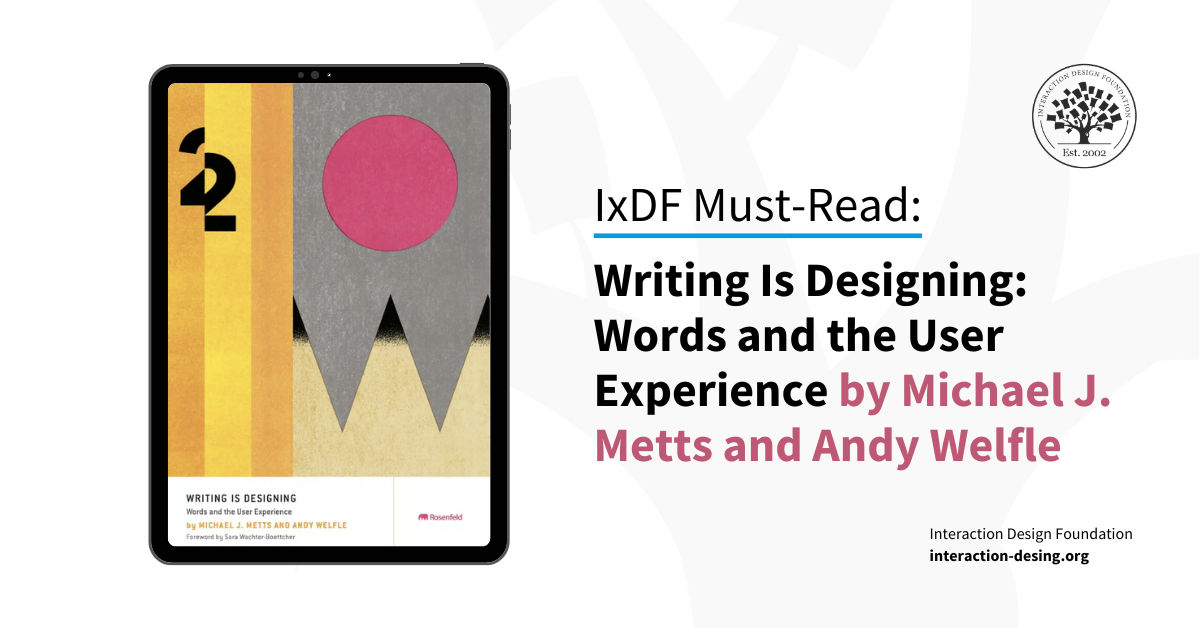 "Writing Is Designing" advocates for UX writers' critical yet often overlooked role in a product's development. Initially, the book emphasizes the importance of acknowledging UX writers in the design team. It then addresses practical challenges such as strategizing in a project setting and implementing best practices for UX writing.
Key Takeaway
This book serves as an essential guide for those already versed in UX design and looking to integrate UX writing effectively into their workflows. It not only underlines the significance of UX writing but also provides practical insights to navigate the complexities of UX writing in the design process.
About Face: The Essentials of Interaction Design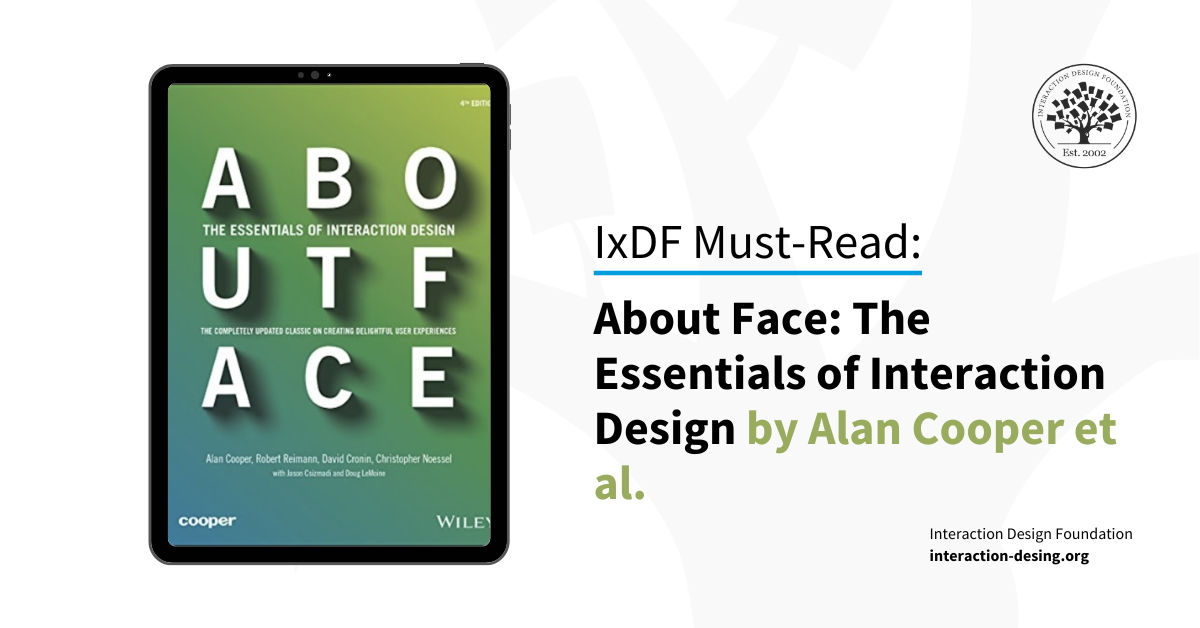 "About Face: The Essentials of Interaction Design" by Alan Cooper, Robert Reimann, David Cronin, and Christopher Noessel is an esteemed text in the realm of interaction design. Revered as a UX bible, the book extensively explores creating intuitive and user-friendly designs. Cooper, known as the "Father of Visual Basic," introduces his goal-directed design method in the book. It emphasizes the importance of understanding user needs and behaviors to construct a design that genuinely serves those needs.
Key Takeaway

This book provides a deeper understanding of the three Ps (principles, patterns, and processes) and the invaluable addition of the fourth P – practice. Cooper's insights into team dynamics and the unique roles of "generators" and "synthesizers" in design teams offer readers valuable guidance on creating and managing successful UX design teams. Also, the book presents Cooper's strategy for hiring designers to provide a comprehensive view of interaction design from conception to execution.
The Take Away
Staying on top of the latest UX and UI design tools is key to thriving in the fast-paced digital world. From grasping the fundamentals of stellar web design to identifying room for improvement in your own work, the insights shared in this piece can significantly enhance your skills.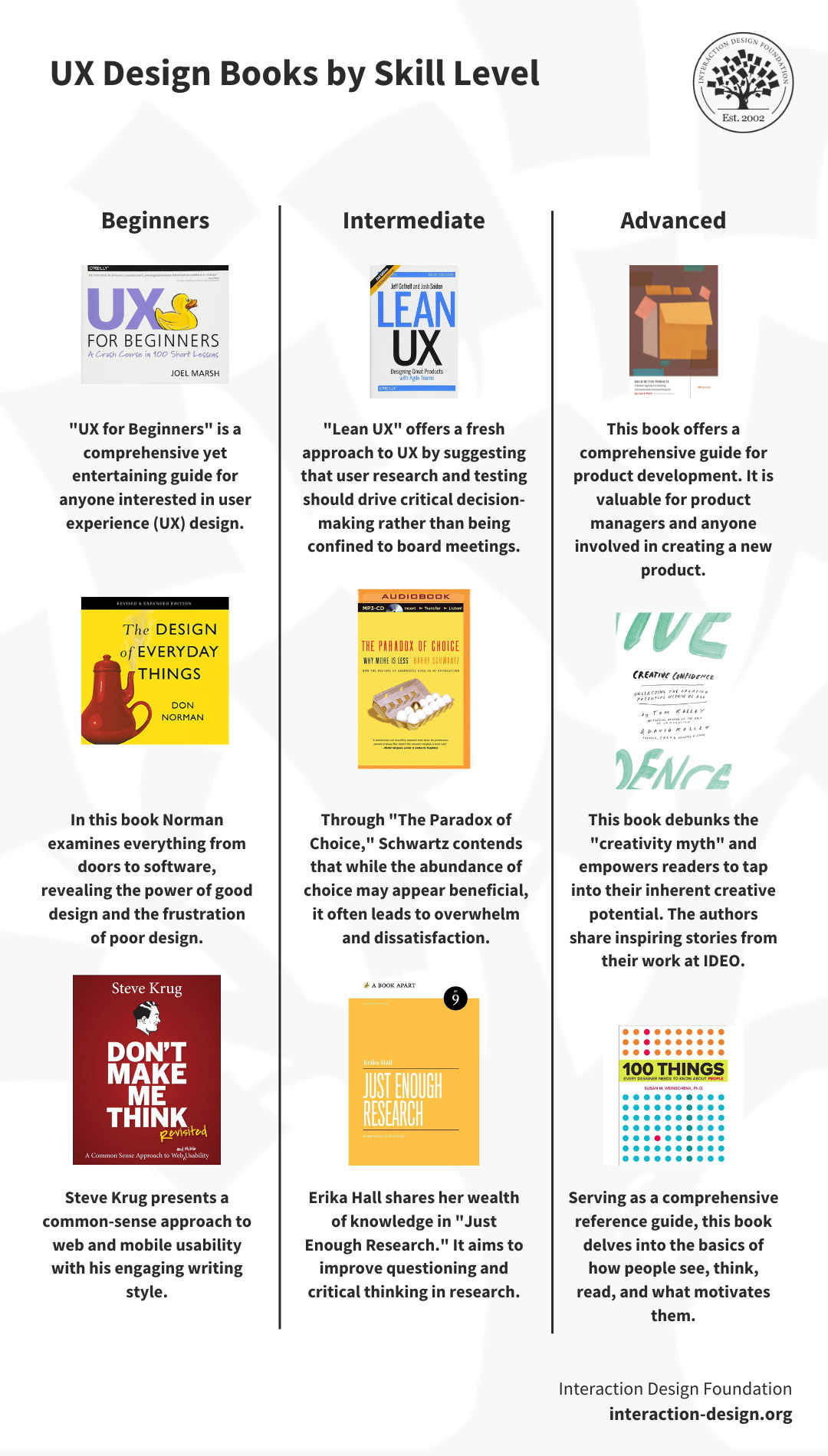 This piece serves as an evergreen resource designed to support your continuous growth in UX and UI design. As trends evolve and the best books to learn UI UX design change, we'll be updating the content to ensure it remains relevant and valuable for your learning journey.
For those just beginning their journey or seasoned professionals looking to refine their skills, our range of courses caters to all levels. Embark on your learning adventure with our beginner UX courses today.
And if you're ready to excel in your current role or preparing for the next, consider enrolling in our intermediate courses. It's time to upskill, stay competitive, and propel your career to new heights! Start today and shape the digital experiences of tomorrow.