UX design is a relatively new profession. You won't find many 10-year-olds who respond "I want to be a UX designer" when asked what they want to be when they grow up. Fortunately, you don't need to begin your professional career as a UX designer. The field of UX design is, funnily enough, like a cheesecake — ubiquitous, but there's so much variation within it. There isn't just one direction in UX, there are slices aplenty. Similarly, there are countless paths to get to UX design, most of which start with entirely different career tracks. Let's explore how you can successfully change your career to UX design.
All Paths Can Lead to UX
Cory Lebson, a UX design consultant, is one of several professionals who worked in the industry before UX was called UX. In his book on UX Careers, aptly titled, The UX Careers Handbook, he lists the many careers that fall within UX and in his Master Class, How to Successfully Change Your Career to UX, he compares UX to a cheesecake:
One of the contributors to Cory's book, Nick Gould started his career as a lawyer. Whether you're a writer, analyst, artist, salesman or landscape architect, you can get into UX — that's how flexible it is.
Transitioning to UX from a Different Career is Easier than You Think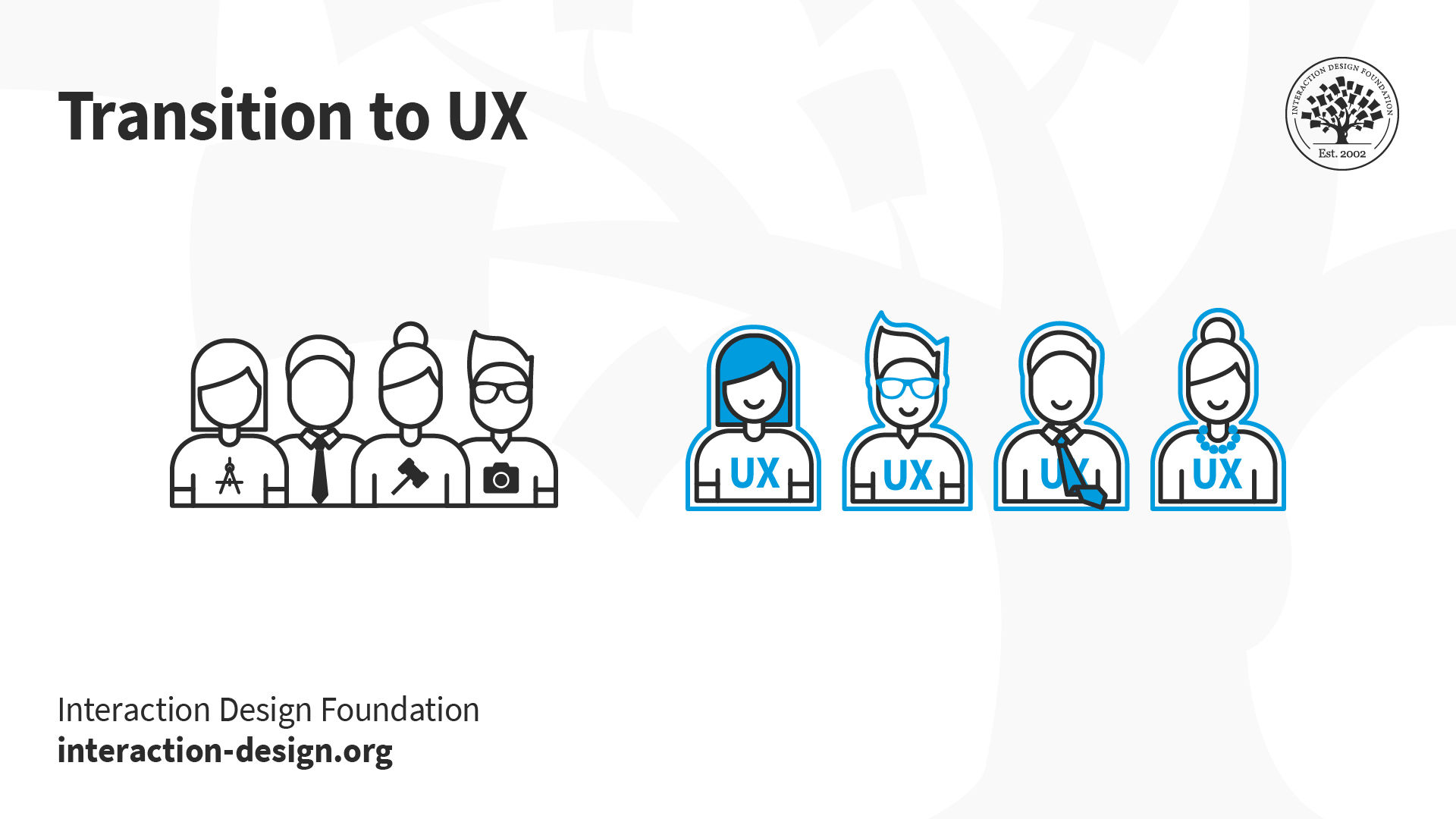 © Christian Briggs and Interaction Design Foundation, CC BY-SA 3.0
"Not only do we consider transferable skills, we RELISH them. It's what brings fresh and diverse perspectives to our collective value."

— Drory Ben-Menachem, Senior Director, UX, Zonar Systems (in response to the IxDF UX Careers Survey 2022)
One of the big advantages of UX is its diversity, the practice encompasses many different skills and gets value from different experiences and perspectives. It's likely that whatever industry you're currently in, or were in recently, the skills you have developed can be applied to UX in some way. Here are some examples:
Social Sciences: If your background is in social sciences (sociology, philosophy, psychology, anthropology etc.) you're already at an advantage because your area of expertise deals with human behavior in its various social and cultural contexts. Develop your design skills in your transition to UX.
IT: Whether you're involved with hardware or software, IT is generally less people-focused, but having technical knowledge and skills can give you an edge, and make it a worthwhile place to start. Depending on what slice of the UX cheesecake you're after, initially focus on design OR research skills — you'll always have the chance to develop the other at a later stage.
Marketing: Marketing is people-focused, even though they feature in a slightly different way than in UX — the leap from one to another isn't a stretch. It's likely that your research abilities might be more developed than your design ones, so start off by practicing design and learning design tools.
Art or Graphic Design: This is a great place to start as UX design is inherently creative. In art and graphic design, the emphasis is on aesthetics and human perception, so in order to move to UX, you'll shift your focus to how people interact with digital technologies.
In the references section, you'll find some useful information on how to change your career from the fields above to UX design. If you don't find your current profession listed above, don't be discouraged! As you'll see from the graph below, there are countless entries to UX.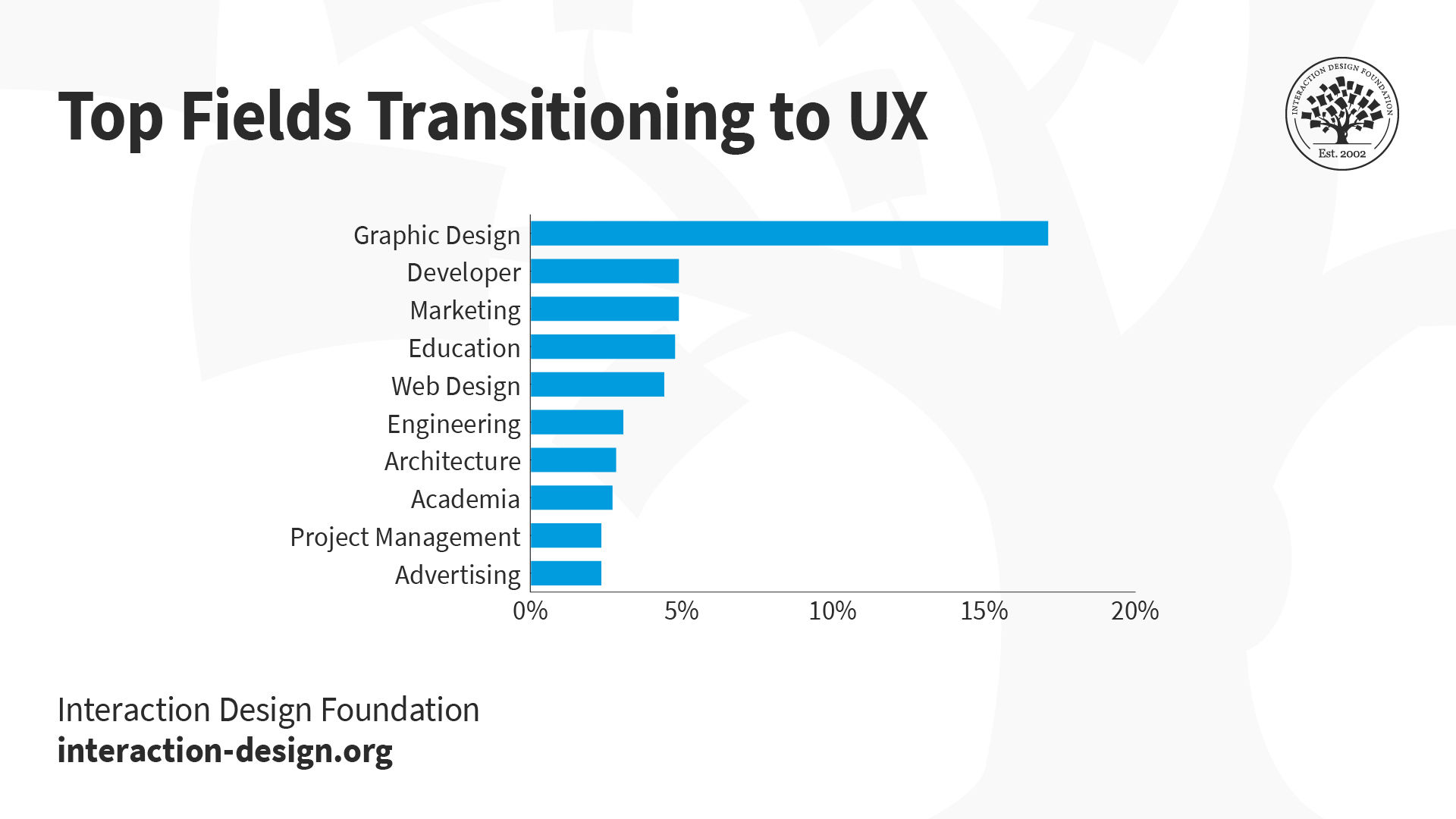 © Christian Briggs and Interaction Design Foundation, CC BY-SA 3.0
Your professional experience, whatever that is, represents your base knowledge. You'll be able to use this knowledge in UX design and then build on it, layer by layer, as you work through different types of projects.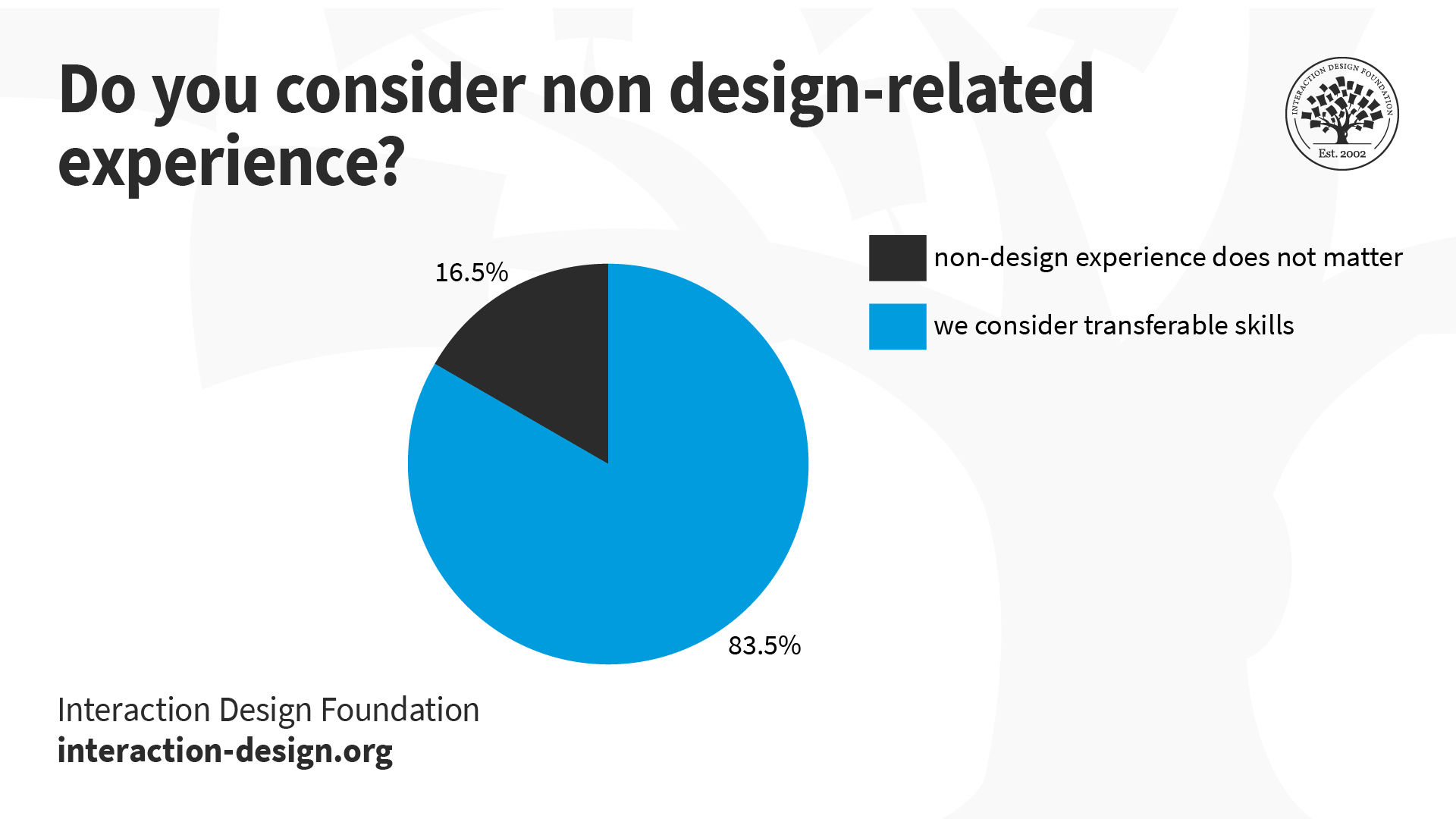 © Christian Briggs and Interaction Design Foundation, CC BY-SA 3.0
Does a UX Degree Matter?
Most newcomers to UX design worry about whether they need a university degree to get a job in UX. You can get a UX job without a university degree (UX design-related education or not) however, there are advantages to having one. This is what Cory Lebson has observed: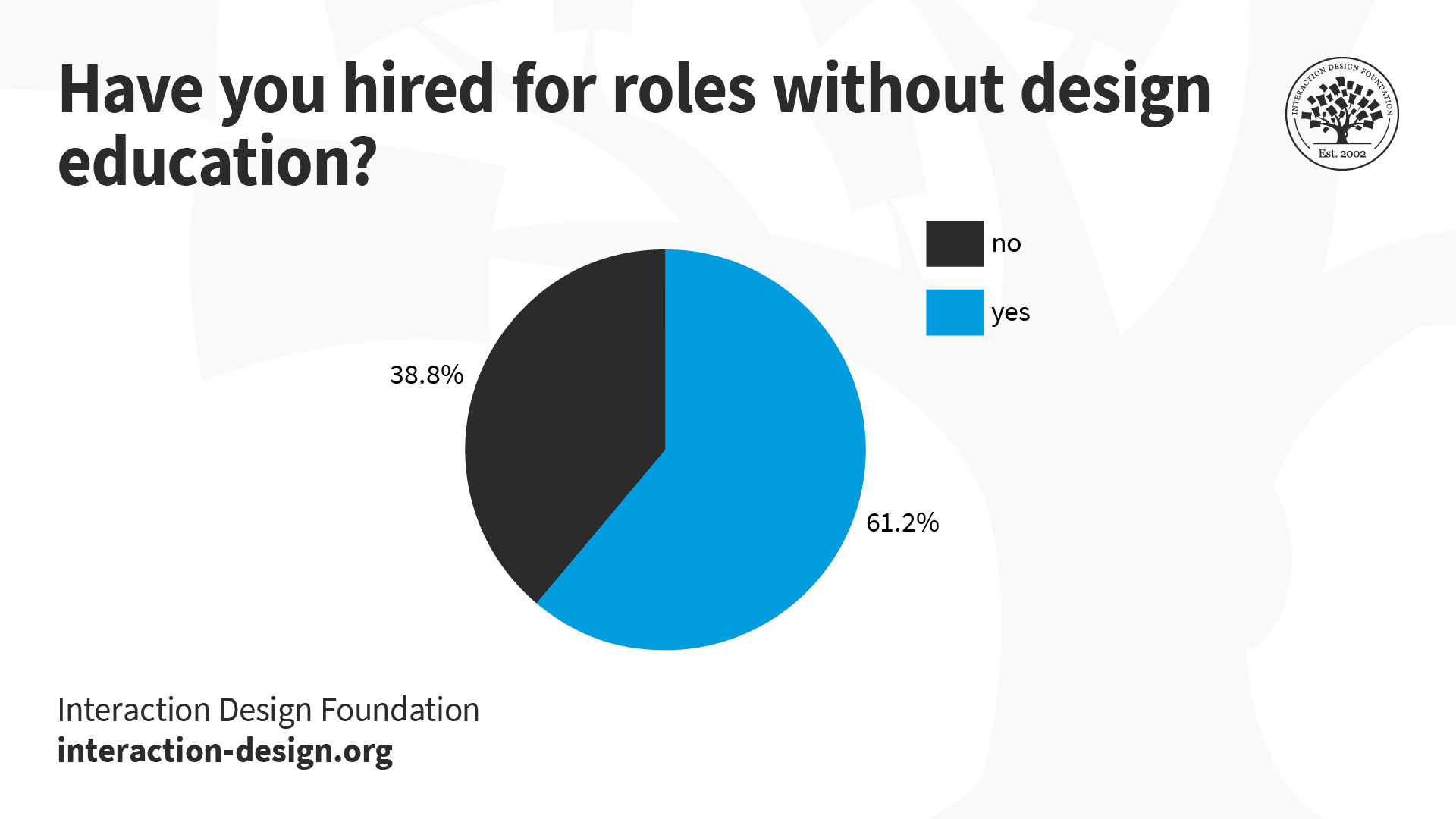 © Christian Briggs and Interaction Design Foundation, CC BY-SA 3.0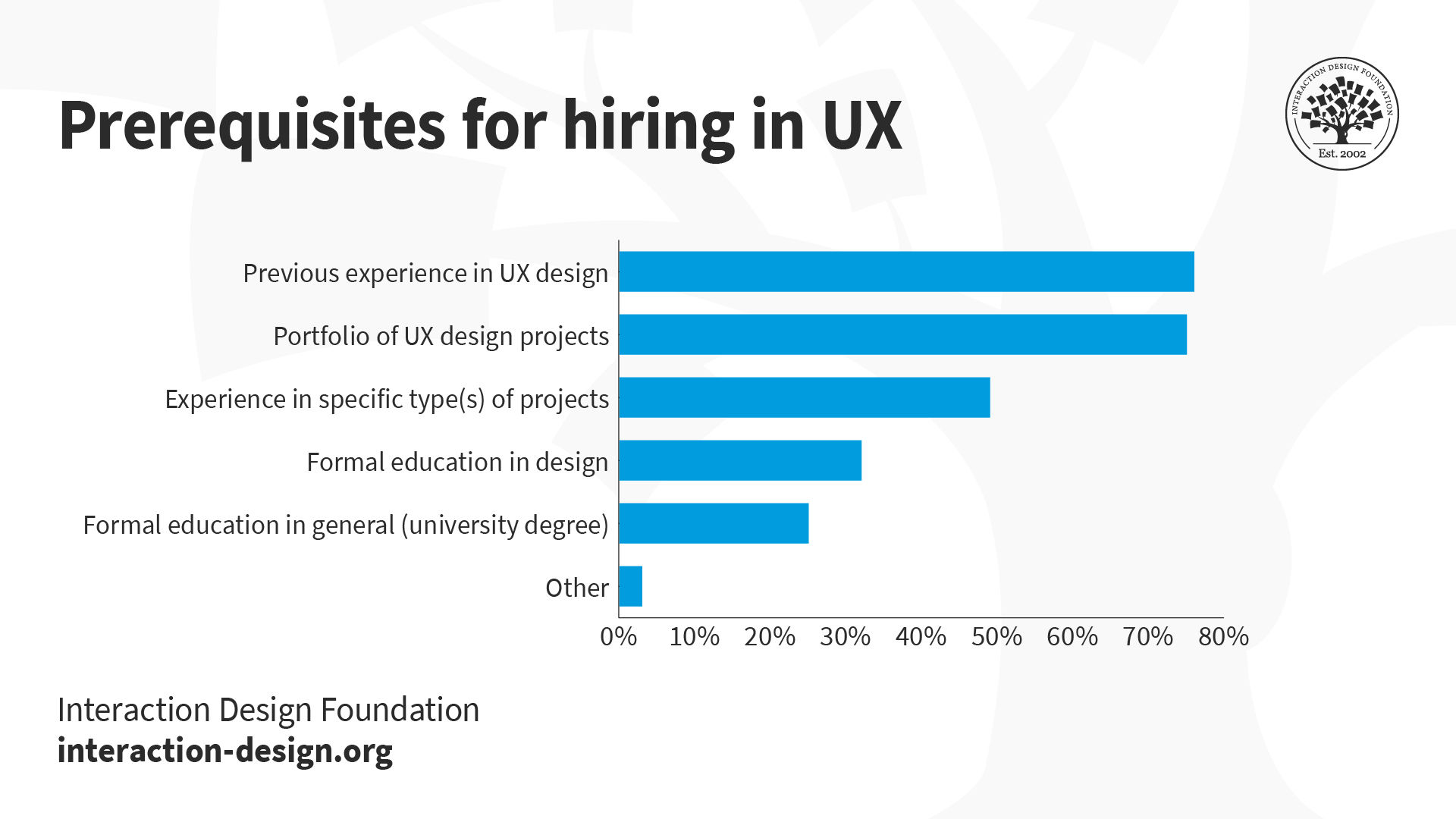 © Christian Briggs and Interaction Design Foundation, CC BY-SA 3.0
Careers within UX: How to Choose Your Slice of the UX Cheesecake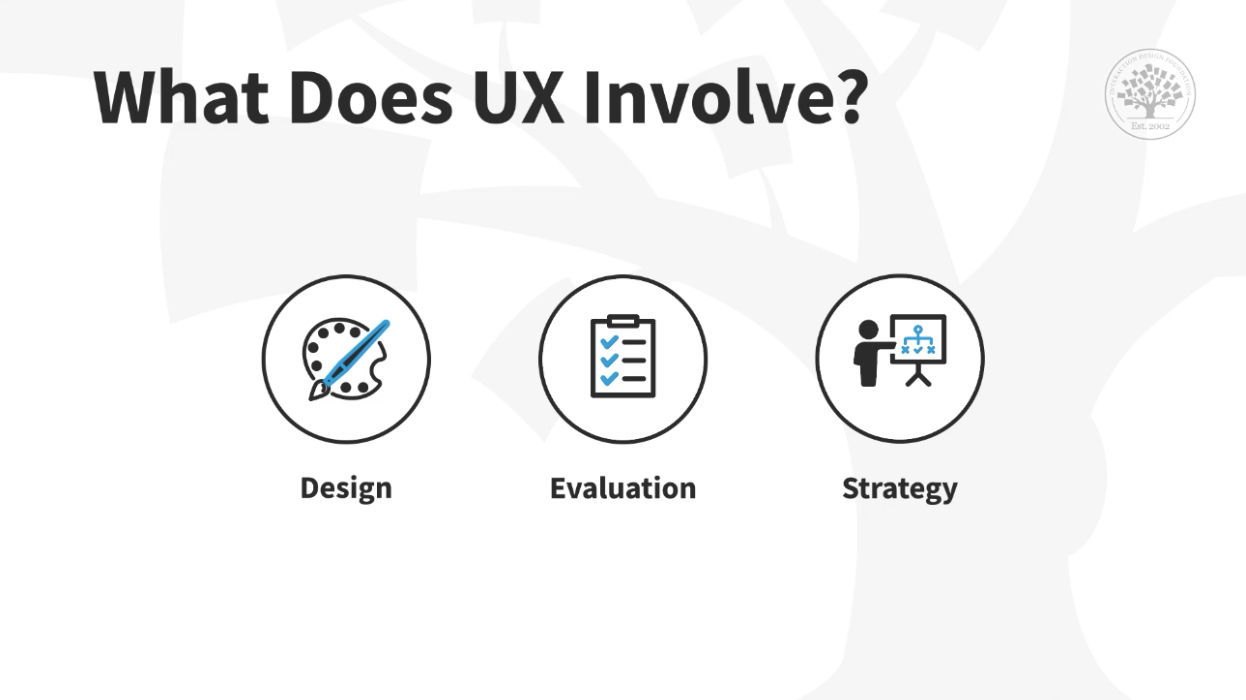 © Interaction Design Foundation, CC BY-SA 3.0
Cory Lebson suggests a UX career framework to help you understand the different roles within UX to help you decide the path that suits your experience and skills the best. It has three core features, all of which inform each other: design, evaluation and strategy. You must involve yourself in all of them, even though ultimately you will most likely focus on one of them. Once you have an understanding of the entire UX cheesecake, you can choose a slice or two (or three!).
In this clip, Cory Lebson describes some of the roles you can find within the UX cheesecake.
The beauty of UX is that it's varied and gives you the opportunity to build on your existing base knowledge and learn new skills that may be far removed, but are still connected. Think about where your strengths, experience and interests lie and choose a slice based on that. Play to your strengths to give yourself a head start, but don't shy away from unfamiliar territory. If you're an artist or a graphic designer, and you don't feel that your research or evaluative skills are adequate, focus on the design aspect of UX first. Similarly, if your background is in research or academia, stick with user research initially, then expand into design. UXers, like every other profession, require a variety of soft skills, some of which you're probably already well versed in, such as communication, collaboration and problem-solving.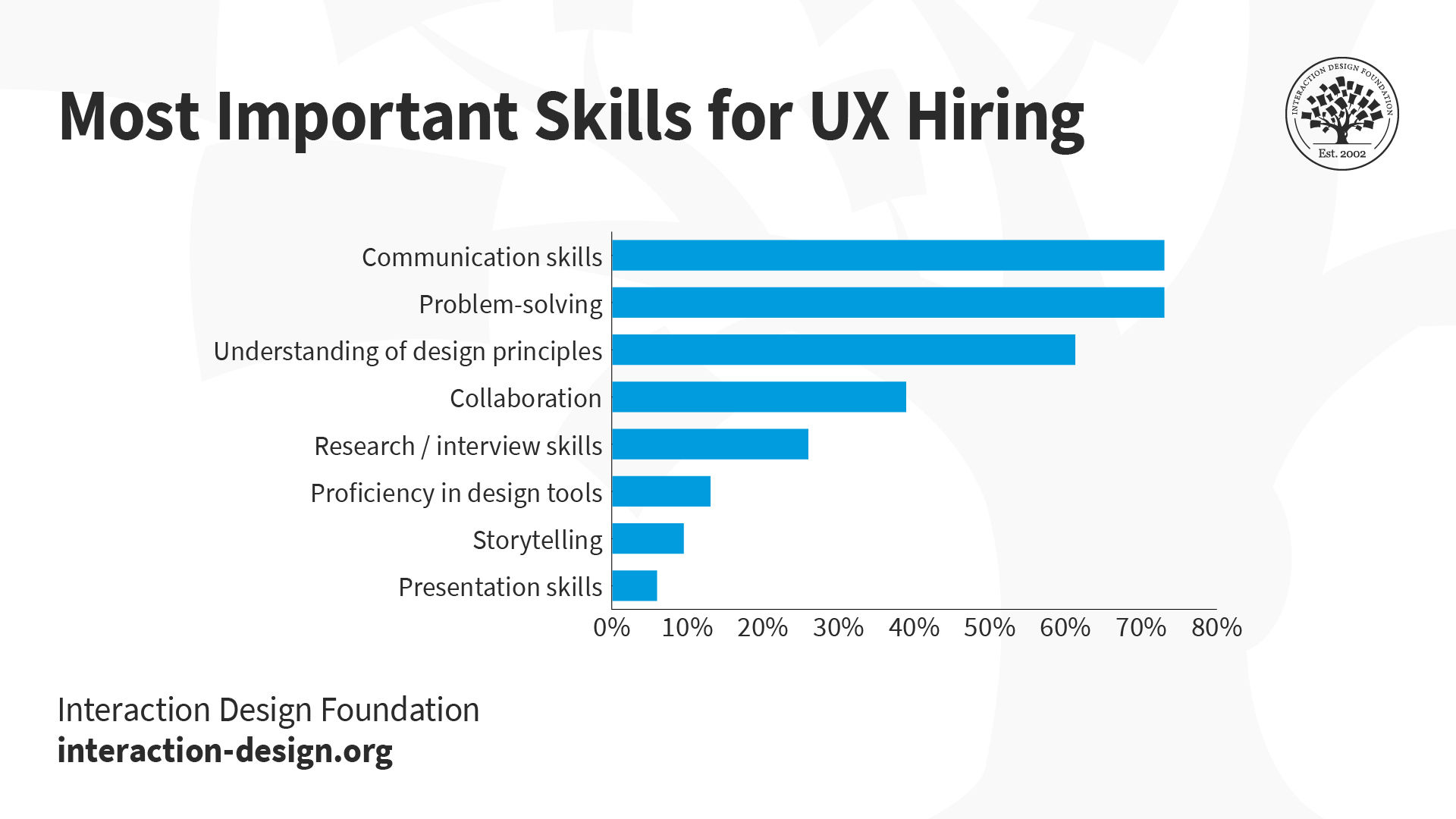 © Christian Briggs and Interaction Design Foundation, CC BY-SA 3.0
You've Likely Practiced UX Before: Add it to Your Story
Storytelling can be one of your most powerful tools in your transition to, and later in your career in UX design. Frame your portfolio, arguably your most important tool, as a story.
User experience is all around us, and even if you do not have "UX" in your job title, it's likely you've practiced UX before. You may begin with a story, or professional life in this instance, with very little UX in it, but you can find examples to weave UX into your story. With some consideration and practice you'll be able to find UX-related aspects of previous projects to put into your portfolio, and ideally, tell a story through it.
In this video, Cory Lebson highlights how you can leverage your previous experience and embed UX in your professional story.
Brand Yourself as a UX Professional
As a UX designer, your role is to deliver a seamless end-to-end experience for users. You can apply the same philosophy to your professional journey. As someone looking to get hired as a UX designer, treat potential hiring managers as your users. The product that you're pitching is your skills. Deliver your value proposition to them in a seamless way. This goes beyond your resume and your portfolio, you need to create your brand so that when someone searches for you online, it's immediately apparent what you do. As Cory Lebson puts it, how do you come across in a googleable way — that's what you need to consider in your LinkedIn profile, your website (if you have one) and other profiles.
Naturally, it's important to keep up with the industry, through podcasts, websites, articles, attend events and anything else you can think of. It can be equally beneficial to share your insights on your social media and elsewhere. Set yourself up for SEO success and use the correct UX terminology, write blogs, share UX content and add your own value to it.
Think about your elevator pitch, how would you frame your story if you happened to bump into the CEO of the company you want to work for or a dream client. Refine that and use it where you can, in your LinkedIn intro, your website, resume and so on. Be as visible as you can.
Find a Mentor
There are various ways you can advance your career in UX and mentorship is usually top of the list. A mentor provides guidance, helps you define career goals, recommends what skills to develop, how to build or improve on your portfolio and grow your network, which will (hopefully) lead to a job. They can be invaluable in your career, especially as you're starting out, but also as you progress professionally. Find out more about mentorship and how to get one here.
Build a UX Network
The clichéd phrase goes, "it's about who you know". You don't need connections to get into UX, however, growing your network can go a long way.
This is what Cory Lebson recommends you do to grow your network:
If you're looking for a local meet-up check out IxDF's Local Groups, there are almost 500 groups in 100 countries. Meet fellow aspiring and established UXers, expand your network and open yourself up to new opportunities.
The Take Away
UX design is a vibrant career, one that is well within your grasp. You can move into UX, no matter your background and experience — your skills and knowledge can be transferred to your new profession. Follow straightforward steps to make your transition as smooth as possible — it's all about storytelling, personal branding, visibility and networking. Thousands have come before you, you can do it too! Start your move towards UX today.
References and Where to Learn More
Watch Cory Lebson's Master Class, How To Successfully Change to UX.
Learn how to create a portfolio that will get you hired and land clients in Cory Lebson's book, The UX Careers Handbook
Build a strong portfolio that will stand out:
Top 6 Tips to Make Your UX Portfolio Stand Out
Learn how to change your career to UX design in this series:
Images
© Interaction Design Foundation, CC BY-SA 3.0