For as long as we've been running the Interaction Design Foundation, we've been asked many of the same questions: for example, "I know nothing about UX Design; can I still benefit from your courses?", or, "Can I use my graphic design experience to become a UX Designer?".
Rather than answering these common questions ourselves, we figured we should let our members do the talking! By compiling snippets from some of the in-depth, empathetic reviews our members have been kind enough to write over the years, we're sure you'll find that the majority of your questions will have been answered by the end of the article. Let's get to it!
Are your UX courses suitable for beginners, or those looking to change careers?
Matt Donnelly's review is a great place to start with this—for one thing, the introduction alone sounds like it's straight out of an episode of Silicon Valley:
"I had just been hired as a copywriter and a content strategist for a small software-as-a-service (SaaS) startup in Boston. 'This will be a piece of cake,' I thought. 'I've written blogs before. I've written snappy headlines. Been there, done that.'

My next-door neighbor in our open office plan was a young woman with thick, black-rimmed glasses. I met her minutes after I arrived for my first day of work.

Hi, nice to meet you. I'm the UX designer. I look forward to working with you.'

I paused. UX designer? I'd never heard of a UX designer."
If you're curious, there was a happy ending… and you can read Matt's full review to find out.
Now, if you're looking to change career into the world of UX, then you might resonate well with what Ajayraj has to say:
"I started my career as a developer, but my passion has always been in design, psychology and solving problems…. So, I planned to switch my career to become a UI/UX designer.

The initial phase was rough and blank as I had no clue where to start, whom to ask and how to proceed. I surfed the internet about UX related stuff, and it is like travelling inside a dense jungle with no start and end, no sense of orientation, and I was literally lost.

Then I came to know about IxDF and it was a happy story after that. They have content for beginners who have no clue about UX design, and they guide you throughout the whole course with proper examples, theories and concepts.

IxDF played a key role in helping me to get the UI/UX designer job that I was dreaming of. The courses give you so much insight, and the certifications are recognised and valued by industries and organisations worldwide."
You can read more about what journey Ajayraj has been on here.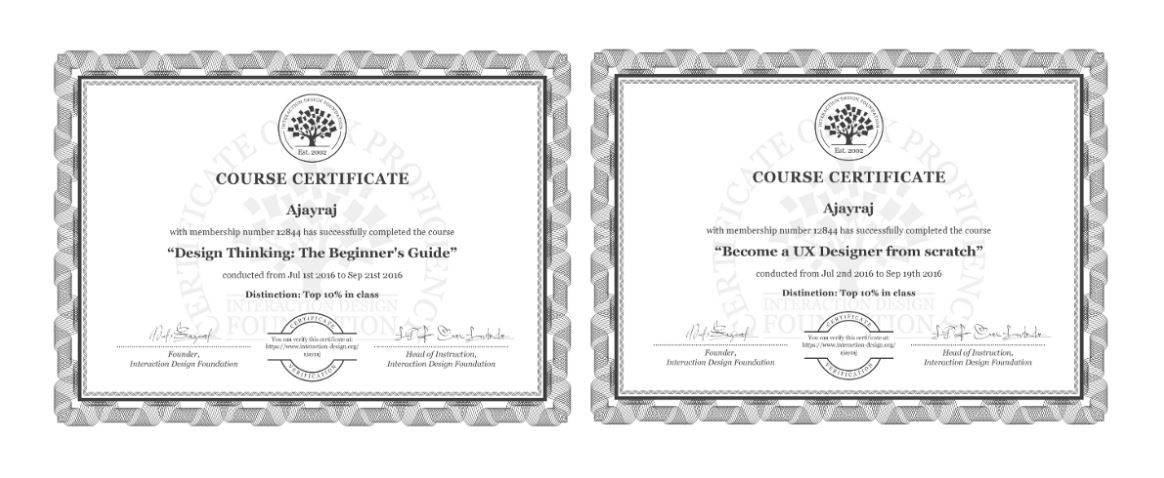 As you can see, the Interaction Design Foundation has courses for everybody—no matter what situation, or stage of your career, you're in. Don't know a thing about UX design? No problem; we're here to get you started. Already built two beautiful digital products that are super successful? Great! Head to our advanced courses and—for all you know—you might just get a brilliant idea for what your next project should be.

Are your courses just for individuals, or can they also be used by companies to train their teams?
Along with helping individuals to achieve their career goals, we also provide training for businesses who are looking to upskill their teams in the field of UX. From tech giants such as IMB, SAP, and Accenture to organizations including the United Nations and the State of New York, we provide memberships that teams can learn and benefit from on a global scale. And it's not just large companies that are taking advantage of learning UX design—we also have young startups and other small to medium-sized enterprises joining us... all you need is a team of two!
Nadeem Khan can provide further insight into why our offering is so popular for startups and medium-sized companies:
"IxDF is the right way to go for companies, studios, agencies, or even solo practitioners, especially if you are on a budget. The availability of courses is something I've not seen in any other offering, and the platform for consuming the content is straight forward, and pleasant to use. I couldn't recommend this enough, and I'll definitely continue to use them."
You can read his full review of the IxDF here.
Are your courses useful for professionals and design teams already working in the industry?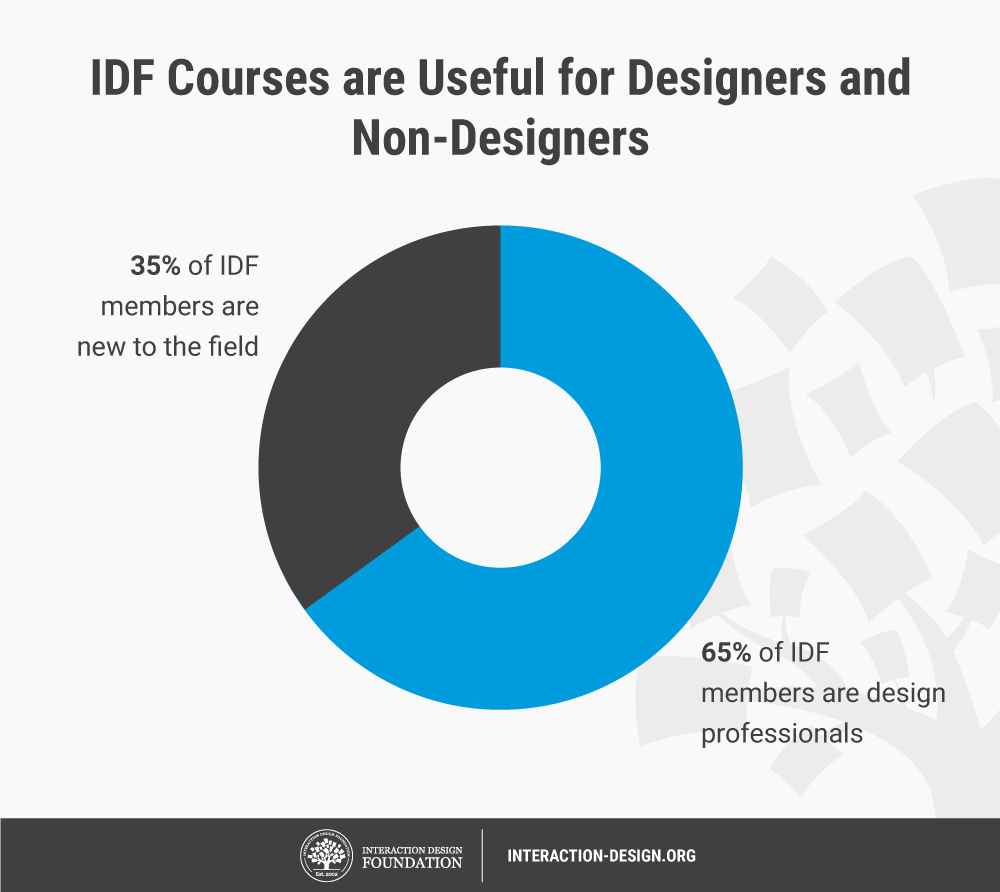 Just have a look at Fernando Carreon's story:
"I work as an Interaction Designer at one of the big companies at Silicon Valley and I have been here for a little bit less than a year. 15 years ago most of us at the Web business were Jacks of all trades, but you may know that to have a strong value as a professional you must specialize on whatever you must love. I always try to be informed about anything and Interaction Design is not an exception, so when I discovered The Interaction Design Foundation, I decided that I must give it a shot. I got access to tons of information and UX courses. It was better than having an exclusive Interaction Design or UX library. The way of learning kept me focused and engaged as I could interact with other Interaction Designers while taking those valuable courses."
You can read Fernando's full story here. It's appropriately titled "Improving your career with Interaction Design Foundation".
If I'm studying UX at university, will I still benefit from becoming a member?
Not only is the answer to that question "yes", but we even have a discounted "Student" membership especially for people in such situations. In our constantly changing world, there's nothing more important than supplementing your classroom learning with other resources when you get home. You might be super inspired by your professor; however, without a properly organized library of material, you'll find it very difficult to remain intellectually stimulated outside of the classroom. This is where our self-paced online courses can come in handy—by providing you with access to a wide variety of essential educational material that your university is often not able to provide.
"I am a graduate student in HCI and UX design. During this frantic and frenetic 'season' of my life, all I can think about is how much I can learn now, in order to feel confident at work, after I graduate. This is where IxDF has been most helpful. If you don't have time for using the foundation's website for networking, for reading randomly the research articles, then you can really focus on your weak points through their courses. IxDF's courses filled a lot of the gaps in my graduate education, and they are specialized by topics that are narrow enough for you to feel like a specialist, once you complete them.

The courses range from Design Thinking, to Gestalt Psychology,

Information Visualization

and Mobile User Experience—anywhere up to about 30 courses running at any given time, and they range from

beginner

to advanced. What is special about the courses at IxDF is that they are comprehensive, well-founded in research, and very thorough. They make you think. And it is hard to go through more than a paragraph without having to take a thinking break, just to digest the material and incorporate it deep into the personal knowledge storage. Then, all this knowledge is immediately applicable in my courses, providing a competitive edge, and making it an all-around satisfying experience."
Read Vera's full review of the Interaction Design Foundation here; this one's written specifically for students enrolled in HCI and UX courses at university.
Why is an education in UX, Design Thinking and Interaction Design so relevant at the moment?
Tori has first-hand experience of why being educated in the field is so important right now:
"Even now, the curriculum in many universities can only scratch the surface in teaching the design skills required to keep up with an ever-changing and expanding design market. As the VP of Service Design at a Digital Learning Agency, I see this happening first hand as we expect Instructional Designers to become Learning Experience Designers, expanding beyond the traditional models to build a new approach that encompasses User Experience and Service Design. There is no question that a mindset of life-long learning has become an essential part of a designer's success."
You can read more of her suitably-named story here: The Importance of Life-long Learning.
The real world is rapidly changing because of the digital interfaces all around us. With more and more complex ideas being tackled, designers need to undergo intensive learning to build digital products that are truly great.
Our attempt to focus on timeless design knowledge and skills, rather than knowledge and skills which are quickly outdated, makes our courses ideally suited for both beginners who are new to the field, as well as experienced design professionals looking to expand their skill sets and further their careers.
Sergio Haruo also writes on this topic:
"I have worked mostly with print design and now I want to work with digital product design. One of the reasons I find interaction design so interesting is that it analyzes design and human behavior – subjects that I am highly interested in. Another reason is that digital products can be updated as we better understand the necessities from users and results can be measured easier than print design, giving a great feel that your work had an actual impact on the product."
You can read Sergio's full review of the Interaction Design Foundation on the UX Blog.

Is an online education really comparable to programs offered at prestigious universities?
Forbes Magazine ran a wonderful feature on our mission here at the IxDF—and it's perfect for getting this one answered. In the first sentence, the author compares our courses to the caliber of those you would find at an Ivy League university:
"Imagine getting an Ivy League level education in UX, product design or human-computer interaction from the comfort of your home – anywhere in the world. What sounds like the offer from a spam email is actually the open-source education reality that Denmark's Interaction Design Foundation has devoted the last decade to promoting.



Built over the foundation's 10-year history, IxDF's library of design-focused courseware and textbooks includes contributions from faculty at the likes of Stanford, Harvard and MIT and researchers from IBM, Google and Apple and boasts over 16M readers to date."
Read J. Maureen Henderson's full feature on the Interaction Design Foundation in Forbes Magazine.
Why should I choose the IxDF when there are so many different competitors offering similar courses?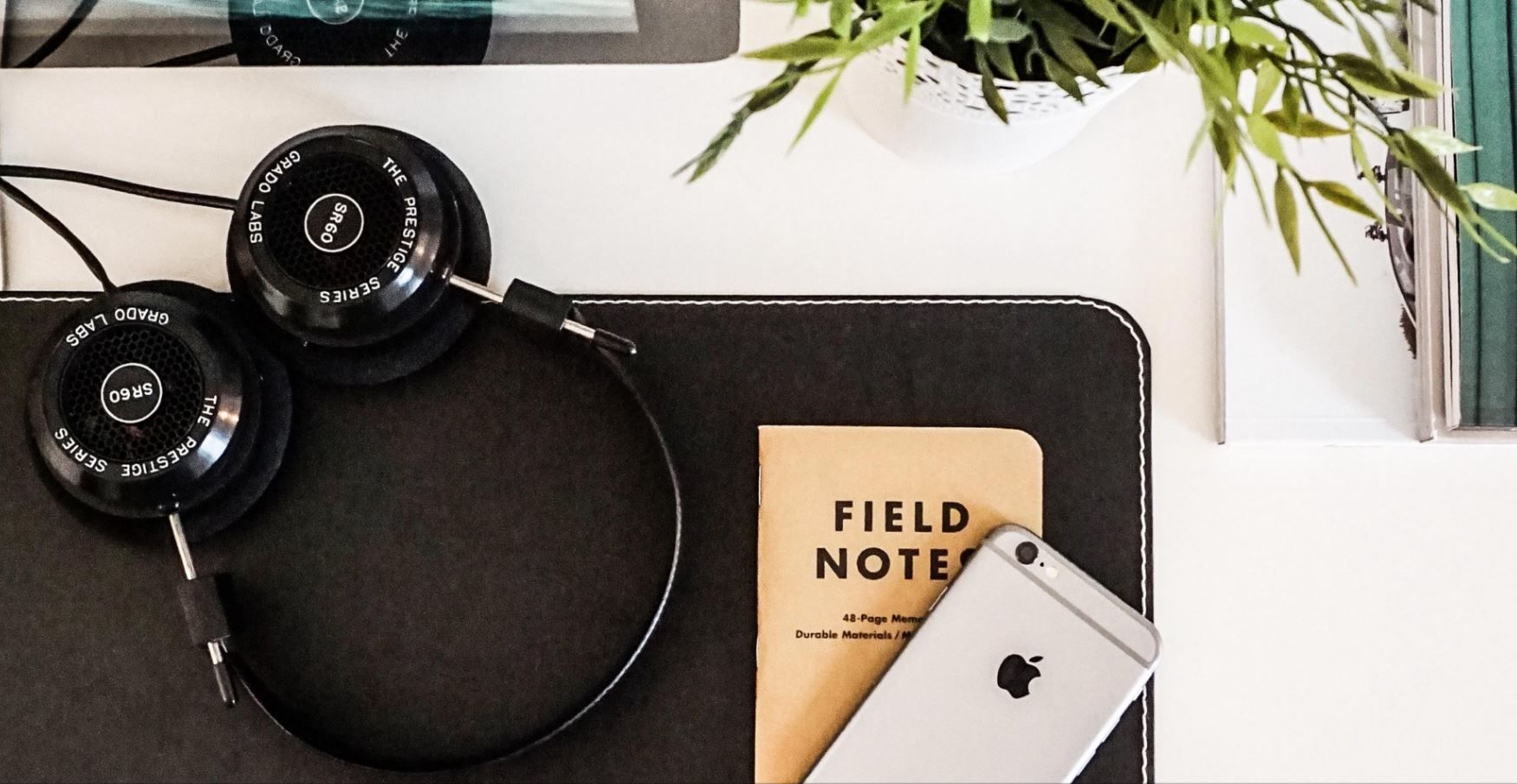 In Rhys Merritt's words:
"After looking into some courses like udemy, nngroup, and general assembly, we were a little put off by price and availability — then we found Interaction Design Foundation, and it seemed to answer all of our questions, and then some. Not only was it remote friendly, but we only paid a fraction of the price, compared to what others were charging… and that was for a full year of access to any course! It was our answer."
You can continue reading Rhys's full story here.
Asif also had something to say in this regard:
"I did a thorough research and cross-compared based on my work to conclude that IxDF fits in with my requirements.

I just had a few thumbs up guiding my decision:


Their yearly membership fees for professionals are extremely modest and it gives you access to as many courses as you wish. To me, that's quite cost-effective.
People behind IxDF are some of the most prominent names from UX/UI industry like Donald A. Norman, Daniel Rosenberg, Irene Au, Jonas Löwgren, Ken Friedman, Michael Arent and Bill Buxton.
IxDF provides a designer's community platform where designers from all over the world can interact with each other and also you can meet designers from IxDF community within your area."
You can read Asif's full account of Learning every day as a Designer here.
We publish hundreds of textbooks and articles that are completely free to read, and as we cover more and more of our costs, we cut down membership fees.
Is it true that there are real-life course instructors involved to help you learn and grade your work?
IxDF member Paolo Sammicheli writes:
"The thing that I appreciated most is that for many lessons you got exercises to do that are not the typical multi-choice tests. You've to write the answers in plain English and then the trainer will review it providing feedbacks and suggestion. That's really valuable for the students, especially for those who are not English native speakers like me: It helps also in practicing the English language while staying at home.





Trainings are self-paced so you can find the time even in busy schedules to follow the class and read the material. This is perfect for workers, especially for those who commute every day."
Read Paolo's full review of our user experience courses here.
Having dedicated course instructors is one of the things that makes us stand out way above the rest. Mentors, coaches, teachers—call them what you will—there's simply no alternative to learning from experts who've been there and done that. "Peer-reviewing" is popular on many MOOC platforms, but it is at best a mediocre alternative to no grading at all. Compared with that, our courses involve long-answer questions where your written answers get graded by real humans.
Are the course certificates awarded by the Interaction Design Foundation worth anything?
First of all, the IxDF's content is made with contributions from faculty at Ivy League universities such as MIT, Stanford and Harvard, as well as industry professionals from IBM, SAP and Yahoo.
Secondly, the people behind the IxDF are some of the most prominent names in the UX industry—Don Norman, Daniel Rosenberg, Irene Au, and Bill Buxton… just to name a few.
And last, but not least, our course certificates are trusted by global industry leaders, who have themselves taken up company memberships with the IxDF. Here are some of them:

You can rest assured knowing that gaining course certificates from the IxDF will really make a difference when you're looking for your next job.
Another good thing to note is that many designers and developers working in the biggest startups today never went to formal universities. As work experience and technical proficiency become more and more important, self-taught professionals can compete and fare better against college graduates.
To get your foot in the door, it's invaluable to have proof of your knowledge (unless you're starting your own company, of course). For example, read Dimitrios's experience of moving to Berlin and struggling to find a job:
"I realized that specially for the German market, educational background functions like proof of knowledge (something that is not valid for the Greek market, where proof lies within the end product). Therefore, I often had various questions like 'Where did you learn user research?', 'When did you learn about mobile design?', 'Where did you learn about responsive design?', etc., where most of them would be answered: 'From my university studies, 10 years ago.'

As you understand, the UX field was nearly non-existent 10 years ago, same with responsive design and most technologies used today. And even though you may have worked with them for the last 5+ years, your proof of knowledge still remains outdated."
You can read Dimitrios's full account of the importance of design certification here.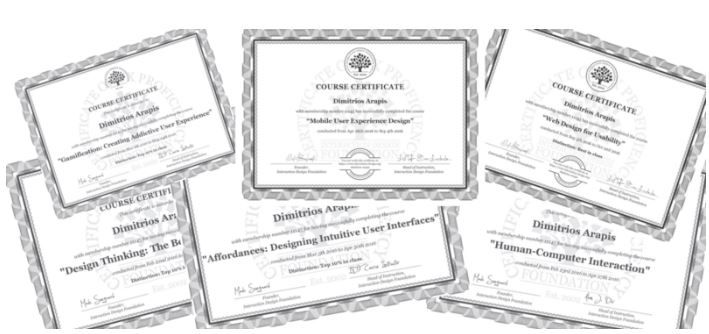 You earn a course certificate for each course you complete and can highlight your achievements by adding them to your résumé/CV, LinkedIn profile, or website.
Is there genuinely a sense of being part of an active community when you join the IxDF?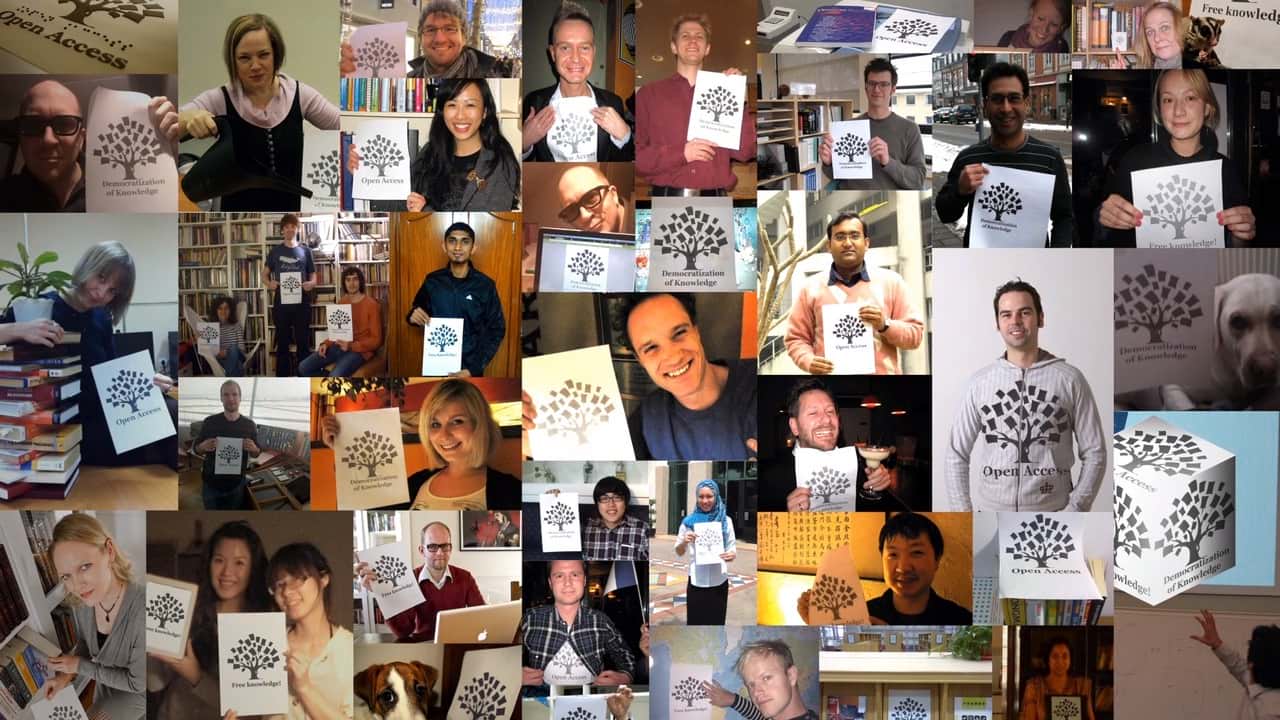 Chhavi Shrivastava begins by saying she's no good at reviews… but she can tell a great story; that's for sure:
"Around two years back, for sometime I had been lingering around the discussions in the IxDF community, still in that learning user-interface-is-a-part-of-user-experience phase of a newbie designer.

In just one of my lingering sessions, I saw a message on a group chat asking if someone is up to do the ACM CHI 2016 design challenge together. Within hours we had connected. Turned out she too was a novice in design and was venturing out with this. Even though we were living across the world from each other—she was pursuing her PhD from University of California, Santa Barbara and I was studying to become a Bachelor's of Design, IIT Guwahati in India—armed with the user experience courses of IxDF we enrolled in full-time academic courses and decided to complete this in less than 15 days. What followed were days when we worked at odd hours, scrounged IxDF for user experience courses and used excessive amounts of Google Drive and Hangouts."
That's an inspiring story if there ever was one, and highlights just one example of the international community spirit we have here at the IxDF. Read Chhavi's review of the Interaction Design Foundation here.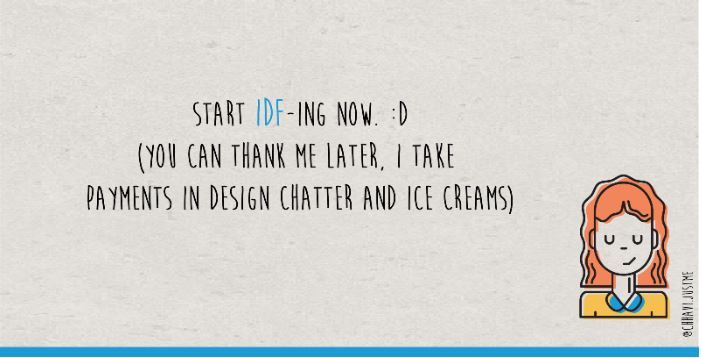 We know that learning is best done together. With almost 500 IxDF Local Groups in 90 countries all over the world, being a part of the IxDF's learning community is always easy, and you will soon notice just how extensive the benefits are. Take part in your local group's activities to expand your local career network, meet your next employer, employee, and client, and connect with like-minded people, some of whom you will likely soon call friends. When the world becomes smaller, learning and connecting become easier.
Who are the people behind the Interaction Design Foundation's mission?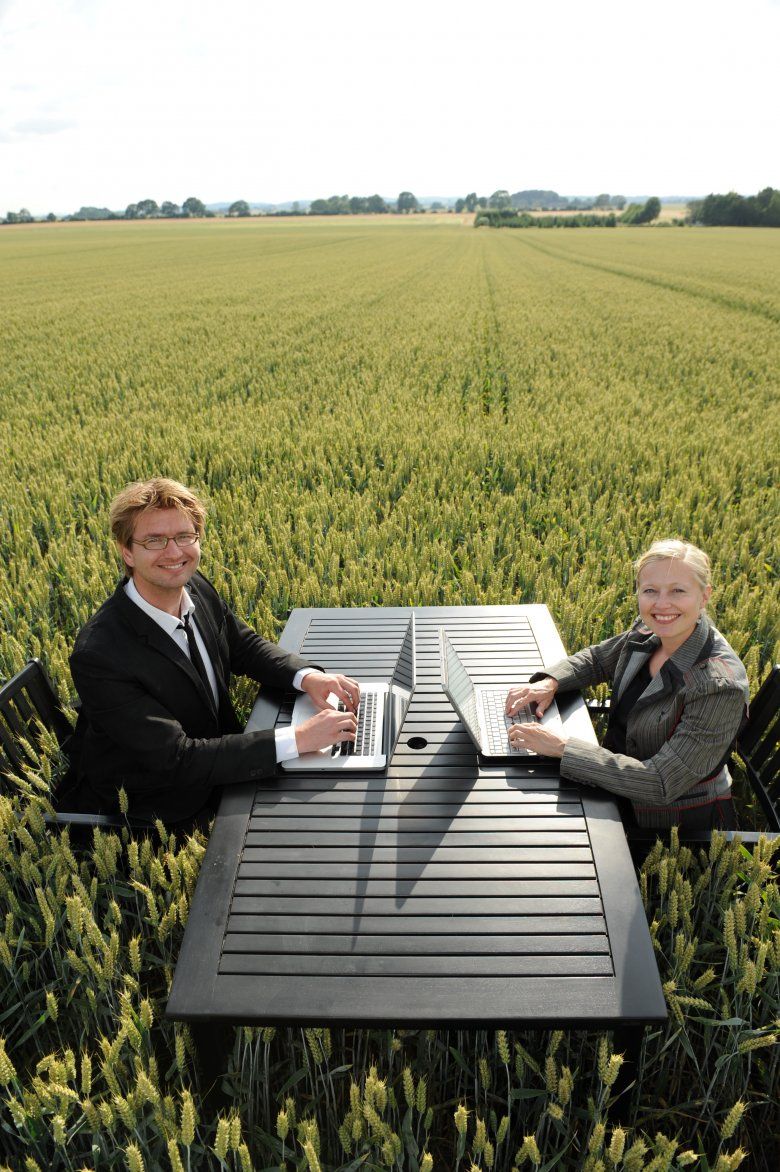 The people behind this mammoth project are notoriously publicity averse, with almost no interviews or public appearances available. Instead, they choose to focus on the task of achieving their over-ambitious goals. In this core77 review of the Interaction Design Foundation's open-access design textbooks, the two founders and editors-in-chief give a glimpse into what keeps the team motivated to do what they do:
"If we give away free knowledge and free educational resources on how to design technology and things, then we can create a better world, both aesthetically and in regards to productivity," noted Editor in Chief Mads Soegaard in an interview with Core77. Soegaard founded the Interaction Design Foundation and heads it up with his wife, Rikke Dam. They brought together writers from universities like MIT and Cambridge and companies like Yahoo and IBM to contribute their writings to the foundation (Core77's own Don Norman serves on the board, too)."
Read the whole Interaction Design Foundation review on core77.com here.
Can non-members benefit from the Interaction Design Foundation?
This one's well-answered by Hai Ho:
"IxDF's open-sourced literature, used by institutions like MIT and the University of Cambridge, are rich in information on topics ranging from gamification to social design.

Their cornerstone publication, The Encyclopedia of Human-Computer Interaction, is currently in its second iteration and is actually a compilation of work written by Ivy League professors, expert designers, and bestselling authors such as Don Norman. If you're short on time (like many of us are) or simply looking for a lighter read than an encyclopedia, browse through UX Daily, a hub for countless [numbers] of great articles on topics surrounding user experience design.

The best part about the books and articles? They're completely free to read — no membership required."
You can read Hai Ho's full review of the Interaction Design Foundation here.
Our model of open-access publishing offers an alternative to academics and professionals wanting to share their work. Traditional journals and academic publishers work on outdated models of paywalls that benefit no one. At the cost of forgoing some royalties, authors publishing with us have the satisfaction of knowing that their work will have a massive impact on the world and will be read by hundreds of thousands of professionals and students.
The benefit to our readers is obvious—without any monetary investment, they get access to the latest cutting-edge research in user experience and design. Ultimately, the net benefit of free information is invaluable, and our readers have enough content to literally never stop learning.
What kind of effort does creating an organization like the Interaction Design Foundation involve?
Robyn Collinge from the Usabilla team writes:
"Founders Mads Soegaard and Rikke Dam don't take gathering their information lightly. The pair flew to Germany and spent several days recording world-renowned, Marc Hassenzahl, in order to create a free textbook on User Experience. They also spent time at Cambridge University with a film crew persuading a museum to let them film after hours, in order to create some impressive resources on Visual Representation.

Their global community now reaches 471 local groups in 84 countries, prompting users all over the world to frequently host meetups where both members and non-members alike can get together to discuss quality design. As Soegaard describes it, "The IxDF is a global movement to advocate great design and what great design can do for humankind. Nothing less."
You can read the rest of Robyn's review of the Interaction Design Foundation on the Usabilla blog.
Can I build my own app after taking your courses?
The answer is "yes", but there's more to it than that. It's understandable that in such a competitive industry you need to learn skills quickly, but it's much more important to know exactly what you're doing if you want to stand out.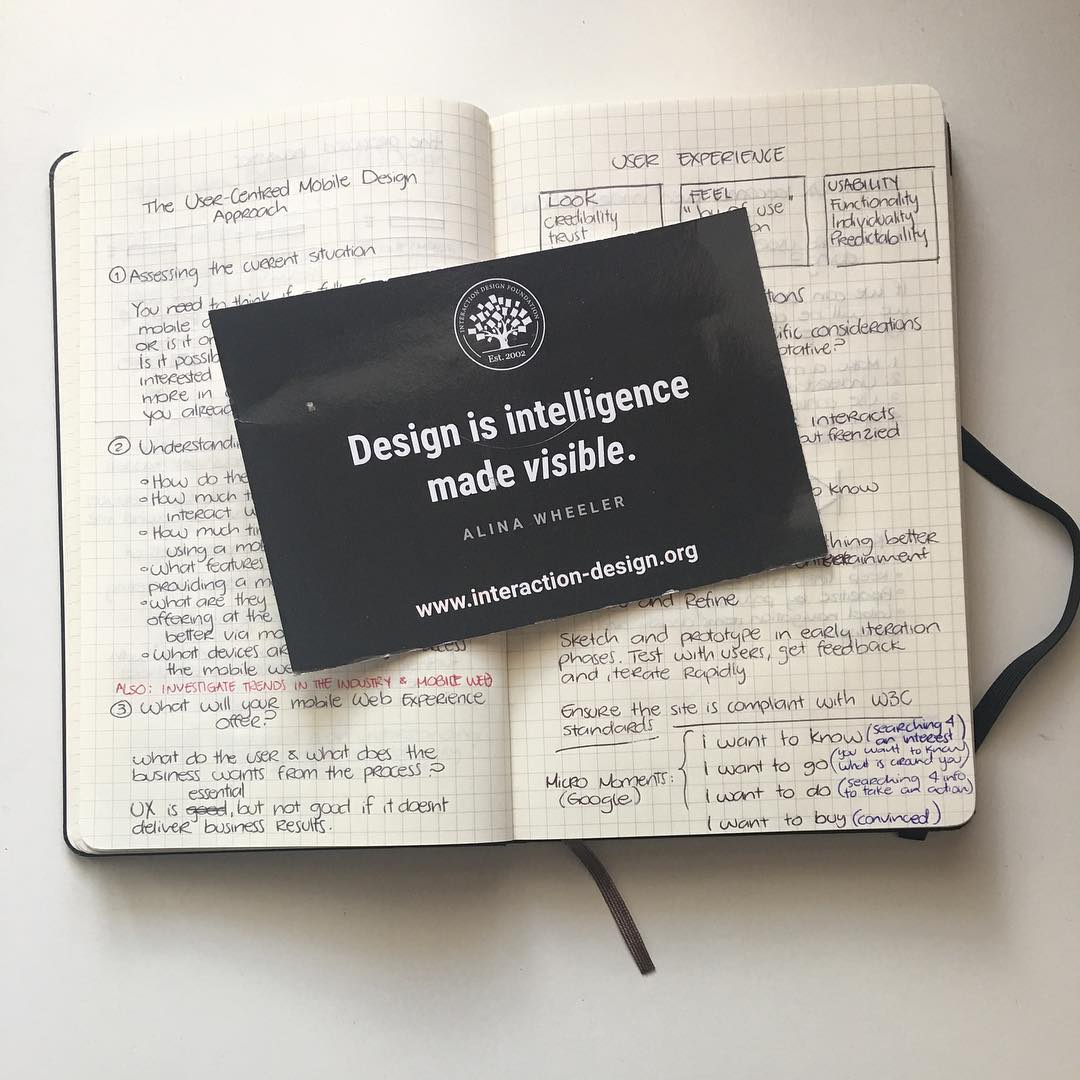 Jennifer Arlington writes:
"The key thing to note here is that in an industry filled with 'quick-fixes', these courses are fighting the de-intellectualization of design.

That's not to say you won't learn practical skills, but the emphasis is on maintaining relevance in a world so fast-paced that softwares become obsolete in the time it takes to learn how to use them. You learn timeless concepts based on fundamental principles, infinitely adaptable to different contexts."
Jennifer has a very informative review of the Interaction Design Foundation; it's a great introduction to our teaching methodology.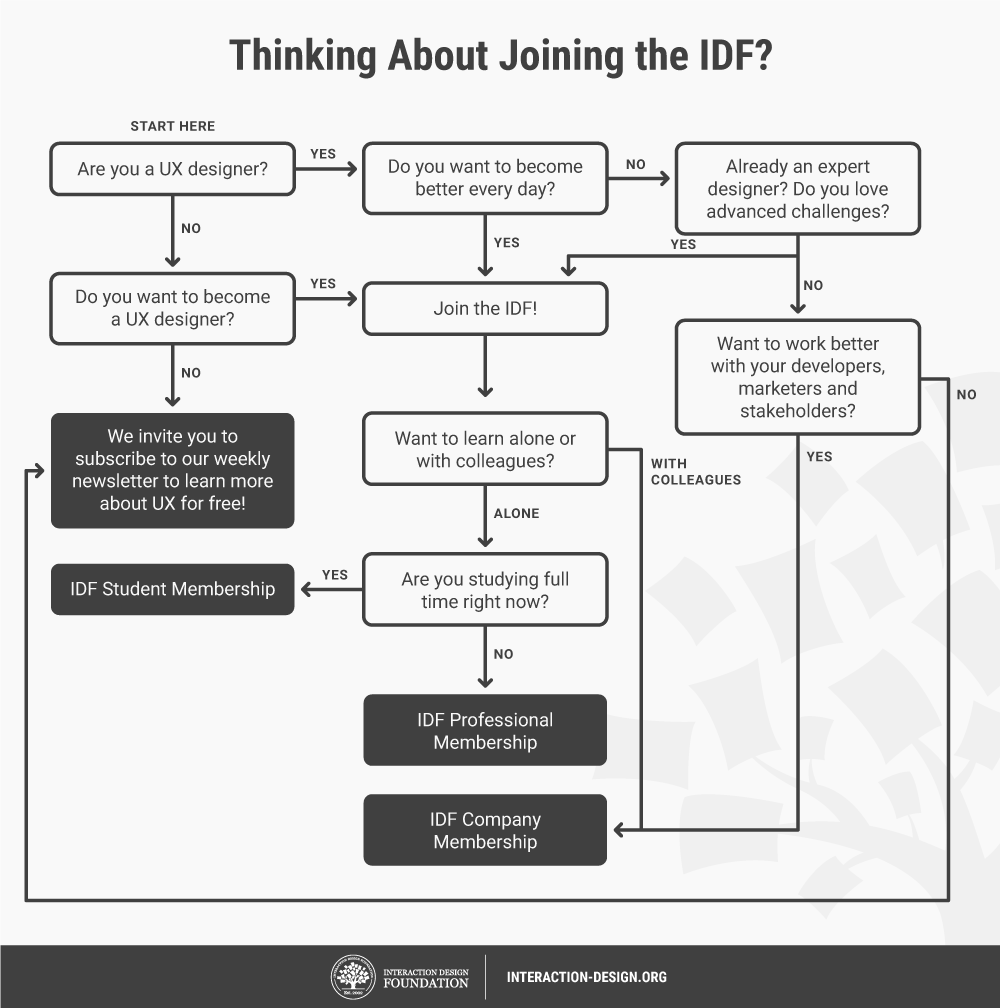 Will I lose my certificates if I discontinue my membership with the IxDF?
Your certificates are a testament to your hard work, and they will always be yours, even after you discontinue your membership.
Ryan Schroder has critically analyzed our learning platform, and on this matter, here's what he had to say:
"I've read that if you cancel your subscription access to your online certificates is removed. You can download your certificates before you cancel though."
Since the certificate URL is tied to your membership account, the online certificate will no longer be available if you cancel your membership.
But your certificates will always be valid, and you can download and keep your well-deserved achievements before you say farewell to us!
We are aware that having the online version of the certificate is important for our community, and we're figuring out a way to make this possible soon. In the meantime, though, please do download your certificates 😊