Want some inspiration for your UX design portfolio? Well, you're in luck, because that's exactly what we have here! Let's take a look at 4 great portfolios and a really bad one, so we can learn from their highlights and mistakes. Get ready to be inspired by great use of copy, visuals and a hilariously terrible use of charts!
UX Design Portfolios are Designed with a Specific Goal
Before we begin, we want to note that all UX design portfolios are designed with a specific goal. Some designers create their portfolios to give recruiters a sneak peek of their skills. For others, their portfolios might be meant for deep dives into their past projects. As you gain inspiration from the portfolios we're about to show you, keep in mind that your portfolio's goal might be different from those of the portfolios you see. Try to adapt the ideas you pick up into your portfolio's own unique goal.
Good Example: Simon Pan's Portfolio
Simon Pan's UX design portfolio is a great example of a design story told the right way. In his Uber case study, Simon tells the entire story from the beginning empathize phase to the final designed product.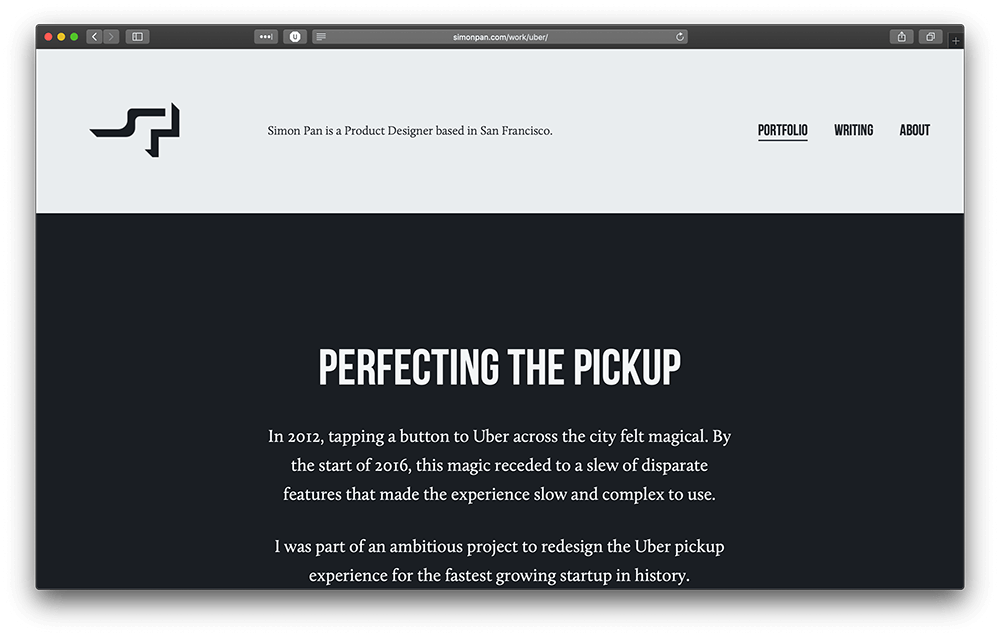 In his case study, Simon takes the reader through his entire design process, from start to finish. This gives recruiters a holistic overview of his project so they can understand the impact he has delivered. Author / copyright holder: Simon Pan. Copyright license and terms: Fair Use.

His case study also highlights how to handle non-disclosure agreements (NDAs). Since he was bound by his NDA with Uber, he did not reveal confidential details in the case study and added this disclaimer:
"To comply with my non-disclosure agreement, I have omitted and obfuscated confidential information in this case study. All information in this case study is my own and does not necessarily reflect the views of Uber."
We also like Simon's effective use of visuals to tell his story. For instance, he shows a collage of images to showcase the research phase of his project.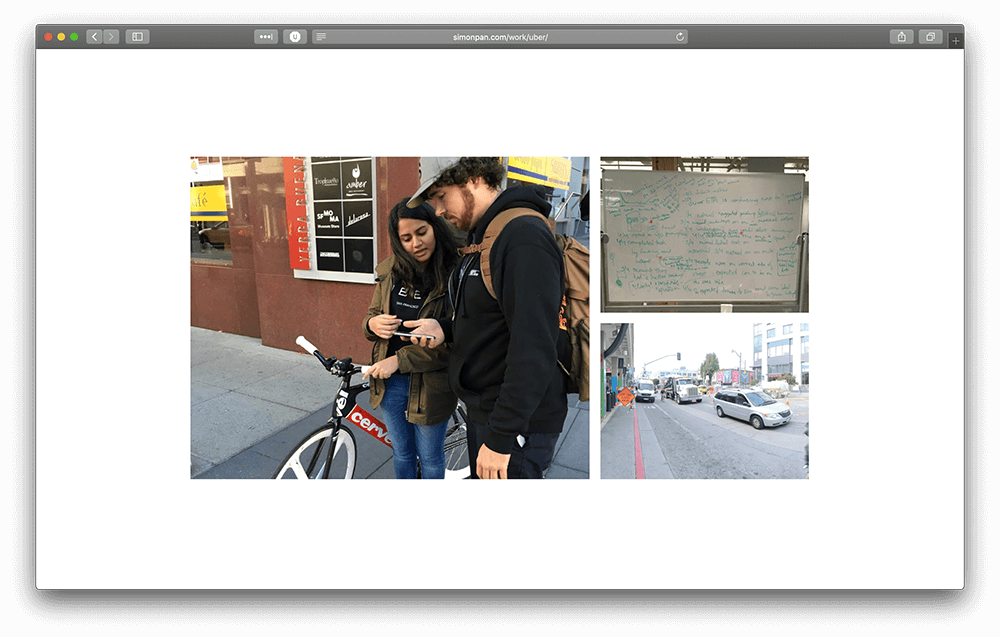 Simon uses a collage to effectively sum up the work that he and his team have done in their research phase. Author / copyright holder: Simon Pan. Copyright license and terms: Fair Use.

Another great use of visuals was when he used a magnifying glass graphic to highlight minute details of his work and show a large amount of information at the same time.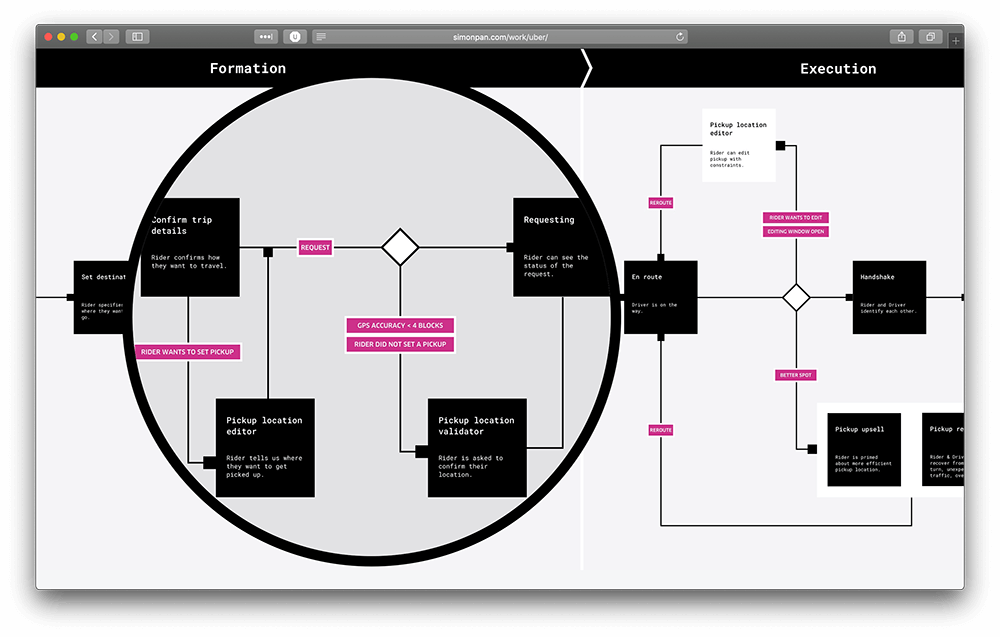 The magnifying glass visual is a clever way to show a lot of information and zoom into the fine details at the same time. Author / copyright holder: Simon Pan. Copyright license and terms: Fair Use.
One thing we'd like to point out about Simon's case studies, though, is that they are very lengthy. As such, they're more suited for an already interested recruiter who wants to learn in detail about Simon's problem-solving skills. This makes sense for an established designer like Simon; however, if you're rather new to UX design, we advise you to keep your UX case studies short so a recruiter can learn about your project in around 5 minutes. You can present the details of your work in your interviews instead.
Good Example: Frances Tung's Portfolio
Frances' UX design portfolio dives straight into a gallery of UX case studies, which helps recruiters save time. It also lets her work speak for her—an attitude which we really like. To convey a sense of personality, Frances includes a short description about herself in her "About" page.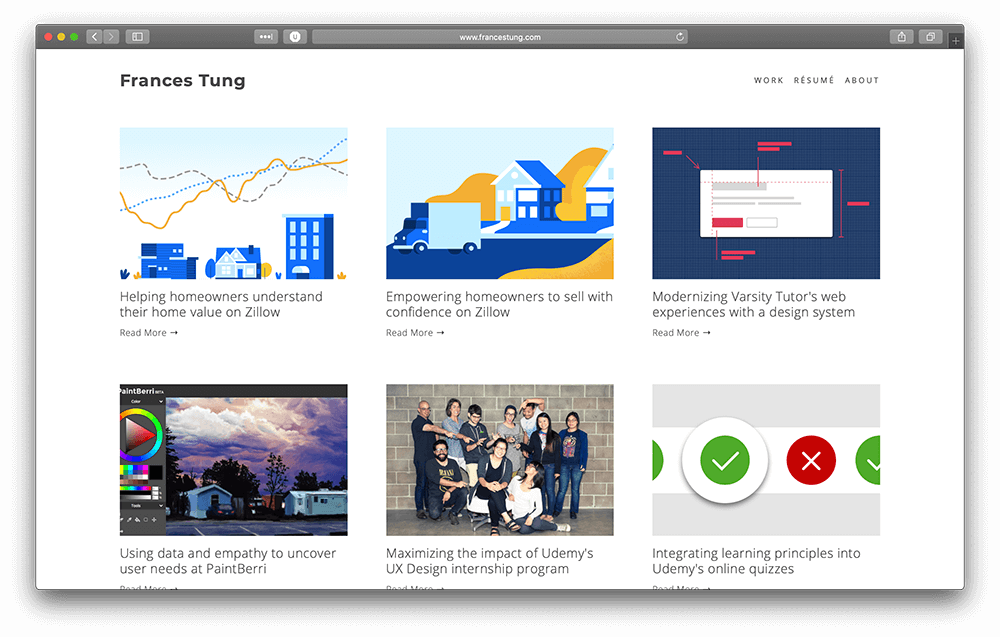 Frances cuts straight to the point and presents viewers with her UX case studies. Author / copyright holder: Frances Tung. Copyright license and terms: Fair Use.

One note about her portfolio is that she included a few more case studies than usual—a total of 8, in fact. For Frances, who considers herself a UX generalist, doing so makes sense because she wants to showcase her diverse range of skills.
According to her:
"I wanted to showcase the breadth of my design experience. I consider myself a UX generalist and have worked on products in a variety of industries and with diverse team structures. I want to show people that while my core expertise is in UX, I am also capable of visual design, research, and product management."

—Frances Tung
However, if you're looking for your first UX role, we suggest you keep to 2 or 3 strong case studies that are all tailored to the UX role you're applying for. That way, you can keep your UX design portfolio focused on the goal of getting you your first UX job.
Back to Frances' UX portfolio: We love her UX case study for PaintBerri. In it, she tells a story of not only what went right but also what went wrong. She describes how she used analytics and user research to discover and fix what went wrong with PaintBerri. This strongly demonstrates Frances' ability to manage challenges.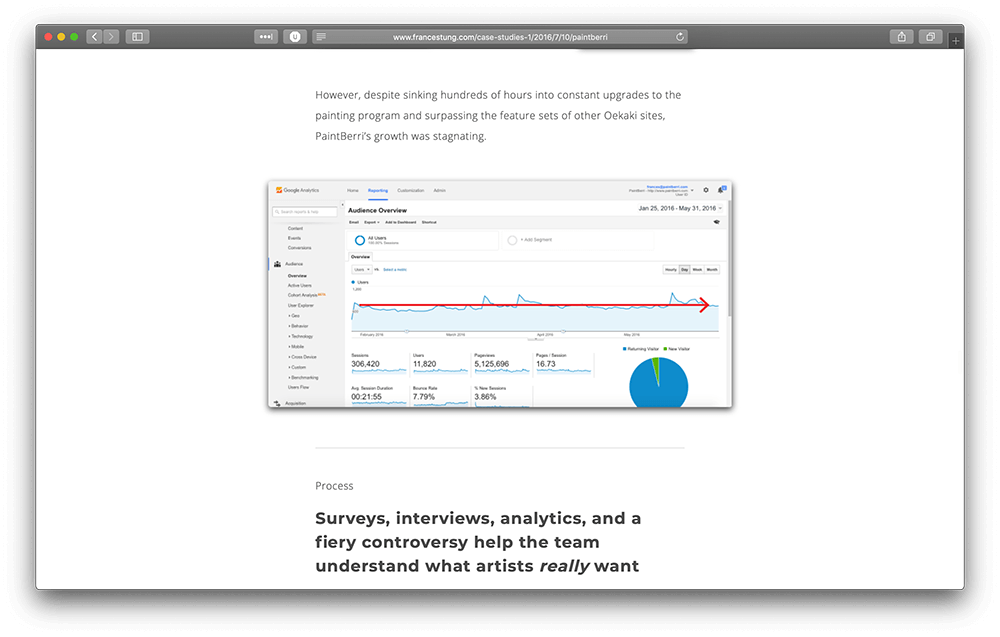 Frances highlights how she realized that PaintBerri's growth was stagnating through data from Google Analytics. This highlights a real-world problem based on real numbers. Author / copyrightholder: Frances Tung. Copyright license and terms: Fair Use.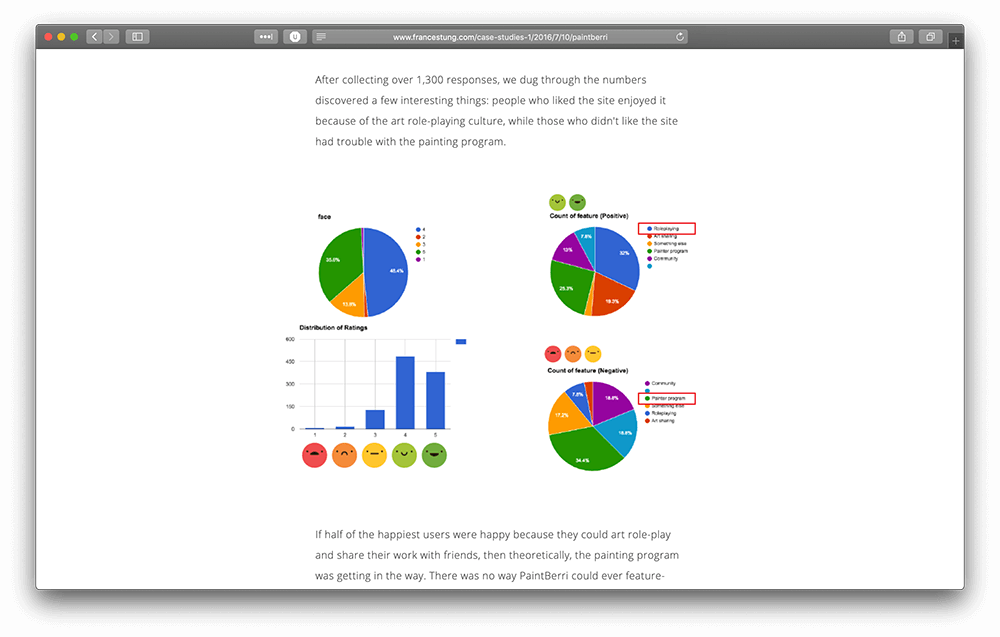 Here, Frances demonstrates her ability to find the cause of PaintBerri's stagnation. We loveFrances' use of real-life data to inform design decisions. Author / copyright holder: Frances Tung. Copyright license and terms: Fair Use.
Frances ended her PaintBerri case study with a piece of reflection that makes it clear she learnt a lot from her experience:
"The team spent a lot of time listening to loud users instead of the most engaged ones, which led us on a wild feature-building goose chase. We now have a much better understanding of why engaged users are engaged, and can start building in that direction."
Good Example: Christina Richardson's Portfolio
Christina's UX case study for Web Rental Tracking features many industry best practices, which underscores her strength in user research.
For example, she conducted competitor analysis to identify features that her client was missing. We also like how she attaches a visual to each method she employed to make her work more concrete.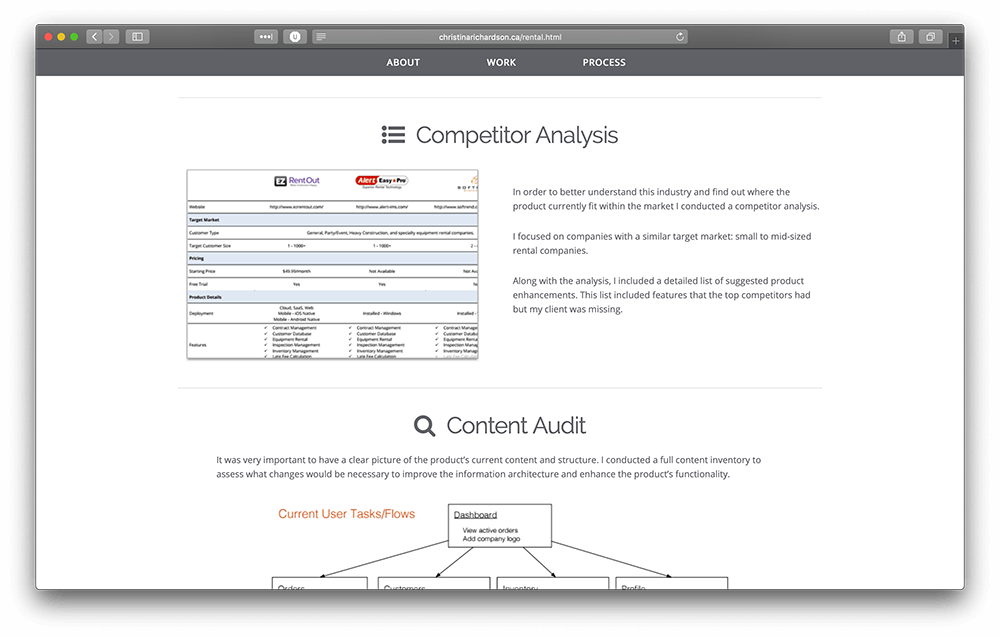 Christina's use of research best practices, which come with screenshots and other visuals,effectively explains her problem-solving approach. Author / copyright holder: Christina Richardson. Copyright license and terms: Fair Use.
Christina also conducted red route analysis to identify the most vital features in the product, which demonstrates her ability to manage and prioritize complex tasks. This skill is vital in work because we designers always find ourselves with an endless list of tasks and features to design for.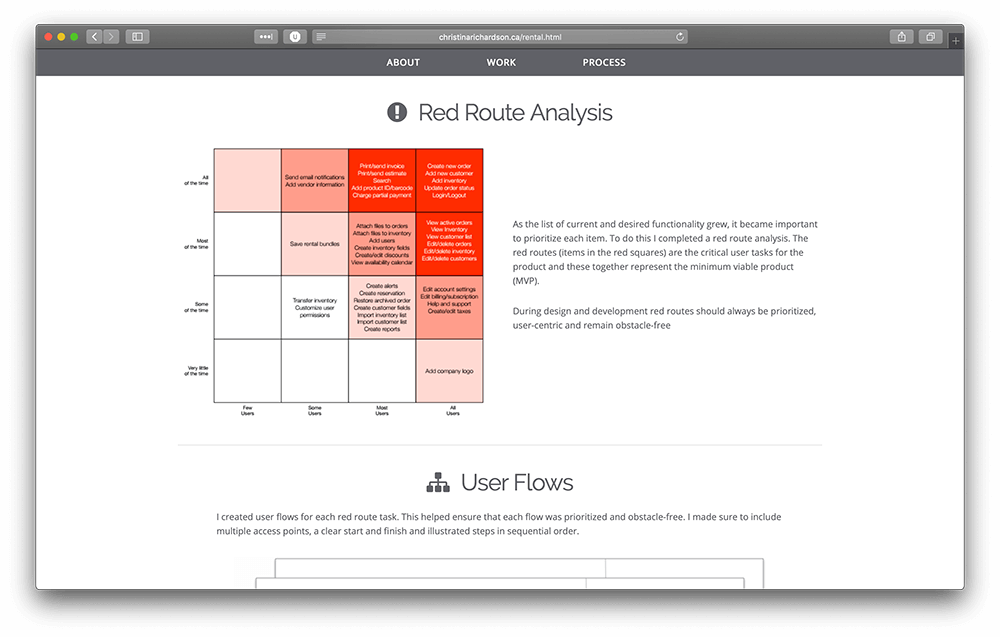 In her red route analysis image, Christina was able to give recruiters a realistic peek into her abilities, while at the same time not disclose confidential client information. Author / copyright holder: Christina Richardson. Copyright license and terms: Fair Use.
Good Example: Joshua Taylor's Portfolio
Joshua Taylor's UX design portfolio is a great example of a portfolio with a charming personality.
In his Evernote case study, Joshua starts with a "tl;dr" section which summarizes the design project and the impacts of his work. (If you don't already know, "tl;dr" is an abbreviation of "too long; didn't read" and commonly used to preface the summary of a lengthy wall of text.) We love it because Joshua is able to make his case study sound more unique and personal through the use of such an abbreviation.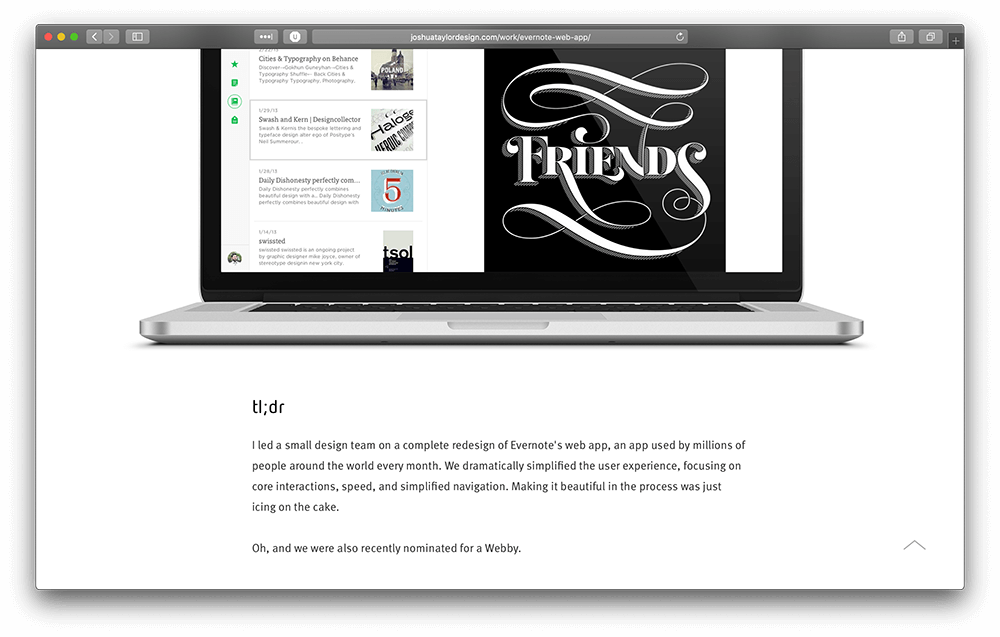 Joshua uses the internet abbreviation "tl;dr" to preface his summary, which says a lot about his personality. Author / copyright holder: Joshua Taylor. Copyright license and terms: Fair Use.
Joshua continues to let his personality shine through the copy in the "tl;dr" section. He cuts to the point and manages to effectively communicate the scale and scope of his project in no more than 4 sentences:
"I led a small design team on a complete redesign of Evernote's web app, an app used by millions of people around the world every month. We dramatically simplified the user experience, focusing on core interactions, speed, and simplified navigation. Making it beautiful in the process was just icing on the cake.

Oh, and we were also recently nominated for a Webby."
A word of caution: when you write your UX case studies, it's important to ensure that your writing strikes the right balance between having personality and being professional. There is a fine line between copy that sounds conversational and conveys personality, and copy that sounds arrogant or inappropriate. In our opinion, Joshua navigates that fine line perfectly and is a refined copywriter. If you're not confident of your copywriting skills, we suggest you err on the side of caution and simply adopt a friendly and professional tone of voice.
Bad Example: The Worst Portfolio Ever
Don't worry, we're not going to shame a UX designer's portfolio as the worst one ever made! On the contrary, The Worst Portfolio Ever is a parody that showcases everything a designer should not put in their portfolio. It's one that the talented Alex Cornell created, and we think it's a great source of inspiration—for what your portfolio should not look like!
Let's start with the top of the portfolio: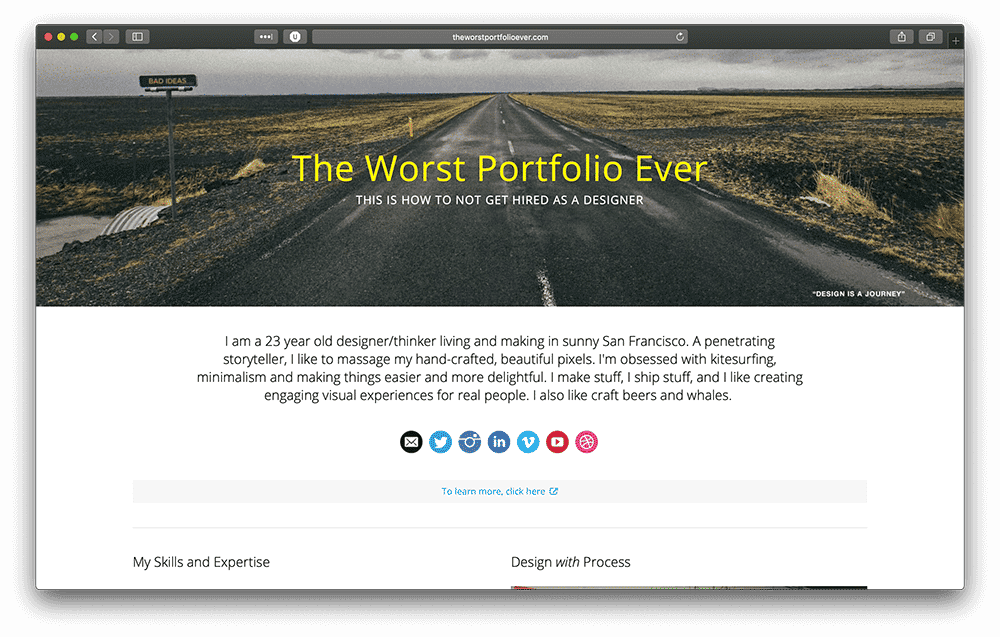 Author / copyright holder: Alex Cornell. Copyright license and terms: Fair Use.
In the introduction, the portfolio takes too much time to describe the designer's hobbies, with superfluous phrases such as "penetrating storyteller". You can describe your hobbies in your UX design portfolio—but you should keep it to the "About" page, not right at the top of your home page. Let your work speak for you.
On top of that, the portfolio contains too many social media links. You should carefully curate which social media links to include in your portfolio—only select professional and appropriate ones. You wouldn't want a future employer to stumble upon your year-old Facebook post where you complained about a bad day at work!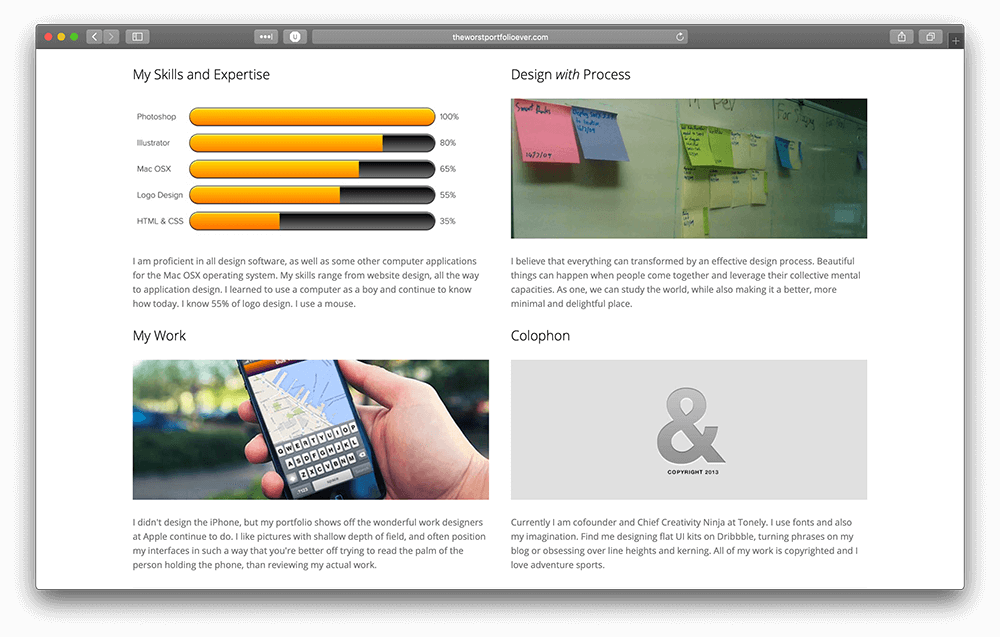 Author / copyright holder: Alex Cornell. Copyright license and terms: Fair Use.
The next bad thing about The Worst Portfolio Ever is the skills and expertise chart. Our advice: never include a skills chart in your portfolio! Why? Because it's meaningless and no recruiter will trust a designer's self-evaluated skills in any UX tool.
Finally, The Worst Portfolio Ever includes a section on the designer's side company, the fictitious Tonely. This is bad because it distracts from your portfolio. Remember, your UX design portfolio has one main goal—and it's most likely not to promote your side gig! If you're really proud of a side project, you can still place it in your UX portfolio, but in a separate section or page from where you put your case studies.
Many other things are wrong with The Worst Portfolio Ever. To round things up, here are the 7 things not to do in your UX portfolio:
Don't spend paragraphs describing yourself in the home page. Recruiters want a quick summary of your work attitude and skills, not your life story. Save your detailed descriptions for your "About" page—and even then, refrain from writing an essay!

Don't over-share your social media links. Make sure everything you present in your UX portfolio is professional and suitable for a workplace.

Don't include a skills chart to showcase the UX tools you use. These are arbitrary and won't help recruiters assess your skills.

Don't feature your side projects together with your case studies. Your case studies should take the spotlight. Side projects are great for expressing your passions, but don't mix them up with case studies, which help showcase your skills and knowledge.

Don't use unflattering or uninteresting visuals. In The Worst Portfolio Ever, you'll find that the image of the smartphone is cropped too close to show the full screen, while the image of the Post-its is too dark. Remember that recruiters evaluate your portfolio based on aesthetics, too!

Don't use vague and abstract captions for your case studies. Alex Cornell intelligently uses his captions to poke fun at what's wrong with his worst portfolio. In your portfolio, remember to use concrete and clear captions that give a good description of your project.

Don't redirect to other sites too much. You want your recruiter to stay on your portfolio site—so, keep distractions and external links to a minimum. It's good to include links to your project so that your recruiters can see the live final result. However, make sure all external links serve a purpose—if not, they'll just send recruiters away!
The Take Away
There you have it: 4 great examples and 1 terrible example of UX design portfolios. We hope you've learnt from these examples (and had fun along the way), and possibly gained some inspiration for your own UX design portfolio!
Here's a recap of the main learning points:
Good things to emulate in your portfolio:

Take your reader through your entire project from start to finish (from Simon's portfolio).

Use visuals to complement your story and communicate your work (from Simon's portfolio).

Cut to the point and let your work speak for you (from Frances' portfolio).

Use and showcase real-life data and analytics to highlight what went right and wrong (from Frances' portfolio).

End your case study with reflections on what you've learnt (from Frances' portfolio).

Showcase industry best-practice methods and processes (from Christina's portfolio).

Demonstrate the impact of your work (from Joshua's portfolio).

Showcase your personality through your copy (from Joshua's portfolio).

Bad things to avoid in your portfolio:

Don't write overly lengthy and irrelevant introductions about yourself. Instead, get to the main point—i.e., your UX case studies.

Avoid including too many social media links. Instead, show only professional and appropriate ones.

Remove meaningless skills charts that demonstrate arbitrary self-rated scores of your own proficiency with tools or processes.

Make sure your side projects or companies don't compete with your UX case studies for attention.

Don't use unflattering or uninteresting visuals in your portfolio.

Keep your captions and text clear and concrete, rather than abstract and vague. Go straight to the point.

Don't link to external sites unless they serve a purpose. External links send recruiters away, and you want to do that intentionally—for example, so they could check out the live website you helped design.
References and Where to Learn More
We've used the following UX design portfolios of these great designers:
We've also used the hilarious The Worst Portfolio Ever, created by Alex Cornell. You can check out Alex's explanation of his parody portfolio here.
Hero image: Author / Copyright holder: Alex Cornell and Frances Tung. Copyright terms and license: Fair Use.