You are an expert! If you want to move up in a company or convince people to support your ideas, you need to communicate your expertise and excitement clearly. Sounds easy, right? The problem is that the more expertise you have, the harder it can be to communicate. In this video, Don Norman shares his ideas for avoiding this problem. One is to start with practical examples that your audience can easily understand, then talk about abstractions that tie those examples together. So, before you talk about the history of art, show some paintings, or start your next talk on usability with a live demo of an app with great usability, or a usability fail! You should also convey your excitement. If you are motivated by the topic, then the audience will be too—not just to listen but also to look into it on their own.
"The way you learn is by starting with some practical examples that you can understand. Get a couple of those. Then you show the abstraction that brings all these different examples together."
— Don Norman
Don Norman, co-founder and Principal Emeritus of Nielsen Norman Group, is trying to mobilize the current and next generations of designers to use their insights in design as a way of thinking to solve the world's major societal issues. As designers, if enough of us adopt this approach, just imagine what we could do for the planet and its people—everywhere.
In this video, Don Norman also shares the practical rules and methods that he uses to turn a complex explanation into one that is easy for people to understand. These methods have made his many books and other work a great resource for designers around the world, and they will help you too! Get ready to learn from the very best.
Video copyright info

University Hall, Northwestern University by Madcoverboy (talk) (CC BY-SA 3.0)
https://commons.wikimedia.org/wiki/File:University_Hall_Northwestern.jpg?uselang=ru

Hammer created by Kenneth Apiah from Noun Project.
https://thenounproject.com/term/hammer/8708/

Stone created by zidney from Noun Project.
https://thenounproject.com/term/stone/2127177/
In case you would like more helpful examples for how to communicate clearly, here is a template you can download and use to guide your own efforts. Though it was created primarily for written communication, almost all of it can be applied to any form of communication.
Get your free template for "Writing Tips to Supercharge Your UX Work"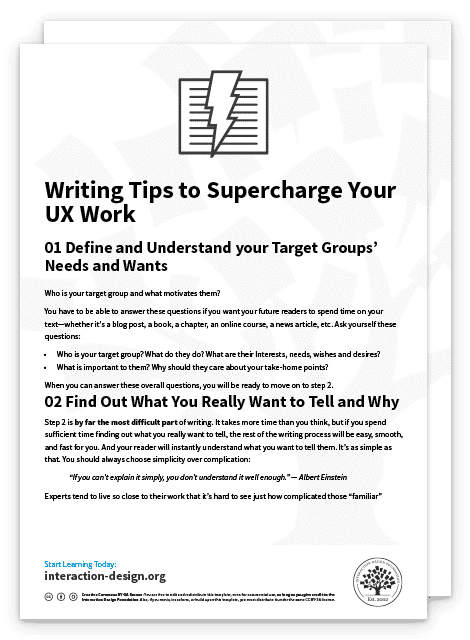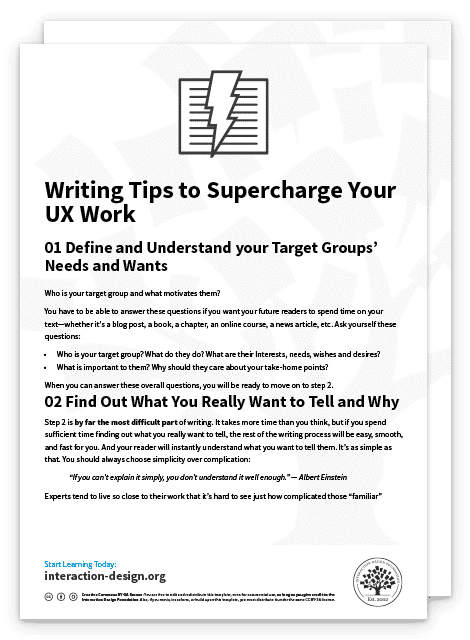 Images
© Interaction Design Foundation, CC BY-SA 3.0