Author: Hamed Haddadi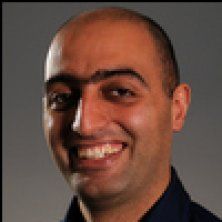 Hamed Haddadi
Dr Hamed Haddadi is a Senior Lecturer (Associate Professor) in Digital Media at School of Electronic Engineering and Computer Science, Queen Mary University of London. He was a postdoctoral researcher at Max Planck Institute for Software Systems in Germany and a postdoctoral research fellow at the Department of Pharmacology, University of Cambridge and The Royal Veterinary College, University of London. Additionally, Hamed has spent time working and collaborating with Intel Research, Microsoft Research, AT&T Research, Telefonica, and Sony Europe. He studied for his BEng/MSc/PhD at University College London and the University of Cambridge. He is currently serving as the Information Services Director for the ACM SIGCOMM Executive Committee.
Publications
Publication period start: 2014
Publication period end: 2014
Number of co-authors: 5
Co-authors
Number of publications with favourite co-authors
Productive Colleagues
Most productive colleagues in number of publications
Publications
Mortier, Richard, Haddadi, Hamed, Henderson, Tristan, McAuley, Derek, Crowcroft, Jon, Crabtree, Andy (2014): Human-Data Interaction. In: Lowgren, Jonas, Carroll, John M., Hassenzahl, Marc, Erickson, Thomas, Blackwell, Alan, Overbeeke, Kees, Hummels, Caroline, Spence, Robert, Apperley, Mark, Holtzblatt, Karen, Beyer, Hugh R., Kjeldskov, Jesper, Burnett, Margaret M., Scaffidi, Christopher, Svanaes, Dag, Hook, Kristina, Sutcliffe, Alistair G., Schmidt, Albrecht, Cockton, Gilbert, Kaptelinin, Victor, Christensen, Clayton M., Hippel, Eric von, Tractinsky, Noam, Challis, Ben, Shusterman, Richard, Hudson, William, Mann, Steve, Whitworth, Brian, Ahmad, Adnan, de Souza, Clarisse Sieckenius, Fishwick, Paul A., Grudin, Jonathan, Poltrock, Steven, Gallagher, Shaun, Dix, Alan J., Nielsen, Lene, Randall, Dave, Rouncefield, Mark, Bowman, Doug A., Kock, Ned, Cairns, Paul, Few, Stephen, Dautenhahn, Kerstin, Paterno, Fabio, Cyr, Dianne, Mortier, Richard, Haddadi, Hamed, Henderson, Tristan, McAuley, Derek, Crowcroft, Jon, Crabtree, Andy, Stephanidis, Constantine, Stappers, Pieter, Giaccardi, Elisa, Blandford, Ann, Zimmerman, John, Forlizzi, Jodi (eds). "The Encyclopedia of Human-Computer Interaction, 2nd Ed." The Interaction Design Foundation .