Author: Jodi Forlizzi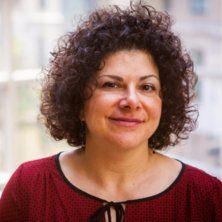 Jodi Forlizzi
Jodi Forlizzi is the Geschke Director and a Professor of Human-Computer Interaction in the School of Computer Science at Carnegie Mellon University. She is responsible for establishing design research as a legitimate form of research in HCI that is different from, but equally as important as, scientific and human science research. For the past 20 years, Jodi has advocated for design research in all forms, mentoring peers, colleagues, and students in its structure and execution, and today it is an important part of the CHI community.
Jodi's current research interests include: designing educational games that are engaging and effective, designing robots, AVs, and other technology services that use AI and ML to adapt to people's needs, and designing for healthcare. Jodi is a member of the ACM CHI Academy and has been honored by the Walter Reed Army Medical Center for excellence in HRI design research. Jodi has consulted with Disney and General Motors to create innovative product-service systems.
Publications
Publication period start: 2014
Publication period end: 2014
Number of co-authors: 1
Co-authors
Number of publications with favourite co-authors
Productive Colleagues
Most productive colleagues in number of publications
Publications
Zimmerman, John, Forlizzi, Jodi (2014): Service Design. In: Lowgren, Jonas, Carroll, John M., Hassenzahl, Marc, Erickson, Thomas, Blackwell, Alan, Overbeeke, Kees, Hummels, Caroline, Spence, Robert, Apperley, Mark, Holtzblatt, Karen, Beyer, Hugh R., Kjeldskov, Jesper, Burnett, Margaret M., Scaffidi, Christopher, Svanaes, Dag, Hook, Kristina, Sutcliffe, Alistair G., Schmidt, Albrecht, Cockton, Gilbert, Kaptelinin, Victor, Christensen, Clayton M., Hippel, Eric von, Tractinsky, Noam, Challis, Ben, Shusterman, Richard, Hudson, William, Mann, Steve, Whitworth, Brian, Ahmad, Adnan, de Souza, Clarisse Sieckenius, Fishwick, Paul A., Grudin, Jonathan, Poltrock, Steven, Gallagher, Shaun, Dix, Alan J., Nielsen, Lene, Randall, Dave, Rouncefield, Mark, Bowman, Doug A., Kock, Ned, Cairns, Paul, Few, Stephen, Dautenhahn, Kerstin, Paterno, Fabio, Cyr, Dianne, Mortier, Richard, Haddadi, Hamed, Henderson, Tristan, McAuley, Derek, Crowcroft, Jon, Crabtree, Andy, Stephanidis, Constantine, Stappers, Pieter, Giaccardi, Elisa, Blandford, Ann, Zimmerman, John, Forlizzi, Jodi (eds). "The Encyclopedia of Human-Computer Interaction, 2nd Ed." The Interaction Design Foundation .