Author: Elisa Giaccardi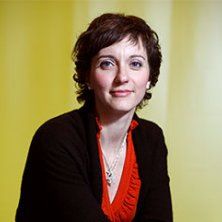 Elisa Giaccardi
Elisa Giaccardi is a Full Professor at Delft University of Technology, where she leads the Connected Everyday Lab. From pioneering endeavors in meta-design and social media to the role of the non-human in the Internet of Things, her research work reflects an ongoing concern with design as a shared process of the invention of reality. Her research team at the Connected Everyday Lab focuses on exploring the future of design in the emerging landscape of data technologies and artificial intelligence via Research through Design.
Publications
Publication period start: 2014
Publication period end: 2014
Number of co-authors: 1
Co-authors
Number of publications with favourite co-authors
Productive Colleagues
Most productive colleagues in number of publications
Publications
Stappers, Pieter, Giaccardi, Elisa (2014): Research through Design. In: Lowgren, Jonas, Carroll, John M., Hassenzahl, Marc, Erickson, Thomas, Blackwell, Alan, Overbeeke, Kees, Hummels, Caroline, Spence, Robert, Apperley, Mark, Holtzblatt, Karen, Beyer, Hugh R., Kjeldskov, Jesper, Burnett, Margaret M., Scaffidi, Christopher, Svanaes, Dag, Hook, Kristina, Sutcliffe, Alistair G., Schmidt, Albrecht, Cockton, Gilbert, Kaptelinin, Victor, Christensen, Clayton M., Hippel, Eric von, Tractinsky, Noam, Challis, Ben, Shusterman, Richard, Hudson, William, Mann, Steve, Whitworth, Brian, Ahmad, Adnan, de Souza, Clarisse Sieckenius, Fishwick, Paul A., Grudin, Jonathan, Poltrock, Steven, Gallagher, Shaun, Dix, Alan J., Nielsen, Lene, Randall, Dave, Rouncefield, Mark, Bowman, Doug A., Kock, Ned, Cairns, Paul, Few, Stephen, Dautenhahn, Kerstin, Paterno, Fabio, Cyr, Dianne, Mortier, Richard, Haddadi, Hamed, Henderson, Tristan, McAuley, Derek, Crowcroft, Jon, Crabtree, Andy, Stephanidis, Constantine, Stappers, Pieter, Giaccardi, Elisa, Blandford, Ann, Zimmerman, John, Forlizzi, Jodi (eds). "The Encyclopedia of Human-Computer Interaction, 2nd Ed." The Interaction Design Foundation .