UX Management
Your constantly-updated definition of UX Management and collection of topical content and literature
What is UX Management?
UX management is the practice of managing user experience related activities inside an organization. Typical UX management activities involve defining an organization's UX design language and strategy as well as managing the work processes around UX design.
UX management can be understood both as a job title (a UX manager) and an organizational activity. Even when UX is the responsibility of a UX manager, it's important that the entire organization and especially senior management, also take an active interest in users and user needs. Managing UX requires the strategic alignment of people and practices all in the interest of the end users.
Get started building your own UX management strategy!
Good UX Management is User Centric
"According to our study, design-led firms exhibit the following behaviors far more than their non-design-led peers: Consciously put the customer first. Nearly half (46%) of design leaders cited creating an emotional bond with customers as a defining characteristic of an advanced design practice".

– Adobe (Forrester Research 2016)
At the heart of UX management is the enabling and valuing of UX resources, researchers, designers and design leaders. Good UX management means pushing the organizational maturity of your company in the direction of peak or consistent delivery of UX return on investment (ROI). The idea is to create growth and innovation-producing management practices that allow for unimpeded Agile UX delivery.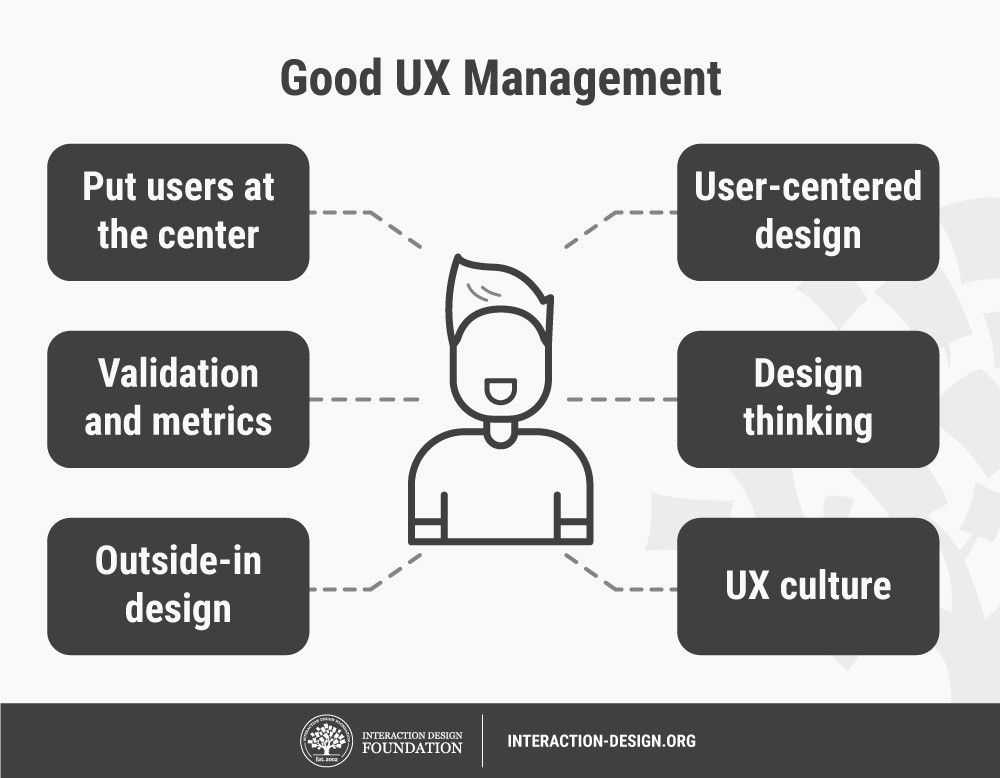 Good UX management boosts an organization's innovation by growing a strong UX culture with a focus on user centered design and validation.
Types of UX Management
UX managers often work in a user centered process, keeping an understanding of the users' needs at the center of all activities. UX management comprises two dimensions – strategic and tactical. You can be adept at both, at different times.
Strategic – You focus on long-terms plans: (e.g.) funding models and UX evangelism (promoting UX in all dimensions, including aligning UX strategy with organizational goals, to identify your team as a corporate asset). You may also become involved in UX process development, project selection, etc. This is higher-level UX management.
Tactical – Aside from having solid coaching skills and addressing everyday issues, you're a front-line leader working directly with UX designers. However many projects your organization handles, you'll always have one more – your team as a collective supply of effort. Inasmuch as UX design spans the realms of UI design, usability testing, human factors engineering, among others, your skillset should reflect these areas. While your having the intimate knowledge some of your team members possess is unlikely across the board, you should still know enough to be able to direct team members. Additional areas of focus involve managing:

Up – Secure your leaders' help to get resources/support for the team.
Across – Liaise with project managers and others as needs be.
Down – Wield administrative responsibility vis-à-vis HR concerns, training, performance assessment, geographic concerns of having an international team etc.
Communication is essential to success, as is a balanced approach handling teams and demonstrating their value. Besides defining experience strategies and how to deliver these, you'll likely work closely with development and product managers in pursuing strategies and master tools such as Agile and Lean.
"Management is doing things right; leadership is doing the right things."

— Peter Drucker, Management consultant, educator and author
Learn More about UX Management
Learn how to grow your UX maturity and ROI with the IDF's course on UX Management strategy and tactics: https://www.interaction-design.org/courses/ux-management-strategy-and-tactics
Read a helpful first-hand account focusing on the value of training vis-à-vis UX Management: https://blogs.adobe.com/creativecloud/ux-management-7-steps-to-set-up-an-ongoing-training-process/
An eye-opening first-hand account from a UX designer about transitioning to UX Management: http://uxpamagazine.org/on-becoming-a-ux-manager/
Invaluable advice on problem areas: https://www.loop11.com/the-6-most-common-problems-in-ux-projects/
Literature on UX Management
Here's the entire UX literature on UX Management by the Interaction Design Foundation, collated in one place:
Learn more about UX Management
Take a deep dive into UX Management with our course UX Management: Strategy and Tactics.
What sets top-performing organizations apart? Well, for one thing, it's no coincidence that they place a focus on understanding and empowering their UX and UI teams. Not only does this drive organic growth through a more optimal user experience, but it also means that the business can benefit from the ROI (Return On Investment) that UX work can deliver. In most organizations, however, you'll find there is a lack of UX maturity—that is, how embedded UX is within an organization's culture and work processes. And this occurs even when the decision-makers know that UX is core to business and customer stakeholders! We want to help both you and your wider team create a culture, and design mindset, that can truly reap the benefits of UX work. By learning how to apply key tactics, you'll be able to ensure that your UX efforts are having maximum impact across the wider business.
In this course, we will explore the ins and outs of UX maturity by looking at the way your organization is structured and developed. We will give you the chance to grasp UX management as not just a people issue but also a design methodology… all so that you can manage UX as a smart leader, and get the very best from the UX professionals you work with. Even if you're currently a more junior UX, UI or interaction designer, the strategies you will learn in this course will enable you to truly realize the value that your work will provide to your organization.
You will be taught by Frank Spillers, CEO of the award-winning UX firm Experience Dynamics. By taking this course, you'll leverage his experience from two decades of working with enterprise, midsize and start-up companies across a wide range of industries. Given that, you will be able to learn from, and avoid, the mistakes he's come across, and apply the best practices he's developed over time in order to move towards managing your UX team in an optimal way.
The course also includes interviews with experts—including a UX Director, Chief Experience Officer, Product Manager, and User Research Director. These will give you another practical opportunity to learn from people who are highly experienced in managing UX across organizations. All of this means that you will learn how an Outside-In design approach operates, and what it looks and feels like in practice—be it from a product management, executive or stakeholder perspective. Upon completing the course, you will have the knowledge required to avoid unnecessary growing pains, and ultimately accelerate your company's UX maturity so that you win sooner and enjoy a more consistently high level of performance within the market.
All literature