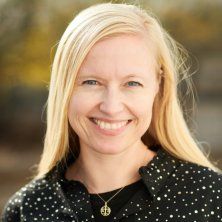 Rikke Friis Dam
Co-Founder
Publications
Publication period start: 2015
Number of co-authors: 3
Co-authors
Number of publications with favourite co-authors
21

21

42
Productive Colleagues
Most productive colleagues in number of publications
21

37

73
Publications
The MAYA Principle: Design for the Future, but Balance it with Your Users' Present.
Understand the Elements and Thinking Modes that Create Fruitful Ideation Sessions.
Prototyping: Learn Eight Common Methods and Best Practices.
What Kind of Prototype Should You Create?.
Prototyping in Design Thinking: How to Avoid Six Common Pitfalls.
Design Thinking: Get Started with Prototyping.
14 Barriers to Ideation – and How to Overcome Them.
How to Select the Best Idea by the end of an Ideation Session.
Learn How to Use the Best Ideation Methods: Analogies.
Learn How to Use the Best Ideation Methods: Challenge Assumptions.
Learn How to Use the Best Ideation Methods: Worst Possible Idea.
Learn How to Use the Best Ideation Methods: SCAMPER.
Learn How to Use the Best Ideation Methods: Brainstorming, Braindumping, Brainwriting, and Brainwalking.
Introduction to the Essential Ideation Techniques which are the Heart of Design Thinking.
Create Some Space – for Ideation Sessions and Design Thinking.
What is Ideation – and How to Prepare for Ideation Sessions.
From Prototype to Product: Ensuring Your Solution is Feasible and Viable.
Define and Frame Your Design Challenge by Creating Your Point Of View and Ask "How Might We".
Personas – A Simple Introduction. Creating personas helps you understand your users' needs, experiences, behaviours and goals. Learn more about how they help you create great user experiences.
Empathy Map – Why and How to Use It.
Affinity Diagrams – Learn How to Cluster and Bundle Ideas and Facts.
Methods to Help You Define Synthesise and Make Sense in Your Research.
The Power of Stories in Building Empathy.
7 Simple Ways to Get Better Results from Ethnographic Research.
How to Develop an Empathic Approach in Design Thinking.
Design Thinking: Getting Started with Empathy.
Interaction Design Foundation Reviews: Answers to frequently asked questions by members.
Design Thinking: A Quick Overview.
Design Thinking: Get a Quick Overview of the History.
Test Your Prototypes: How to Gather Feedback and Maximise Learning.
Myth-Busting – Some Home Truths about Games.
Stage 5 in the Design Thinking Process: Test. Prototypes are often used in the final, testing phase in the Design Thinking process to reveal new solutions to problems, and test how successful they are.
Monitoring Player Motivation for Gamification. Do you know when the players in your gamification project are likely to get bored? Learn to monitor player motivation so you can respond to them accordingly.
Improve Customer Experience with UX Investments that Increase ROI.
Membership Sites – Persuading the Masses.
Social Evolution and Why We Need to Communicate. Explore the brain and see how social behaviour "comes about". Get a firm grounding of this dynamic and a fresh insight into how to design for your usership.
Trust and the Issues that Customers Face when Making Purchasing Decisions Online.
Reputational Capital - Why it Matters.
Sympathetic Bonding and Why It's Useful in Design.
Everyone Loves a Story, and We are All Natural Storytellers.
Fear of Loss Provides Motivation to Buy.
Human Inconsistency – Changing Someone's Self-Viewpoint Through Design.
The Internal Dialogue and Why it Matters to Designers.
A Brief History of Games. When you understand the evolution of games, you can begin to make intelligent choices about what elements of games you include in your gamification designs.
Measuring the Mechanics in Gamification.
The Use of Story and Emotions in Gamification.
How to Clarify Your Expectations of Gamification Projects.
Introducing Game Mechanics for Gamification. Every form of design features special techniques which can take a design from "OK" to "amazing", and gamification is no exception. Explore some helpful tips!
Tips for Mission Selection in Gamification Projects.
Business Outcomes and Gamification.
Analysis for a Gamification Mission.
The Persona Template for Gamification. For any gamification project, you'll need to do research on players in order to determine what they require from the gamified system. Let's take a look at that.
Bartle's Player Types for Gamification. Gamification is not the same as game design—gamification adds game-like elements to non-gaming environments. Learn more about the differences, and the overlap.
Work Cultures and Gamification.
Understanding the Person in Terms of Gamification Design.
Get to Know Your Players for Your Gamification Project.
Player-Centred Design: Moving Beyond User-Centred Design for Gamification.
User-centred Design in a Gamification Context.
A Game Explained (an example of a single game and how it meets the rules of fun).
Design Thinking: Select the Right Team Members and Start Facilitating.
Stage 4 in the Design Thinking Process: Prototype. One of the best ways to gain insights in a Design Thinking process is to carry out some form of prototyping—and this occurs in the fourth stage of the process.
The 3 Components of Courses from the Interaction Design Foundation.
How to Make Your First Marketing Plan as a Freelancer or Entrepreneur.
Entrepreneurs and Freelancers: How to Overcome Your Fear of Selling.
Face-to-Face or Door-to-Door Marketing: How to Get the Best Start.
How to Get Started on Upwork, Guru or Freelancer. Make sure you're fully informed about how to market on freelance brokerage sites before you spend your time and money on them. Learn how to get started today!
Networking: Effective and Low-Cost Marketing for Freelancers and Entrepreneurs.
Direct Mail Marketing for Start-ups: 9 Most Effective Tips.
9 Powerful Social Media Marketing Tips for Business Owners.
10 Effective Tips for Successful Outbound Telemarketing.
SEO vs. SEM for Freelancers and Entrepreneurs: Improve Your Marketing Strategy.
How to Make Your Start-up Website.
How to Price Your Freelance and B2B Work.
4 Steps for Performing Effective Market Research for Start-ups.
Entrepreneurs and Freelancers: Learn to Create Your Marketing Story.
How to Build Your First Freelance or Design Agency Portfolio. For most freelancers and newbie design owners, their most powerful marketing tool will be their portfolio. Demonstrate to clients that you have the experience!
7 Powerful Steps for Creating the Perfect Freelance CV. A freelance CV is very different from one used to apply for a standard job, and it's a good idea to learn how to approach CV development for freelance work.
How to Write Your First Business Plan.
Learn How to Open a Sales Call Successfully.
What Kind of Business Setup Should You Choose as a Freelancer or Entrepreneur?.
How to Choose Your Specialist Freelance or Entrepreneur Niche and Become Remarkable.
Understand and Define Your Values – and Increase Your Success Rate as an Entrepreneur or Freelancer.
Discover and Understand your Passions and Interests – and Increase Your Success Rate as an Entrepreneur or Freelancer.
Is it Irresponsible to Become a Freelancer, Entrepreneur or Digital Nomad? And How to Overcome Your Anxiety and Fear.
When Is the Perfect Time to Start Your Own Business?.
3 Methods to Overcome Your Weaknesses as an Entrepreneur and Freelancer. Explore three simple methods that can help you deal with your weaknesses (everyone has them!) & increase your chances of succeeding as a freelancer or entrepreneur.
11 Characteristics of Successful Freelancers and Entrepreneurs.
15 Popular Reasons to Become a Freelancer or Entrepreneur. 15 popular reasons why people choose to go out on their own and start a business—rather than staying in a safe, secure, and often more limiting job role.
The Business Models of Freelancing and Design Agencies and Who Can Start Their Own Business.
How to build a Successful Design Business.
The Didactics and Educational Choices for IxDF's Courses.
Course Structure, Point System and Course Certificate.
A mix between Research-based Versus Example-based Learning.
How to Prepare for a Successful Sales Call.
5 Steps to Make the Perfect Telesales Pitch for Your Services.
Stage 3 in the Design Thinking Process: Ideate. In the third, ideation stage of Design Thinking, design thinkers spark off ideas—in the form of questions and solutions—through creative and curious activities.
How to Handle On-Spec Work as a Freelancer or Entrepreneur.
Stage 2 in the Design Thinking Process: Define the Problem and Interpret the Results. The second stage of the Design Thinking process involves synthesizing observations about your users from the first, empathize stage to create problem statements.
5 Stages in the Design Thinking Process. Design Thinking is a human-centered, iterative process that designers use to tackle problems. It has 5 steps—Empathize, Define, Ideate, Prototype and Test.
Essential Design Thinking Videos and Methods.
Obstacles to Problem Solving and Innovation in Design Thinking.
Design Thinking: New Innovative Thinking for New Problems.
What is Design Thinking and Why Is It So Popular?. Design Thinking is being taught at leading universities around the world. Here we'll cut to the chase and tell you what it is, as well as why it's so in demand.
10 Great Start-up and Digital Nomad Resources Online.
5 Inspiring Freelance Designers' Websites and Portfolios. Explore five great inspirational websites for freelancer designers. They can provide insight into how to construct your own website and online portfolios.
10 Brilliant Travel Tips for Digital Nomads and Business Travellers.
Visas and Legal Issues for Digital Nomads.
Downsize Your Life, Digital Nomad.
Where Do You Want to Go, Digital Nomad?.
Are You Dreaming of Becoming a Digital Nomad?.
Professional and Personal Development is Essential for Succeeding as a Freelancer and Entrepreneur.
Embrace Your Entrepreneurial Failures and Succeed.
Learn How to Present Your Business Services and Close a Sale.
4 Tried and Tested Ways to Grow Your Small Company or Freelance Business.
Legal and Ethical Guidelines: How Freelancers and Entrepreneurs Should Handle Legal and Ethical Issues.
The Pareto Principle and How to Be More Effective.
Identify and Eat Your Frog to Increase Your Effectiveness.
Administration for Entrepreneurs and Business Owners: Don't Fear it. Just Get it Done.
How to Work towards Your Goals Effectively.
Freelancer and Entrepreneurs: How to Get Paid – and What to Do When the Client Doesn't Pay.
Freelancer and Entrepreneurs: How to Fire Clients without Telling Them to **** ***.
Angry Customers: Learn to Deal with them and Turn them Into Your Most Loyal Customers.
Freelancers and Entrepreneurs: Get the Customer Service Basics Right.
Freelancer and Entrepreneur: Break Your Employee Mind-set.
9-Step Guide to Creating a Freelance and Business-to-Business Contract.
Learn How to Close a Sales Call.