Graphic art vs. graphic design is a long-standing debate that still intrigues people. While some believe the two overlap, others say they are entirely different. 
So, what exactly is the difference between the two?

Simply put, graphic designers design creative visual solutions by strategically combining text, images, and graphic elements for effective visual communication. On the other hand, graphic artists create visuals that communicate emotions, stories, or ideas through illustrations, characters, cartoons, and more. 
Here, we will walk you through the significant differences and similarities between the two roles. Also, you'll learn about the required qualifications, expected salary, and job market trends for both roles. 
What Exactly Does a Graphic Artist Do?
You must have encountered graphic illustrations, cartoon characters, and graphic arts pages on social media at some point. Sure, they look creative, attention-grabbing, and highly engaging, and that's precisely what graphic artists do. 
According to the definition of graphic artist, they're creative professionals or commercial artists who create fine art using artistic principles—whether abstract or novel. They may use various digital tools, software, and techniques like photography, painting, sketching, hand drawing, and more. These digital artworks could include:
Illustrations

Cartoons

Characters

Digital sketches

Book covers

Digital music album covers

Comic strips

Art for commercial ads
Graphic artists may use unconventional design principles, and their artwork may include various dialogue, stylistic elements, or activities to engage viewers. They can create artwork manually on a computer or tablet and publish it in print or digital format. But the selection of devices and publishing mediums depends more on a graphic artist's personal preferences and experiences than viewers' preferences.
What Are the Similarities Between a Graphic Designer & a Graphic Artist?
Both roles have many similarities that you can't overlook when it comes to tools, skills, and principles. To begin with, both rely on visuals and start with the word 'graphic.' They also work with both print and digital formats. For a better understanding, we've broken down some prime similarities for you: 

Parameters

Similarities

Qualifications

Bachelor's degree in graphic design. 

Fine arts or advertising specialization.

Certificate courses like illustrations,

comic strip making, cartoons, and character designing.

Skills

Creativity, active thinking, visual communication, storytelling, animation, and digital arts.

Formats

Print and digital.

Techniques

Mood boarding, Hand drawing, Design principles, Art principles.

Software Proficiency

Photoshop, Illustrator, Sketch, Procreate.
What Are the Key Differences Between a Graphic Artist & Graphic Designer Role?
Now that we've established the similarities, let's look at some key differences between graphic artists vs. graphic designers.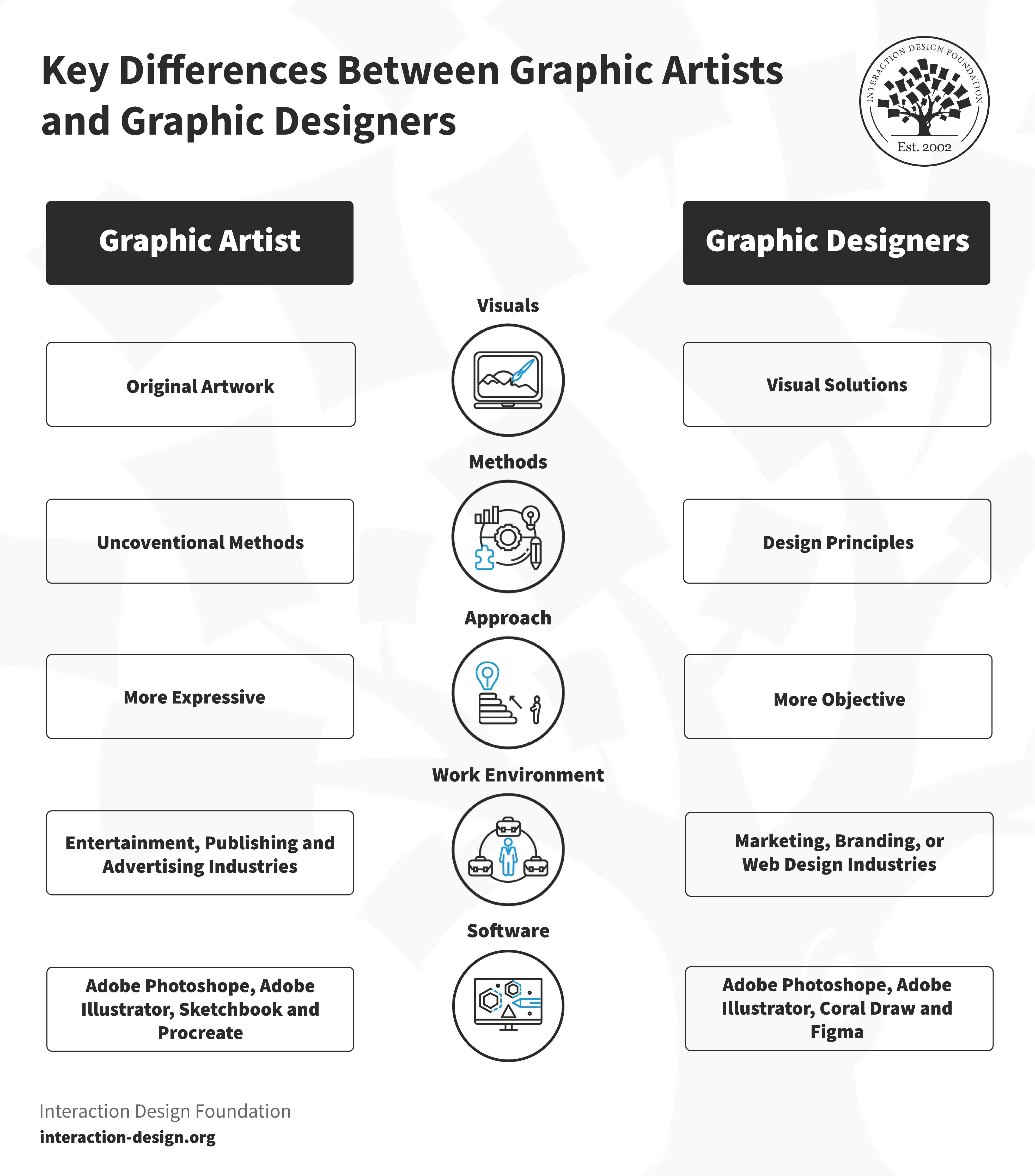 One of the primary differences between the two roles is that a graphic artist focuses more on the artistic side of things. They use creativity and imagination to produce original artworks that express their vision or message.
On the contrary, a graphic designer is more focused on the functional side of things. Designers use their skills and knowledge to create designs that communicate a specific idea or purpose. 
To help you understand better, here's a brief comparison of the differences in both roles:
Key Differences Between Graphic Artists and Graphic Designers

Parameters

Graphic Artist

Graphic Designer

Visuals

Creates illustrations and original artwork. 

Creates visual solutions and commercial graphics.

Approach

Makes more expressive and subjective artwork to convey emotions, opinions, or perspectives.

Uses imagination and creativity.

Makes more objective and problem-solving designs to answer a question, achieve a goal, inform, or persuade.

Uses skills and knowledge. 

Work Styles

Works independently on personal projects to experiment and explore their style and preferences.

Works collaboratively on commercial projects based on client's brief and specifications.

Work Environment

Works mainly in the entertainment, publishing, and advertising industries.

Works mostly in the marketing, branding, or web design industries.

Elements

Uses multiple mediums and artistic tools like illustrations and  dialogues to express their creativity.

Uses layout, bright colors, typography, and images to convey a message.

Qualification

Does not necessarily require a degree but can specialize in various fine arts fields.

Requires a degree or certification course in graphic design or related studies.

Methods

Uses unconventional methods to produce original artwork. May not always use design principles.

Relies heavily on design principles and other theories to create strategic designs.

Software

May use software and tools like Adobe Illustrator, Adobe Photoshop, Sketchbook, Sketch, and Procreate.

Has to be proficient in operating Adobe Photoshop, Adobe Illustrator, and CorelDRAW. May also use Adobe Indesign, Adobe Premiere Pro, Sketch, Procreate, and Figma.
What are The Qualifications Required to Become a Graphic Artist or Graphic Designer?
After learning about the difference in the roles, which of the two do you prefer as a career option? Whichever role you choose, you must know about the required qualifications to pursue it.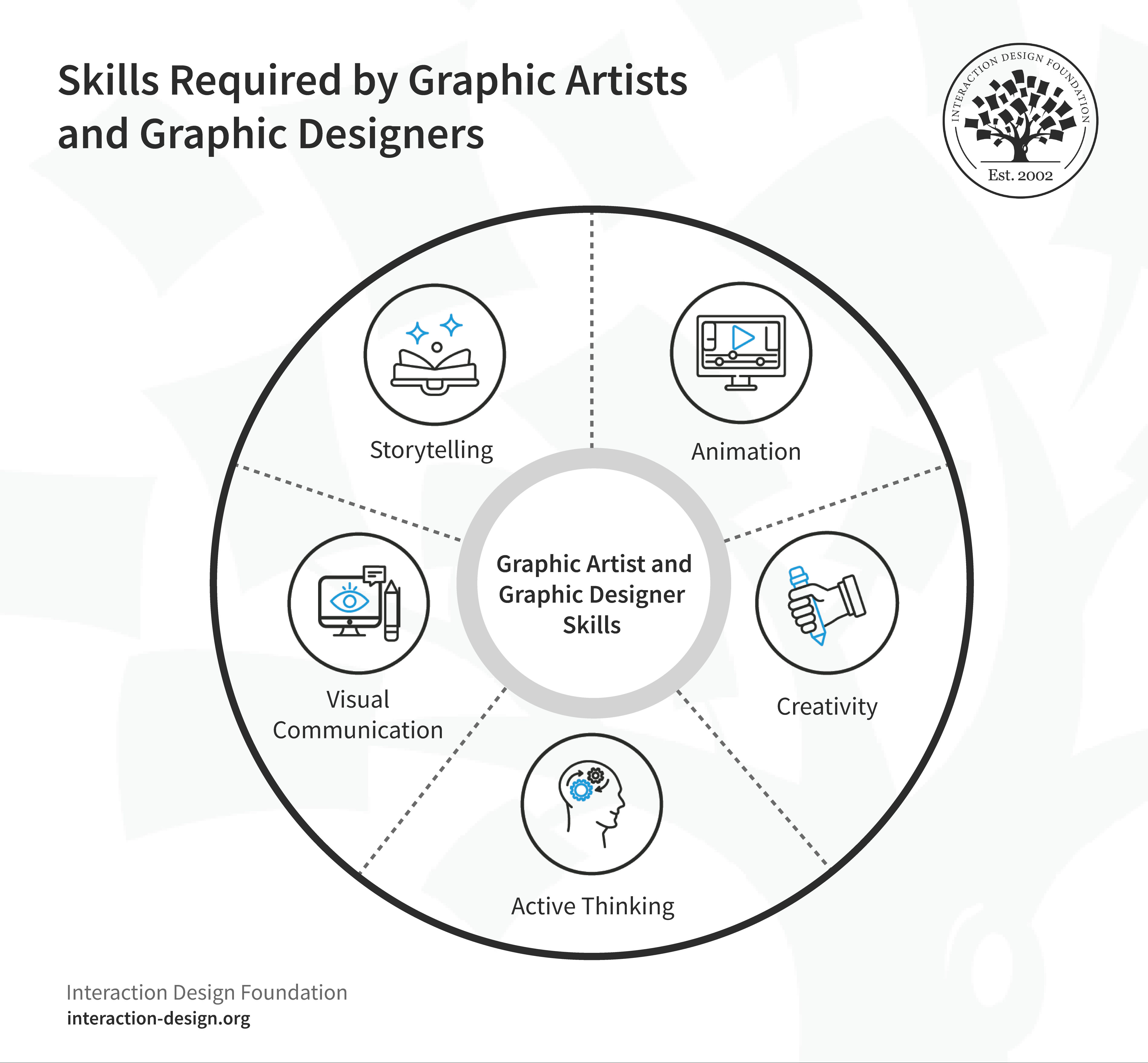 Graphic Artists
Graphic artists don't necessarily need professional training. They're independent learners and explore various art forms, techniques, and styling preferences at their own pace. However, if they want to specialize, they can opt to secure a bachelor's degree in that particular area or fine arts. 
Many people choose to do graphic art as a part-time gig and don't want to achieve a degree. In that case, they can take certification courses to stay competitive in the industry and keep up with the trends. It could be in any special art techniques like illustrations, character design, animation, and more.  
Graphic artists can take courses in:
Drawing

Sketching

Digital Art

Video Graphics

Animation

Visual Storytelling

Interactive Digital Media Design
Graphic Designers
To become a graphic designer, having a bachelor's degree in graphic design or other related courses is the best way to secure a job in the industry. A few degrees that you can pursue are:
Visual Communication

Web Design

Animation

Marketing and Advertising
But what if you don't want to pursue graphic design as a full-time career or don't have the time to complete a degree course? 
In that case, you can take certification courses.
In the digital era, you don't have to worry about learning. Reputed institutions, like the IxDF, provide design programs that are accessible from anywhere and allow self-paced learning. Some of the popular online courses include:
Learn more about design principles in the article | Design Principles by the IxDF
Graphic Artist & Graphic Designer Salaries
Although we've covered most of the vital information, one of the critical questions still remains. 
How much can you earn yearly as a graphic artist or graphic designer?
Note that various factors, including location, company, and seniority, influence your average earnings as a graphic artist or designer. However, to give you an idea, in the United States, a graphic artist can earn approximately $54,900 /yr, while a graphic designer earns around $49,450 /yr. As for junior and senior roles, here's the breakdown:
| | | |
| --- | --- | --- |
| Job Title | Graphic Artist | Graphic Designer |
| Jr. Graphic Artist / Designer | | |
| Sr. Graphic Artist / Designer | | |
| Art Director | | NA |
| Creative Director | NA | |

Notably, graphic designers specializing in UX design earn the most, with an average annual salary of over $110k. If your interests align with the field, you can also consider transitioning from graphic design to other UX roles. Take a master class by Cory Lebson, Principal and Owner – Lebsontech LLC | How to Successfully Change Your Career to UX Design
Job Market Trends
Whether you decide to become a graphic artist or a graphic designer, a career in both disciplines is appealing. The job outlooks of graphic designers may grow five percent by 2026, with 24,800 projected graphic designer job openings in the US every year.
Both graphic artists and designers have plenty of employment options owing to a wide range of uses for design skills. 
However, expecting overnight success is unrealistic. You must keep upskilling yourself for better roles and better pay. As long as you remain motivated, disciplined, and willing to learn as much as possible, you can have a fulfilling career in design. 
Famous Graphic Artists
Both roles have some common ground, artists can be graphic design illustrators, and vice versa. For the same reason, sometimes they're referred to as graphic design artists. It is not compulsory to have a background in art to be a graphic designer. However, having some artistic experience can help with the following:
(Learn what color theory is in-depth and how to leverage color to resonate with users.)
You can take inspiration from the top graphic designers of all time to better understand what a graphic design artist is.
1. Chip Kidd
Famous for: Inventive book covers
Based in New York, Chip Kidd is one of the most renowned American graphic artists known for book jacket designs. He's also famous for helping spawn a revolution in the art of American book packaging in the last ten years.
© Interaction Design Foundation, CC BY-SA 4.0

Chip Kidd portrait

© Wired Magazine, CC BY-SA 4.0

© Interaction Design Foundation, CC BY-SA 4.0
2. David Carson
Famous for: Pioneering magazine design and usage of experimental typography
Davis Carson is an American graphic designer and art director famous for his tremendous typographic experiments. He won 230 awards for his work in graphic design, photography, advertising, and branding. 
© Interaction Design Foundation, CC BY-SA 4.0

David Carson portrait

© Interaction Design Foundation, CC BY-SA 4.0

© Interaction Design Foundation, CC BY-SA 4.0
3. Milton Glaser
Famous for: Designing the logo of the century, I ♥ NY
Milton Glaser is a 20th-Century graphic designer renowned for logo designing. Some of his famous artworks include the bullet logo designed for DC Comics and a Bob Dylan poster. 
Milton Glaser, Inc. New York, NY

Milton Glazer portrait

© Milton Glaser, Inc. New York, NY

© Milton Glaser, Inc. New York, NY
4. Neville Brody
Famous for: Self-made sans-serif typography, Pop Art, and Dadaism influence
Neville Brody is an English graphic design and art director well known for designing record covers for artists such as Cabaret Voltaire, The Bongos, and Depeche Mode. Also, he is idolized for his major contribution to FUSE, an influential publication on experimental typography.
© Interaction Design Foundation, CC BY-SA 4.0

Neville Brody portrait

© Interaction Design Foundation, CC BY-SA 4.0
5. Stefan Sagmeister
Famous for: Album covers of The Rolling Stones, David Byrne, Pat Metheny, and OK Go
© Interaction Design Foundation, CC BY-SA 4.0

Stefan Sagmeister portrait

© Interaction Design Foundation, CC BY-SA 4.0

© Interaction Design Foundation, CC BY-SA 4.0
Stefan Sagmeister is a renowned Austrian graphic designer and typographer. He is also the co-founder of the famous design firm Sagmeister & Walsh. He has worked as a typographer and graphic designer at advertising agencies and design studios. His inventive CD cover designs landed him 4 Grammy nominations and the National Design Award. Since then, Stefan Sagmeister has helped promote various brands and music. Also, he has worked with diverse clients like HBO, Time Warner, The Guggenheim Museum, and AIGA.
How to Become a Graphic Artist or Graphic Designer
Having learned about the major differences and similarities between graphic artists and designers, you can easily choose the right role based on your interests. With many specializations under the umbrella, the scope for both roles is high. 
Get your free template for "Visual Design Principles"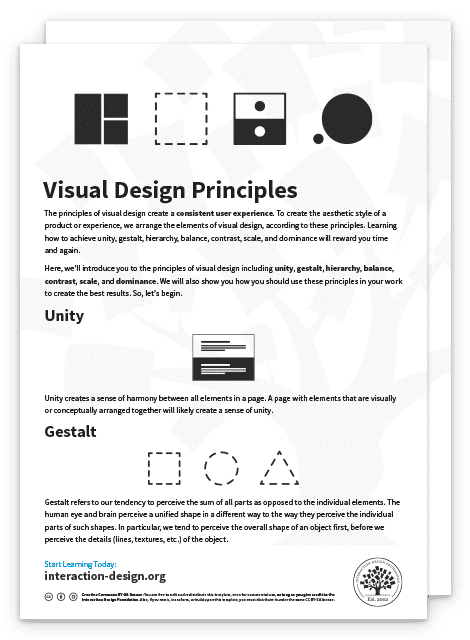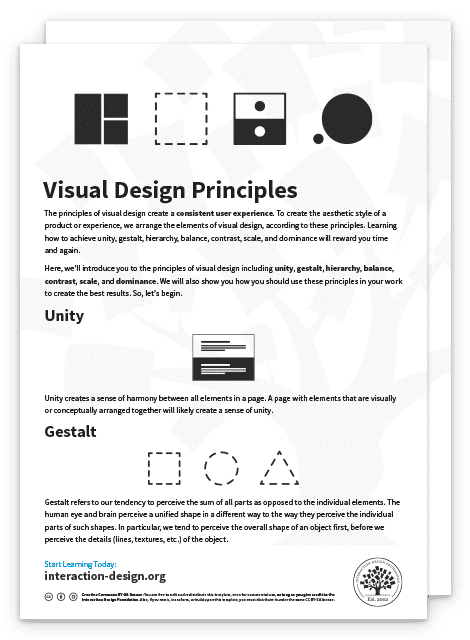 If you have a great eye for detail, creative imagination, or strategic visual communication skills, you can easily make a career in any of the two roles. But remember that the role of graphic design doesn't end with graphics and visuals. Adding to your skill set is imperative to stay competitive in this highly dynamic industry. 
So, if you're ready to dip your toe in this industry, apply for our design courses today and amplify your design skills.