Good Design
Your constantly-updated definition of Good Design and collection of topical content and literature
What is Good Design?
Good design is a concept defined by industrial designer Dieter Rams's principles: It makes a product useful and understandable, is innovative, aesthetic, unobtrusive, honest, long-lasting, thorough to the last detail, environmentally friendly, and involves as little design as possible. Designers strive for good design.
"You cannot understand good design if you do not understand people."

— Dieter Rams
Discover what good design truly involves.
The Timeless Appeal of Good Design
The term "good design" sounds deceptively self-evident. As something for designers to practice, it begs the question of what it involves as a clear set of elements. Design is a field where we understand, communicate with and enhance the world around us, particularly by improving people's lives. Indeed, the cost of bad design is frustrated users and a damaged brand name.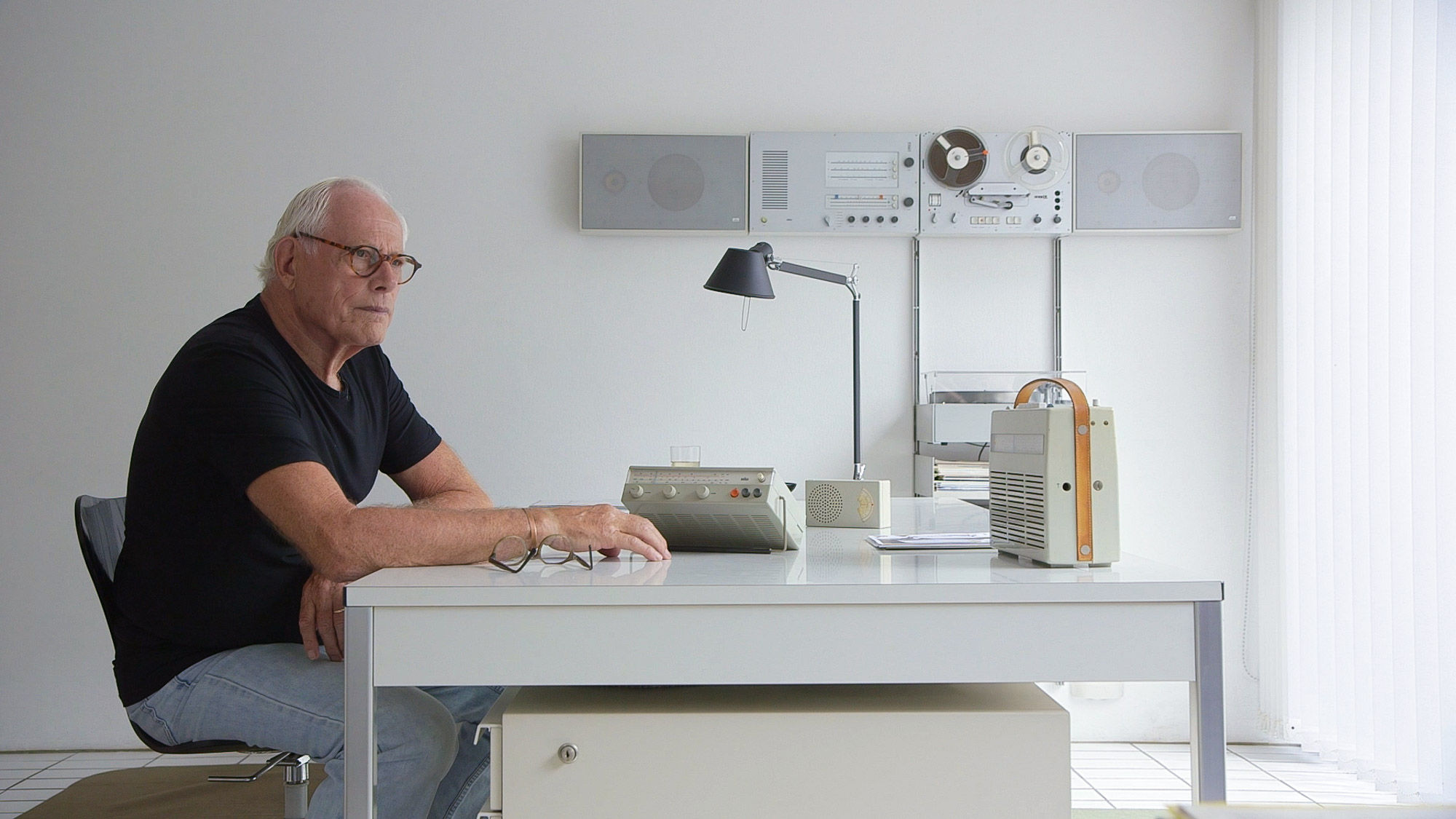 Dieter Rams, a German industrial designer renowned for his less-but-better approach to design, addressed the nature of good design to determine exactly what it requires of designers. Rams's influence is far-reaching, having helped shape how most consumer products used in the late 20th and early 21st centuries look and work. From alarm clocks to toothbrushes, coffeemakers and far beyond, Rams's hallmarks surround us. His aesthetics stand for honesty, restraint and simplicity. In the late 1970s, Rams studied the world around him—finding "an impenetrable confusion of forms, colors and noises"—and asked himself this essential question: "Is my design good design?" Rams's answer is expressed in his ten principles, whereby good design:
Is innovative.

Makes a product useful.

Is aesthetic.

Makes a product understandable.

Is unobtrusive.

Is honest.

Is long-lasting.

Is thorough down to the last detail.

Is environmentally friendly.

Involves as little design as possible.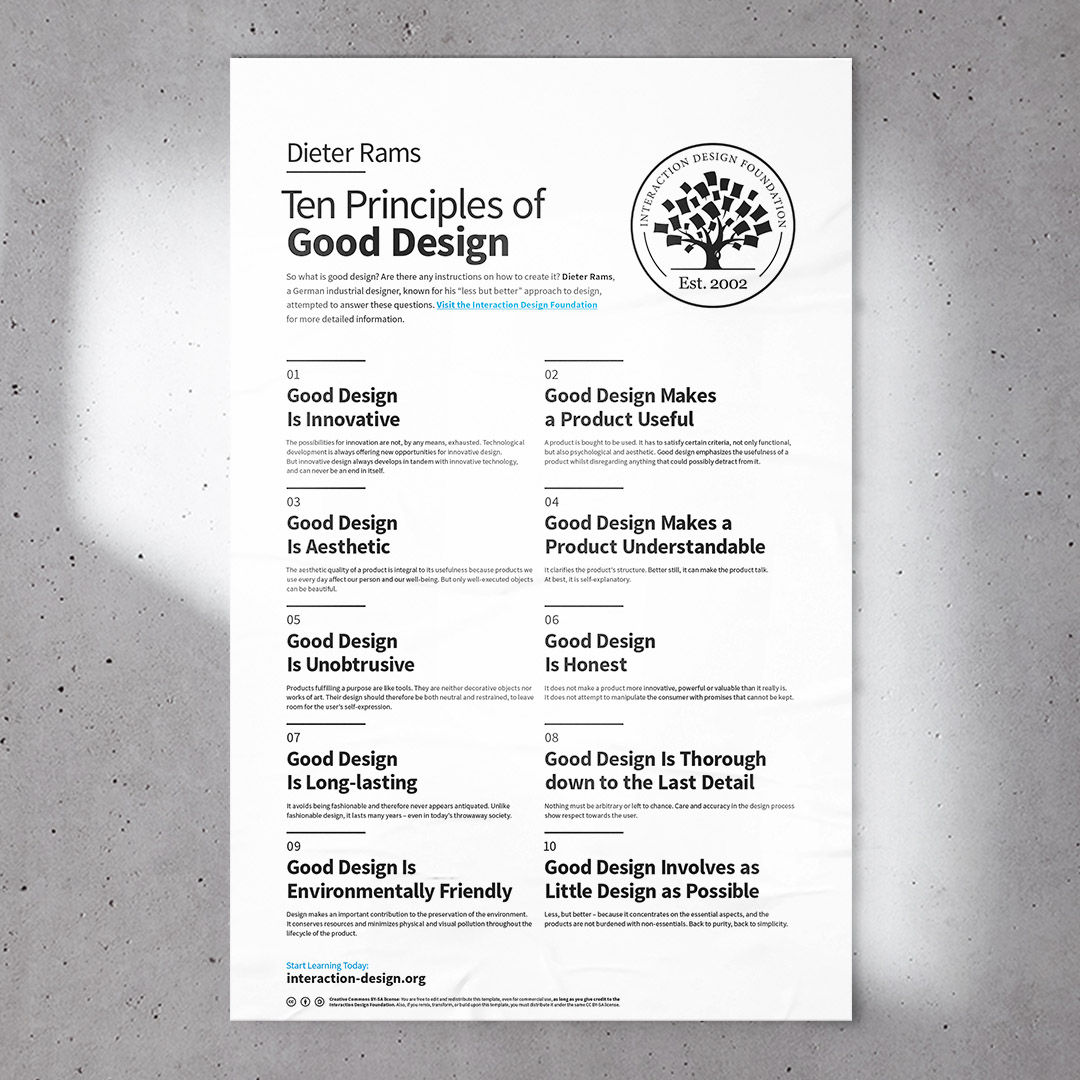 How to Pursue Good Design to Produce Great Designs
Throughout your design process, these points are crucial to remember:
Strive for innovation. The world is always progressing, and technological development is always offering new opportunities for innovative design. Being innovative in design means moving alongside the developments in innovative technology. So, try to keep in step with those developments rather than attempt a novel design for the sake of it.

Let form follow function, alongside the psychological and aesthetic aspects for your users. Products (and services) are bought to be used. Users/customers want to enjoy good experiences (or at least be spared from frustrating ones) and have expectations for you to satisfy. Your design's usefulness means nothing should detract from that usefulness.  

Go for good looks and sensations. The products we use every day affect our personal well-being. So, if your design is around users and is something you've crafted well, they'll enjoy it all the more if it's beautiful.

Make your design speak clearly. An intuitive look and feel will inform users what to do with your design. If you can coax them to cross that magic bridge where they take to your product without having to stop to think (i.e., become confused), you'll optimize how they can achieve their goals with it.

Make it unobtrusive. Your design serves a purpose; being pretty for decoration's sake isn't it. It's up to the users to express themselves through your design. That's why a neutral and restrained approach works, why clean and simple aesthetics help users.

Keep it honest and upfront. Users want promises kept, not false hopes dangled before them, so your design should only be as innovative, powerful and/or valuable as it claims to be. When you consider the solution/s it offers to what problems and design for those, you can help maintain this balance.

Keep it unfashionably in style. Good design never looks dated or antiquated. Classic, clean looks help prevent the unwanted signature styling that pegs a product to an era and makes it discardable.

Keep an eye on the finest details. When you pay attention to the tiniest elements, it tells users you cared enough to follow them on their list of design wants. This could be anything from an extra button on a wearable device to a failsafe feature that shows users all their activity and messages. So, know your users and aim to please them to the maximum degree and alleviate their worries.

Conserve the environment. The world's problems are complex, and pollution can arise from wasted resources throughout your product's lifecycle. The big-picture view means creating more devices we can recycle more easily and with less resources invested. Also consider the users' immediate environment: e.g., does your design pollute it visually and sonically?

The least possible is the best possible. When you focus on just the essential aspects in your design, you can make the best of their purity. For example, the clean feel of a UI with well-defined, simple buttons is a winning "formula" compared with the clutter of options users would experience if you inserted every nice-to-have feature.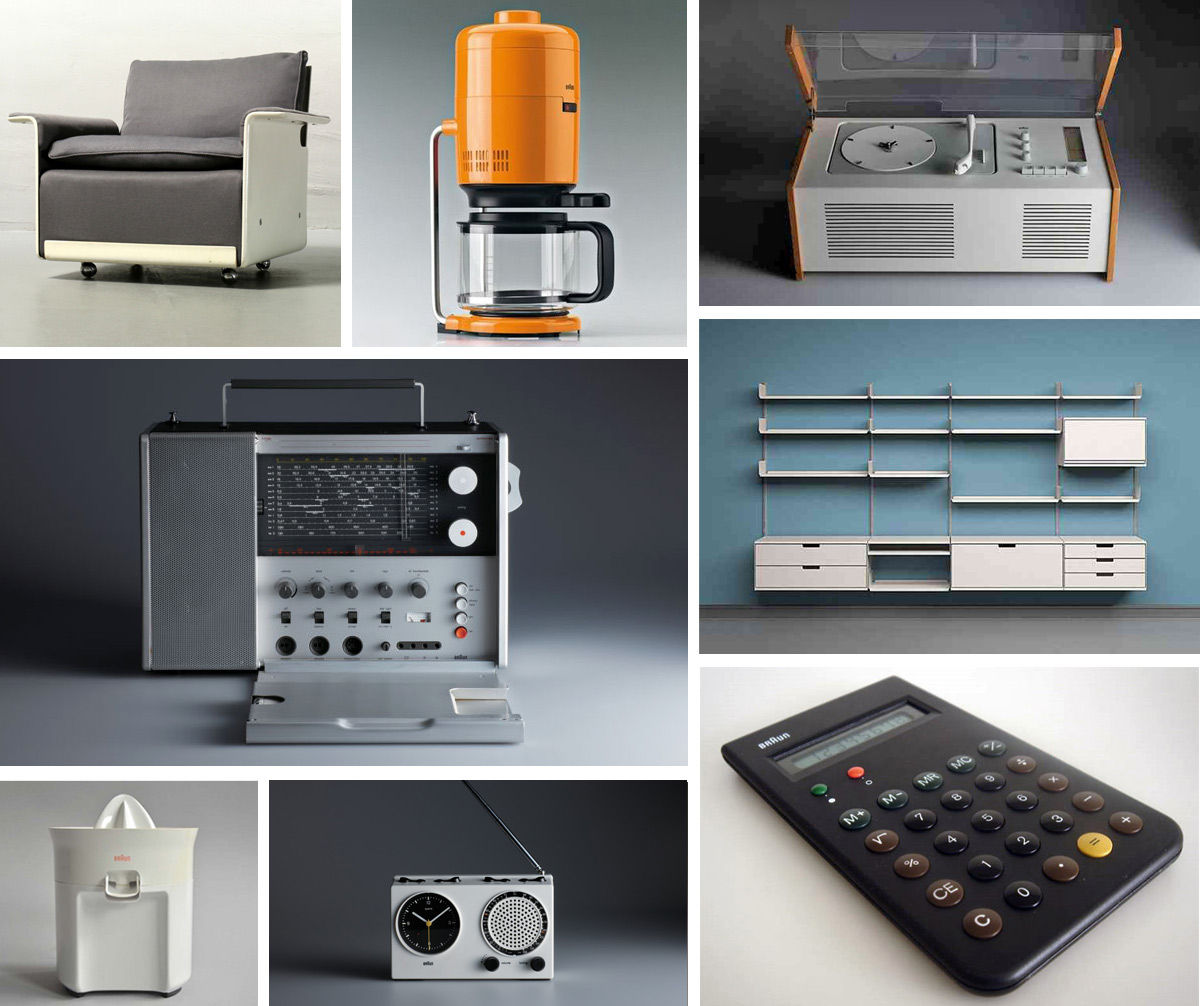 Overall, your best designs will be self-explanatory to your users and customers, who'll appreciate how these simple-yet-wonderful creations prove that you understand the people you design for.
Learn More about Good Design
Take our Visual Design course: https://www.interaction-design.org/courses/visual-design-the-ultimate-guide
See good design at work and exemplified at code level: https://uxdesign.cc/dieter-rams-good-design-principles-applied-to-source-code-b21559969170
Follow one designer's account of how the principles of good design helped his app: https://medium.theuxblog.com/dieter-rams-built-my-app-3266fb4d78c8
Literature on Good Design
Here's the entire UX literature on Good Design by the Interaction Design Foundation, collated in one place:
Learn more about Good Design
Take a deep dive into Good Design with our course Visual Design: The Ultimate Guide .
In this course, you will gain a holistic understanding of visual design and increase your knowledge of visual principles, color theory, typography, grid systems and history. You'll also learn why visual design is so important, how history influences the present, and practical applications to improve your own work. These insights will help you to achieve the best possible user experience.
In the first lesson, you'll learn the difference between visual design elements and visual design principles. You'll also learn how to effectively use visual design elements and principles by deconstructing several well-known designs. 
In the second lesson, you'll learn about the science and importance of color. You'll gain a better understanding of color modes, color schemes and color systems. You'll also learn how to confidently use color by understanding its cultural symbolism and context of use. 
In the third lesson, you'll learn best practices for designing with type and how to effectively use type for communication. We'll provide you with a basic understanding of the anatomy of type, type classifications, type styles and typographic terms. You'll also learn practical tips for selecting a typeface, when to mix typefaces and how to talk type with fellow designers. 
In the final lesson, you'll learn about grid systems and their importance in providing structure within design. You'll also learn about the types of grid systems and how to effectively use grids to improve your work.
You'll be taught by some of the world's leading experts. The experts we've handpicked for you are the Vignelli Distinguished Professor of Design Emeritus at RIT R. Roger Remington, author of "American Modernism: Graphic Design, 1920 to 1960"; Co-founder of The Book Doctors Arielle Eckstut and leading color consultant Joann Eckstut, co-authors of "What Is Color?" and "The Secret Language of Color"; Award-winning designer and educator Mia Cinelli, TEDx speaker of "The Power of Typography"; Betty Cooke and William O. Steinmetz Design Chair at MICA Ellen Lupton, author of "Thinking with Type"; Chair of the Graphic + Interactive communication department at the Ringling School of Art and Design Kimberly Elam, author of "Grid Systems: Principles of Organizing Type."
Throughout the course, we'll supply you with lots of templates and step-by-step guides so you can go right out and use what you learn in your everyday practice.
In the "Build Your Portfolio Project: Redesign," you'll find a series of fun exercises that build upon one another and cover the visual design topics discussed. If you want to complete these optional exercises, you will get hands-on experience with the methods you learn and in the process you'll create a case study for your portfolio which you can show your future employer or freelance customers.
You can also learn with your fellow course-takers and use the discussion forums to get feedback and inspire other people who are learning alongside you. You and your fellow course-takers have a huge knowledge and experience base between you, so we think you should take advantage of it whenever possible.
You earn a verifiable and industry-trusted Course Certificate once you've completed the course. You can highlight it on your resume, your LinkedIn profile or your website.
All Literature