Have you received an interview invitation for the role of UX researcher at your desired organization? If yes, congratulations on this accomplishment!
So, do you have a portfolio? Furthermore, are you prepared to respond effectively to the UX research interview questions? If you're wondering how to prepare for a UX research job interview, we're here to help!
Answering interview questions goes beyond the standard queries that most interviewees are expected to know. It requires a deep understanding of the field and a mastery of research methodologies and techniques. Let's remember that demonstrating strong problem-solving and critical-thinking skills is equally important.
To stand out and make a lasting impression, it's essential to be well-prepared. Focus on articulating your unique perspective and approach to the challenges of UX research.
Video copyright info

Images

Copyright holder: Unsplash. Copyright terms and license: CCO Public Domain. Link: https://pixabay.com/en/clay-hands-sculpting-art-69...

Copyright holder: Unsplash. Copyright terms and license: CCO Public Domain. Link: https://www.pexels.com/photo/man-in-black-shirt-an...

Copyright holder: Indecent Proposer. Copyright terms and license: CC BY-NC 2.0 Link: https://www.flickr.com/photos/indecent_proposal/14...

Copyright holder: Anna Langova. Copyright terms and license: CC0 1.0 Link: http://www.publicdomainpictures.net/view-image.php...

Copyright holder: Conmongt. Copyright terms and license: CC0 Public Domain Link: https://pixabay.com/en/hourglass-time-time-lapse-clock-1623517/
(Find out why user research forms the backbone of the design process.)
We will help you understand how to prepare for a UX researcher job interview and ace all UX researcher interview questions. It covers all questions you may have to answer in a UX researcher job interview.
UX Research Background Questions
Did you know the "tell me about yourself" category of UX research interview questions are the ice-breakers?
They have their own importance in an interview. But the questions you will likely face are related to your overall background as a UX researcher.
It will not make a difference if you are starting as a UX researcher or a seasoned one. Answering these questions gives the hiring manager the exact insight to decide whether you can be a good fit for the role. Here are some UX research questions you can expect related to your background:
What motivated you to pursue a career in UX research?

How do you approach a new research project?

What is your biggest strength as a UX researcher?

How do you keep up with industry trends and advancements?

Can you describe a time when you had to handle a problematic stakeholder and how you approached the situation?

How do you handle a situation where the stakeholders have been skeptical about the project research?

What would you consider as your most significant strengths being a UX researcher?

How did you learn about UX research, and what drives you to continue pursuing this career path?
Top Tips to Answer These Background Questions Confidently
Understanding your background is essential for the interviewer to frame the next set of questions. While answering your questions, make sure you follow these tips:
The age-old idiom "Honesty is the best policy" will work in your favor. There are no right or wrong answers here. So, take deep breaths, relax, and share your genuine experience freely.

It's best not to talk about negative experiences. Even if you had a negative experience, only mention it if it adds value to your answer. If you're asked to address a negative experience, focus on the positive steps you took to remedy the situation.

Don't memorize your answers in anticipation. Your experience is personal and unique—express it!
UX Research Decision-Driven Process Questions
As a UX researcher, any company will expect you to deal with complex situations. You need to be able to make sound decisions based on the data gathered during research.
The ability to make the right decision can mean the difference between a successful project and a failed one. Your skills can shine more with your critical thinking, strong problem-solving abilities, and the ability to prioritize tasks.
In this video, CEO of Experience Dynamics Frank Spillers explains how he used a diary study to research the behavior of Apple Watch users:
Understanding the users' needs and expectations will help you make informed decisions that will benefit the end user. Good decision-making skills also allow you to navigate complex projects confidently and efficiently. It helps you to anticipate potential challenges and take proactive measures to overcome them.
Here are some decision-driven UX research interview questions you can expect:
Can you explain how you prioritize research projects based on business needs?

How do you understand the user pain points and balance user needs with business goals during a research project?

Can you describe a time when you had to make a recommendation based on conflicting research insights?

How do you determine the appropriate sample size for a research project?

How do you ensure that research insights are integrated into the product roadmap?
Top Tips to Confidently Answer These Decision-Driven Questions
As a UX researcher, you should make informed decisions as they can make or break the project. Consider the following tips to ace these questions:
The decision-driven process involves making informed decisions that lead to positive outcomes. While answering, please focus on the results and how your research helped achieve them. This will demonstrate your ability to connect research to business goals.

Before answering decision-driven process questions, it's crucial to have a solid understanding of the decision-making process. This will help you identify the relevant factors you must consider and how they relate to the research question.

As these are open-ended questions, you can elaborate on your answers. When answering research questions, use data to support your answers whenever possible. This will demonstrate your ability to analyze and interpret data, as well as your capacity to use data to inform decision-making.
Learn the importance of user research in our post by Ditte Hvas Mortensen – User Research: What It Is and Why You Should Do It.
UX Research Technical Knowledge Questions
As a UX researcher, it's essential to polish your technical knowledge. When preparing for a UX research technical interview, having a solid understanding of technical concepts is helpful. It will allow for more confident and articulate responses.
For instance, knowledge of relevant software can help you explain how you would approach designing a user interface or conducting usability tests. Additionally, understanding technical jargon and practices can assist in communicating effectively with developers and engineers.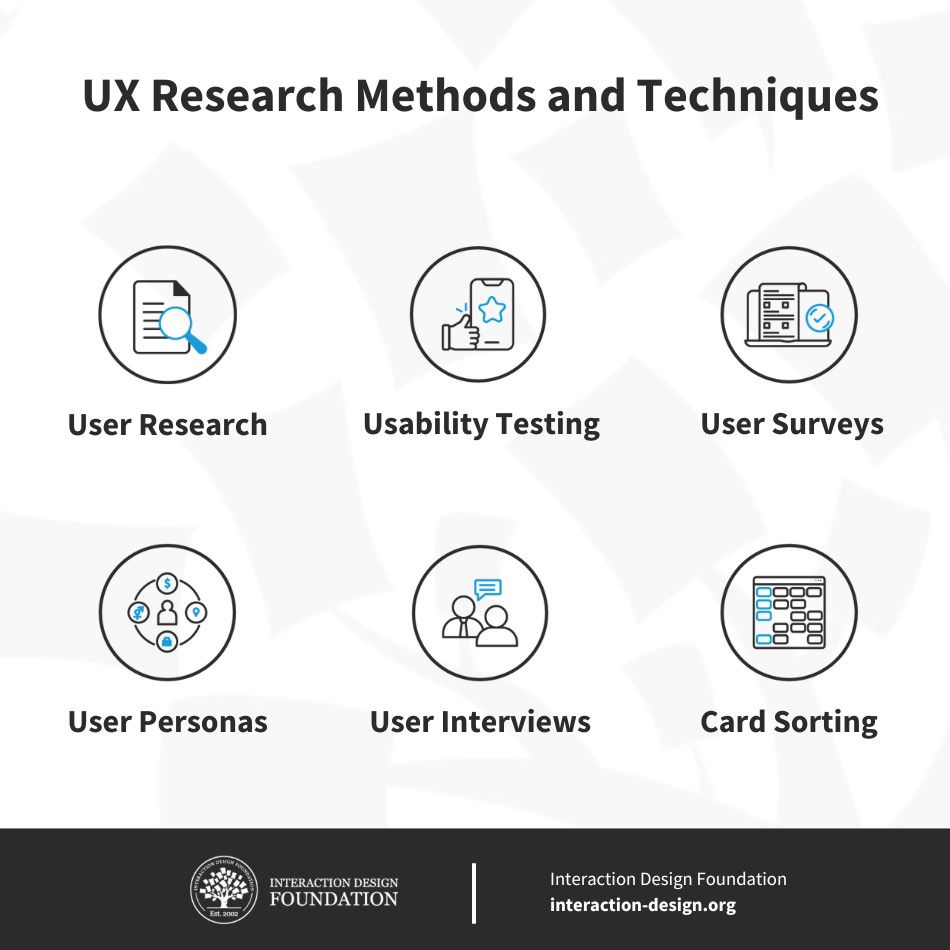 Follow this simple rule: "Stick to what you know best." Here's a list of technical knowledge UX research questions that you can expect in the interview:
What research methods do you typically use?

Can you walk through your process for conducting a usability test?

How do you analyze and interpret qualitative data?

How do you ensure your research is unbiased?

Can you explain the difference between behavioral and attitudinal research?

Which tools do you use?
Top Tips to Answer These Technical Knowledge Questions Confidently
Interviewers expect you to have sound technical knowledge. If you don't, revise the basics. Make sure you follow these tips to ace your UX research technical interview:
Focus on the specific technical skills required for the position and be prepared to demonstrate your proficiency in those areas.

Give specific examples of how you have applied your technical skills in past projects or work experiences. This will show the interviewer that you have practical experience and can use your skills in a real-world setting.

Use clear and concise language to explain technical concepts. Avoid using jargon or complex language that may confuse the interviewer.

Highlight the areas you are eager to learn about. Be honest about your technical skills and limitations. It's best not to exaggerate your abilities or pretend to have knowledge you don't have.
UX Research Adaptability Questions
Your portfolio is a valuable asset during the interview process. It serves as a visual representation of your capabilities and showcases the projects and methodologies you have used in the past. It helps the interviewer to understand how quickly you can adapt to constant changes during a project's duration.
Join Steven Gay, UX Lead for Google One, as he shares the power of a portfolio in capturing your design journey and collaboration.
In addition, it can help you to stay organized and focused during an interview. You can easily trace back to your experience when answering complex questions by presenting relevant examples from your previous work.
Sharing real-life examples demonstrating how you have applied your skills and expertise to adapt to challenging situations in specific projects is valuable. This approach makes it easier to address complex questions and showcase your qualifications effectively.
Here are some interview questions for UX researchers related to adaptability:
Can you describe a research project you are particularly proud of and why?

How did you adapt to a situation where the research insights must be aligned with stakeholder expectations?

How do you ensure that research results are actionable and impact the product design?

Can you describe a time when you had to pivot research strategies mid-project and how you approached the situation?

How have you incorporated user feedback into the product design process?

What is your best experience with any client during the project?

Can you describe your usual process for gathering information before starting any project?

Have you worked on any project that has contributed to a breakthrough for the business?
Top Tips to Answer These Adaptability Questions Confidently
UX research is a rapidly evolving sector. You have to adapt quickly. While answering the UX research interview questions, include these tips to display your adaptability effectively:
Be specific about the research methods you have used, the challenges you faced, and the outcomes you achieved. This will help the interviewer understand your thought process and research approach.

Emphasize the results of your research rather than the research process. Give examples of how your decision-making and adaptability have improved a product or increased user satisfaction.

If you need to gain experience in a particular area, be honest about it. Avoid pretense during the interview. Instead, focus on your skills and how you can apply them to the job.

Finally, show your passion for UX research. Talk about why you love this field and how you can contribute to the company's mission. This will help the interviewer see that you are interested in more than landing a job and want to make a career in UX research.
UX Research Teamwork and Collaboration Questions
Teamwork and collaboration are essential to ensure efficient processes, to see problems from different perspectives, and to get real-time feedback. You'll work closely with other product development, design, and management team members. Here, the goal is to understand the users' needs to develop effective solutions.
Effective collaboration requires strong communication skills. That means active listening, clear articulation, and the ability to provide constructive feedback. You must be able to conduct user interviews confidently and understand user behavior. Moreover, communicate research findings, insights, and the research plan to team members concisely and in an actionable way.
Learn how team research helps organizations move faster with Laura Klein.
Here are some questions you can expect in the interview related to teamwork and collaboration:
How do you ensure effective communication with team members during a project?

How do you handle disagreements with team members or stakeholders during a project?

Can you describe a time when you had to work with individuals from different departments or teams?

How do you ensure team members are aligned on the research goals and objectives?

Can you describe a time when you had to manage conflicting priorities on a project?

How would you resolve any miscommunication between two stakeholders associated with a project you are leading?

How would you motivate your team members if they are facing a problem?

Can you describe ways of tailoring the project based on different requirements?
Top Tips to Confidently Answer These Collaboration Questions
Collaboration questions aim to gauge your responsibility, ownership, and leadership skills. The interviewer needs to know that you are a team player, how well you apply feedback and also how well you communicate with others.
Highlight your skills by using the following tips:
Show how you can work with others to solve complex problems creatively. Explain how you have tackled challenging research projects in collaboration with team members to find solutions that work for everyone.

The interviewer would want to see that you are enthusiastic about working with others and are committed to creating a positive team environment. Show that your team can rely on you to work effectively towards a common goal.

Use examples of how you have effectively communicated complex research insights to non-technical and technical stakeholders. Show that you are a good communicator, One who can ensure that everyone on the team understands the research findings.
Emphasize your ability to collaborate with people and research participants with different backgrounds, experiences, and perspectives. Give examples of projects where you could work effectively in cross-functional teams and how you overcame any challenges.
UX Research Questions to Ask Your Interviewer
That time of the interview when your interviewer asks, "Any questions for me?" is your final chance to stand out. Most importantly, it's your opportunity to figure out whether the position suits your personality, interests, and qualifications.
Here are some questions to catch your interviewer off-guard (in a good way).
What is the usual approach for your company for a user-centered design, and how does UX research fit into that process?

What software or tools does your organization use for research, design, collaboration, prototyping, etc.?

How does the company ensure that UX research insights are being effectively implemented?

What are the qualities and attributes that can make for a successful UX researcher in the company?
Final Tips
The ice-breaker UX research interview questions still hold their importance. They are basic in nature but helpful in creating that first impression on your interviewer. If you have your technical expertise in place, give equal importance to soft skills as well.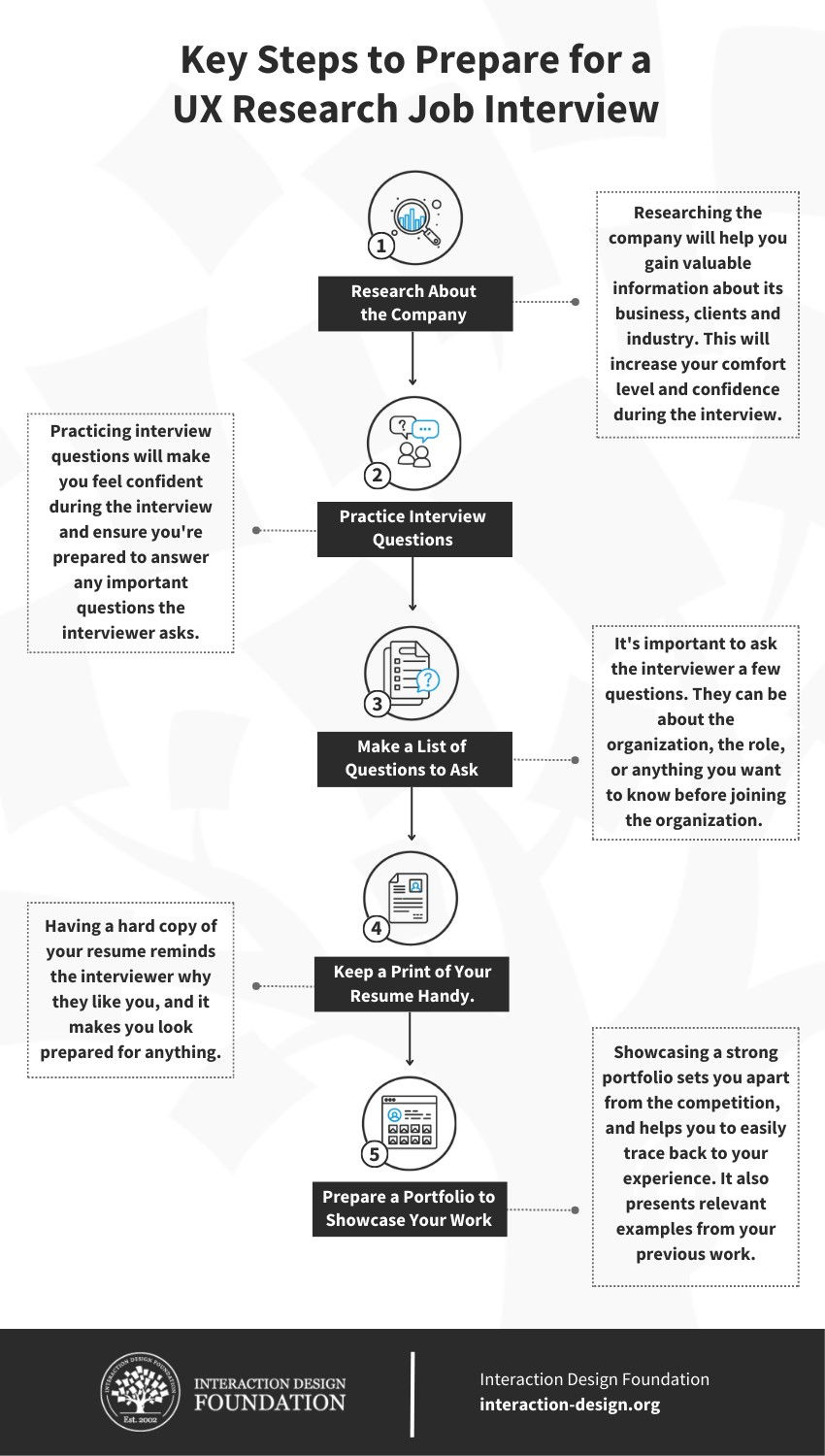 Moreover, it's good practice to ask your interviewer questions. Try to keep a few questions ready on your end. They can be about the organization, the role, or anything important to you before you decide to join the organization.
Get your free template for "Research Project Plan Example"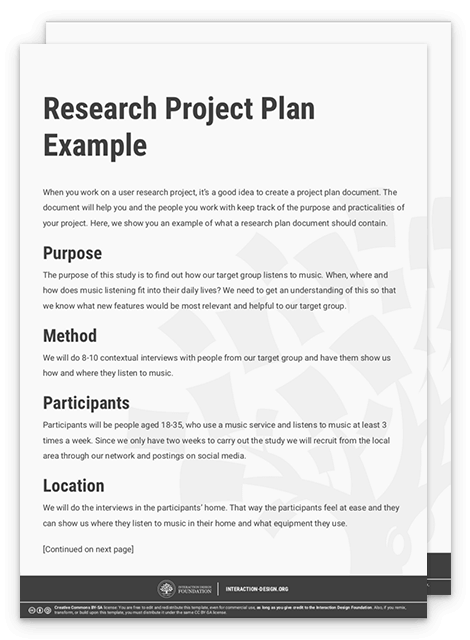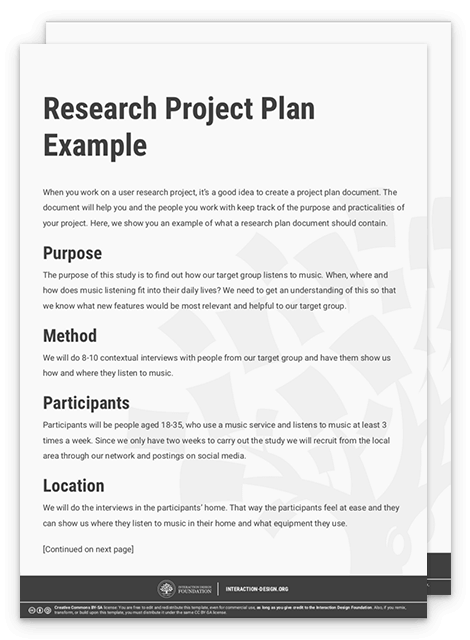 Lastly, it's equally important to highlight your ability to collaborate effectively with team members and stakeholders. But if you need a little extra boost to complete your journey as a UX researcher confidently, take courses offered by the IxDF.
The Interaction Design Foundation offers a range of UX courses that will take your career to the next level. Enroll in one of our UX courses today and unleash your UX superpowers!