User interviews can be a great way to extract information from users for user experience understanding, usability understanding and ideation. They are cheap and easy to conduct and can be readily conducted by anyone who can ask questions and record the answers.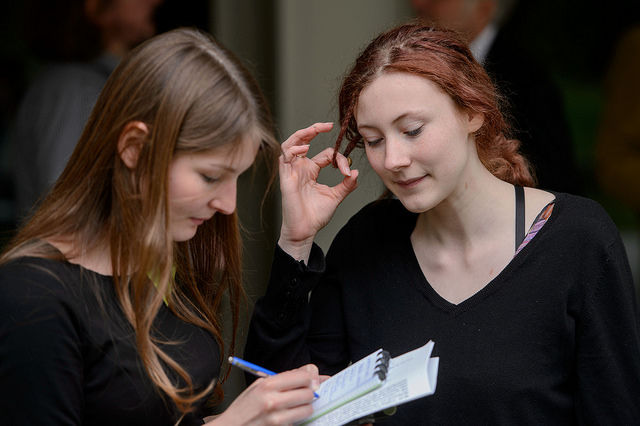 Author/Copyright holder: Heinrich-Böll-Stiftung. Copyright terms and licence: CC BY-SA 2.0
Before we look at how to conduct user interviews, we need to take a look at some of the drawbacks of interviewing:
Interviews, even if they are contextual (e.g. based on observing the interviewee using the product prior to interview), tend to give insights into what people say they will do and this is sometimes (often even) not the same as what they actually do.
Human beings have memory issues and can often not recall details as clearly as they would like. Unfortunately, it is a human tendency to try and create these details (this is not even a conscious process) and to tell a story the way we think something happened rather than how it happened.
Users aren't designers. Interviews should stick to concrete examination of what is happening and how the user feels. They should not try and get the user to create their ideal product or to suggest improvements.
It's important to keep these drawbacks in mind when designing your interview questions (or indeed – when making up interview questions on the spot when examining what you have observed the user doing). You should also take them into account when evaluating a group of user interviews – interview data gives you a starting point to examine problems but rarely a finishing point which delivers 100% certainty as to what to do next.
Arnie Lund, the author of User Experience Management, said; "Know thy user, and you are not thy user." User interviews are a great way to get to know your users... but is your company actually conducting them?
What is a User Interview?
User interviews are where a researcher asks questions of, and records responses from, users. They can be used to examine the user experience, the usability of the product or to flesh out demographic or ethnographic data (for input into user personas) among many other things.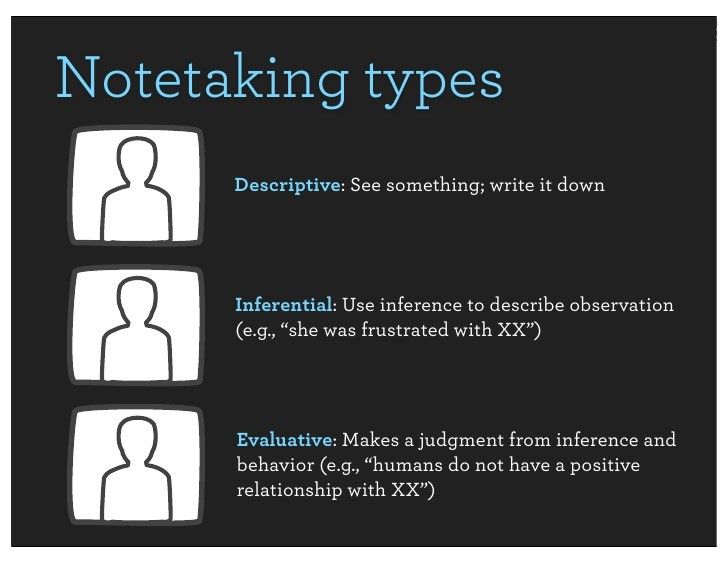 Author/Copyright holder: Liz Danzico. Copyright terms and licence: Fair Use.
The ideal interview takes place with two UX researchers and one user. The first UX researcher focuses on asking questions and guiding the interviewee through the interview. The second takes notes. If a second researcher is unavailable for this – then videoing or audio recording an interview can be a good way to record the information elicited. If the researcher asking questions takes notes – there's a good chance that the interview will be derailed and become hard to manage.
Typical topics covered within user interviews include:
Background (such as ethnographic data)
The use of technology in general
The use of the product
The user's main objectives and motivations
The user's pain points
Don't feel limited to these topics. If there's something you need to know that you can learn by asking your users (as long as it's not offensive or threatening) you can ask a question about it.
There is also a special type of user interview known as the contextual interview. This is an interview which is conducted after (or during) the observation of a user using the actual product. It's an interview "in context" with usage. These are very common in usability testing and assessment of products and even in information visualization.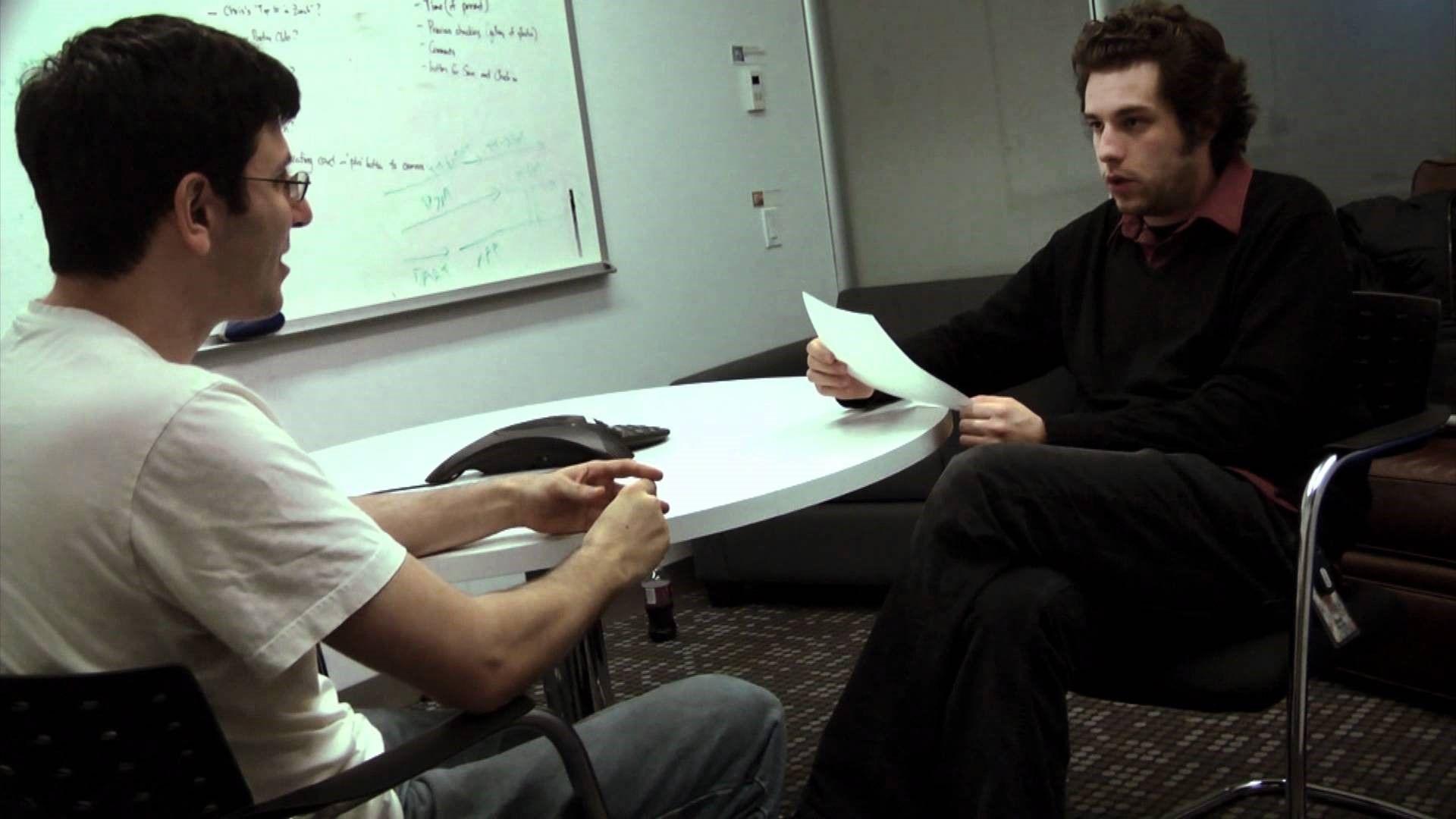 Author/Copyright holder: RezScore. Copyright terms and licence: Fair Use
Preparing for User Interviews
Preparation for user interviews begins with recruitment; you want to ensure that you recruit a representative sample of users for your interviews.
Then you will need to create a script to ask questions from (unless you are doing a contextual interview in which case you may still create a script but are likely to wander off-piste from that script a lot during the interview).
Some tips for your script include:
Make sure you begin by explaining the purpose of the interview – what are you trying to achieve?
Also explain how the person's data and any data you collect will be used from the interview.
Try to keep leading questions to a minimum. A good question is "Do you use instant messaging?" rather than "How often do you use Snapchat?" The former lets you explore what the user actually does. The latter presupposes that user is working with Snapchat and that's the extent of their instant messaging activity.
Keep it reasonably short. If you read the script aloud and it takes more than 10 minutes to read… it's probably too long. Interviews should, ideally, be less than 1 hour long and the majority of the time spent should be the interviewee talking and the researcher listening.
Don't forget that scripts are a guide not a bible. If you find something interesting takes place in an interview and there are no questions, on the script, to explore that idea… explore it anyway. Feel free to amend the script for future uses.
When scheduling your interviews, it's a good idea to leave 30 minutes or so between each interview, it gives the interviewer some time to make additional notes and compile their thoughts while everything is still fresh in their mind.
How to Conduct a User Interview
Conducting an interview is simply a question of running through your script or asking the questions that you have. However, there are some tips to make this more useful as a process:
Make your interviewee comfortable – dress in a manner similar to them (you in a suit them in a tracksuit is going to make it feel like a job interview rather than a user test), make sure they understand you are testing a product or an idea and not the user themselves, offer them a drink (non-alcoholic), conduct a little small talk (but only a little) before you start, etc.
Try to keep the interview on time and heading in the right direction – the reason scripts are useful is because you can reference them for this
Try to focus on the interviewee and not on note making – it's just plain rude to bury your head in your notes. Maintain eye contact, keep a conversation flowing and record the interview rather than getting lost in note making.
Thank the interviewee at the end of the process – not only is this polite but you can offer a chance for the interviewee to ask any question of their own at this point too.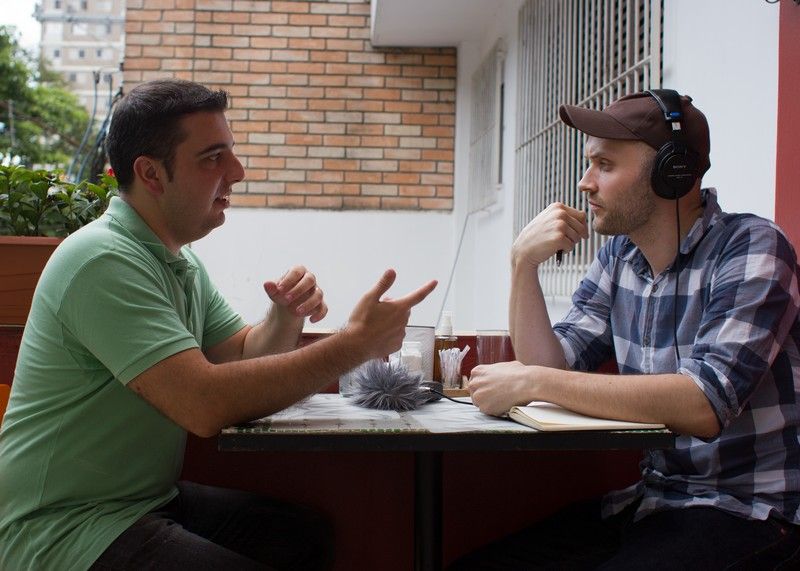 Author/Copyright holder: Victorgrigas. Copyright terms and licence: CC BY-SA 3.0
Reporting on User Interviews
User interviews tend to provide qualitative rather than quantitative data. Compiling the results of many interviews can be challenging. Word clouds and mind maps are two good ways of presenting qualitative data in an interesting but easy to understand format. Written reports are fine but try to contain them to the key data and leave all the minor stuff in appendices.
You can download the template for Conducting an Interview with Empathy here:
Get your free template for "How to Conduct an Interview with Empathy"
The Take Away
User interviews are a cheap and easy way to get data "straight from the horse's mouth". However, it's important to bear in mind that there are limitations to this technique and you may discover what people say they do rather than what they actually do. Conducting interviews is simple. Write a script and go through it with the user. Make sure to keep the user informed and comfortable as you do.
References & Where to Learn More
Course: User Research – Methods and Best Practices:
https://www.interaction-design.org/courses/user-research-methods-and-best-practices

Some additional tips on user interviews from the Nielsen Norman Group - https://www.nngroup.com/articles/interviewing-users/
Why listening to users isn't always the right thing to do also from the Nielsen Norman Group - https://www.nngroup.com/articles/first-rule-of-usability-dont-listen-to-users/
Some ideas for questions in user interviews - https://medium.com/user-research/never-ask-what-they-want-3-better-questions-to-ask-in-user-interviews-aeddd2a2101e - .izil93jqf
Hero Image: Author/Copyright holder: David Davies. Copyright terms and licence: CC BY-SA 2.0