A UX designer creates and optimizes the overall human experience when interacting with digital products, systems, or services. Your role as a UX designer would revolve around working on every aspect of digital product development, which includes design, usability, functioning, and sometimes branding and marketing.
While this is pretty straightforward, why do we come across different UX designer job descriptions?
The truth is that UX experience and UX design are so broad that they cover a spectrum of roles and responsibilities. That is why you'll find different UX job listings with varied job descriptions.
However, identifying the differences in job descriptions and the best UX role for yourself is no easy task.
Therefore, this article will walk you through everything related to UX designer jobs, different kinds of UX designer job descriptions, how they may vary, and how to pick the best UX role for yourself.
Table of Contents
Why do different companies have different UX job descriptions?

Understanding the skills, qualifications & responsibilities in a UX Designer job description

How do UX job descriptions differentiate between junior & senior UX Designers?

What other roles sit under UX Design?

UX salaries on job descriptions

Best websites to find UX design jobs
Why Do Companies Have Different UX Job Descriptions?
UX designer roles mean different things to different companies. It highly varies depending on how big or small a company is, its location, resources, familiarity, UX maturity, etc. For instance, a UX designer role at a large corporation might have several specialization roles, such as UX researcher, UX strategist, or UX architect. On the other hand, a UX designer at a small company or a start-up may have to wear multiple hats for different UX roles.
Also, every organization has its own requirements and expectations from incoming designers. These entail defining the tasks and responsibilities in light of the organization's specific expectations from UX designers.
So, if you're considering applying for the role of a UX designer, there are specific skill requirements and responsibilities to consider.
Let's get a better understanding of those.
Understanding the Skills, Qualifications & Responsibilities of a UX Designer Job Description
(Learn what user experience design is and what it means to be a UX designer.)
Is creating sketches, wireframes, and prototypes all it takes to be a good UX designer?
NO!
Besides thorough knowledge or certification in a related subject and a few fundamental technical skills, a UX designer must also cultivate a wheelhouse of soft skills.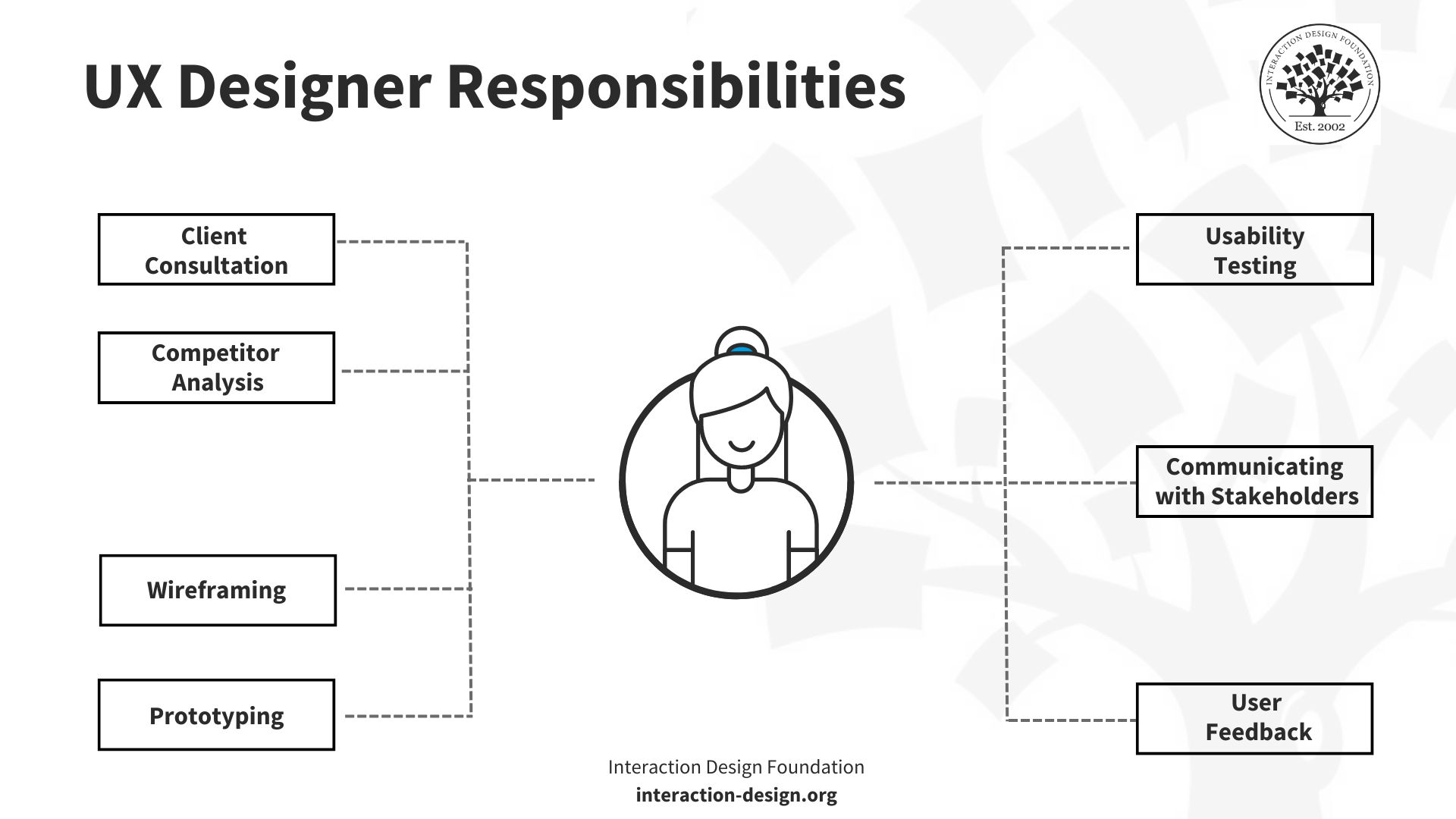 For your better understanding, here are the requirements and responsibilities you will find in a UX designer job description:
UX Designer Requirements

Requirements

Descriptions

Conduct user research to identify user personas and understand what the audience wants.

Problem-Solving Skills

Identify and analyze a problem and take practical actions to develop creative, novel solutions.

Structure content effectively to make it easier for users to find what they're looking for.

Technical Skills

Proficiency in making prototypes, wireframes, mockups, and user flows.

Communication and Collaboration

Good communication skills and teamwork to collaborate with the right people to build excellent products.
UX Designer Responsibilities

Responsibilities

Descriptions

Client Consultation

Discuss product specifications and user psychology for the project with the client.

Competitor Analysis

Do detailed research to identify the competitive services, features, and market positioning.

Creating Wireframes

Conduct design sprints to create product wireframes, storyboards, journey maps, and screen flows.

Product Prototyping

Test and validate ideas before sharing them with the stakeholders.

Conduct proper UX research and test the product for ease of use, functionality, and intuitiveness.

Communicating With Stakeholders

Discuss and present the ideas, solutions, and plans to the stakeholders.

User Feedback

Use various strategies and mediums to gather user feedback and tailor the design solution to enhance the user experience.
How Do UX Job Descriptions Differentiate Between Junior & Senior UX Designers?
Although seniority is often associated with years of experience in the field and industry, that is not the only parameter to decide your position.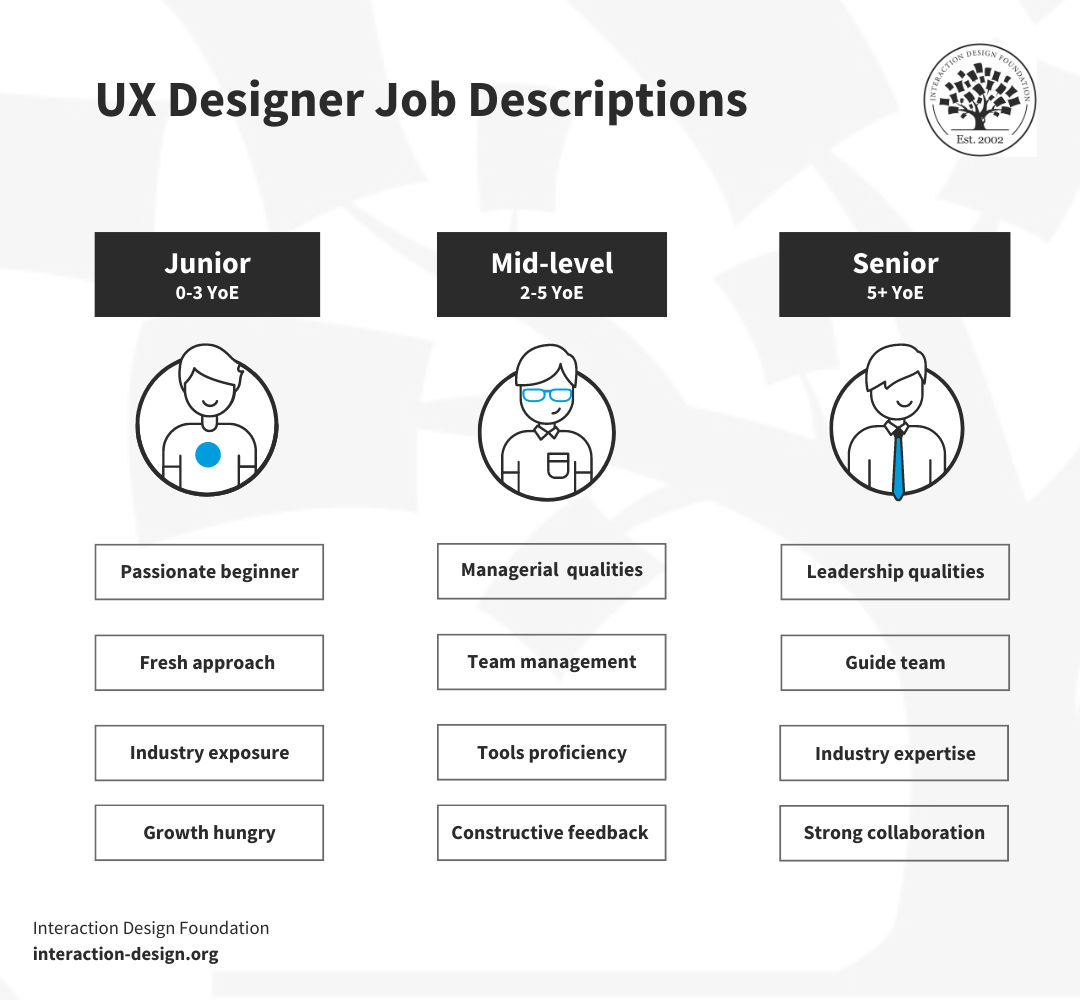 Start by evaluating your current work in the UX design industry and how you can step up the ladder. Next, ensure you have a good UX portfolio that includes your previous design projects (personal or unpaid), showing off your skills and relevant experience.
To give you a better idea, we've broken down the points to consider when aiming for a junior-, mid-, or senior-level position as a UX designer.
Here's how you can decide:
Junior UX Designer
Experience: 0 to 3 years
Are you beginning your career in the UX industry? Do you have a passion for UX design? Can you bring a fresh approach to the table? If your profile checks everything, you could be the next junior UX designer a company seeks.
Having interned for a similar role can be a bonus point, but it's not compulsory. You have lots to explore, experiment with, and learn at this stage. If you want a mentor, gain industry experience, and grow, this position best fits you.
Mid-Level UX Designer
Experience: 2 to 5 years
You can apply for a mid-level UX designer role if you've gained 2 to 5 years of experience working on various UX design projects and managing design and development teams. You must be proficient with the relevant tools, processes, and best practices.

Employers usually want a mid-level UX designer for managerial positions. You must take ownership of your work, accept and give constructive criticism, explain the why behind designs, and know who and when to collaborate with.
Senior UX Designer
Experience: 5+ years
If you have leadership qualities, can guide product team members, and lead user research and user testing initiatives, this can be the next position to aim for. Usually, for a senior UX designer position, employers look for those with a good grip on industry practices and trends. You must be able to lead brainstorming sessions, inform the product development process, and collaborate with product managers, engineers, and other parties.
The above job descriptions may vary greatly depending on the company size, location, and culture. Since the UX industry usually employs people based on their soft skills, proficiency in design tools, and whether they're a cultural fit, don't hesitate to apply for roles without the required years of experience.
What Other Roles Sit Under UX Design?
UX design is a broad term that encompasses several disciplines. You can further classify it into the six most common specialist UX roles mentioned below.
UX Analyst

UX Architect

Content Strategist

UX Unicorn
Learn more about various job roles and their differences in our article by Teo – The Guide to Understanding UX Roles and Which One You Should Go For.
As mentioned earlier, these roles are listed mainly by larger organizations. Such companies have more resources for a more extensive design and development team.
UX Salaries on Job Descriptions
Now that we've covered most of the necessary information on UX design job descriptions and other associated roles, it's only natural if you're wondering how much you can earn as a UX designer.
While the average salaries keep changing, a UX designer in the US can earn anywhere between $50,000 /yr and more than $100,000 /yr.
Note that these salaries can vary due to the abovementioned factors in this article. As of May 2023, here's a list of the highest- and lowest-paying cities for UX designer roles.
Highest-Paying Cities
1. San Francisco - $127,191 /yr
2. Austin - $121,493 /yr
3. Seattle - $118,061 /yr
4. Redmond - $118,061 /yr
5. Houston - $110,985 /yr
6. New York - $110,745 /yr
7. Boston - $107,128 /yr
Lowest-Paying Cities
1. Brownsville, Texas - $ 76,422 /yr
2. Sebring, Florida - $75,623 /yr
3. Denver - $94,852 /yr
4. Detroit - $94,723 /yr
5. Jacksonville - $91,649 /yr
6. Chicago - $88,904 /yr
7. Dallas-Fort Worth - $82,134 /yr
Best Websites to Find UX Design Jobs
Now that you have better clarity on various UX design job descriptions, what should be your next step?
Search for the right UX role!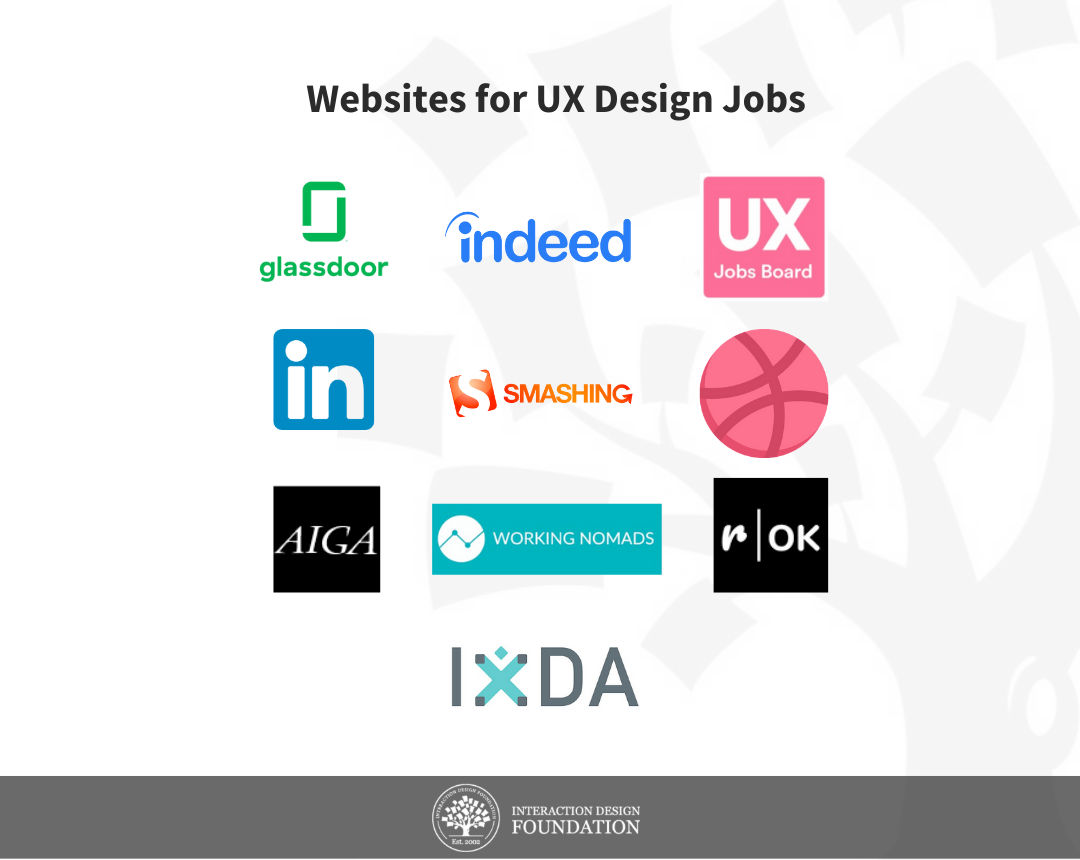 You can start with these top job listing sites to find your dream UX design job:
1. Glassdoor - Best to discover salaries, company reviews, and UX and UI designer jobs worldwide.
2. Indeed - Scrapes thousands of listings from company career pages, top job boards, and classifieds.
3. UX Job Board - Best to hunt UX job opportunities across various UX roles in different industries.
4. LinkedIn - A great platform to search for jobs, directly connect with employers, and build a professional network.
5. Smashing Jobs - This job board helps designers and developers find great jobs worldwide.
6. Dribble - Amazing platform to showcase digital design portfolios and search for design job listings (full-time and freelance) worldwide.
7. AIGA Design Jobs - Candidates can use AIGA for all design jobs at premier companies.
8. Remote OK - Excellent for searching remote UX job roles with ease.
9. Working Nomads - Best for remote, digital job opportunities across various categories, making job hunting easy.
10. IxDA Jobs - A reputed name in the field of interaction design, the platform offers design jobs listed by the top companies across the globe.
How to Start Specializing or Upskill in UX
Undoubtedly, with so many roles falling under the same umbrella, job descriptions for each can be somewhat similar and confusing. However, to find the right job role, you can jot down what you expect from your next UX design role, including expertise, environment, culture, and salary.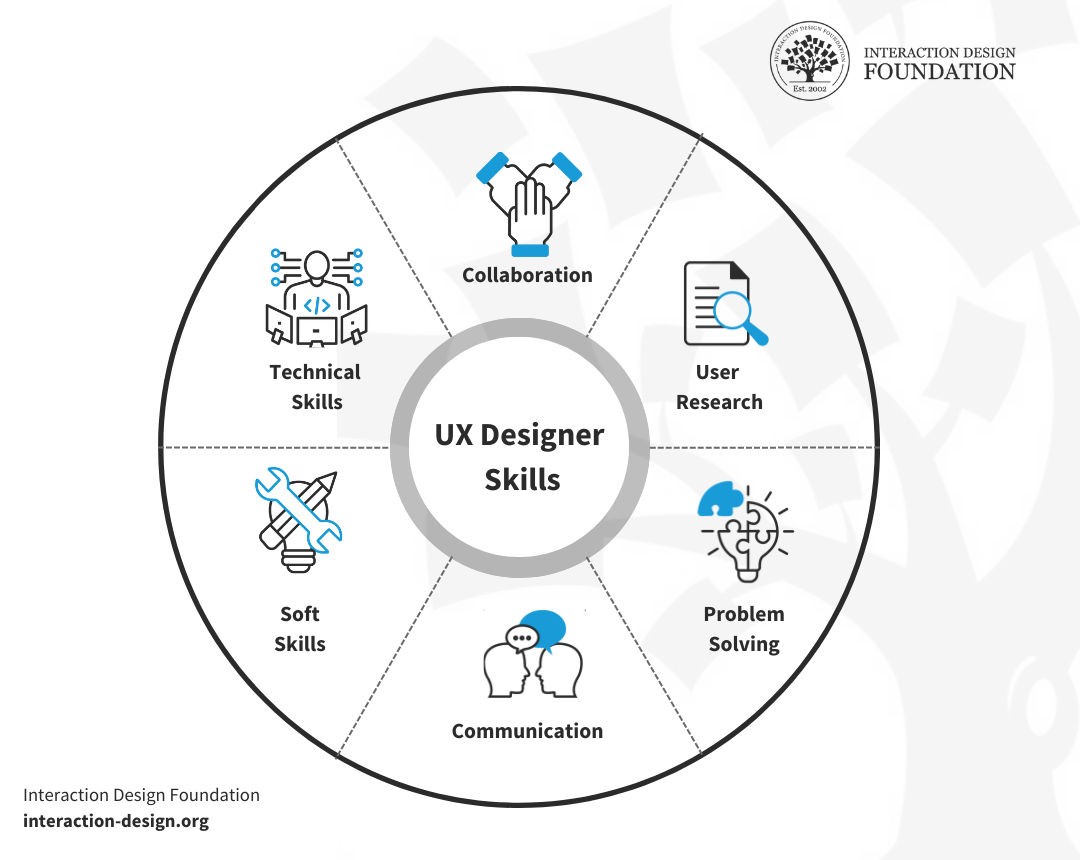 Also, maintaining a UX design portfolio with relevant project work is essential. It is proof of your skills and ability to work in different domains. Besides, it helps the employer to evaluate your capabilities and potential.
But there's more to it.
To stay competitive in the dynamic and rapidly evolving UX design industry, you must keep abreast of the industry trends and learn new skills.
You can apply for multiple UI/UX design programs offered by the IxDF to learn and upgrade your UI/UX design skills. All you need to do is sign up, select your membership, and start learning.
Lastly, if you're thinking about the perks, you get personal coaches, online master classes, UX meet-ups, and industry-recognized services.