Design Sprints
Your constantly-updated definition of Design Sprints and collection of topical content and literature
What is Design Sprints?
Design sprints are an intense 5-day process where user-centered teams tackle design problems. Working with expert insights, teams ideate, prototype and test solutions on selected users. Google's design sprint is the framework to map out challenges, explore solutions, pick the best ones, create a prototype and test it.
"To accomplish great things, we must not only act, but also dream; not only plan, but also believe."

— Anatole France, Poet, journalist & novelist

How to Run (or Do) a Design Sprint:
Show

Hide

video transcript

Transcript loading...
Design Sprints – How to Get Closer to Great Solutions in Just One Week
Former Google Ventures design partner Jake Knapp devised the design sprint process for Google in 2010. He drew inspiration from such areas as Google's product development culture and IDEO's design thinking workshops. In design sprints, teams work on problems and goals differently than they do when siloed in their departments in the traditional waterfall process. A carefully selected team from across the organization focus themselves and manage their time to systematically collaborate and proceed from defining a user problem to testing a potential solution within 5 days. Sprints are also integral to agile development, where self-organized, cross-functional teams work to produce short-term deliverables and improve quality while keeping a careful watch over current user needs and any changing circumstances.
The main value of sprints is the speed at which design teams can concentrate a narrow focus on one or more user needs and sharply defined goals. Under time-boxed conditions, team members work first to understand these and then progressively ideate, critique and fine-tune their way towards a testable prototype. Eliminating distractions is key to this process, and the intense focus on specific user needs and goals calls for dedicated time away from regular everyday business. Since the design sprint process is so streamlined and enables teams to produce deliverables and confirm or discard assumptions about users so quickly, it helps to keep costs down. Therefore, cash-strapped startups can especially benefit from using design sprints.
Whatever the size of your organization, you should approach a design sprint like this:
Before a sprint, it's vital to:

Select the right members for your small team—e.g., a facilitator to track the team's progress, a financial expert, etc.
Reserve an entire workweek for the team to dedicate to the sprint so members can conveniently work undisturbed.
Stock up on Post-It notes, whiteboards and markers to use in the chosen location.
When ready, your team should approach the sprint this way:

Monday: Work with experts across the organization to map out the problem and determine the sprint's overall goal. You should proceed to understand your users and their problems via customer journey maps and empathy maps.
Tuesday: Explore potential solutions through ideation. Your team should examine sources of inspiration by seeing which existing ideas they can improve and freely sketching possible solutions.
Wednesday: Critique the team's solutions to determine which are most likely to succeed. Adapt these ideas/sketches into storyboards.
Thursday: Construct a working prototype from the storyboards.
Friday: Conduct user testing of the prototype on a sample of at least five users.
At the end of the sprint, you can expect one of these outcomes:

A successful failure—where you learned valuable information from your prototype, and thus avoided sinking months into creating the wrong product. You should run a follow-up sprint to explore new angles.
A flawed win—where you clearly identified what works, what doesn't and why. You should iterate to fine-tune adjustments and test again.
A resounding victory—where your prototype enabled users to solve their problems and met (if not exceeded) their expectations. You now have a clear path towards your end product.




Pros and Cons of Design Sprints

On the one hand, your team can:
Bypass lengthy debates and committee-style decision-making cycles.
Enjoy dynamic, focused collaboration.
Understand key users better.
All be clear about final deliverables.
Think creatively and experiment to explore a wider variety of ideas.
Avoid the need to compose detailed specifications.
Reduce the cost of failure of final deliverables during user testing.
Enjoy better ownership due to active collaboration.
Directly witness real users validating ideas.
On the other hand, your team should:
Consist of the right people who can commit to a 5-day sprint—potentially challenging for senior executives.
Choose the correct scope and expectations to ensure problems aren't too complicated to solve in one week—this demands a careful eye to balance ambition with manageability.
Remember that success isn't guaranteed.
Appreciate the intensity involved (hence "sprint").
Collaboration, insight and ownership are key to locating the best, most viable solutions quickly and preventing your organization from pursuing costly failures. Depending on scope, some sprints can last less than five days. You should use the time-boxed, compressed structure of design sprints to explore the widest range of possible solutions and from there ideate to isolate those representing the deepest understanding of your users.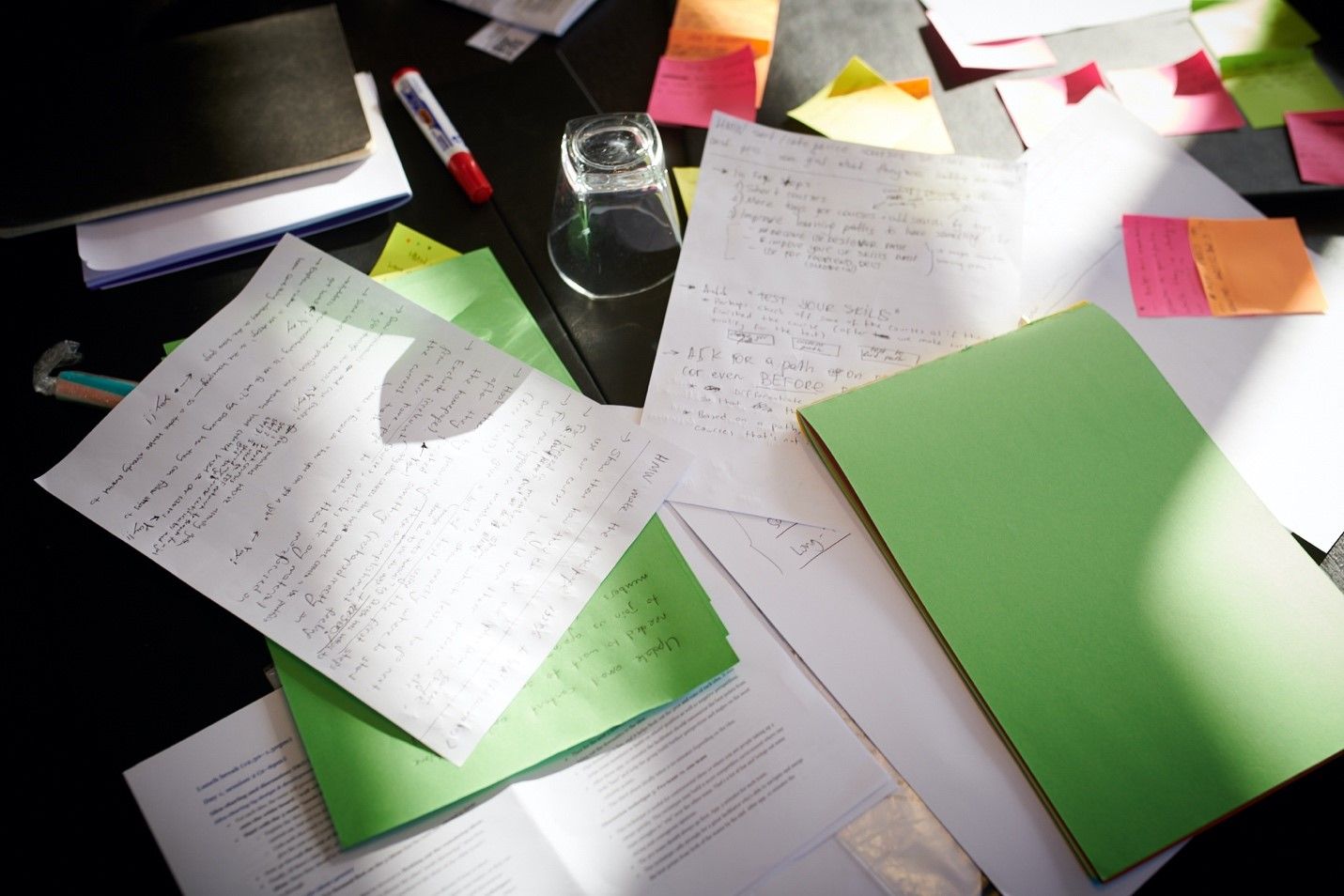 Learn More about Design Sprints
Take our course on Design Thinking for more about design sprints: https://www.interaction-design.org/courses/design-thinking-the-beginner-s-guide
Read Google Ventures' own words about design sprints: https://www.gv.com/sprint/
Here's an insightful, advice-rich account of how an IDEO team approached their design sprint: https://www.ideo.com/blog/5-tips-for-running-a-successful-design-sprint
See best practices with The Home Depot take on design sprints: https://medium.com/@brookecreef/design-sprint-best-practices-a7f62b0a0b89
Literature on Design Sprints
Here's the entire UX literature on Design Sprints by the Interaction Design Foundation, collated in one place:
Learn more about Design Sprints
Take a deep dive into Design Sprints with our course Design Thinking: The Ultimate Guide .
Some of the world's leading brands, such as Apple, Google, Samsung, and General Electric, have rapidly adopted the design thinking approach, and design thinking is being taught at leading universities around the world, including Stanford d.school, Harvard, and MIT. What is design thinking, and why is it so popular and effective?
Design Thinking is not exclusive to designers—all great innovators in literature, art, music, science, engineering and business have practiced it. So, why call it Design Thinking? Well, that's because design work processes help us systematically extract, teach, learn and apply human-centered techniques to solve problems in a creative and innovative way—in our designs, businesses, countries and lives. And that's what makes it so special.
The overall goal of this design thinking course is to help you design better products, services, processes, strategies, spaces, architecture, and experiences. Design thinking helps you and your team develop practical and innovative solutions for your problems. It is a human-focused, prototype-driven, innovative design process. Through this course, you will develop a solid understanding of the fundamental phases and methods in design thinking, and you will learn how to implement your newfound knowledge in your professional work life. We will give you lots of examples; we will go into case studies, videos, and other useful material, all of which will help you dive further into design thinking. In fact, this course also includes exclusive video content that we've produced in partnership with design leaders like Alan Dix, William Hudson and Frank Spillers!
This course contains a series of practical exercises that build on one another to create a complete design thinking project. The exercises are optional, but you'll get invaluable hands-on experience with the methods you encounter in this course if you complete them, because they will teach you to take your first steps as a design thinking practitioner. What's equally important is you can use your work as a case study for your portfolio to showcase your abilities to future employers! A portfolio is essential if you want to step into or move ahead in a career in the world of human-centered design.
Design thinking methods and strategies belong at every level of the design process. However, design thinking is not an exclusive property of designers—all great innovators in literature, art, music, science, engineering, and business have practiced it. What's special about design thinking is that designers and designers' work processes can help us systematically extract, teach, learn, and apply these human-centered techniques in solving problems in a creative and innovative way—in our designs, in our businesses, in our countries, and in our lives.
That means that design thinking is not only for designers but also for creative employees, freelancers, and business leaders. It's for anyone who seeks to infuse an approach to innovation that is powerful, effective and broadly accessible, one that can be integrated into every level of an organization, product, or service so as to drive new alternatives for businesses and society.
You earn a verifiable and industry-trusted Course Certificate once you complete the course. You can highlight them on your resume, CV, LinkedIn profile or your website.
All Literature