VR's design process isn't that far off from a typical user-centered design approach. It's all about continuous discovery and iterative improvements. Here you'll discover the key stages of the design process, how to define, make and learn, so that you can create successful experiences from the get-go.  
Your VR design process is going to look a little different from what you're used to if you have a background in UX design. But before we get into it, let's get some more context on the VR landscape, some considerations to ponder and learn what a renowned filmmaker, Steven Spielberg, has to say about the medium.
Video copyright info

Ready Player One

Copyright holder: Warner Bros - Appearance time: 00:28 - 00:40
The Iterative Design Process for VR
Let's get into the VR design process. In this video, Frank Spillers, founder of Experience Dynamics, gives a broad overview of what the VR design process looks like and what elements make up a VR experience.
Video copyright info

How to make an AR portal with Spatial Audio in Unity in 2 Hours

https://www.youtube.com/watch?v=_Zji2PCY1MA&ab_channel=StuckOnAnEyeland

Copyright holder: Stuck On An Eyeland - Appearance time: 0:14 - 0:16

Checking Out UltraWings 2 VR In The Meta Quest 2

https://www.youtube.com/watch?v=0wggK92v-Xo&ab_channel=vrgamerdude

Copyright holder: vrgamerdude - Appearance time: 02:09 - 02:18


Playing Lucky's Tale VR In The Meta Quest 2

https://www.youtube.com/watch?v=sKtnuB3H-i8&ab_channel=vrgamerdude

Copyright holder: vrgamerdude - Appearance time: 02:09 - 02:18

Data Visualization In VR

https://www.youtube.com/watch?v=sMTKU01cjdc&ab_channel=DanielYarmoluk

Copyright holder: Daniel Yarmoluk - Appearance time: 03:05 - 03:11


The Playroom VR

https://www.youtube.com/watch?v=7KAYxgapIR0&t=2s&ab_channel=LanceAkiro

Copyright holder: Lance Akiro - Appearance time: 03:28 - 03:32


OpenSpriter - paper prototype [2-2]

https://www.youtube.com/watch?v=mYASYb5ST3s&ab_channel=GilCosta

Copyright holder: Gil Costa - Appearance time: 04:13 - 04:16


Unity XR Interaction ToolKit

https://www.youtube.com/watch?v=wwInYfwD7q0&ab_channel=DilmerValecillos

Copyright holder: Dilmer Valecillos - Appearance time: 04:44 - 04:47


Gerbil #7 | Improv Comedy | Canterbury, Kent

https://www.youtube.com/watch?v=LizwOANWb0c&ab_channel=TNTImprovandSketchComedySociety

Copyright holder: TNT Improv and Sketch Comedy Society - Appearance time: 04:47 - 04:53
Iterative design or user-centered design revolves around the philosophy of constant refinement and improvement, and ensures that the end result aligns seamlessly with user needs and expectations. It embraces a cycle of creation, testing, learning, and adjustment rather than a linear path. This methodology draws from the understanding that user preferences and technology evolve over time. You can spot and rectify issues early on if you repeatedly seek out user feedback and integrate it into the design process, which results in a more comfortable and engaging experience.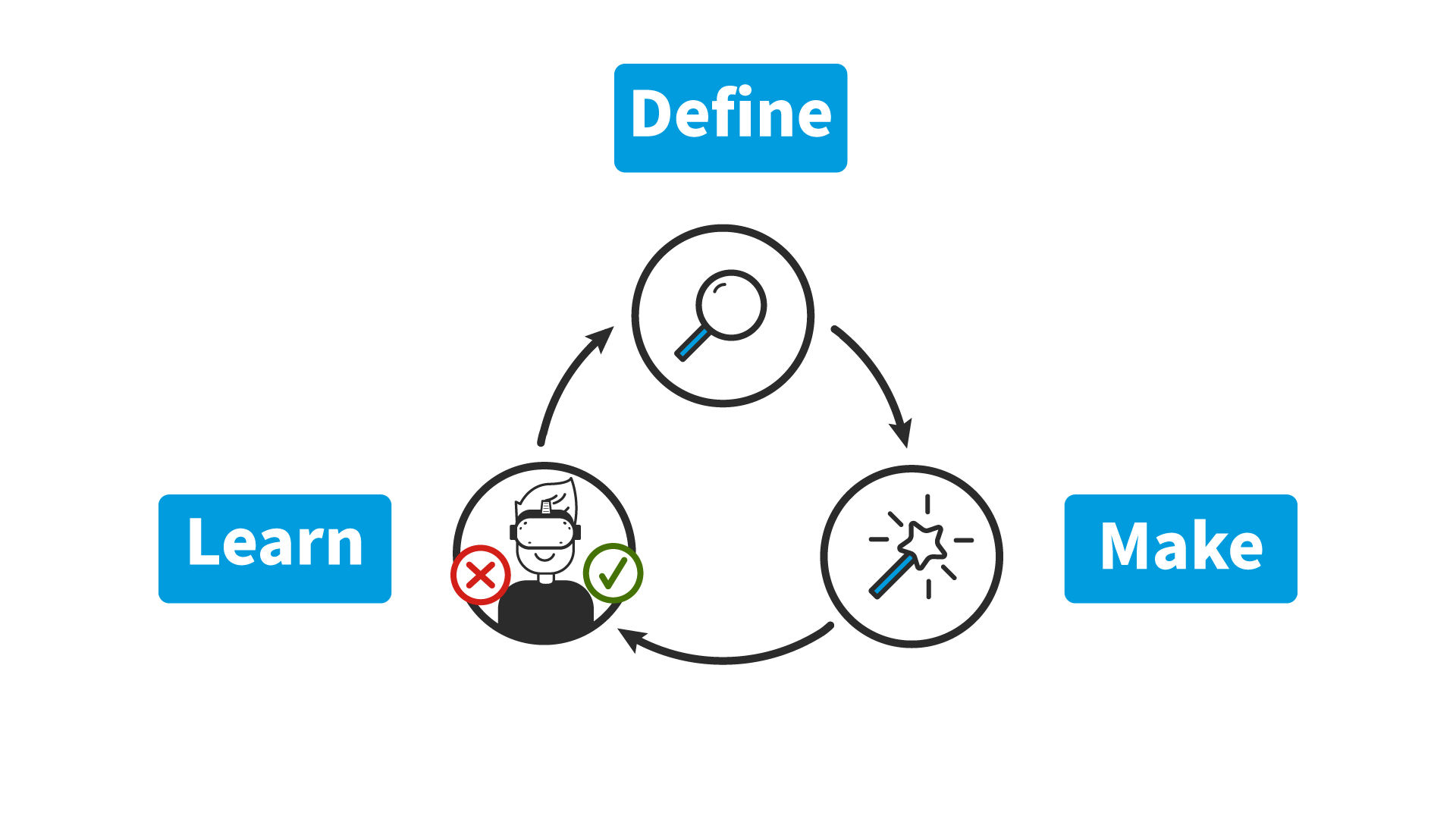 Define, Make and Learn
The VR iterative design process consists of three key stages: Design, Make, and Learn. These stages form an interconnected cycle that ensures a user-friendly and continuously improved VR design. Keep your users front of mind at all stages! Make a point of talking to them, conducting user research and getting feedback every step of the way.
This process will vary from person to person and project to project. Some of the steps, points and activities mentioned below may not occur in your first iteration, and some may only pop up in your third or fourth iteration. Don't let idealism, perfectionism or rigidity get in the way of making progress!
Define Stage
In the Define stage of VR design, you're like a detective gathering clues. Your main task is to determine your VR experience's purpose and goals. Start your research by understanding the topic and user needs. For a historical setting, learn about that time; for a training program, know the steps. Remember, this is an iterative process, so don't fear failure in the first iteration.
In summary, you will:
Determine the core purpose of the VR experience, such as entertainment, education, or training.

Decide on your VR experience's focus: narrative-driven, skills development, or training.

Define the goals and objectives, considering user needs and business objectives.

Conduct user research to determine needs, expectations, and capabilities related to VR experiences.
Make Stage
This is the fun part, where you'll design and build your VR experience. Start with prototypes and develop your virtual world, objects, and interactions. Test your VR as you make it using VR hardware.
Use existing frameworks and tools to simplify the process. Perform a task analysis to define tasks and user actions. Explore design specifications using sketches and diagrams. Consider your VR system requirements, specifications, and limitations.
Once you've completed the first steps of the Make stage, begin prototyping! 
You will: 
Conceptualize and Ideate:
Generate ideas and concepts for your VR experience.

Brainstorm innovative ways to leverage the unique capabilities of VR to enhance the user experience.

Develop the tasks and interactions your experience will incorporate. 

Map out your narrative.
Spatial Design and Interaction Design:
Focus on spatial design and consider the virtual environment, object placement, and user movement within the VR experience.

Design intuitive and natural interactions that align with the user's physical movements and gestures. 

Develop and implement user-friendly navigation and control mechanisms that are easy to learn and use within the VR environment.
Prototype and Iterate:
Create low-fidelity prototypes to quickly test and iterate on design concepts.

Incorporate user feedback and observations from usability testing sessions to refine and improve the VR experience.

Create high-fidelity prototypes to convey the ultimate experience you're going for. Usability tests with high-fidelity prototypes are even more effective.

Iterate on the design, making necessary adjustments to enhance usability and user satisfaction.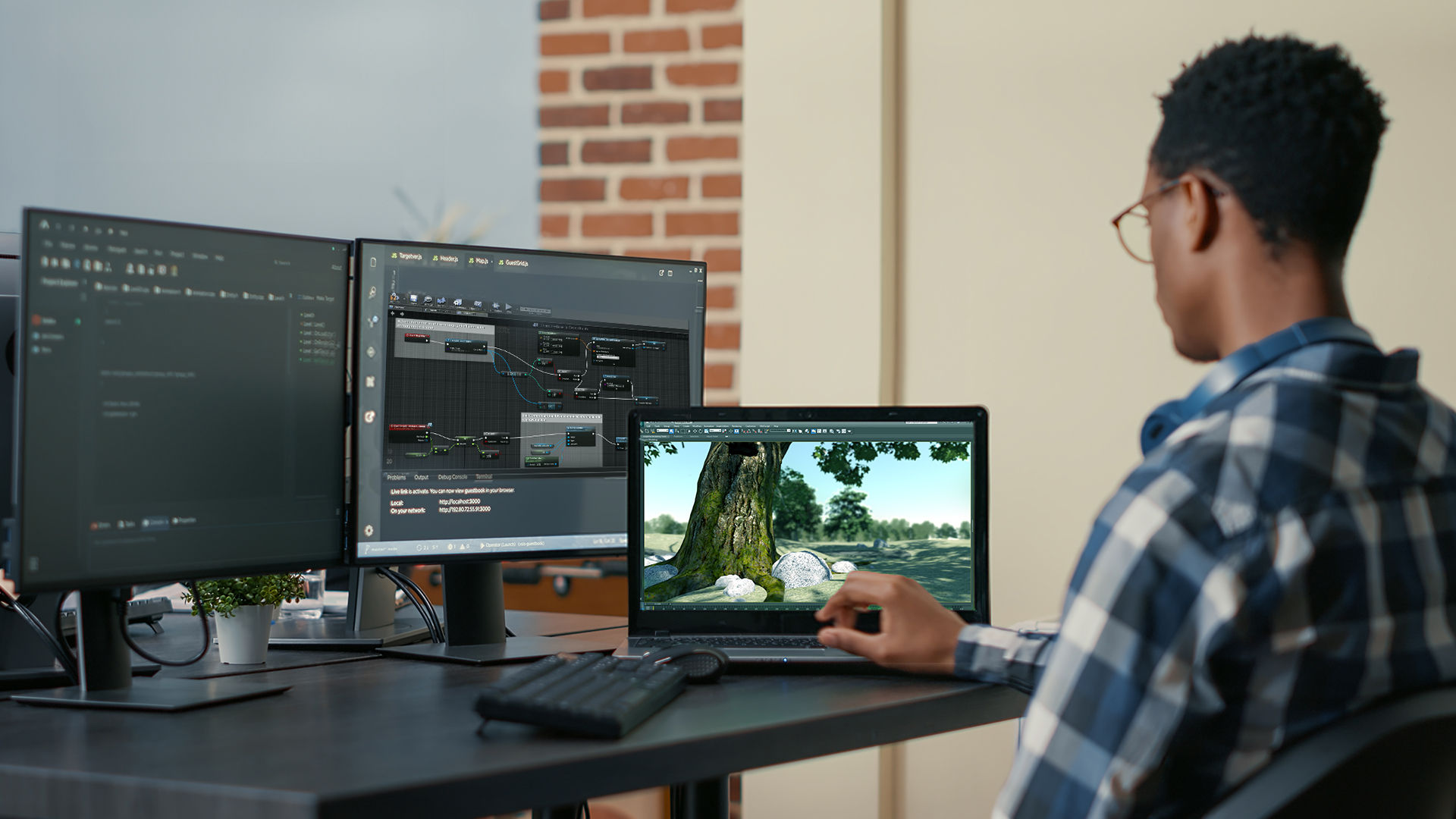 Learn Stage
During the Learn stage, research, test, and collect feedback to make adjustments and iterate on your design. Learn from other VR projects and collaborate with experts to enhance your project. Prioritize feedback and refine your design to improve the user experience.
You will:
Conduct in-depth research to understand your target audience, their needs, expectations, and capabilities.

Test your experience with target users and gather further insights on their behaviors, expectations and pain points of your VR experience.

Consider factors such as your user's age, skill level, and familiarity with VR.

Collaborate with Subject Matter Experts (SMEs) and other experts to get an accurate evaluation of your design. 
Other Important Considerations for Your Design Process:
User Comfort: Always think about how comfortable users will be while experiencing your VR. Avoid things that might make them dizzy or uncomfortable.

Storytelling: If your VR has a story or a narrative element (which is best practice), think about how you'll tell it through the experience. It could be through visual cues, audio, or a combination of both.

Visuals and Audio: Pay attention to the visual and audio elements. They should match the theme and create an immersive experience.

Feedback: Design ways for users to know what's happening. For example, if they interact with an object, there should be a response indicating the interaction.

Testing: Continuously test your VR with real users. Their feedback is invaluable for improving your experience.

Ensure Accessibility: Consider the needs of users with disabilities. Provide appropriate accommodations within your VR experience.
Continuously gather user feedback and make iterative improvements to enhance the VR experience over time. Designing a VR experience is like painting a picture in 3D. Take your time, keep learning, and enjoy the process of creating something spectacular!
 The Take Away
The VR design process underscores the significance of iterative design. The interconnected stages of Define, Make, and Learn establish a dynamic cycle, with refinement and user needs at its core. It highlights the power of spatial design, emphasizes the creation of intuitive interactions and seamless navigation, and reinforces the importance of continual testing and adjustment to amplify user satisfaction. 
As you progress, remember that crafting VR experiences with iterative design is akin to sculpting in three dimensions—an ongoing journey of learning, adjustments, and ultimately the creation of extraordinary virtual worlds.
References and Where to Learn More
Jason Jerald's book, The VR Book: Human-Centered Design for Virtual Reality provides an in-depth exploration of the Define, Make and Learn process.
Read Adobe XD's article about the intersection of UX and VR and what informs the design process.
This video from Google I/O 2016 discusses the VR design process, including the iterative design process.