UX design has the potential to improve people's everyday lives. The stakes are even higher if you work as a UX designer in the healthcare industry. The health-tech sector is among the fastest-growing in the world, with expected revenue of USD 1,305.1 billion in 2030, according to Grand View Research. As a UX designer, you have the opportunity to help define the future of healthcare. Let's look at the role of UX design within the healthcare field, the impact of the COVID-19 pandemic on digital health solutions, the aging population phenomenon, and the pivotal role of designing for emerging technologies such as virtual reality (VR) and artificial intelligence (AI).
Most digital healthcare solutions rely on unique software, which often translates into products with high demand and no competition. This means companies frequently neglect the UX of healthcare products. However, the demand for digital healthcare solutions such as telemedicine has increased dramatically due to the COVID-19 pandemic, and it has become much more commonplace. Companies are betting on digital healthcare solutions and developing many more products than in the pre-pandemic era, which has triggered the need for a better UX design.
What is Healthcare UX?
Healthcare UX refers to the design of the user experience of any healthcare product or service, such as electronic health records, disease management apps or doctor appointment scheduling apps.
At its core, UX/UI design in healthcare isn't too different from UX/UI design in other industries; it aims to generate value for users along with strong user engagement and retention. However, there is another layer to healthcare UX.
A lousy healthcare UX can have terrible consequences. For instance, a poorly designed glucose meter had to be recalled because it led to patients misreading their glucose levels.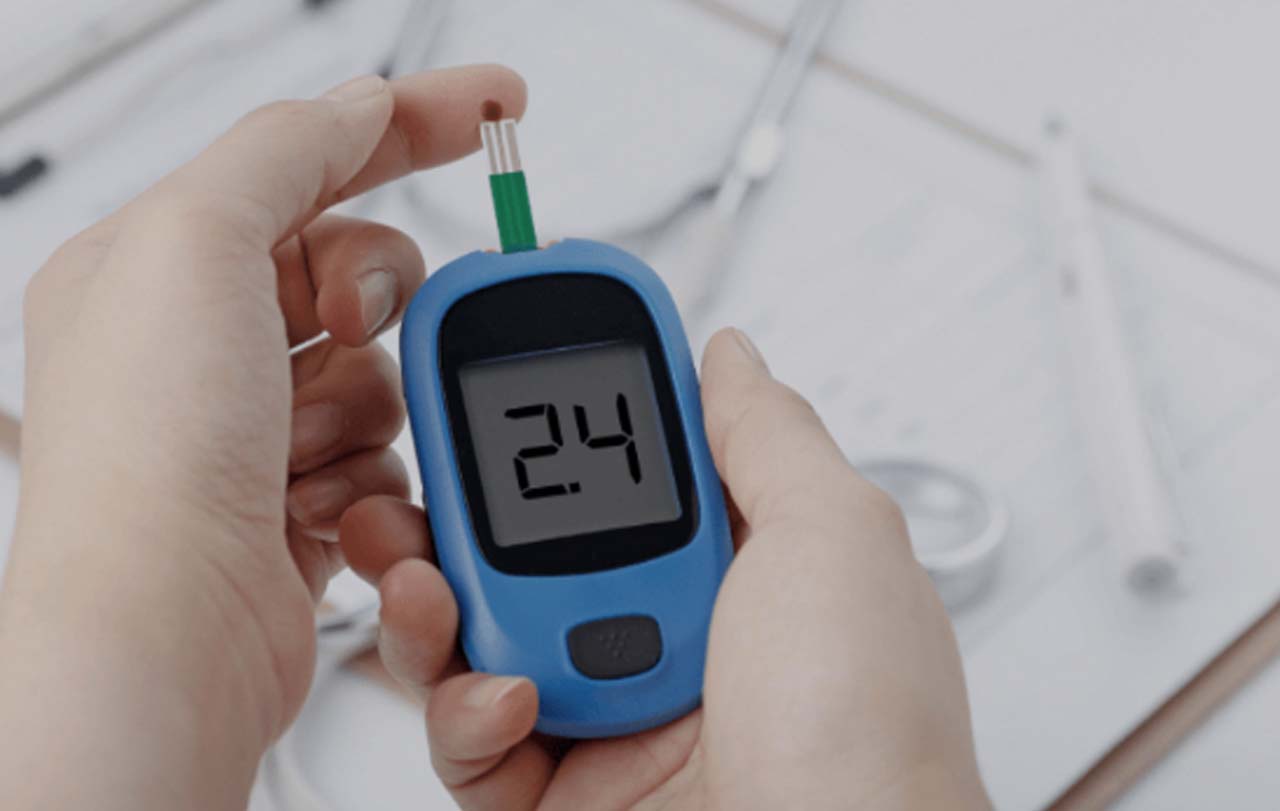 © Usability User Experience Magazine and KORU, Fair-Use (Link)


People with insulin-dependent diabetes must monitor their glucose levels several times a day to adjust their insulin shots accordingly. To measure the glucose levels in the blood, they use a glucose meter. This device analyzes blood drops and shows the glucose levels on the screen. In this case, the device functioned correctly, but the design of the interface presented a huge usability problem. The decimal point was not noticeable enough, leading patients with any type of visual impairment to adjust their insulin doses incorrectly. For a diabetic, getting an inaccurate reading can be catastrophic, resulting in anything from severe hypoglycemia to diabetic coma or death.

On the other hand, an intuitive user experience can empower patients and significantly improve their lives. For instance, the smart tights for stroke patients Nxti is an example of how health technology—movement sensors, etc.—combined with an easy-to-use app can empower patients to rehabilitate at home and relieve the strain on hospitals and clinics.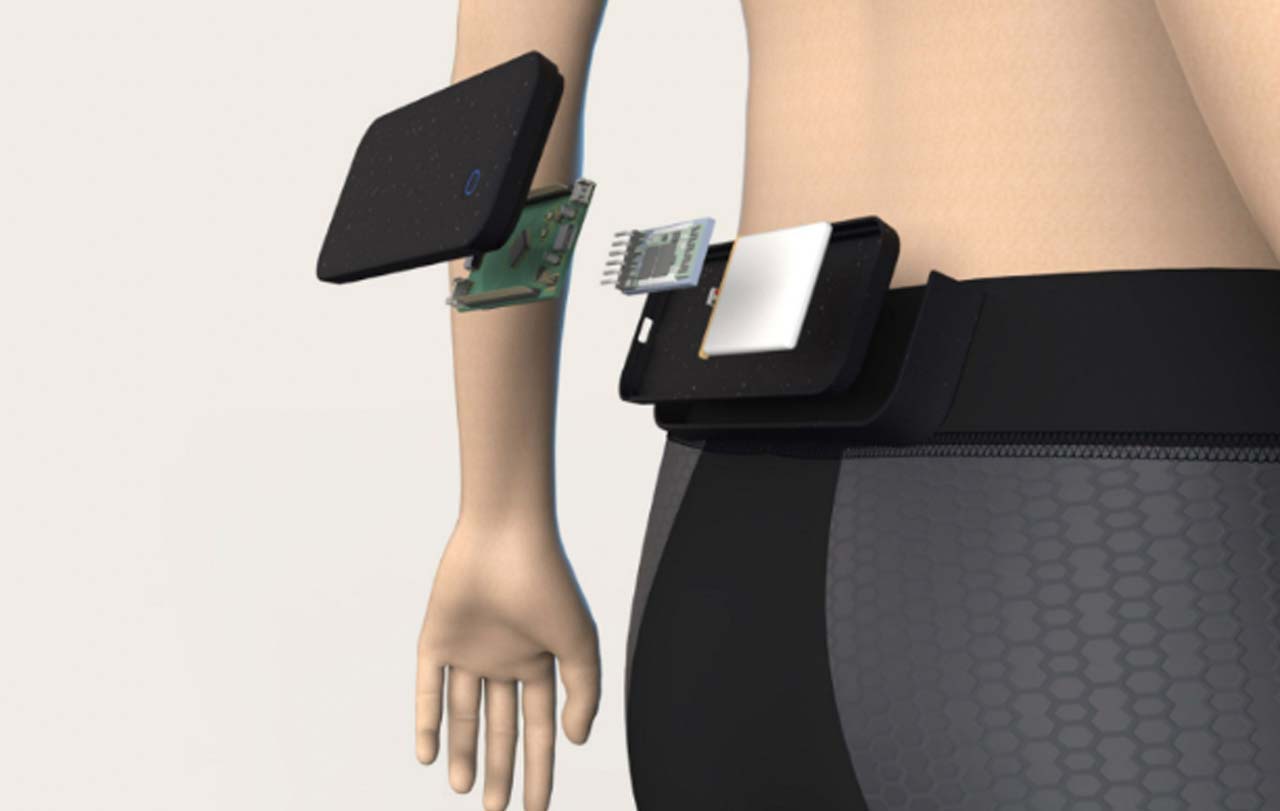 © UX Design Awards and Tien Han Huang, Fair-Use (Link)


Nxti received a UX design award in 2022 to recognize its life-changing potential for stroke patients.

Good healthcare UX can help people take easier and better care of their health and significantly improve their lives. What's more, good healthcare UX can be a gamechanger for the healthcare system—hospitals, clinics, nonprofits, businesses, etc.—and help them deliver better care to their customers and patients.
The Effect of the COVID-19 Pandemic on Healthcare UX
The COVID-19 pandemic resulted in a higher global demand for digital healthcare services. Telehealth's total annual revenues grew 83% in 2021 compared to 2019, according to the report by McKinsey.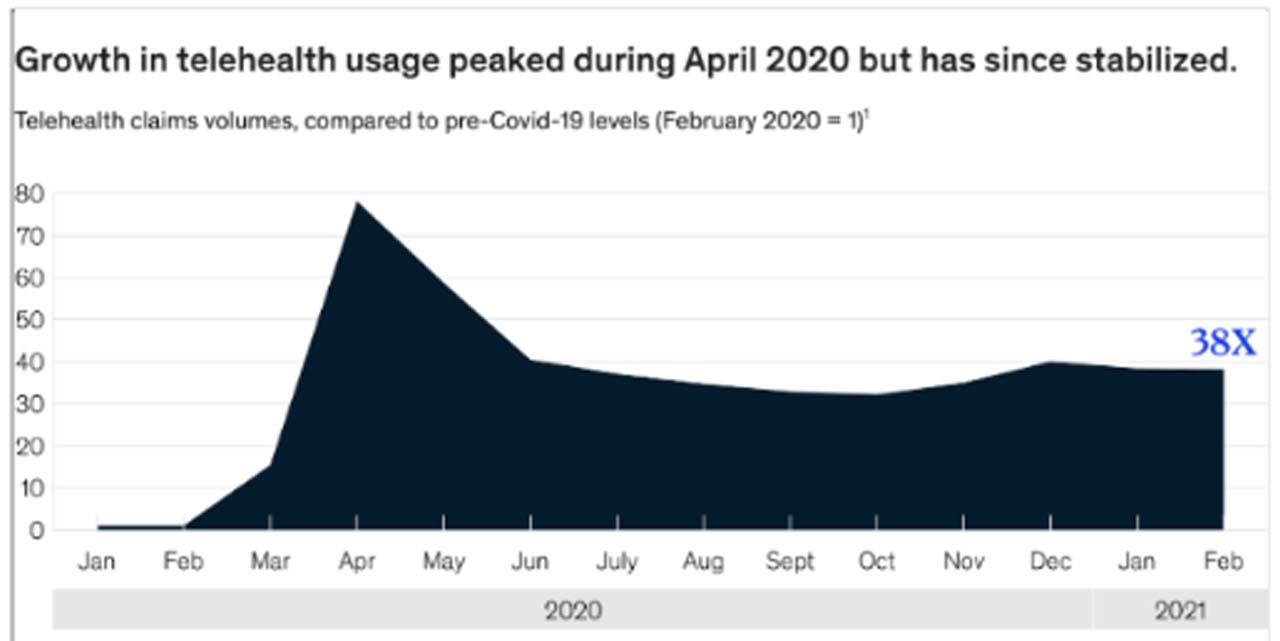 © McKinsey & Company, Fair-Use (Link).


Traditionally, the healthcare industry has been slow to adopt new information technologies. A Nuffield Research Foundation report states that there are at least ten years of distance between healthcare and other sectors in digitizing their processes. In healthcare, bureaucracy is one factor that creates additional friction in adopting new technologies. Additionally, the particular needs of the healthcare industry differ significantly from other industries. The high stakes of dealing with people's health make the healthcare digital development product cycles very long, and iteration—an essential part of designing a good user experience—becomes very complex and expensive. In addition, UX design has traditionally been overlooked in the healthcare field due to the high demand and the low competition of products. As a result, not enough healthcare technology and services are designed with a people-centered approach or design thinking.

However, the COVID-19 pandemic forced the whole healthcare industry to implement new digital products and services and patients had to adapt and be more open to using digital products to care for their health. The pandemic resulted in a paradigm shift towards digital health services from providers and users. Moreover, many regulatory changes were made to facilitate the expanded use of telehealth. The urgency of the pandemic catalyzed a vast increase in investment in digital health services and products. This resulted in the evolution and innovation of not only the products themselves but also of business models that opened up new opportunities for the future of medicine.
The Future of Healthcare UX
UX Design for an Aging Population
People over 60 are expected to make up as much as 23.5% of the population by 2060 in the US. Many age-related factors affect older people's abilities to use websites, apps and digital products. To design inclusive and successful experiences for older adults, you need to understand the particularities of these users and build products that take into account their capabilities, usage patterns, and preferences. This means making features like text size options, color variations, simple navigation, etc.
In this video, Jeff Johnson, Assistant Professor at the University of San Francisco, shows how badly designed products impact the lives of older adults.
This video is a part of Jeff Johnson's Master Class on How to Design for an Aging Population.

Additionally, accessibility doesn't only benefit the older population but also the millions of users living with some form of visual or auditory impairment, cognitive challenge, etc.
UX Design for Big Data
Big data has changed how we analyze, manage and leverage data in every industry, and healthcare is no exception. The impact of big data in the healthcare sector is monumental. It can potentially enable precision medicine, reduce treatment costs and improve hospital management, enhance the quality of life, avoid preventable diseases, and even forecast outbreaks of epidemics.
For instance, before the commercialization of glucose sensors, diabetes patients could only know their glucose levels when they actively measured them, which was before every meal. Let's say this was 3 data points every 24 hours. Currently, diabetes patients can wear glucose sensors that monitor their glucose levels constantly, resulting in a massive amount of data. A good healthcare UX is essential to designing digital software that allows health professionals and patients to visualize and understand this data correctly to manage the disease better.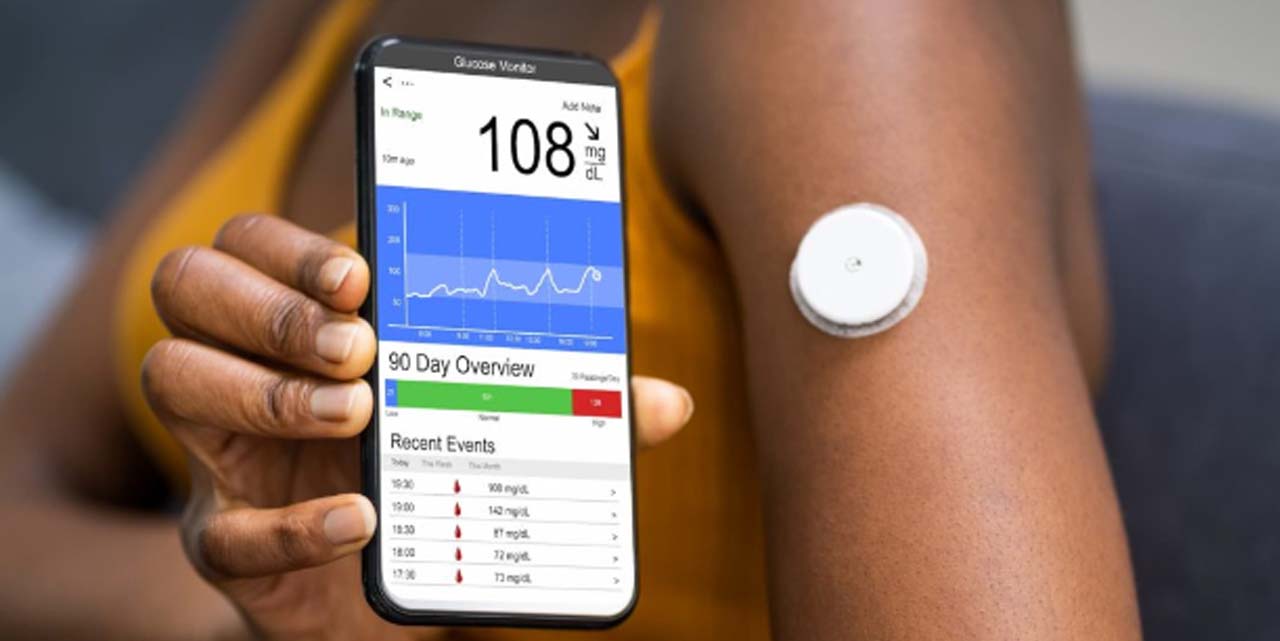 © MedEnvios Healthcare, Fair-Use (Link).

The implementation of glucose sensors has reduced the risk of diabetes-related complications such as hypoglycemias. It has allowed doctors better to adjust insulin doses to each patient's individual needs.

As a UX designer, you can help convert big data into valuable visual insights that help healthcare professionals and patients.
UX Design for Virtual Reality (VR)
According to research by GlobeNewsWire, the Virtual Reality market in Healthcare will reach USD 7 billion by 2026. Extended Reality (XR) technologies are ushering in a new era for the healthcare industry. The applications of XR in healthcare range from surgeons' training to pain relief and mental health care.
For instance, surgeons can use these technologies to complete training and master new skills without risking the life of real patients. Research from UCLA's David Geffen School of Medicine showed that surgeons who used VR platforms for simulated training enhanced their surgical performance by 230% compared to doctors who used traditional training techniques.
VR is also expected to significantly impact psychological treatments. In this video, VR pioneer Mel Slater explains how designers will have a pivotal role in increasing the impact of VR to help improve mental health.
This video is a part of Mel Slater's Master Class on How To Influence Behavior Through Virtual Reality Narratives.
As these technologies continue to evolve, it will be up to UX designers to help drive innovation, shape the future of these products, and ensure that they are human-centered.
UX Design for Artificial Intelligence (AI)
Artificial intelligence (AI) can potentially provide significant improvements in all areas of healthcare, from diagnostics to treatment. In addition, AI technology might enable individualized health predictions and turn the health system upside down. AI is predicted to cut annual US healthcare costs by $150 billion in 2026.
In this video, Professor Dan Rosenberg explains why the most important characteristic that UX designers have to achieve when designing for AI in healthcare is trust and credibility.
This video is a part of Dan Rosenberg's Master Class on How to Design with and for Artificial Intelligence.
The Take Away
The rapid growth of the health-tech market has resulted in a higher demand for UX designers specialized in healthcare. To be a successful Healthcare UX designer, you'll need to master accessibility and inclusive design, develop specific knowledge of the medical sector and become familiar with emerging technologies such as XR and AI.
As a Healthcare UX designer, you have the chance to advocate for human-centered design, help to significantly improve the quality of people's lives across the world, and shape the future of healthcare.
Where To Learn More
Learn more about the Health-tech Market size in the Healthcare IT Market Size & Share Report by Grand View Research.
Learn more about usability in medical devices in the User Experience Magazine article Total Recall: The Consequence of Ignoring Medical Device Usability by Shannon E. Clark and Ed Israelski.
Learn more about the impact of the COVID-19 pandemic on telehealth in the article Telehealth: A quarter-trillion-dollar post-COVID-19 reality? By Mckinsey and Company.
Learn more about the impact of VR to train surgeons in the piece Research: How Virtual Reality Can Help Train Surgeons by Gideon Blumstein.
Learn more about the impact of AI in healthcare in the 2020 article The rise of artificial intelligence in healthcare applications by Adam Bohr and Kaveh Memarzadeh. Artificial Intelligence In Healthcare, 25-60. DOI: 10.1016/b978-0-12-818438-7.00002-2
Image
Hero image: © UX Design Awards and Tien Han Huang, Fair-Use (Link)