It's the perfect time to join the way of the future for many industries. The 21st century has seen a style shift from office working to location-independent provision of value-adding services—freelancing and entrepreneurism, in other words. This simple, ongoing trend means that reshaping your life for the better has never made better sense. Reason no. 1 might be—never having to stress about a train delay on a Monday morning again. What would your Reason no. 1 be?
A very warm welcome to "How to build a Successful Design Business"! It's a thrill for us to help guide you in our virtual learning community as you reach towards a place where you'll be able to design a freer, more profitable life. Many people from all over the globe have signed up for the course, too, and we want to welcome each and every one of you into our virtual learning community. We're really excited to help you get started in your freelancing or entrepreneurial career.
This is the biggest growing employment sector on earth, and you're joining it at a very exciting time. Freelancing is essentially running your own small business with you as the product. If you want to start your own design agency, you'll be starting a business-to-business (B2B) company. A design agency is a business-to-business company as you'll usually sell your design services to other businesses as opposed to individual consumers – just as a freelancer will.
As long as you have saleable skills, you can start your own business as a freelancer or entrepreneur. It has a lot of advantages, no boss, no set work schedule, no set office, and no need for "presenteeism". As long as you do great work that brings real value to the clients you serve, the sky is the limit for today's business owners.
This course will work equally well for those considering building online or even location-independent businesses as it will for those looking to open a traditional bricks-and-mortar or home-based business.
In this course, you'll learn what it takes to be a freelancer and entrepreneur. You'll find out how to set up your own business, sell and market your services, and manage your customers and business for further success. It's an awesome way to get started.
Of course, the learning doesn't stop here – once you've finished the course, you won't want to stop learning, and we strongly encourage you to keep doing so.
We also want to help you build relationships with other freelancers and entrepreneurs while you take this course. You may find that you can cooperate on projects or help each other to encourage leads. You may also decide to work together as "accountability buddies" (friends who check in to make sure that each of them is doing what each said he/she would do to make that individual business better by that day/week/month).
The forum for this course will most likely be the beginning of lifelong, mutually beneficial relationships and friendships that really boost your freelancing and entrepreneurial career.
During this course, you'll learn:
Whether you are cut out for freelancing and entrepreneurship.
How to plan for a successful business.
How to handle all the day-to-day management of a freelance and entrepreneur practice.
How to market your services effectively.
How to sell your services.
How to manage clients.
Other important business skills.
How others have got to where you want to be.
How to become a digital nomad, travelling the world and doing work you love if you want to leave more than the office behind.
Freelancers and entrepreneurs today have the technology available to them to work anywhere and in any way they want on almost any kind of project. The 21st century is your century. Your options are limitless.
Whether you want to be a freelancer, entrepreneur or a digital nomad travelling the world while doing work you love, this course will introduce you to the best and most relevant research as well as ideas from others who have been in your shoes and who have made the break to living and working the way they always wanted to.
Want to build a better, more fulfilling life? Then it's time to quit dreaming and start doing.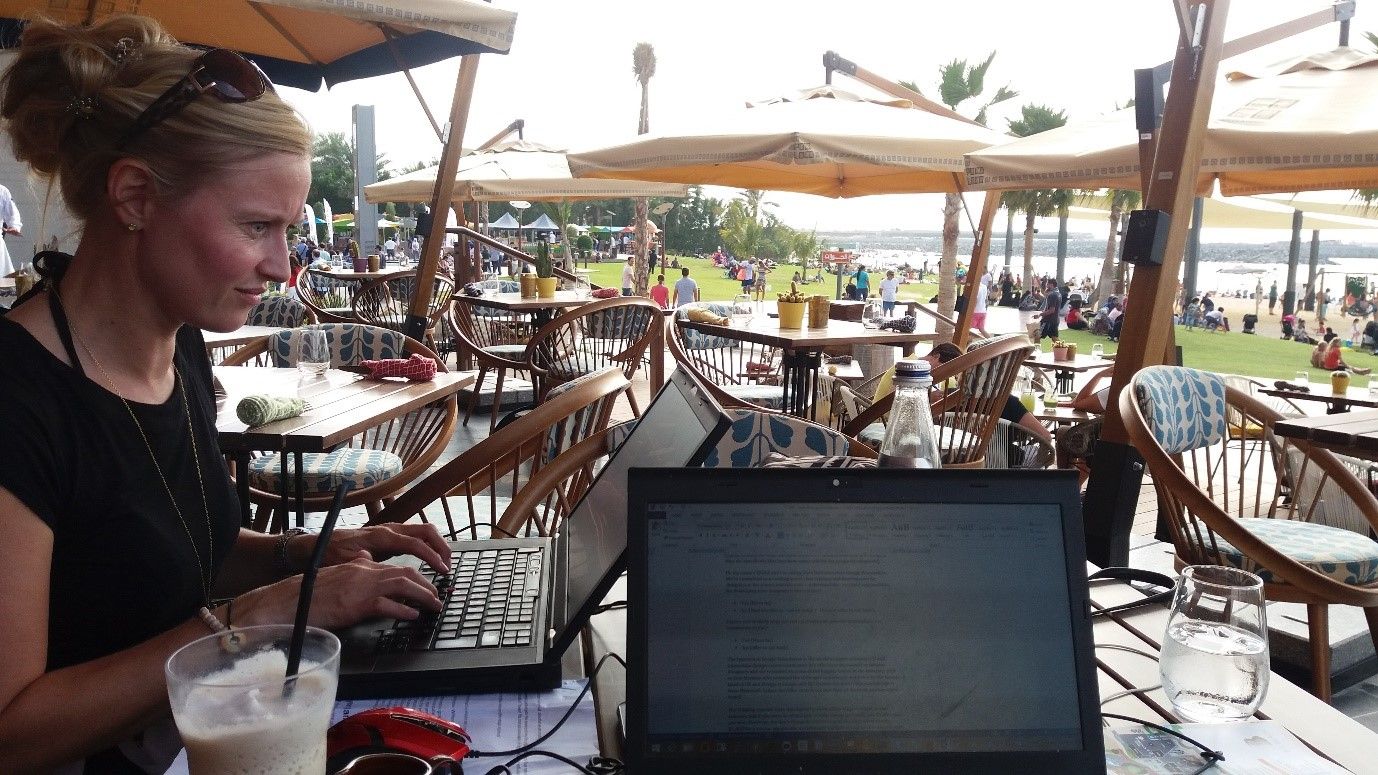 Author/Copyright holder: Rikke Friis Dam and the Interaction Design Foundation. Copyright terms and licence: CC BY-NC-ND.
Rikke Friis Dam is the co-founder of IxDF and your course instructor. Can you imagine taking work breaks in such an idyllic setting? One huge benefit is not having to waste any time going from work to play.
Meet your Instructor
This course is created and presented by one of the founders of the Interaction Design Foundation, Rikke Friis Dam. Rikke is Editor-in-Chief and in charge of IxDF's educational profile. She hires and works closely with highly skilled freelancers and entrepreneurs on a daily basis. Before Rikke co-founded IxDF, she worked as a freelance consultant, documentary maker and writer with wide experience in start-up environments, coaching and training other freelancers and nomads to get their businesses started. Rikke and the other founder of IxDF, Mads Soegaard, started working while travelling as digital nomads as soon as the internet allowed them to do so – way before the term "digital nomad" was coined. In fact, most of the IxDF employees and loyal freelancers live and work as dedicated and hardworking digital nomads all over the world.
Thank you once again for signing up to 'How to build a Successful Design Business'. We know that your time is valuable to you and that you have a wide range of options to study both online and offline; we're really pleased that you chose to study freelancing with us. We wish you success both on this course and in your new freelance life wherever you choose to pursue it.
So, let's get the course started with a quick question.
References
Hero Image: Author/Copyright holder: Jared Goralnick. Copyright terms and licence: CC BY-ND 2.0