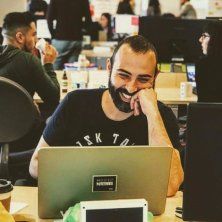 Juan José Elizondo
Experience Design and Research (UX/CX/HCI) - IDF Spain Country Manager at LATAM Airlines Group
Description
Enthusiast of usability, accessibility and user experience, as experience designer and Country Manager of Interaction Design Foundation I research and development new models for customer experience and service design, as well as synergies with new models of digital marketing, as a coach of the IDF Design League I help new members to learn more about this discipline and training in it. My knowledge in Product Design, Human Computer Interaction and my background in the social sciences, allows me to make connections between the areas of technology, marketing and business, in order to improve the design of digital products and services.
Understanding how to identify and translate user needs into digital products / applications
Leading strategic projects with work streams that include Stakeholder Interviews, Competitive Audits (business and UX) and User Research.
Leading and assisting all UX related documentation in a visually impressive format, from User Personas, User Journeys, Kano Model and ApplicationWorkflows/Paths, to mental models and interactive wireframes.
Keeping abreast of industry developments and new technologies
Design and evaluate visual human interfaces utilizing user-centered design principles and the last Design Systems like Material Design, Content Strategy or Micro-moments.
Courses Juan Is Taking