The team behind the Interaction Design Foundation (IDF) is looking for a highly qualified and passionate 2D Animator to help us create an outstanding explainer video.
We are offering you the opportunity to:
Develop yourself professionally, accelerating your learning curve. Unlike other run-of-the-mill explainer videos created in an agency, our video will be created out of passion and love for what we do. For us, good enough is not good enough—we aim for awesomeness on top of awesomeness.

Be appreciated by hundreds of thousands of designers. Our explainer video will be featured on our courses and signup pages, which are viewed more than 20,000 times each month. We'd also like to give you a shout-out on our newsletter and social media channels, which together reach more than 450,000 people.

Make our video the perfect addition to your portfolio, helping to catapult your career. We believe the attention to detail in our explainer video will not go unnoticed by anyone who sees your portfolio.

Be part of a highly motivated and highly qualified international team – working from locations across the world.

Be part of our mission to lower the cost of design education for the benefit of millions of people globally

Of course, you'll be paid fairly for your work :-)
What will you be doing?
Creating an explainer video with exceptional attention to detail, maximum impact and tasteful, yet attention-grabbing, animations and transitions.

You will NOT be doing yet another mass-produced explainer video. Instead, you will be contributing to a truly meaningful project where every single pixel/transition/effect is a labor of love.

If you're interested and show great, consistent results, there are lots of opportunities to be involved in other animated videos we have in the pipeline.
About you
You are (very!) ambitious, hard-working, and have a meticulous eye. You hate when things are anything less than perfect.

Although you consider yourself a seasoned animator, you get restless if you feel you are not learning something new every day.

You love to see tangible results and are proud to see your work positively affecting other people.
About IxDF's work culture
We love results, productivity, focus and efficiency – achieved through an approach of "working smarter not harder", a love of what we do, and taking great care of each other and our community.

We're also friendly, compassionate, and supportive and bring a sense of fun to the things we do.

We're passionate about design and the difference it can make in the world.

We value concentration and believe that interruptions, meetings, and egos can kill productivity. That's why work often does not happen at work.

We believe awesome results are produced when being in flow. That's why we value location independent work.

We celebrate each other's work and consider what we do a labor of love.

We have no set hours, no uniforms to wear and no fixed location of work – we believe that creativity combined with motivation are the keys to success rather than meaningless conformit
Pictures from team trips
The team meets regularly in exotic locations around the world; below are some photos from our last meeting in Koh Ngai, Thailand. Not having an office doesn't mean that we don't have a strong team ethic – quite the reverse in fact - it means we have a team that is dedicated to working together Regardless of location or time zone.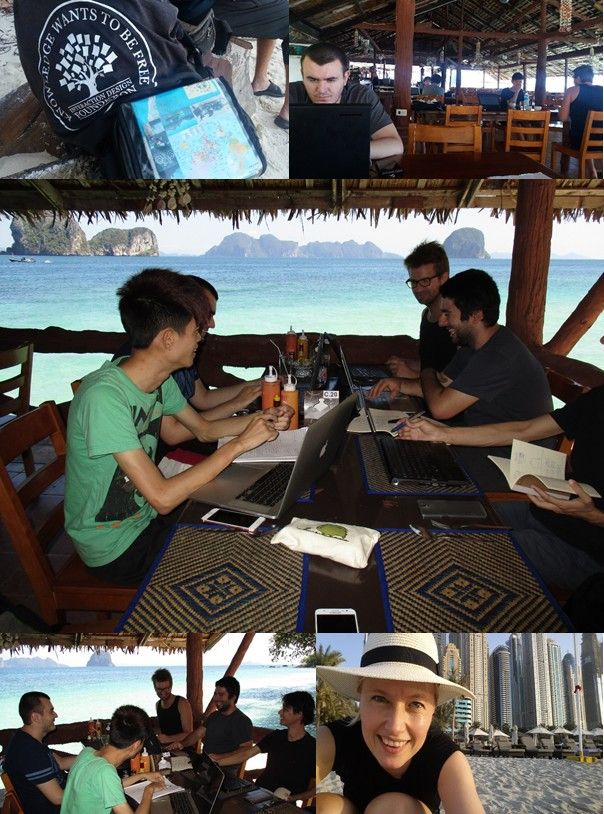 About Interaction Design Foundation, IxDF
Our goal is to lower the cost of design education around the world (https://www.interaction-design.org/about).

Based in Denmark, we have a global reach of around 4 million design-interested people every month on social media.

We offer online UX design courses at low, industry-beating fees to help hundreds of thousands of professional designers improve their skills and careers.

Our educational materials are used by hundreds of universities around the world in their curricula.
What's next?
If what we described interests you, then we want to work with you!

We'd like to start with a small task to see if we're a good match. For starters, we'll be creating a short, 5-10 second video. If we both like how we work together, then we'll move on to create the full 2-3 minute explainer video.
How to apply
Please send an application to the editor-in-chief and co-founder, Rikke Friis Dam, at rikke.friis.dam@interaction-design.org with the subject line "2D animator for IxDF explainer video ".

Please include a link or file of your portfolio, with your most recent animation work.

Please apply as soon as you can – we're firm believers in "the sooner, the better". We wish you the best of luck with your application and look forward to hearing from you!