The team behind the Interaction Design Foundation (IDF) is looking for a highly qualified Video Editor and Animator to help us create truly outstanding educational materials – delivered over our custom-built online learning platform.
We can offer you:
To develop yourself professionally and boost your learning curve: Our audience are designers and expect the ultimate attention to detail in every pixel, every transition and every edit you make.
To work with material from the very best designers in the world. From global brands to Ivy League universities.
To be a part of a highly motivated and highly qualified international team – working from locations across the whole world.
The ability to work from anywhere - as long as you have a powerful internet connection.
To be a part of IDF's mission of lowering the cost of design education globally - while increasing the quality - for the benefit of millions of people.
To help re-design the future of design education.
What will you be doing?
You will help us further develop our "visual language" in our videos.
You will help us edit video-based courses, i.e. to mix a video of a "talking head" with slideshows, illustrations, photos, and other video material.
You will create tasteful, yet impactful, animations and transitions.
If qualified, you could help create explainer videos with exceptional attention to detail and maximum impact.
If you're interested and show great and consistent results, there are lots of opportunities for transitioning into a full-time position (if you wish).
About you
You are (very!) ambitious, hard-working, and have a meticulous eye. You hate when things are not perfect.
Although you consider yourself a seasoned video editor, you get restless if you feel you are not learning something new every day.
You love to see tangible results and you get proud when you see how your work affects other people positively.
About IDF's work culture
We love results, productivity, focus and efficiency – achieved through an approach of "working smarter not harder", a love of what we do, and taking great care of each other and our community.
We're also friendly, compassionate, and supportive and bring a sense of fun to the things we do.
We're passionate about design and the difference it can make in the world.
We value concentration and believe that interruptions, meetings, and egos can kill productivity. That's why work often does not happen at work.
We believe awesome results are produced when being in flow. That's why we value location independent work.
We celebrate each other's work and consider what we do a labor of love.
We have no set hours, no uniforms to wear and no fixed location of work – we believe that creativity combined with motivation are the keys to success rather than meaningless conformit
Pictures from team trips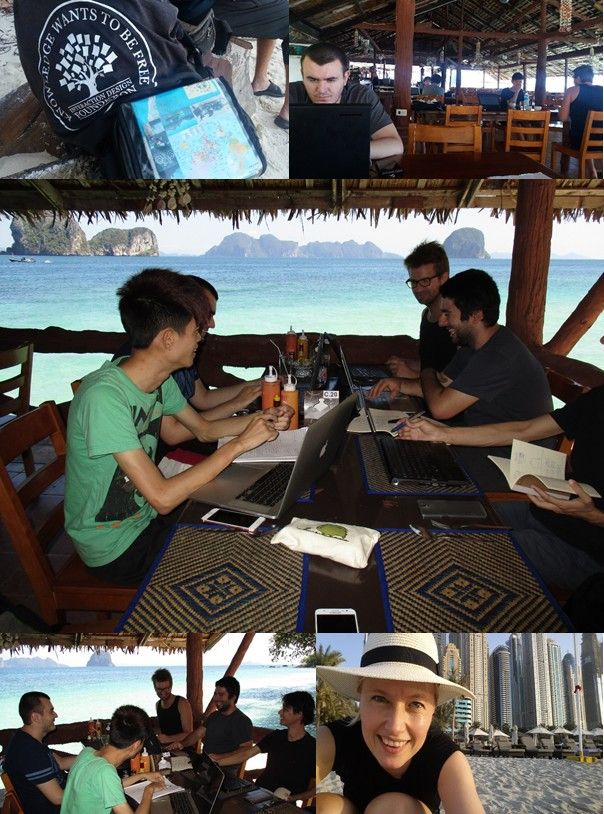 The team meets regularly in exotic locations around the world; these are some photos from our last team meet up on the tiny Thai island, Koh Ngai, and in Dubai. We have more awesome locations planned for future meetings. Not having an office doesn't mean that we don't have a strong team ethic – quite the reverse, it means we have a team that is dedicated to working together, everywhere and all the time.
About Interaction Design Foundation, IDF
We are based in Denmark.
Our goal is to lower the cost of high-quality design education globally. You can read about us at http://www.interaction-design.org/about
We reach around 4 million design-interested people every month on social media.
We help hundreds of thousands of professional designers improve their skills and careers.
Our educational materials are used in hundreds – if not thousands – of universities around the world.
How to apply
Please send an application to the editor-in-chief and co-founder, Rikke Friis Dam, at rikke.friis.dam@interaction-design.org
Please tell us why you want to put your heart, mind and hard work into this job. And please tell us the 3 productivity tips/methods that work best for you.
Please apply as soon as you can – we're firm believers that "the sooner, the better". We're looking forward to working with you!