Human-Centered Design
Your constantly-updated definition of Human-Centered Design and collection of topical content and literature
What is Human-Centered Design?
Human-centered design is a practice where designers focus on system users' human needs. Cognitive science and usability engineering expert Don Norman sees it as a step above user-centered design. Its four principles are people-centered, solve the right problem, everything is a system and small and simple interventions.
"The challenge is to use the principles of human-centered design to produce positive results, products that enhance lives and add to our pleasure and enjoyment. The goal is to produce a great product, one that is successful, and that customers love. It can be done."
— Don Norman, "Grand Old Man of User Experience"
See why human-centered design is a vital approach for accommodating real users.
Video copyright info

Airplane Cockpit by Riik@mctr (CC BY-SA 2.0)
https://www.flickr.com/photos/riikkeary/24184808394/

Cognitive Science building at UC San Diego. by AndyrooP (CC-BY-SA-4.0)
https://commons.wikimedia.org/wiki/File:Cognitive_Science.jpg

Pseudo-commands to illustrate how line-by-line text editing works. by Charlie42 (CC BY-SA 3.0)
https://en.wikipedia.org/wiki/Ed_(text_editor)#/media/File:Ed_lines.jpg
The Trouble with "Users" is They're Only Human
At many points in technological history, Don Norman helped designers understand their responsibility to the people who use the things they design. Great advances were made in electronics and computing throughout the second half of the 20th century. The problem was, the designers of many systems often overlooked the human limitations of the people who had to interact with them.
Early computers were extremely hard to understand. The first ones — created in the 1940s — required specialists to operate them in closed environments. By the 1980s, things had changed; A large portion of smaller computers were being used by people without specialist knowledge. Problems were bound to arise, and did. The early Unix system Ed (for "Editor"), for example, did not prompt users to save their changes, causing many users to erase their work when turning off their computers. Highly visible prompts to save our work were yet to come.    


From no save prompts, to the "Do you want to save changes" dialog box, to auto-save: The save functionality in documents has been iterated over the years to improve the experience for the people working with these tools.
Don Norman also studied the control rooms of potentially hazardous industrial centers and aviation safety. Following the Three Mile Island nuclear accident in 1979, he was involved in analyzing the causes and potential solutions. A partial meltdown of a power-station reactor had released dangerous radioactive material into the environment. The problem centered around, not the highly competent staff members, but the design of the control room itself.
From design mistakes such as this, we learned crucial lessons. It was clear that designers had to accommodate the human needs of their systems' usership. There could be no room for ambiguity or misleading controls, for instance. Designers would instead have to anticipate human users extensively through how each system looked, worked and responded to them. So, rather than focus on the aesthetics of the interface and the design itself, designers needed to understand and tailor experiences for the people at the controls, accounting for their various states of mind while interacting with and reacting to changes in the system. To avoid disasters, the dehumanizing idea of "users" had to vanish so designers could put people first in design. It was time for human- or, better still, people-centered design.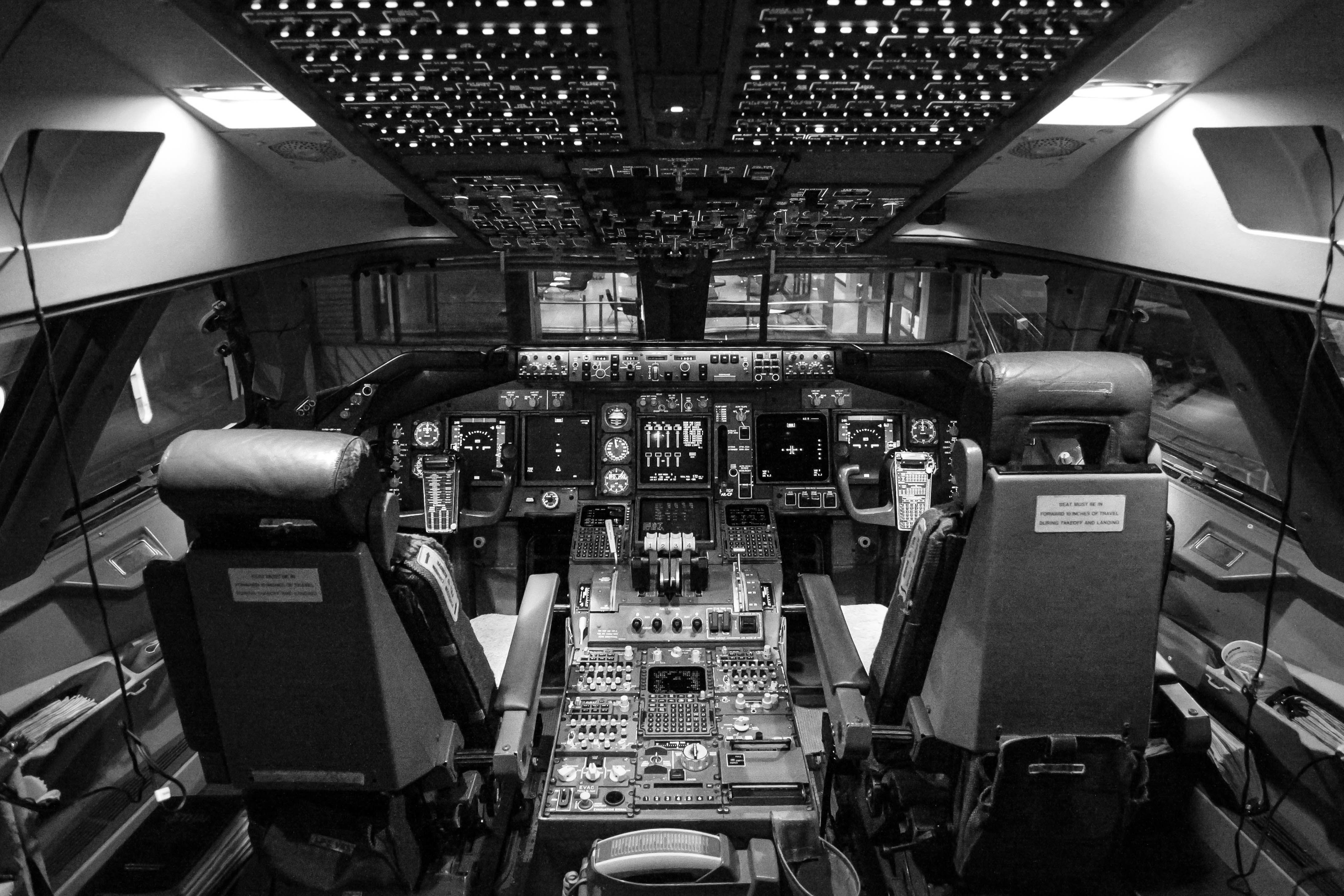 Follow the Clear Path to Human-Centered Design
In 1986, Norman and co-author Stephen Draper's User Centered System Design: New Perspectives on Human-Computer Interaction was published. The result of extensive collaboration between researchers across the U.S., Europe and Japan, this comprehensive volume represented a shift in human-computer interaction. However, the authors realized they didn't like the term "users"; the emphasis demanded a more "human" entity in control. Their timing was superb. Not only had the home-computing market exploded, but strides in technology would soon usher in the Internet age, greater connectivity and more complexity in the systems that people of all types would use.
Norman coined the term "user experience" shortly afterwards. This signaled a focus on the needs of the people who used products throughout their experiences. Norman explained the reason for the evolution away from "user" was to help designers humanize the people whose needs they designed for. Human-centered design has four principles:
People-centered: Focus on people and their context in order to create things that are appropriate for them.

Understand and solve the right problems, the root problems: Understand and solve the right problem, the root causes, the underlying fundamental issues. Otherwise, the symptoms will just keep returning.

Everything is a system: Think of everything as a system of interconnected parts.

Small and simple interventions: Do iterative work and don't rush to a solution. Try small, simple interventions and learn from them one by one, and slowly your results will get bigger and better. Continually prototype, test and refine your proposals to make sure that your small solutions truly meet the needs of the people you focus on.
It's important to remember, as we focus on the human aspect, we expand our scope to societies and, ultimately, humanity-centered design. And as our world becomes more intricately involved with complex socio-technical systems and wicked problems to address, the insights we leverage from human-centered design will continue to prove essential.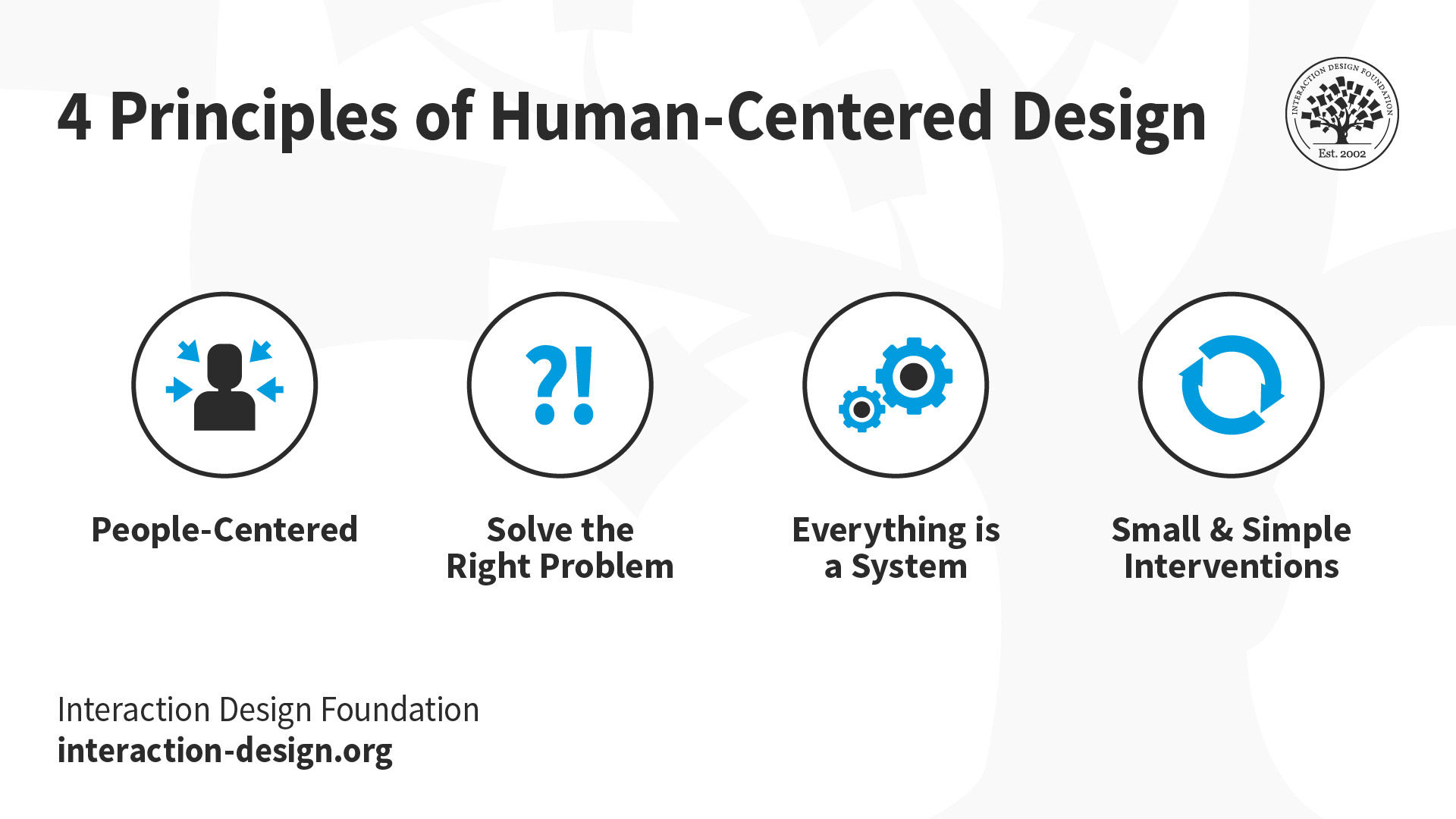 © Daniel Skrok and Interaction Design Foundation, CC-BY-SA 3.0
Learn More about Human-Centered Design
Take our 21st Century Design course: https://www.interaction-design.org/courses/design-for-the-21st-century
Read this JND article for additional insights about the human-centered design principles: https://jnd.org/the-four-fundamental-principles-ofhuman-centered-design/
This thought-provoking MovingWorlds post explores human-centered design extensively: https://blog.movingworlds.org/an-introduction-to-human-centered-design/
Literature on Human-Centered Design
Here's the entire UX literature on Human-Centered Design by the Interaction Design Foundation, collated in one place:
Learn more about Human-Centered Design
Take a deep dive into Human-Centered Design with our course Design for the 21st Century with Don Norman .
In this course, taught by your instructor, Don Norman, you'll learn how designers can improve the world, how you can apply human-centered design to solve complex global challenges, and what 21st century skills you'll need to make a difference in the world. Each lesson will build upon another to expand your knowledge of human-centered design and provide you with practical skills to make a difference in the world.
"The challenge is to use the principles of human-centered design to produce positive results, products that enhance lives and add to our pleasure and enjoyment. The goal is to produce a great product, one that is successful, and that customers love. It can be done."

— Don Norman
All Literature