If we apply the analogy of Design Thinking as a journey, having good travel partners is important to safely and successfully arriving at your desired destination. The process of Design Thinking takes you into unknown and sometimes uncomfortable territory. Members of a Design Thinking team need to be open minded, curious, collaborative and allow their assumptions to be challenged, ready for change, and be adaptable. Yes, that's a lot, but it's worth the effort as it creates a great team spirit, work ethic – and ditto end product.
Who to Take on the Ride
Team sizes may vary depending upon the challenge at hand, and may even comprise multiple teams working in tandem to tackle various parts of a more complex problem, or people or teams working alone sometimes and merging together at other times.
Cross-disciplinary teams will provide you with the best results. Teams may consist of people unfamiliar with each other, with external members brought on board either as specialists or facilitators depending on the availability of skills. Navigating the people dynamics will most likely be one of the toughest parts of a Design Thinking process, although it is also the most rewarding as it involves the coming together of many different minds and personalities, whilst adding richness to the experience.
Build the Right Kind of Team
The right kinds of specialisations are important, but specialisation is not the only quality required. To make a Design Thinking project successful, we need T-shaped people. T-shaped people have a depth of knowledge and experience in their own fields but they can also reach out and connect with others horizontally and create meaningful collaborations.
A Design Thinking team should ideally be a cross/multi-disciplinary team consisting of a mix of specialisations, including specialists associated with problem areas contributing but not dominating the journey. While specialists may have vast knowledge on a technical level, they are working towards solutions targeted towards non-specialists in many cases and require outside perspectives in addition to what they already know.
Taking a cross section of an organisation, one will soon realize that individuals within specific departments with specialist skills in specific business functions tend to approach problem solving on their own level of experience, using the skill set they feel most comfortable with. Sales, marketing, IT, product development, customer service and HR departments all view challenges they face through the lens of their departmental functions. Bringing together teams that provide a wider view of things is important, but even more so is to encourage them to look outside their own spheres of influence to allow more holistically framed problems to be uncovered.
All too often, solutions are conceptualised by account managers and merely handed down to creative teams for execution and decoration. Often, this results in a team tackling the wrong problems. Individuals who are able to see the bigger picture in a situation are considered valuable assets, as are those who are able to connect with real people outside the organisational structures in order to understand the challenge from a market perspective.
Build The Right Team Culture
Choosing the perfect team may not always be possible, especially in situations where there is a limited pool of candidates. Within startup environments everyone needs to be involved in everything, so it may be more of a case of developing the appropriate team culture, or even project culture, in order to move forward with the Design Thinking process. Encouraging empathy, experimentation, curiosity, courage, open-mindedness, holistic thinking, stripping away biases, and favouring ambiguity over rational clarity, are great places to start.
It is important to set some rules and encourage individuals to think big-picture thoughts before getting stuck on the executional nitty gritty. All team members should be encouraged to respect each other's inputs, in order to dig deeper and to build upon each other's findings, as opposed to trying to dominate and score with the winning idea as a solo effort. The following attributes or characteristics of Design Thinking will help you to choose and select team members for a given Design Thinking work project. Ask yourself questions such as: Which team members already possess these characteristics? Who would be open to them? Which team members possess the core expert skills required? You should, of course, practice these qualities yourself in your own leading style, but you should also print and hand out this illustration to each of the team members and explain the attributes featured therein. This will help to develop a great working culture.

Author/Copyright holder: Teo Yu Siang and Interaction Design Foundation. Copyright terms and licence: CC BY-NC-SA 3.0
The above attributes or characteristics of Design Thinking will help you choose and select team members for a given Design Thinking work project. Ask yourself questions such as: Which team members already possess these characteristics? Who would be open to them? Which team members possess the core expert skills required? You should of course practice these qualities yourself in your own leading style, but you should also print and hand out this illustration to each of the team members and explain the attributes featured therein. This will help to develop a great working culture.
Level the Playing Field
While you may already have experts in certain fields or specialists working alongside generalists or less experienced individuals, something to stipulate clearly is the flat hierarchy, which is needed in Design Thinking projects. The more senior team players' knowledge and experience will definitely be important and will be necessary in order to steer the ship in the right direction so the team avoids becoming completely lost. However, this should not prevent less experienced individuals from sharing their ideas, putting forward alternative ways of seeing things, or flagging something that everyone else may have missed. The whole purpose of a multi-faceted team is to encourage wider perspectives. No one within the team should purposely be allowed to narrow things to suit his or her specific view. This illustrates how design-led innovation differs significantly from processes used in traditional business or corporate settings. For instance, just a mere insinuation a senior player may make towards a less experienced team member could result in a closed mindset and prevent ideas from flowing.
The Importance of a Good Facilitator
Having a leader to spearhead the mission is important, as there is always a tendency for team members to resort to familiar patterns, which may not suit the needs of Design Thinking. Hierarchies may set in quickly and management styles may subvert the mission. A leader who is experienced in maintaining the right mix of mindsets is essential. An ideal leader is someone who can maintain high levels of energy and enthusiasm, someone who can steer the group around obstacles, and someone who has at least some grounding in running Design Thinking or similar projects.
A Design Thinking Team Manifesto
Venturing into the unknown can make some team members feel uncomfortable, especially the business executive who has been trained to base decisions and actions on what has worked in the past. Basing decisions, strategies, and even attempts at innovation on past data means churning out much of the same, possibly with just a variation in colour or flavour.
If it's clear that the process won't be respected upfront by some of your team members, more orientation may be required or buy-in sought before getting started. In order to ensure that there is enough divergence in thinking, it is important to set some ground rules right from the start and display these on the wall. You can find inspiration in the Attributes of Design Thinking illustration above. You can actually easily turn this into your Design Thinking Team Manifesto. However, we strongly encourage you to develop your own manifesto with your team members in order to involve and engage all members in the Design Thinking process from the beginning. It is important to allow and encourage anyone on the team to call up rules. Do so without malice and in the good positive spirit of exploration and experimentation.
The design process leader should keep the ship steering towards its goals with the help from a Design Thinking Team Manifesto. Having a guide who is not a person who can be blamed may be a good alternative for teams who are not quite ready to be led into the unknown by someone they don't yet know and trust.
The Effects of Design Thinking on Teams
Design Thinking is structured in such a way so as to set the scene for specific qualities to be unleashed within the team and to overcome obstacles that innovation teams typically face.
Some of the aims of Design Thinking's approach are to create:
greater inclusiveness
better team cohesion
higher levels of collaboration and interaction
increased creative confidence
Everyone thinks, feels, and experiences things differently. Differences are what we need. Knowing that certain activities are not natural for everyone means that some preparation, explanation, and trust-building, before the launch, can go a long way towards preventing people from jumping ship.
Some of the obstacles the process aims to overcome:
Fear of failure
Intimidation
Low self esteem
Hierarchy
Creative blocks
Blind spots
Specialisation bias
In most cases, newcomers to Design Thinking will feel intimidated, confused, and disoriented by its seemingly chaotic approach. In order to break through this negative tension, a few short exercises can be implemented to loosen things up and get people feeling positive and excited about the project.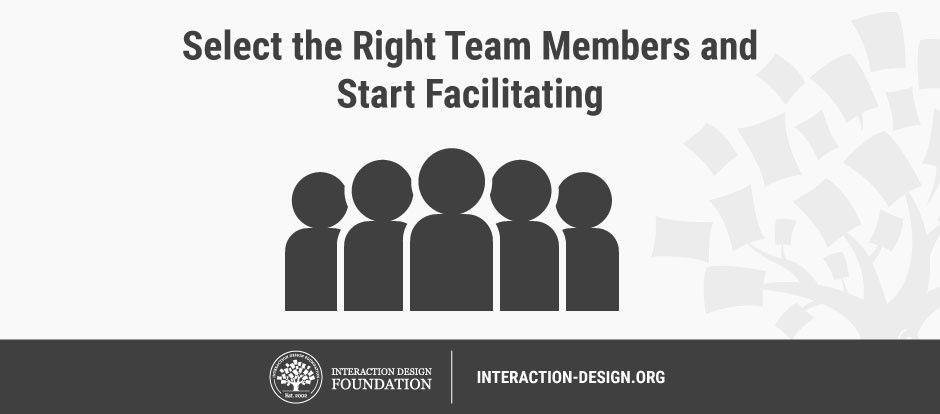 Author/Copyright holder: Teo Yu Siang and Interaction Design Foundation. Copyright terms and licence: CC BY-NC-SA 3.0
Facilitation Step 1: Tell your Team Members about the Overall Process of Design Thinking
Explain the five stages in the Design Thinking Process.
Explain that the five stages of Design Thinking are not sequential steps, but different modes you can put yourself in, to iterate on your problem definition, ideas, or prototype, or to learn more about your users at any point in the project.
Explain how Design Thinking builds a third way – combining the analytical and information-driven approach of science with the holistic, empathic and creative ways of thinking in ethnography and design.
Explain that there are lots of proven methods that you'll apply along the way, like user interviews, brainstorm sessions, affinity clustering, sketching, user testing, etc.
Knowing the background and underlying structure will help your team members to feel safer as they know that there's a solid background, and that chaos is not the goal even though it may feel chaotic from time to time during the process. You could remind your team members that innovation demands courage and an open mind while progressing towards the goal:
"One must still have chaos in oneself to be able to give birth to a dancing star.
– Friedrich Nietzsche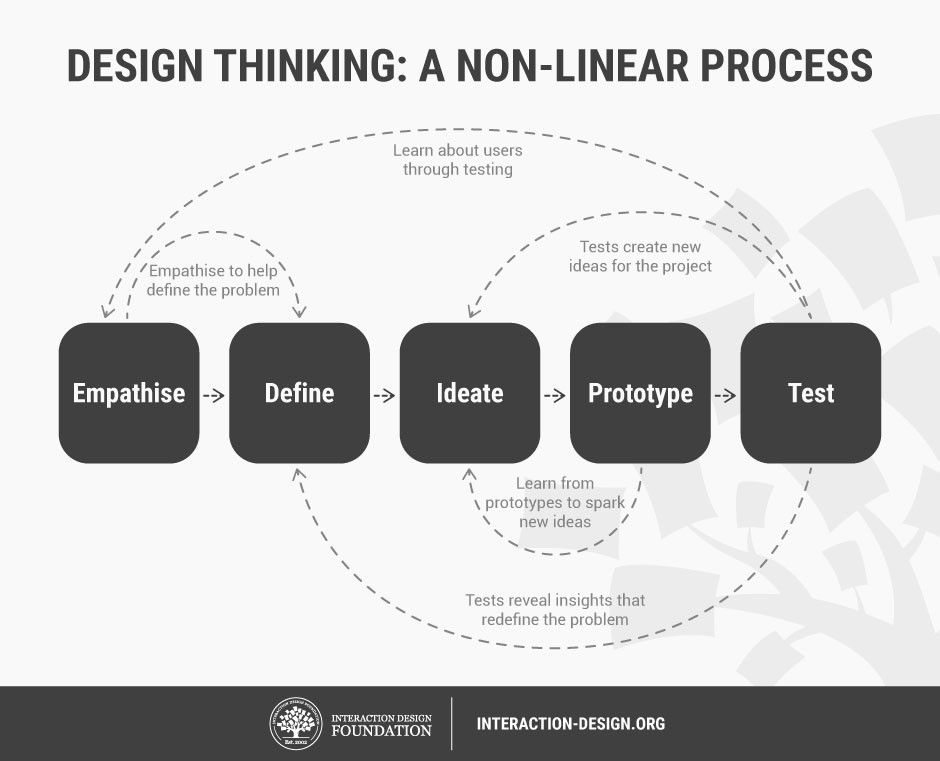 Author/Copyright holder: Teo Yu Siang and Interaction Design Foundation. Copyright terms and licence: CC BY-NC-SA 3.0
Provide your team members with printed out models of the Design Thinking process and modes to help them understand and recognise the benefits of the Design Thinking work process.
Facilitation Step 2: Break the Ice
Icebreakers are important for breaking through barriers when teams need to start working on something new, or when people don't know or trust each other well enough. Each setting is unique and the ice that needs to be broken will be different for each situation. It may be as simple as introducing people properly, or explaining the process they are about to engage in, though at times it may require more intervention.
A few icebreaker tips
Consider barriers that may exist in the team and design your icebreakers based on these.
Ensure that the icebreakers don't alienate anyone or create any further obstacles.
The idea is not to embarrass but to build confidence and make people comfortable going forward.
Icebreakers are not meant to produce winners and losers but are meant to level the playing field.
Choose activities which suit the people and setting.
Facilitation Step 3: Get People into the Creative Mood
Co-create a story
A great way to get your Design Team members to relax and enjoy co-creation is the act of group story telling. You may begin with a completely unrelated story, maybe even something familiar to the team or something related to the challenge space being explored. Start the story off with a brief intro and move it around the team in a circle, with team members adding on their sentences as it passes on.
A set of story aids like Rory's Story Cubes may help even further, especially with those who may be too shy to suggest something different. The story cubes come with a range of objects, actions, and themes that can be mixed and matched to create or encourage randomised story telling. It's also an excellent tool for getting people in the mood for brainstorming.
Visual telephone
Another similar activity which encourages visualisation rather than spoken stories is the visual telephone. The team starts off with the first player drawing a simple picture in secret, and then passing it on to the person beside her/him, who will then look at the image without showing the others, and will write down her/his interpretation of what the image relates to. The next person will then take that explanation and draw an image to show it, and so on, until the telephone has moved through the entire team. The entire team will then review the end results to find out how each person interpreted the message they received.
Mindtools provides a good icebreaker outline with some examples for icebreakers in different settings
Gamestorming is a book and method by Dave Gray, Sunni Brown and James Macanufo, which contains a wealth of ideas for encouraging visual thinking and action-orientated problem solving. It contains tons of advice on how to get people out of their seats and comfort zones.
The icebreakers above are merely ways of getting people ready, but it definitely doesn't end there. Have a look at the An Introduction to Gamestorming - Video by XPLANE for a glimpse of what lies ahead.
The Take Away
Bring together a diverse team with different thinking styles and specialisations.
Develop an innovative team culture, which embraces inclusiveness, collaboration, and co-creation.
Level the playing field to allow for a diverse set of perspectives to influence the process.
Ensure the right person is in charge.
Break the ice with some creative exercises to loosen things up.
References & Where to Learn more
Rory's Story Cubes:
http://www.storycubes.com/
MindTools.com. Ice Breakers by Mindtools:
http://www.mindtools.com/pages/article/newLDR_76.h....
Dave Gray, Sunni Brown, James Macanufo, Gamestorming: A Playbook for Innovators, Rulebreakers, and Changemakers:
http://www.amazon.com/Gamestorming-Playbook-Innova...
An Introduction to Gamestorming - Video by XPLANE