If you're stuck for where to get started in UX then one of the easiest things you can do is get active on social media. If you connect with the industry's biggest names, you can learn a ton of new information, find out about job opportunities and network with many other UX designers at the same time. But where do you start? Well, we're here for you with 20 people in UX that you absolutely have to follow on Twitter.
20 People in UX that You Have to Follow on Twitter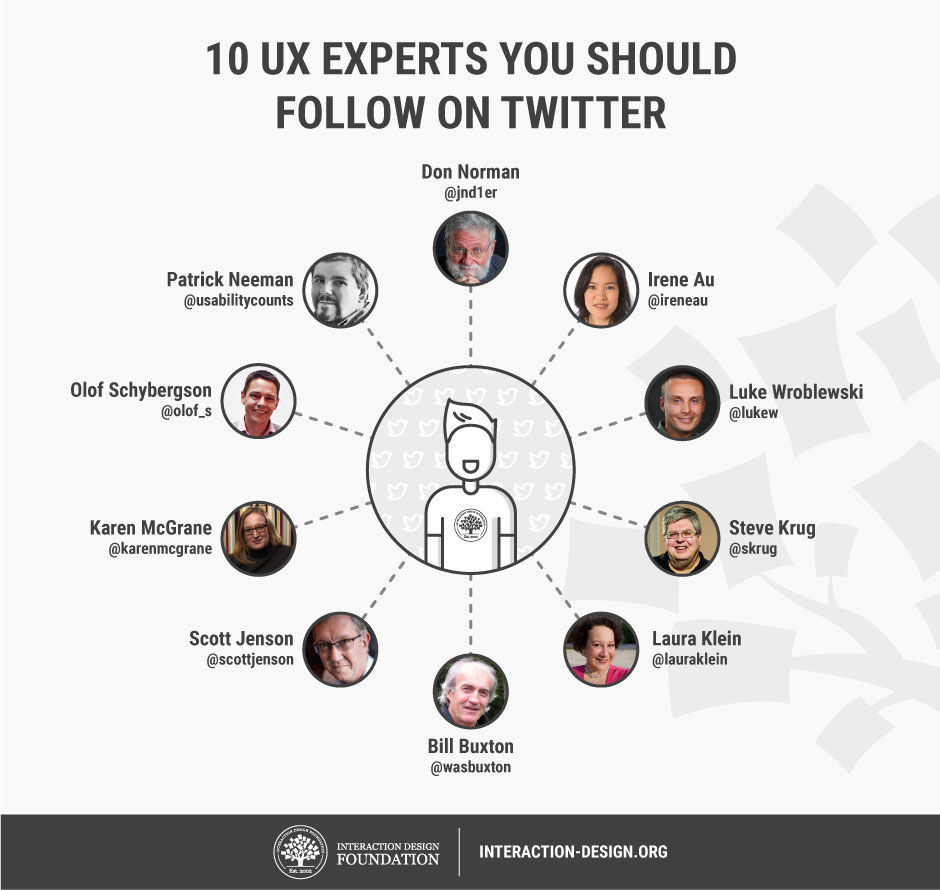 Please note that this list is in not in any particular order of awesomeness. It's not a ranking scale between 1 and 20; we think everybody in this list has something noteworthy to say and we highly recommend that you tune into all of them.
Steve Krug
Steve Krug, is the usability expert who wrote the book; "Don't make me think!" It's considered to be the core text for usability folks and it's in its third edition now. He also does Twitter and his account is both active and in regular use. You can find him at @skrug.
Don Norman
Don is one of the world's most famous UX designers, he serves on the Interaction Design Foundation's board and he's the guy who coined the term "user experience". He's not the most active of Twitter users but when he does post, it's always interesting. Find Don at @jnd1er.
Bill Buxton
Bill is an interaction designer and researcher. He's a principal researcher at Microsoft Research and was previously head of his own consulting firm, Buxton Design. In 2001 Bill was named as one of the 10 most influential innovators in Hollywood. He's a regular poster on Twitter and you can learn a lot from his tweets. He's at @wasbuxton.
Irene Au
Irene is awesome. She's the former head of design at Google, Yahoo and Udacity. We're also lucky to have her serving on the Interaction Design Foundation's board. To make things even more interesting, Irene is also a yoga instructor and despite her busy schedule – she manages to teach yoga four times a week in Palo Alto. Find her at @ireneau.
Olof Schybergson
Olof is the co-founder and CEO of Fjord, one of the world's leading service design consultancies. He's worked with everyone from the BBC to Citibank to Foursquare. He's energetic and passionate about what he does and he often takes to Twitter to share his interests with others. Find Olof at @Olof_S.
Patrick Neeman
Patrick Neeman is one of the most prolific UX Twitter users (nearly 40,000 tweets and counting…) and he's the guy behind usabilitycounts.com too. That's a great website with lots of tips for UX professionals. Earlier in his career he worked for companies like eBay, Disney and Microsoft. You'll find a bunch of great UX jokes hidden in his feed as well as more serious stuff. Find Patrick at @usabilitycounts.
Laura Klein
Laura wrote "UX for Lean Startups" and "Build Better Products". She's also a Silicon Valley based Lean UX expert who regularly shares what she knows and opportunities for UX designers on her Twitter feed. Her updates are always relevant and interesting. Find Laura @lauraklein.
Scott Jenson
Scott Jenson is the Project Lead for Physical Web for Chrome and in his past life he's been the UX Director for Google, Symbian, and Apple! He posts a lot of cool stuff on Twitter and regularly links to long form articles that he's written. It's worth digging deep in Scott's material, he has so much knowledge that you really should make his work mandatory reading. Find him at @scottjenson.
Luke Wroblewski
Luke is one of the most influential people in the UX field and he's an avid Twitter user. He coined the idea of "Mobile First" (that you should design for the smallest screen first and then work up from there rather than squeeze everything from a big screen into a small one). He's worked at Yahoo and eBay, among many other companies, and the company he founded, Polar, was acquired by Google. Catch him at @lukew.
Karen McGrane
Karen is a UX and content specialist and says that on a good day, she makes the web more awesome and on a bad day, she just makes it suck less. Her tweets are regular and often in very good humor. Not all of them are 100% UX relevant, but there's enough great content there that we can forgive the occasional lapse. See what Karen has to say @karenmcgrane.
Jane Pyle
Jane is pithy, witty and 100% UX focused. She works in Enterprise iOS app design as a UX designer. Her Twitter feed has wonderful examples of good and bad design as well as a lot of humor. She's also very much into animal rights and between the UX stuff, there are some great photos of animals to be found too. If you'd like to know more about Jane you can find her @janepyle.
Jan Jursa
Jan is Germany's UX superhero; he runs an awesome curated Twitter feed of all things UX, delivers two podcasts on UX, is responsible for three conferences each year and still manages to find time to be a mobile experience designer! He's also compiled a great book "UX Storytellers" containing the stories of over 40 UX specialists! Find Jan's great content @IATV.
Khoi Vinh
Graphic designer extraordinaire Khoi Vinh is currently the principal designer at Adobe and he's also constantly delivering awesome design related content on Twitter too. His is one of the most visually interesting Twitter feeds we've seen, and it's nice to get a ton of great stuff from someone who once led the design efforts at the New York Times! Find Khoi Vinh at @khoi.
Daniel Burka
Daniel was once the creative director for Digg and is now the design partner at GV. He's a hugely passionate UX guy and tweets regularly on a variety of different subjects. If you'd like a little light relief from some of the more serious feeds, Daniel's feed is the place to be. You can find Daniel @dburka.
Crystal Ehrlich
Crystal is one of Los Angeles' best know UX figures as she runs the LA UX Meetup Group. She's also worked for AT&T, Honda, Pepsi, etc. as a freelance UX Designer and has won several awards across her career for her amazing work. Her Twitter feed is a gold mine of useful targeted UX related material; we think Crystal must dream UX as well eat, sleep and breathe it. Find Crystal @cbehrlich.
Catriona Cornett
Director of Product Design for SalesforceIQ, Catriona Cornett, is a passionate communicator with a real joy for making people's lives better through design. She's also generous enough to share her passions on Twitter with the rest of us. Her feed is intelligent, incisive and incredibly interesting. Don't miss out on Catriona's Tweets find her at @inspireUX.
Kristina Halvorson
Kristina is the found of BrainTraffic and ConfabEvents and an author and content strategist too. Her Tweets meander between UX/marketing related stuff and whatever big news item catches her eye which is fine because the UX stuff is excellent and the other stuff keeps the feed feeling fresh and engaging. Find here at @halvorson.
Peter Merholz
Founder of Adaptive Path, creator of the awesome design blog peterme.com and all round design wizard Peter Merholz offers an endless stream of wisdom on his almost hyper-active Twitter account. You can't fail to learn something from Peter and we strongly recommend that you follow him and read the blog posts he links out to. Find Peter at @peterme.
Josh Brewer
Josh Brewer is the creator of 52 Weeks of UX an incredible free resource for UX designers and the CEO and Founder of MadeByHabitat. He's been a principal designer at Twitter and the Director of UX at Socialcast and he really knows his stuff. He's very active on Twitter and his posts are always brilliant. Find Josh at @jbrewer.
Taylor Ling
Taylor's based in Malaysia and he's a writer for androiduiux.com and a Google Developer Expert (GDE) for UX design. He's an enthusiastic purveyor of UX knowledge and while he's younger than most of the other folks on this list – we think the quality of his posts makes up for his youth and then some. Find Taylor at @taylorling.
The Take Away
There are plenty of amazingly talented people sharing their knowledge online. Twitter is a great place to get in touch with some of the world's top UX design talent and learn from them. It's also somewhere you might want to do some networking to kick start your own UX career or develop that career further. Many of the people above share opportunities on their feeds and you may find that their followers are great people to connect with to develop your professional network further too.
References & Where to Learn More
We've got a bonus twitter account for you to follow here: our own! The Interaction Design Foundation can be found at @interacting.