User Scenarios
Your constantly-updated definition of User Scenarios and collection of topical content and literature
What are User Scenarios?
User scenarios are stories which designers create to show how users might act to achieve a goal in a system or environment. Designers make scenarios to understand users' motivations, needs, barriers and more in the context of how they would use a design, and to help ideate, iterate and usability-test optimal solutions.
"…a scenario says, 'Imagine if we had the magic new product or the improved functionality. Here's how that would unfold.' That starts to imply a whole host of requirements. It's a generative tool that helps product managers understand requirements, helps designers influence those requirements, and helps all the engineers start to get a picture of, 'Oh, that's going to have to connect to this, and we're going to have to build it this way.' It starts to take shape very quickly that way when you've got a story to tell."

— Kim Goodwin, UX consultant & author of "Designing for the Digital Age"
See how user scenarios help drive the design process forward.
User Scenarios Help Keep Designs User-Centered
User scenarios are valuable aids for designers to visualize aspects of their solutions which users might appreciate most in their contexts of use and with their unique needs and motivations. Sometimes confused with user stories (short statements that specifically describe a user's goal), scenarios succinctly and explicitly capture what users would likely experience as they proceed toward using an ideal solution. These storytelling-powered deliverables are therefore flexible tools for ideation, iteration and usability testing, where they can help expose vital areas to test. As user scenarios help teams explore the design space and locate precise and hard-to-notice user needs, they can also keep stakeholders on track with a shared vision.
In a process such as design thinking, design teams systematically work to account for the most common use case and work to create a reliable narrative to use as a guide. To ideate toward accurate pictures of your users, their world and how your solution might solve their problems best, you begin by doing user research. Then, you create personas to represent your target users and flesh out their experiences to reflect realistic situations. So, to have the ingredients for a user scenario, you first must clearly define the following factors:
Background – who are your users (including their knowledge base and skillset/s)?
Motivations – what goals do they want to achieve?
Tasks – what must they do to reach those goals?
Context of use – how will they encounter your design?

Environment – where will they try to use it?
Challenges – when they try to use it, what can get in their way (e.g., signal loss)?

Personas usually contain a scenario or story as part of the description.
Tips for Creating Compelling User Scenarios
You can create user scenarios as highly visual narratives or storyboards with pictures of the personas you're modelling them on. Essential points to consider include these:
Provide the context of:

Who – details of the persona.
What their goals are.
When they might perform tasks (including obstacles).
Where they might do these (including obstacles).
Why they want to do things, must perform subtasks, etc.

Focus on the bigger picture but keep to the point – include the circumstances leading up to the interaction, the factors that impact the user's world and that might influence how they interact with a solution (e.g., cultural context) and anything they may need before encountering or using the solution (e.g., information).
Make the scenario understandable for people who don't have technical backgrounds – so everyone, including stakeholders, can get on board with elements they can easily relate to and can stay open-minded about necessary processes, etc.
Keep user scenarios tightly centered on the users themselves – to ensure any ideas about design features stay grounded in the reality of the users' context.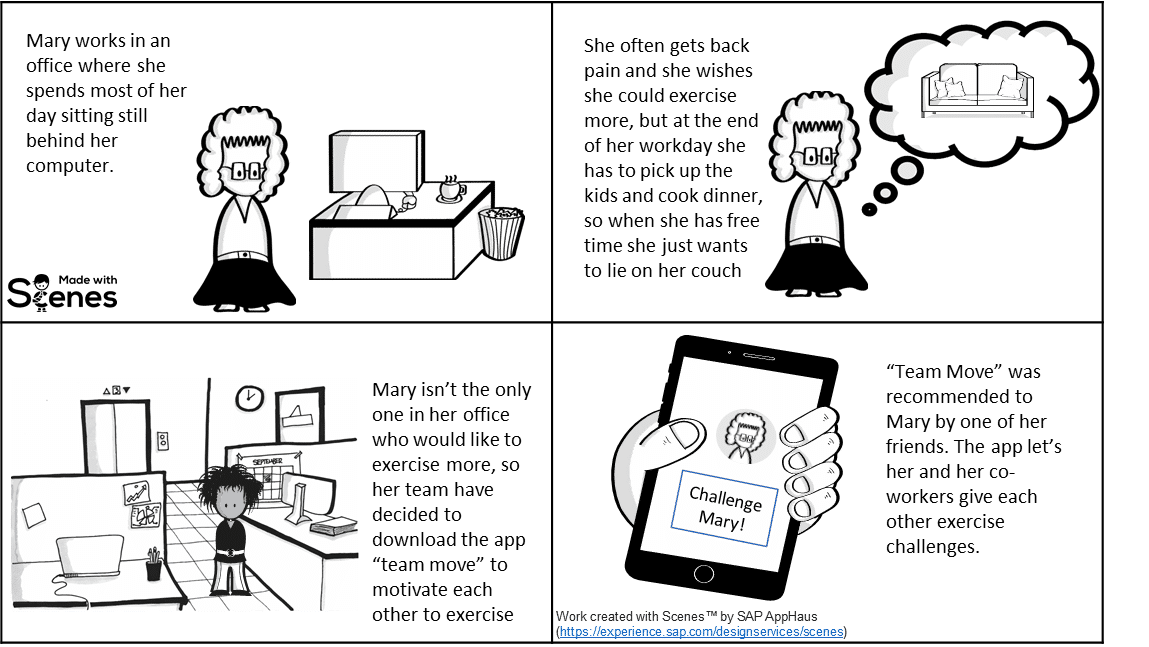 This is an example of the beginning of a storyboard for an app that motivates people to workout at work. The full version would have more slides that detail how the app works and how it motivates the users.
Here's an example of a user scenario:
"Jeremy, 52, a senior manager for a medical supplies company, needs constantly updated information on purchasing-related issues while he travels between work and hospital sites so he can use/allocate resources optimally. He's highly skilled, organized and diligent. However, with recent layoffs he now struggles to manage his workload and is too drained to enjoy his career. He strains to handle tasks which his former assistant previously performed, stay current with issues and investigate supply-chain problems, while he tries to find alternatives that would be more economical in the financial climate.
He wants something convenient like an app to take him straight to only the most relevant updates and industry news, including current information feeds about share prices, tariffs on foreign suppliers, budget decisions in local hospitals and innovations in the medical devices he handles (mostly lung and cardiovascular products). Instead of continuing to liaise with three other managers and spending an hour generating one end-of-day report through the company intranet, he'd love to have all the information he needs securely on his smartphone and be able to easily send real-time screenshots for junior staff to action and file and corporate heads to examine and advise him about."
Learn More about User Scenarios
Take our Design Thinking course to learn how to make the most of user scenarios: https://www.interaction-design.org/courses/design-thinking-the-beginner-s-guide
Justinmind showcases a fast-track way to get up and running with user scenarios: https://www.justinmind.com/blog/how-to-design-user-scenarios/
UXPin content strategist Jerry Cao sheds light on key aspects of user scenarios: https://www.webdesignerdepot.com/2015/04/how-to-perfect-your-ux-with-persona-scenarios/
This UXMag piece insightfully presents benefits of user scenarios: https://uxmag.com/articles/product-scope
Read helpful advice on how to collaborate in mapping user scenarios: http://www.uxforthemasses.com/scenario-mapping/
Literature on User Scenarios
Here's the entire UX literature on User Scenarios by the Interaction Design Foundation, collated in one place:
Learn more about User Scenarios
Take a deep dive into User Scenarios with our course User Research – Methods and Best Practices .
How do you plan to design a product or service that your users will love, if you don't know what they want in the first place? As a user experience designer, you shouldn't leave it to chance to design something outstanding; you should make the effort to understand your users and build on that knowledge from the outset. User research is the way to do this, and it can therefore be thought of as the largest part of user experience design.
In fact, user research is often the first step of a UX design process—after all, you cannot begin to design a product or service without first understanding what your users want! As you gain the skills required, and learn about the best practices in user research, you'll get first-hand knowledge of your users and be able to design the optimal product—one that's truly relevant for your users and, subsequently, outperforms your competitors'.
This course will give you insights into the most essential qualitative research methods around and will teach you how to put them into practice in your design work. You'll also have the opportunity to embark on three practical projects where you can apply what you've learned to carry out user research in the real world. You'll learn details about how to plan user research projects and fit them into your own work processes in a way that maximizes the impact your research can have on your designs. On top of that, you'll gain practice with different methods that will help you analyze the results of your research and communicate your findings to your clients and stakeholders—workshops, user journeys and personas, just to name a few!
By the end of the course, you'll have not only a Course Certificate but also three case studies to add to your portfolio. And remember, a portfolio with engaging case studies is invaluable if you are looking to break into a career in UX design or user research!
We believe you should learn from the best, so we've gathered a team of experts to help teach this course alongside our own course instructors. That means you'll meet a new instructor in each of the lessons on research methods who is an expert in their field—we hope you enjoy what they have in store for you!
All Literature