Information Radiators
Your constantly-updated definition of Information Radiators and collection of topical content and literature
What are Information Radiators?
Information radiators are visual artifacts displayed prominently in a team's workspace to convey key information to all team members. Also known as "big visible charts," they ensure everyone on the team has access to updated information at all times, thus facilitating transparency and preventing miscommunication.
Examples of Information Radiators
The term "information radiator" can be applied to a range of artifacts. Anything that is important for the team to know can be considered an information radiator. 
UX teams often use radiators such as personas, key user stories, "voice of the user" quotes and user journeys to constantly remind the team about the purpose of the project and to keep users front and center.
Teams may also put up posters and crucial guidelines as constant reminders; for example, a list of dos and don'ts for creating accessible designs, moodboards and design principles. 
The Kanban board is widely used in the software industry by agile teams. It shows project status in real-time and helps teams know who is working on what at any given point in time. 
A team may choose to display metrics such as application usage, revenues and error reports, to help teams stay clued in to product performance.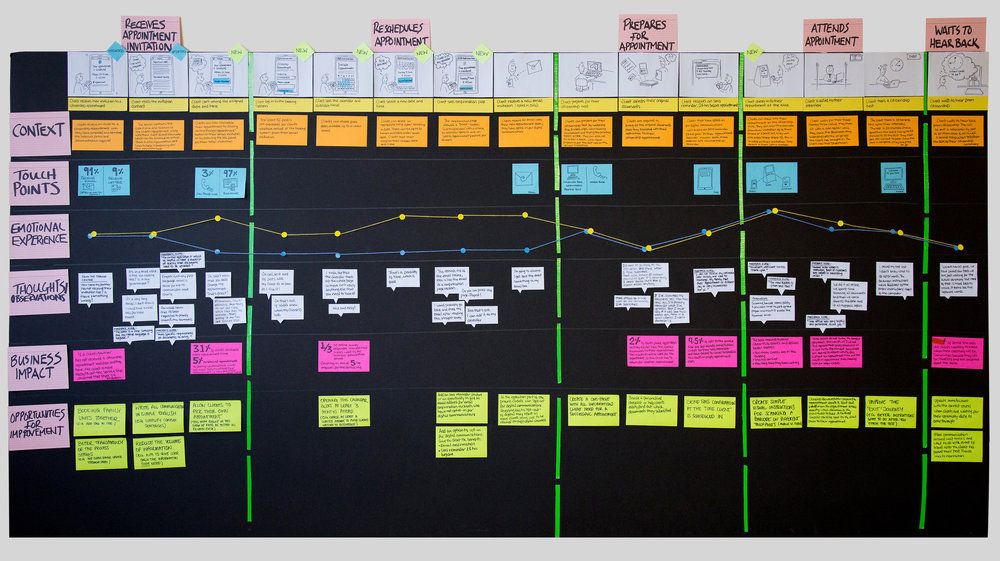 © Eliska Davis, CC BY (source)
Information Radiators in Remote Teams
In remote teams, where team members do not have a shared physical space, digital dashboards and tools can serve similar functions. For example:
Team members can view usage analytics or statistics about customer complaint tickets on a team dashboard. With digital tools, teams can also take advantage of automation to set up notifications in the team's digital workspace. These could include daily/weekly snapshots or exception reports—when a key metric deviates significantly from the normal range.

Using collaborative, virtual whiteboards, teams can create shared spaces that contain all key information related to a project, including moodboards, personas, journey maps, etc.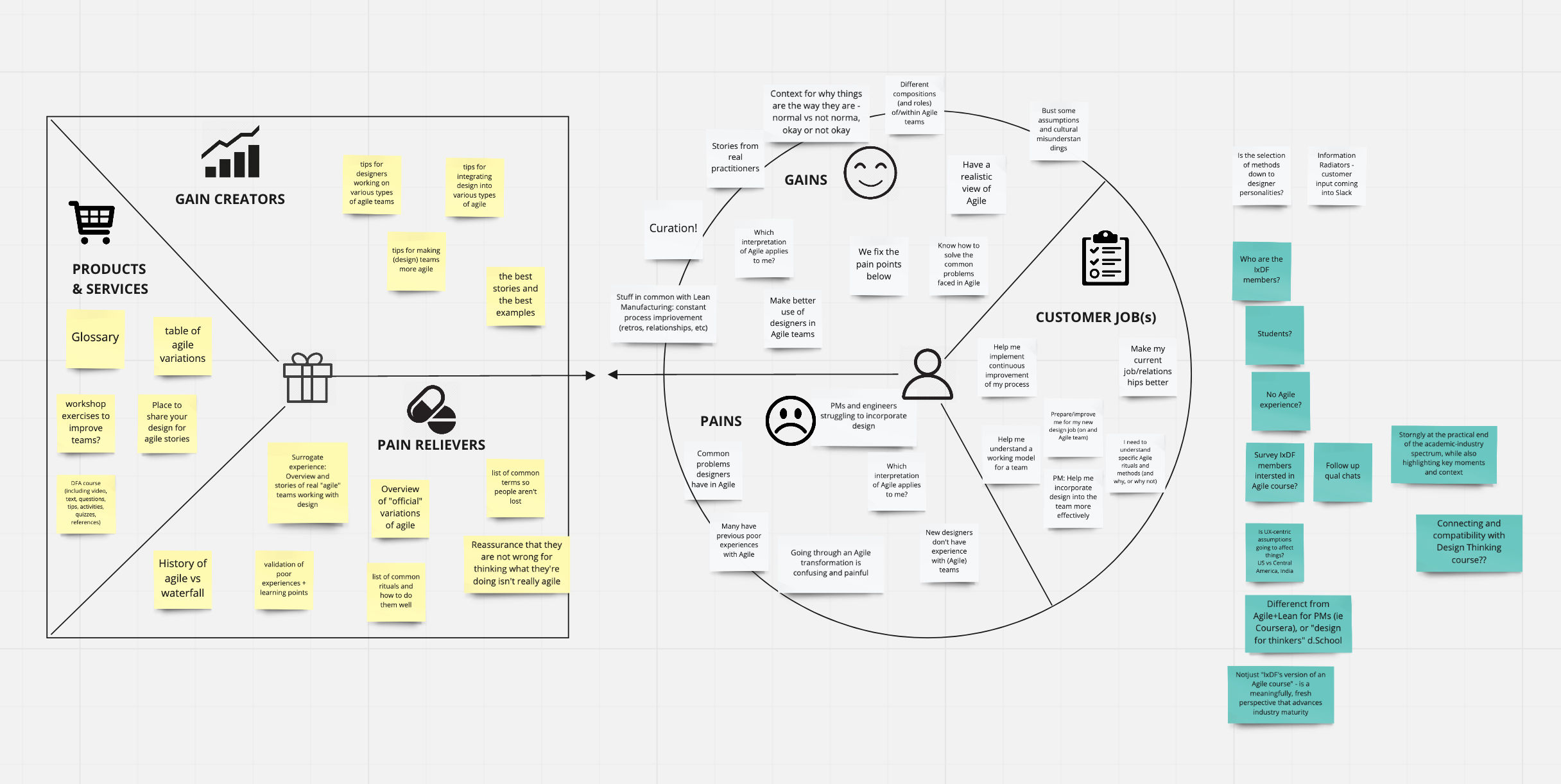 © Interaction Design Foundation, CC BY-NC-SA 3.0
Just because anything can be an information radiator, doesn't mean everything should. Select only the most relevant information that is important for everyone on the team to know about. A saturated space with too many radiators can overwhelm the team, or worse, team members may ignore the information, thus defeating its purpose. 
Learn More about Information Radiators
For more agile-related industry insights, methods, tips and best practices, take the course, Agile Methods in UX Design:
https://www.interaction-design.org/courses/agile-methods-for-ux-design 
The Agile Alliance explains the origins and benefits of information radiators here:
https://www.agilealliance.org/glossary/information-radiators/
Ron Jeffries, one of the founders of Extreme Programming (XP) writes about Big Visible Charts and offers examples of what type of charts are useful for a team:
https://ronjeffries.com/xprog/articles/bigvisiblecharts/ 
Here are some tips on creating effective information radiators:
https://www.leandog.com/blog/how-to-make-an-effective-information-radiator
Literature on Information Radiators
Here's the entire UX literature on Information Radiators by the Interaction Design Foundation, collated in one place:
Learn more about Information Radiators
Take a deep dive into Information Radiators with our course Agile Methods for UX Design .
Agile, in one form or another, has taken over the software development world and is poised to move into almost every other industry. The problem is that a lot of teams and organizations that call themselves "agile" don't seem to have much in common with each other. This can be extremely confusing to a new team member, especially if you've previously worked on an "agile" team that had an entirely different definition of "agility"!
Since the release of the Agile Manifesto in 2001, agile methodologies have become almost unrecognizable in many organizations, even as they have become wildly popular. 
To understand the real-world challenges and best practices to work under the constraints of agile teams, we spoke with hundreds of professionals with experience working in agile environments. This research led us to create Agile Methods for UX Design.
In this course, we aim to show you what true agility is and how closely agile methodologies can map to design. You will learn both the theory and the real-world implementation of agile, its different flavors, and how you can work with different versions of agile teams.
You will learn about the key principles of agile, examples of teams that perform all the agile "rituals" but aren't actually agile, and examples of teams that skip the rituals but actually embody the spirit.
You'll learn about agile-specific techniques for research and design, such as designing smaller things, practicing continuous discovery, refactoring designs, and iterating.
You will also walk away with practical advice for working better with your team and improving processes at your company so that you can get some of the benefits of real agility.
This course is aimed at people who already know how to design or research (or who want to work with designers and researchers) but who want to learn how to operate better within a specific environment. There are lots of tools designers use within an agile environment that are no different from tools they'd use anywhere else, and we won't be covering how to use those tools generally, but we will talk about how agile deliverables can differ from those you'd find in a more traditional UX team. 
Your course instructor is product management and user experience design expert, Laura Klein. Laura is the author of Build Better Products and UX for Lean Startups and the co-host of the podcast What is Wrong with UX?
With over 20 years of experience in tech, Laura specializes in helping companies innovate responsibly and improve their product development process, and she especially enjoys working with lean startups and agile development teams.
In this course, you will also hear from industry experts Teresa Torres (Product Discovery Coach at Product Talk), Janna Bastow (CEO and Co-founder of ProdPad) and Adam Thomas (product management strategist and consultant).
All Literature