People-Centered Design
Your constantly-updated definition of People-Centered Design and collection of topical content and literature
What is People-Centered Design?
People-centered design is a practice where designers focus on specific people's needs, taking the time to learn from particular populations. "People-centered" is a human-centered design principle. Designers can co-create proper solutions when they live among their target groups, tap their insights and find real issues.
"When you design, you have to understand what the capabilities are of the people you're designing for."
— Don Norman, "Grand Old Man of User Experience"
See why people-centered design is vital to finding the best solution to a certain group's problem.
Video copyright info

Airplane Cockpit by Riik@mctr (CC BY-SA 2.0)
https://www.flickr.com/photos/riikkeary/24184808394/

Cognitive Science building at UC San Diego. by AndyrooP (CC-BY-SA-4.0)
https://commons.wikimedia.org/wiki/File:Cognitive_Science.jpg

Pseudo-commands to illustrate how line-by-line text editing works. by Charlie42 (CC BY-SA 3.0)
https://en.wikipedia.org/wiki/Ed_(text_editor)#/media/File:Ed_lines.jpg
Show

Hide

video transcript

Transcript loading...
The Peoples of the World Need Solutions That They Help Customize
Cognitive science and usability engineering expert Don Norman saw the need to evolve away from user-centered design to give designers a more humanized view of their responsibilities to the people they design for. Human-centered design represents the shift towards that, on the road to humanity-centered design, which is the ultimate challenge for us as designers in helping the people we design for improve their lives. People-centered design is a refined term for human-centered design, comprising of four principles: People-centered, Solve the right problem, Everything is a system and Small & simple interventions.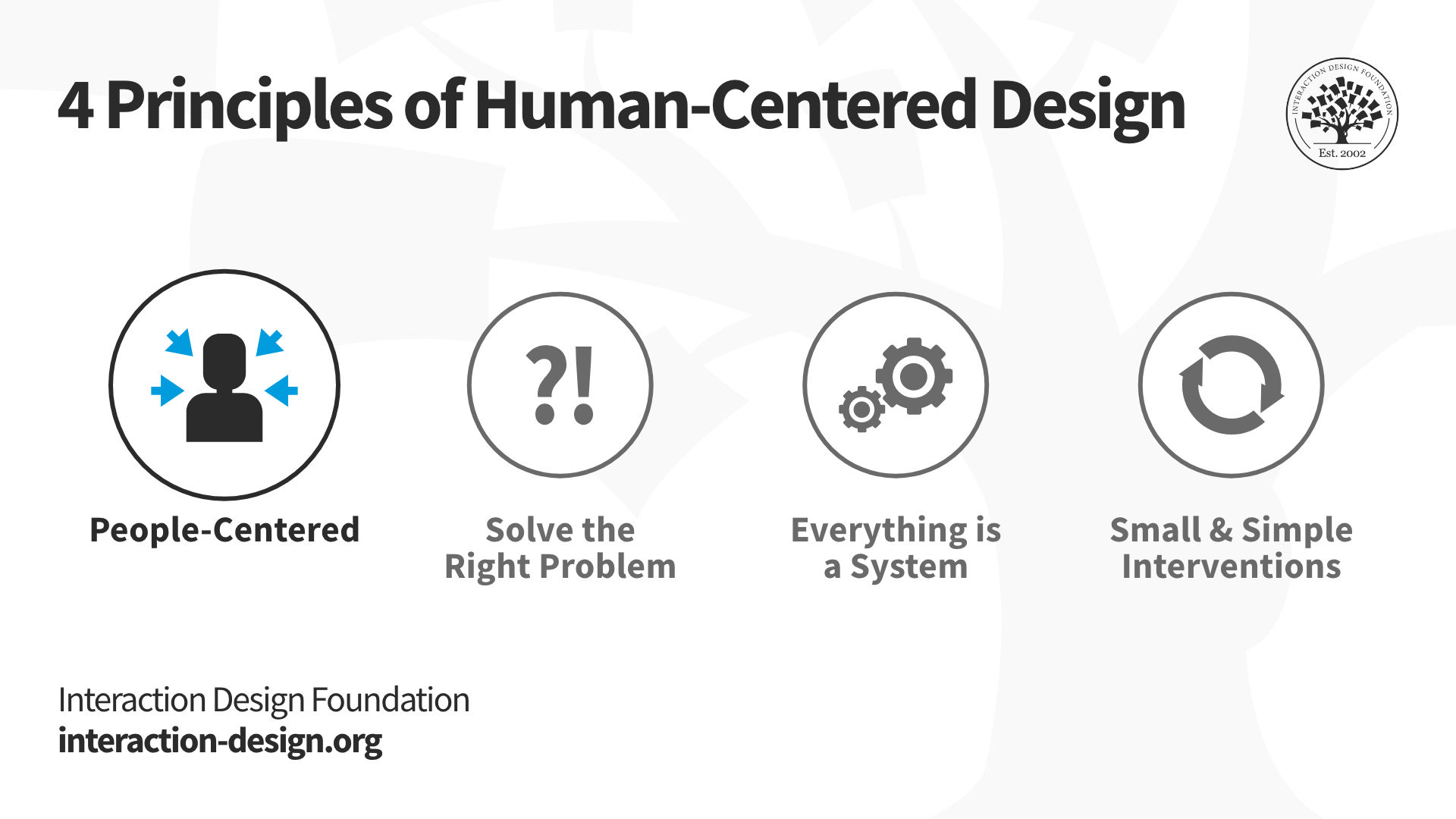 People-centeredness is a way to design for people in unfamiliar settings. The traditional approach to designing for "foreign" groups is a Western-centric one. Indeed, the West has access to the most advanced technologies and possesses vast economic resources to deliver intricately grand solutions. However, with that comes a problem. Western-based (or -oriented) designers tend not to understand the people they want to help, since they rarely spend longer than several weeks with them in their location. And because design teams tend to rush to a solution with only a Western perspective on problems, they run into difficulties by failing to do one or more of the following:
●      Appreciate that the people in the areas they have entered often already have a solid understanding of what they need.
●      Understand what these people really need and strive for, and what their environment lets them do.
●      See past the illusion of big fixes that "should work" on paper (but fail when implemented). Large-scale interventions can prove disastrous because:
The people and their governing entities get frustrated at not having effective results fast enough, and politics get in the way.

The sheer expense of large-scale projects causes problems, particularly through the waste from a failed solution.

The local populations can't understand or maintain the solution. For example, there's no point in installing sophisticated infrastructures if the local people don't have the resources to repair them.

The time a large-scale intervention takes means that the problem itself can change, or newer problems arise.
It's easy to overlook the fact that local populations very often know the nature of their issues. The old way of sending anthropologists to "understand" local people often blinds designers to this fact. While people who are experiencing problems may not be able to dig their way out on their own, very often this is not due to a lack of knowledge or even ideas about good solutions.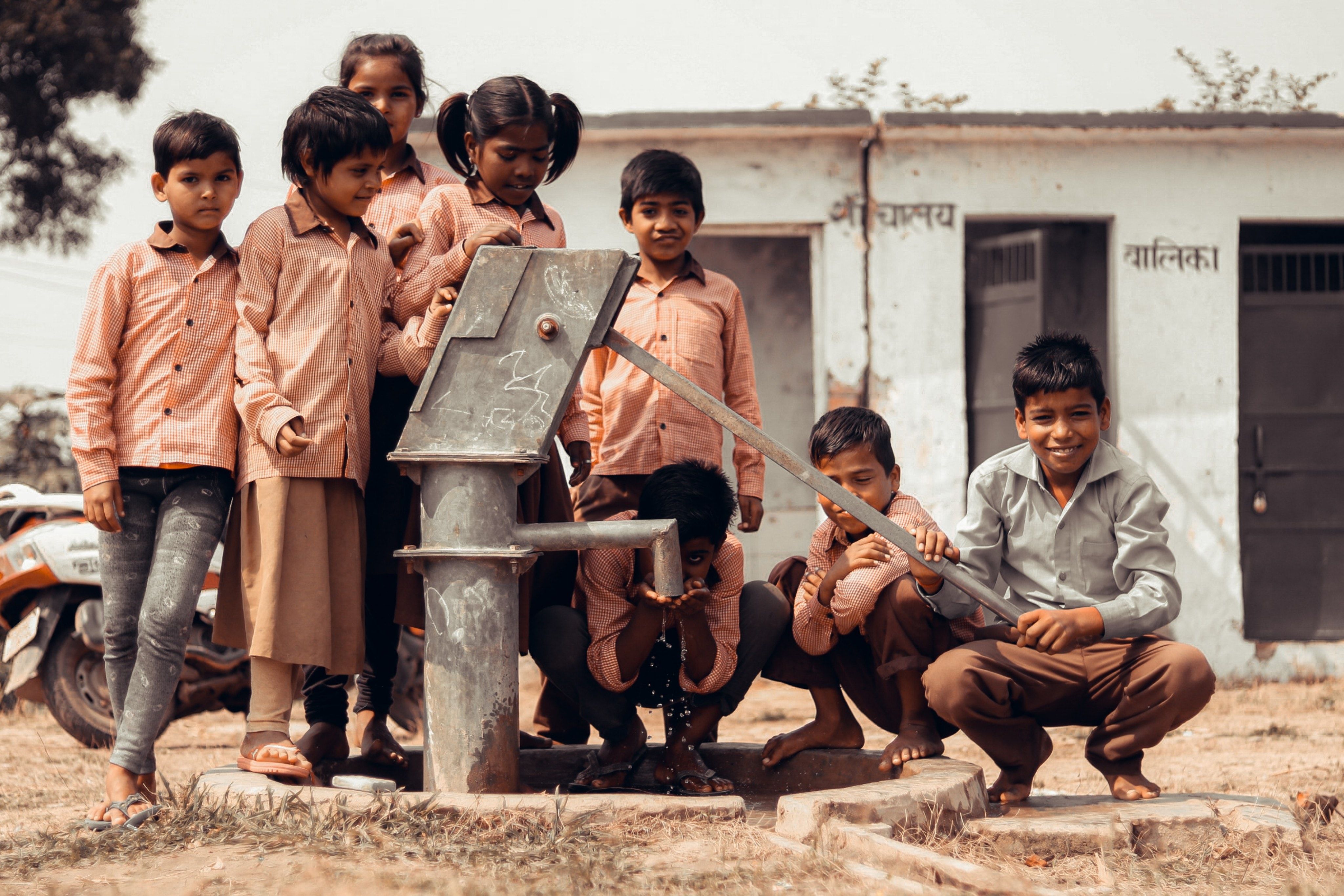 How to Apply People-Centered Design
Here's how to work your way towards real solutions for real people around the world:
●      Spend years in the location. It's the only way to discover the true nature of the problems in an area and gather invaluable insights.
●      Collaborate closely with the local populations. Earn their trust, learn their language and closely study what they show you about the world through their eyes. Many are creative and imaginative, and understand their problems as well as their own capabilities and limitations.
●      See everything as a system. Even the most simple-looking problems are usually intricately intertwined. So, aim past the symptoms (although symptoms still need treatment) to get at the root causes in the "big picture."
●      Co-design with your population. Where the community drives things, you're more likely to do things that the local people accept, and achieve real change. Get these people on board; let them contribute to the research, ideation, prototyping and production processes the solution involves. If they're invested in the solution like this, they'll feel ownership and be able to step in to fix things if the solution breaks or fails; or even improve it. Also, small and simple interventions work far better than grandiose, expensive big fixes (which often fail disastrously).
●      Keep an open eye on the solutions the population has attempted themselves. Understand what the people intended to do. If these were abandoned, learn why they failed. For example, was it the wrong technology? Did a natural disaster render them useless?
●      Remember that "foreign" can mean within your own country, province/state or even city. Regional disparity can mean huge differences in quality of life over just a matter of a few miles.
Overall, an approach to helping other populations achieve better lives and self-sustainability means involving them as co-creators and respecting their dignity and what they have to offer.
Learn More about People-Centered Design
Take our 21st Century Design course: https://www.interaction-design.org/courses/design-for-the-21st-century
Read this JND article for additional insights about people-centered design: https://jnd.org/the-four-fundamental-principles-ofhuman-centered-design/
Read this thought-provoking piece showing many considerations about community-driven design: https://medium.com/@IITDesign/51-futures-an-approach-to-community-driven-design-at-boxville-99f3bed8a3b4
Literature on People-Centered Design
Here's the entire UX literature on People-Centered Design by the Interaction Design Foundation, collated in one place:
Learn more about People-Centered Design
Take a deep dive into People-Centered Design with our course Design Thinking: The Ultimate Guide .
Some of the world's leading brands, such as Apple, Google, Samsung, and General Electric, have rapidly adopted the design thinking approach, and design thinking is being taught at leading universities around the world, including Stanford d.school, Harvard, and MIT. What is design thinking, and why is it so popular and effective?
Design Thinking is not exclusive to designers—all great innovators in literature, art, music, science, engineering and business have practiced it. So, why call it Design Thinking? Well, that's because design work processes help us systematically extract, teach, learn and apply human-centered techniques to solve problems in a creative and innovative way—in our designs, businesses, countries and lives. And that's what makes it so special.
The overall goal of this design thinking course is to help you design better products, services, processes, strategies, spaces, architecture, and experiences. Design thinking helps you and your team develop practical and innovative solutions for your problems. It is a human-focused, prototype-driven, innovative design process. Through this course, you will develop a solid understanding of the fundamental phases and methods in design thinking, and you will learn how to implement your newfound knowledge in your professional work life. We will give you lots of examples; we will go into case studies, videos, and other useful material, all of which will help you dive further into design thinking. In fact, this course also includes exclusive video content that we've produced in partnership with design leaders like Alan Dix, William Hudson and Frank Spillers!
This course contains a series of practical exercises that build on one another to create a complete design thinking project. The exercises are optional, but you'll get invaluable hands-on experience with the methods you encounter in this course if you complete them, because they will teach you to take your first steps as a design thinking practitioner. What's equally important is you can use your work as a case study for your portfolio to showcase your abilities to future employers! A portfolio is essential if you want to step into or move ahead in a career in the world of human-centered design.
Design thinking methods and strategies belong at every level of the design process. However, design thinking is not an exclusive property of designers—all great innovators in literature, art, music, science, engineering, and business have practiced it. What's special about design thinking is that designers and designers' work processes can help us systematically extract, teach, learn, and apply these human-centered techniques in solving problems in a creative and innovative way—in our designs, in our businesses, in our countries, and in our lives.
That means that design thinking is not only for designers but also for creative employees, freelancers, and business leaders. It's for anyone who seeks to infuse an approach to innovation that is powerful, effective and broadly accessible, one that can be integrated into every level of an organization, product, or service so as to drive new alternatives for businesses and society.
You earn a verifiable and industry-trusted Course Certificate once you complete the course. You can highlight them on your resume, CV, LinkedIn profile or your website.