9. Chapter 9: Enterprise Gamification Examples
by Janaki Mythily Kumar and Mario Herger
"Gamification is as important as social and mobile."
— Bing Gordon, partner at Kleiner Perkins
Gamification is still an emerging concept in the enterprise, so we do not have access to longitudinal studies on its effectiveness. The following examples are to provide inspiration for your own gamification endeavors.
9.1

Personal Sustainability

In 2010, our team in SAP Labs Palo Alto conducted research on personal sustainability as part of building a suite of sustainability applications. The intended users of these personal sustainability products were the employees of companies who purchase these products. It allows employees and potentially customers and partners to contribute to the sustainability key performance metrics of the company through their individual actions.

We interviewed more than 100 people to explore their attitudes and reactions to sustainability, identifed key areas of concern, determined what motivated people to take personal action, and examined the language used around sustainability.

We conducted four types of research activities:
Media Content Analysis: The goal was to determine which issues recieved popular attention and what language was used in the media. We reviewed top media sources of sustainability news, generated tag clouds of most used words and tracked attitudes towards issues as well as the frequency of their appearance in the media.
"Man on the Street" user interviews: The goal was to get spontaneous reactions to sustainability, language used, top issues of concern, and potential geographical variance. We interviewed people in three different locations — San Francisco, Walnut Creek, and Berkeley. Subjects were interviewed at their work or when shopping. Each participant was asked the same five questions about their personal experience and opinions about sustainability. The questions were:

There is a lot of talk in the news and media right now about sustainability and related issues. What do you think of that? What does sustainability mean to you?
Do you have personal concerns about any particular issues regarding sustainability?
Have you personally made any changes in your life around your sustainability concerns? Is there anything that you would like to do?
Did you have any resources that helped you make those changes or prompted you to make those changes, and if so, what were they and how did you make those changes?
Is there anything that you read or hear about regarding the topic that seems silly to you?

Focus Groups: The goal was to elicit thoughtful responses from the participants. The same five questions were distributed to focus group participants the day before the group session. The focus group sessions were conducted with roughly ten participants each.
Surveys: The goal was to test the consistency or differences in international responses, and to see trends in attitudes from large sampling of participants. The survey was distributed internationally, containing the same five questions. Responses were received from 76 respondents in 17 countries.
A set of design principles emerged from this research. They were:
Fit into their daily lives: Focus on what users do, not what they say they care about. During the user research, people say they have high level concerns — environmental degradation, peak oil, wasteful consumer culture — but actions they report actually taking occur during daily life, e.g., recycling, biking, taking public transit, buying organic & locally grown food.
Motivate effectively: Allow users to calculate financial benefit easily; do not nag and avoid polarizing viewpoint.
Leverage community influence: Promote community building, allow community to coerce sustainable behavior within reason and avoid appearing too authoritative.
Build trust: Facilitate knowledge sharing among friends and communities, and provide transparency.
Leverage persuasion theory (

footnote 1

) and gamification: Promote competition, reward success, give clear actionable recommendations and avoid general obvious ones.

Based on these design principles, the team designed a set of scenarios and mini-applications.
The overall mission was to engage employees in the sustainability initiatives of the company. We created the concept of initiatives that leaders in the community could initiate and draw others into the cause.
One of the concepts that the team created to illustrate the concept of Initiatives is called Vampire Hunter. Vampires are energy suckers that utilize energy even when they are turned off. Vampire energy is estimated to cost U.S, consumers $3 billion a year. (footnote 2) Vampire energy reduction results in cost savings and greenhouse gas reduction.
To address this use case, the team designed a game called the Vampire Hunter where departments, buildings and regional offices could compete to identify and reduce such vampire energy wastage in corporate settings.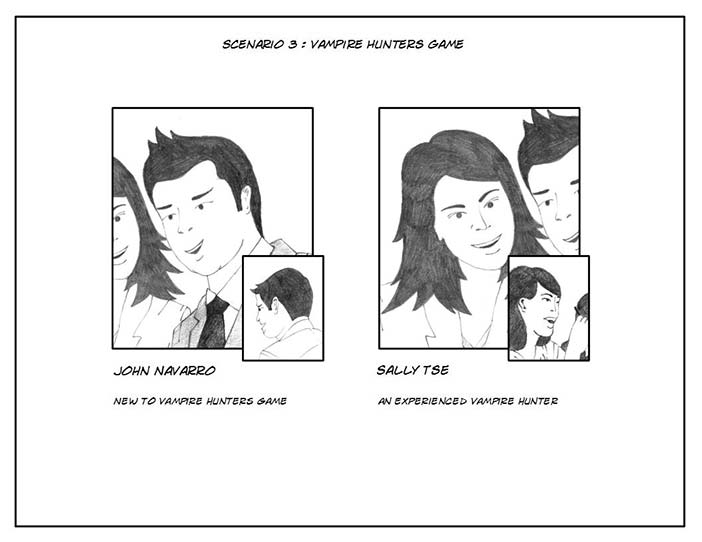 Courtesy of Mario Herger. Copyright: CC-Att-ND (Creative Commons Attribution-NoDerivs 3.0 Unported).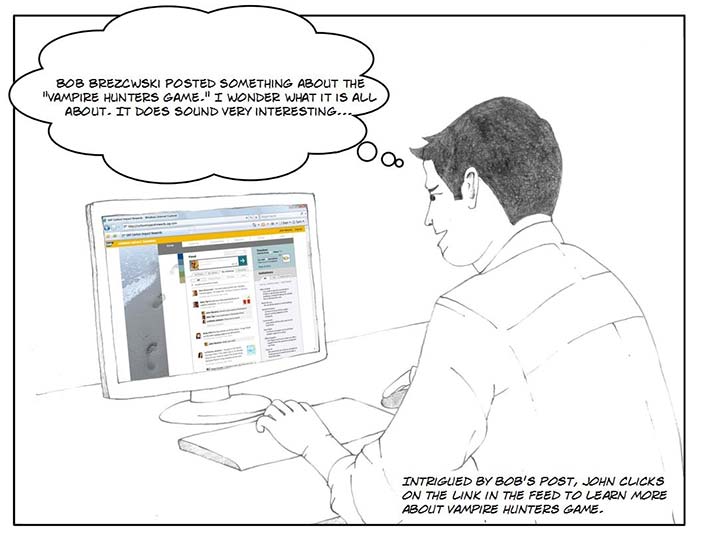 Courtesy of Mario Herger. Copyright: CC-Att-ND (Creative Commons Attribution-NoDerivs 3.0 Unported).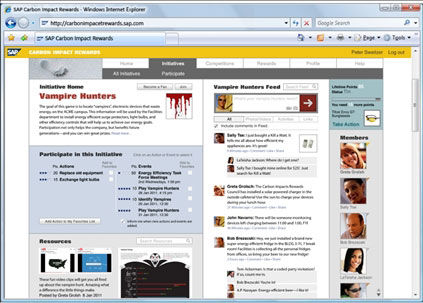 Copyright status: Unknown (pending investigation). See section "Exceptions" in the
copyright terms
below.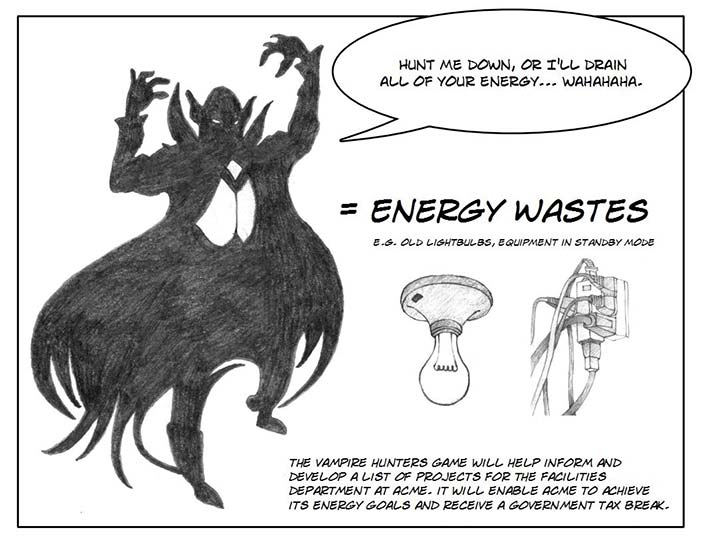 Courtesy of Mario Herger. Copyright: CC-Att-ND (Creative Commons Attribution-NoDerivs 3.0 Unported).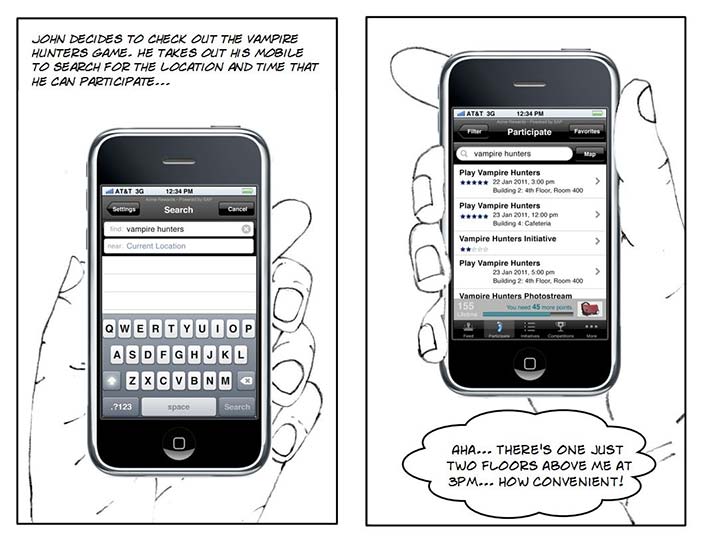 Courtesy of Mario Herger. Copyright: CC-Att-ND (Creative Commons Attribution-NoDerivs 3.0 Unported).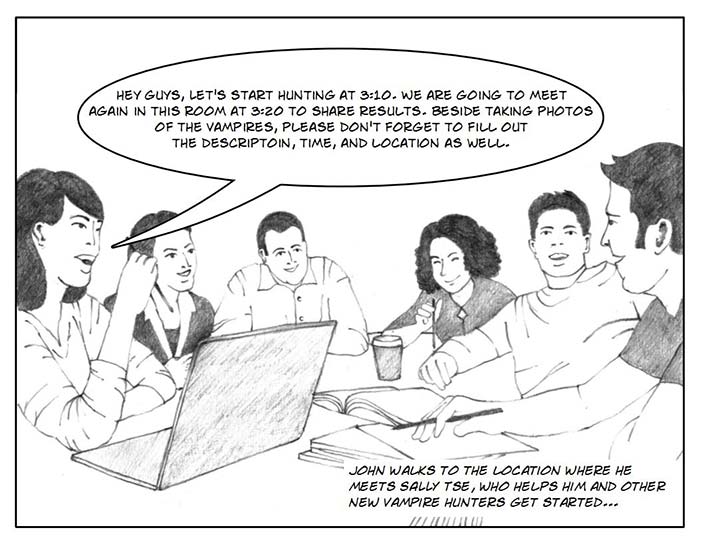 Courtesy of Mario Herger. Copyright: CC-Att-ND (Creative Commons Attribution-NoDerivs 3.0 Unported).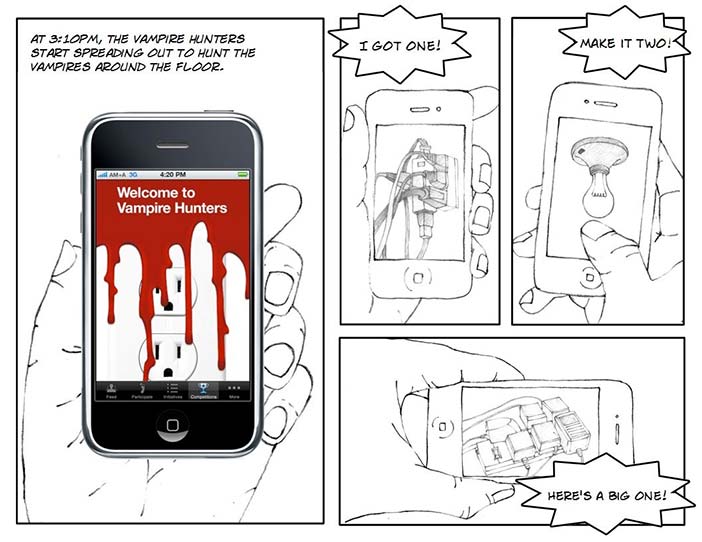 Courtesy of Mario Herger. Copyright: CC-Att-ND (Creative Commons Attribution-NoDerivs 3.0 Unported).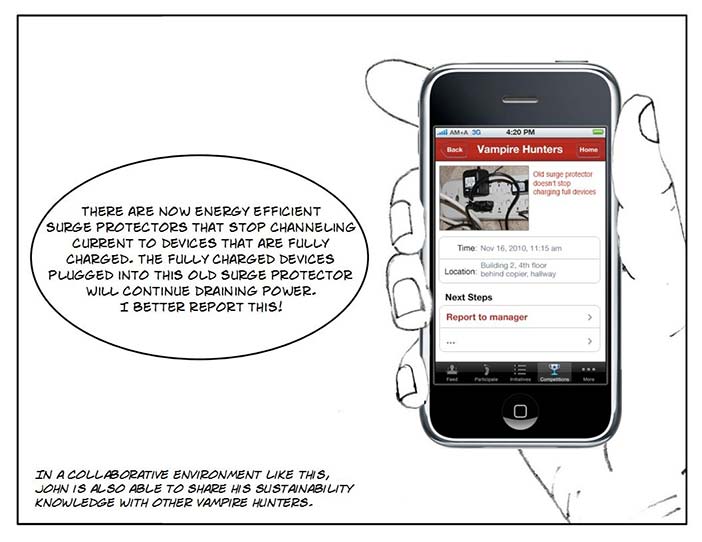 Courtesy of Mario Herger. Copyright: CC-Att-ND (Creative Commons Attribution-NoDerivs 3.0 Unported).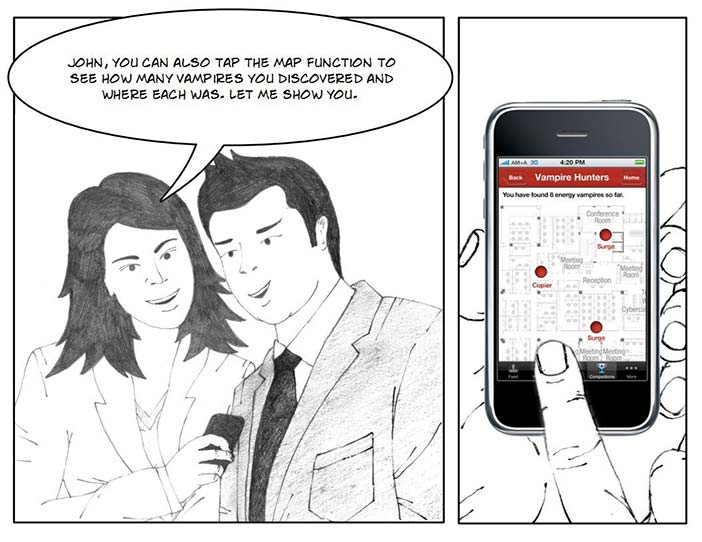 Courtesy of Mario Herger. Copyright: CC-Att-ND (Creative Commons Attribution-NoDerivs 3.0 Unported).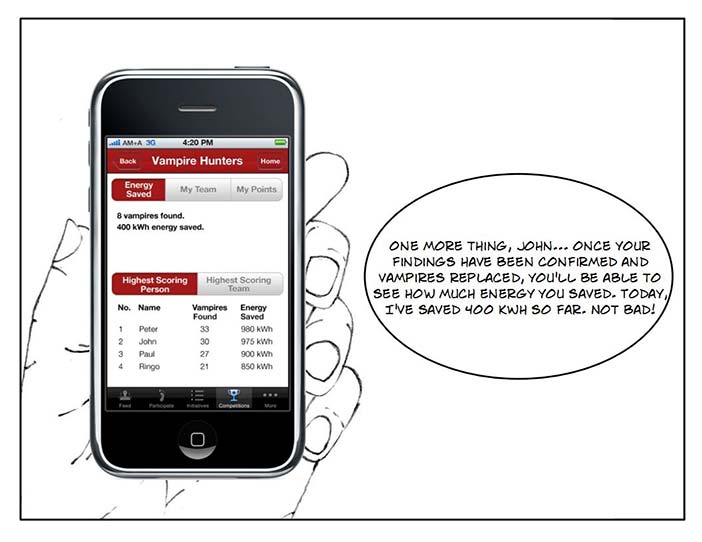 Courtesy of Mario Herger. Copyright: CC-Att-ND (Creative Commons Attribution-NoDerivs 3.0 Unported).
Employees form teams and compete to identify "vampires" — or in more prosaic terms: "products that waste energy" — on the corporate campus.
They join the "vampire hunt" — a type of scavenger hunt — where colleagues walk through a certain area of a building to identify old light bulbs, equipment in standby mode, old surge protectors that keep charging devices even if they are fully charged, and other energy suckers. They take pictures with their smartphones and report that to the "vampire hunter headquarters." For each vampire found, a total of saved kWh is calculated and awarded to the members. The result leads not only to a reduction in energy consumption, lower costs and potential tax breaks, but also encourages previously unacquainted colleagues to network with one another.
9.2

SAP Roadwarrior

Being a sales representative in a large technology company like SAP involves keeping up with a constant stream of new technical information and dynamic changes. Sales representatives in emerging areas such as mobility technology have noted that they feel "sandwiched" between the inquiries and questions from customers and the flood of new technologies and mobile applications released by the development teams.

Typically, there are documents and e-learning videos available to the sales reps. However, these are time-consuming to go through, and sales reps do not find that this training format meets their needs.

Enter SAP Roadwarrior! SAP Roadwarrior is a game that simulates a customer meeting in which the sales rep needs to respond to customer questions to earn points and unlock badges. First, the sales rep is offered company information as part of a "pre-call planning". Then the sales reps are presented a series of customer questions. They can earn points and badges and unlock levels for correct question and meeting preparation. In the background, the system creates a "cheat sheet", for the sales rep, which the sales rep could use for real customer meetings. The game has features such as "life line" which allows the sales rep to learn throughout the game. It also offers instant feedback via a "conversation meter", to show how well the meeting is going.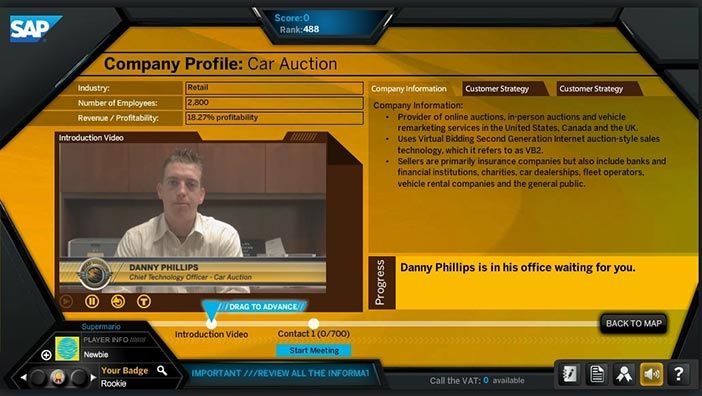 Copyright © SAP AG. All Rights Reserved. Used without permission under the Fair Use Doctrine. See the "Exceptions" section (and subsection "fairUse") of the copyright notice.
Sales reps meet with several customers in one industry before they can unlock the next level to meet customers from other industries. This allows sales reps to gather cross-industry knowledge. Players can also challenge other players, to match answers to a question. A leaderboard shows the score of all players. Being competitive in nature, this motivates the sales reps to try to do better than their peers do. Ultimately, it helps them feel more comfortable in customer meetings, having practiced via the simulations in Roadwarrior.
In the end, this game fulfills three purposes: it turns learning about SAP's mobile applications and technologies into a fun game, it puts sales reps into simulated meetings with customers to prepare them for real meetings, and it allows players to socialize, compete with and motivate each other. Of course, the real goal of the player is to sell more, make more money, and retire by 35 on an island in the Caribbean. "Another piña colada for the Beachwarrior, please!"
9.3

Time Recording

Recently, at the Gamification Summit in San Francisco, one of the authors (Herger) met Brady Wicken from the consulting company Slalom Consulting. He shared a gamified version of a time recording system that they had implemented in their organization.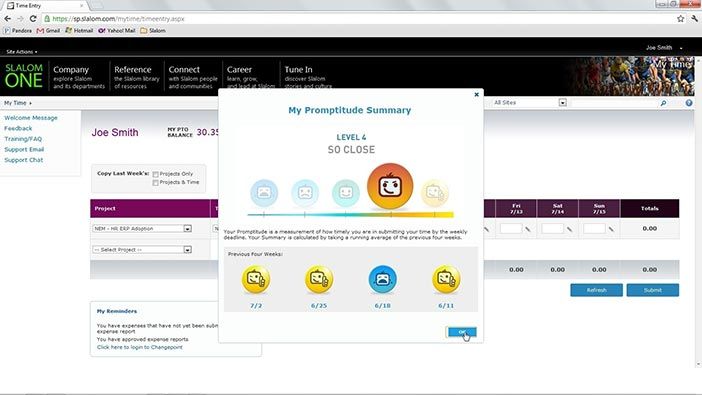 Copyright © Slalom Consulting. All Rights Reserved. Used without permission under the Fair Use Doctrine. See the "Exceptions" section (and subsection "fairUse") of the copyright notice.
Slalom Consulting is a company that requires all their employees to assign their time correctly and promptly to the clients for accurate and on-time billing. The time must be entered by Sunday, approved by managers on Monday, clients billed and payroll run by Wednesday.
Any delay on the part of the employee delays the entire process downstream. To encourage employees to enter their time by Sunday, they created a "Promptitude" score. This is a simple score that evaluates if the employee entered their time by Sunday noon PST, and calculates a 4-week running average. This score is displayed on a scale of 1 — 5 with a sense of humor. The lowest score has some hilarious text that incorporates a healthy dose of friendly "Shamification". Introducing this simple widget was enough to remind the employees and motivate them to enter their information in time.
9.4

SmartGate — The Change Management Game

In 2009 Air Cargo Netherlands, Dutch Customs and Schiphol Airport decided to improve collaboration within the logistics chain to increase speed of deliveries. The logistics chain refers to the management of the flow of resources from its point of origin to its destination. It includes the process steps involved in both the flow of physical goods and the information flow in the system. To smoothen the airfreight system, they introduced a system called SmartGate (footnote 3) to have all parties in the logistics chain share relevant information in time. To educate employees from the parties involved, a game-version of SmartGate was developed that helped with the change management process to onboard people faster and make them feel more comfortable with the new system.

The objectives were to introduce SmartGate as a new way of working, to increase insight in 'chain-thinking' and show the consequences of transporting 'green' and 'red' freight. The target audience was 350 companies surrounding Schiphol Airport, involved in the air cargo industry as either a shipper, forwarder, trucker, handler, or airline.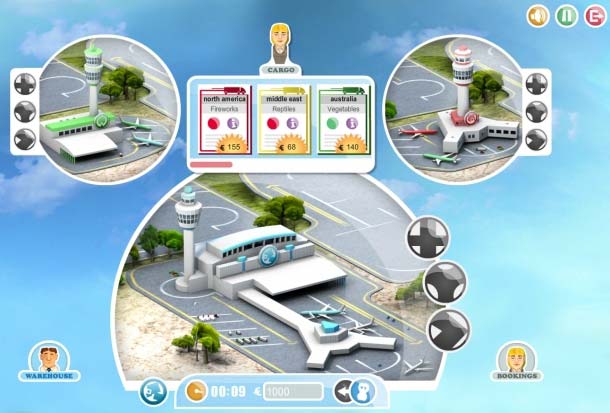 Copyright © Smart Gate The Game. All Rights Reserved. Used without permission under the Fair Use Doctrine. See the "Exceptions" section (and subsection "fairUse") of the copyright notice.
9.5

Compliance Training

Employees of large corporations are required to complete mandatory compliance training annually. At SAP, we go through an online version of the Corporate Security and Business Code of conduct training. We are then tested on our knowledge and certified to be in compliance. Managers need to complete the Sexual Harassment (footnote 4) training periodically as well. Companies need to report externally the level to which their employees are trained and certified.

Most employees understand such compliance training's importance and business value, but find it boring and time consuming. As a result, a number of employees procrastinate and forget to complete the training. This leads to multiple reminders and managers being notified on non-compliance. This is all around a painful process for all parties concerned.

This is where TrueOffice comes in. The creative staff of TrueOffice have turned this boring compliance process round and gamified it. The players are normal office workers, and the mission is to train them and certify them in compliance. The designers have reimagined the dull compliance rules into fast-paced 20-minute interactive story modules. After each segment, the player is presented a compliance puzzle that they need to solve based on the training they just received. Players earn points and proceed through levels until completion.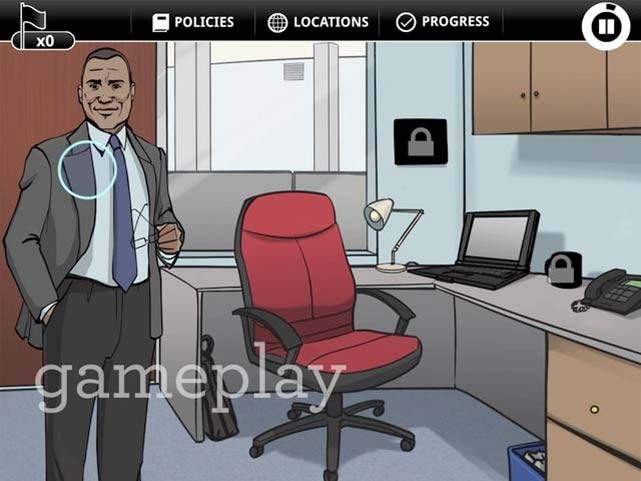 Copyright © True Office. All Rights Reserved. Used without permission under the Fair Use Doctrine. See the "Exceptions" section (and subsection "fairUse") of the copyright notice.
Managers can monitor their team's progress via a dash board. C-level executives can see their overall company's compliance status. TrueOffice is very popular in the banking industry as well as in other industries where a number of laws and regulations need strict compliance.
In January 2013, TruOffice raised $3.1 million in series A funding for gamified compliance training (footnote 5). True Office Founder and CEO, Adam Sodowick made the following comment with regard to his company's funding:
"With fines now exceeding the billion dollar mark for compliance oversights, financial institutions are looking to True Office to provide a solution that not only protects their business and reduces costs, but also exponentially raises the current industry standard for compliance training. There aren't many effective options to help understand regulation and change behaviors but a well-designed game has the power to engage employees and at the same time, produce analytics that can help the banks identify and reduce operational and compliance risk."
9.6

More examples

More gamification examples in the enterprise context can be found under http://enterprise-gamification.com/index.php/en/examples.
Topics in this book chapter:
Premium literature on UX design
Enjoy unlimited downloads of our literature as an IDF member:
iPad/tablet-optimized version and PDF version of all our online textbooks written by 100+ leading designers, bestselling authors and Ivy League professors.
Self-service export to all popular formats, such as ePub.
Pre-publication access to all textbooks - read them before everybody else.
×
AUTHOR(S)
Janaki Kumar is the Head of Strategic Design Services, America, SAP's Design and Co-Innovation Center. She leads a team of interaction designers, visual designers and user researchers to design innovative solutions for strategic customers. She has extensive experience building and leading high performance user experience teams. She had led globally distributed teams, with UX professionals in the US, India, China and Germany. Janaki has a Masters in Finance from India and a Masters in Information Systems from Boston University. She has filed for 18 and holds 13 patents for innovative user interface concepts. She can be followed on twitter @JanakiKumar and she is a regular contributor to sapdesignguild.org.
Mario Herger is a Senior Innovation Strategist at SAP Labs in Palo Alto, California and Global Head of the Gamification Initiative at SAP. He is ranked at the "Leaderboarded Gamification Gurus"-list under the top 5. In his work as head of the Gamification Initiative at SAP he has encountered and supported gamification efforts in the enterprise from multiple levels and departments, like Sustainability, On Demand, Mobile, HR, Training & Education, and Banking etc. He has driven the awareness around gamification inside and outside SAP by organizing and leading innovation events around this topic, holding full day gamification workshops, working with gamification platform- & service-providers and game studios, and by incorporating gamification into SAP's strategy. He has a Ph.D. in Chemical Engineering from the Vienna University of Technology and an undergraduate degree in International Business Management from the Vienna University of Economy.