A sales pitch gets you through the door of a client, but the way you present your business and close sales is what determines your eventual success as an entrepreneur or freelancer. As with all elements of sales, there's a process you can use to present your business well and to close more business than you lose, too.
All of your sales efforts are really about the moment where you present your services to your clients. Here, you will learn how to do so whether you present your entrepreneurial services over Skype, the phone or in person. The process for this is a little more complex than the rest of the sales process. A lot will depend on whether you have been asked to pitch to a specific need or whether you are pitching in the hopes of creating a need with that client. However, some simple pointers exist to make this process easier than you might expect.
It's Not About You – It's About the Client
The biggest mistake rookie salespeople make is launching into a presentation about what they do and sell. Even if you are a rock star presenter, this approach is likely to lead to a firm "no thank you" from the client.
The right way to start a client meeting over Skype, the phone or in person, is to focus on the client. According to Neil Rackham, the world-famous researcher, sales trainer and the author of SPIN Selling, you have four types of questions to choose from:
Situation Questions – These questions help you flesh out an understanding of things you don't know. They range from "How many employees do you have?" to "Which provider do you use for design services at the moment?" You ask situation questions to get a better feel for where the client may be facing issues, as well as to get a handle on the basics of what a client does.
Problem Questions – These questions help you identify where the client's pain points are (and thus where your services might be beneficial). They are easy to phrase – "What issues are you having making sales via your website at the moment?", "What kind of problems are your customers having with your product?"
Implication Questions – Not every problem needs solving. You need to dig a little deeper and ask, "What does that mean to your business—what's it costing you?" Finding that the company is doing 10% fewer sales than a year ago or taking 75% more customer care calls than they can handle shows that the problem is meaningful and requires a solution.
Need Questions – Take the problem and its implications, and turn it into a sales need. "So, what you're saying is that 10% fewer sales is costing you $50,000 a month?" or "So you're paying three full-time customer care agents at $50,000 each a year?" followed by "So, you'll need to fix this problem right?"
Once you've reached a need… you can address it. That's the time to present how your service will fix the client's problem.
Don't forget, when asking a client questions, keep your mouth shut and listen to the answers. Clients will see whether you're listening (and if you don't know how, you might want to find out how to use "active listening" to demonstrate this) and are much more likely to respond favourably to someone who is listening to them.
"Successful people ask a lot more questions during sales calls than do their less successful colleagues. We found that these less successful people tend to do most of the talking."
― Neil Rackham, Major Account Sales Strategy, successful marketing and sales author, consultant and academic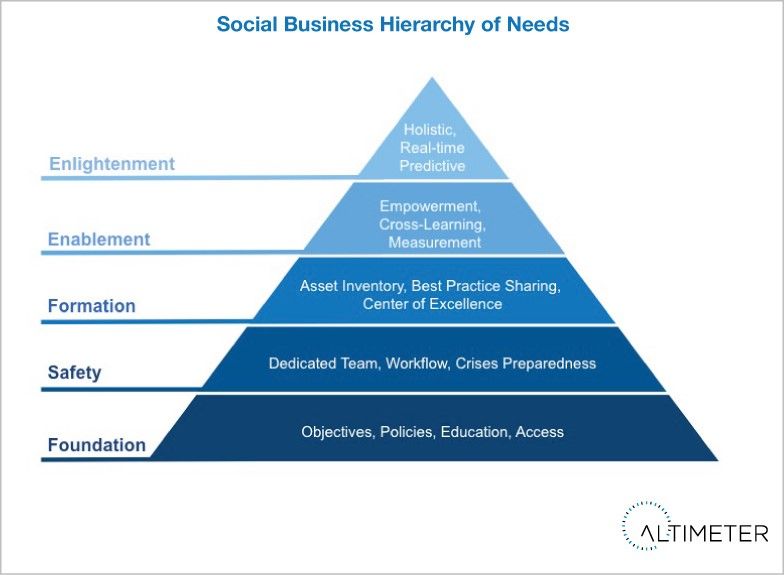 Author/Copyright holder: Jeremiah Owyang. Copyright terms and licence: CC BY-NC 2.0

Don't forget that different business structures will have different needs. Social businesses and not-for-profit businesses may have very different needs from big cash-making corporations.
Present Solutions to the Problem
How you present is up to you. In most cases, if you're meeting with a client one-to-one, a PowerPoint and standing presentation is overkill.
Do have supporting materials on hand to show prospective clients how you've dealt with issues in the past and the results gained from those efforts.
Ask the client for their input throughout the process. What do they think? Can they see how this would apply in their situation? Do they have any questions? Don't leave this right up to the end – it's always better to keep your presentations clear throughout the process.
However, it may be appropriate—if you're presenting to a room full of managers/directors—to leave questions until the end of the presentation. Confident facilitators and presenters don't find questions from an audience hard to handle while they stay on track, but if you're not used to this, then for large audiences, hold the questions to the end.
How to Handle Objections
"It's more dangerous to ignore signals of customer concern than it is to explore potential concerns and get them out into the open."
― Neil Rackham, Major Account Sales Strategy, successful marketing and sales author, consultant and academic
Two schools of thought exist on objections offered by clients during sales presentations:
They are a good thing. It shows the client is engaging with you, and if you can handle them, you're closer to the sale.
They are a bad thing. Clients with objections are less likely to buy from you.
The truth is – it depends on the client. Some clients love to see how you handle objections and enjoy a little back-and-forth over an idea; it gives them confidence in the process and the person in front of them. Others are less inclined to engage in debate, and their objections are deeply rooted in serious concerns; however well you handle them, they're less likely to buy from you.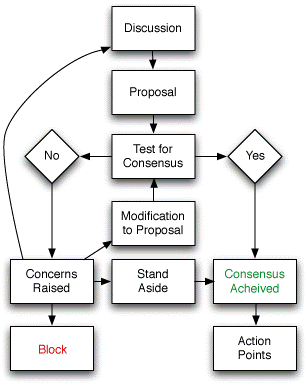 Author/Copyright holder: grant horwood. Copyright terms and licence: CC BY-SA 3.0
Objections arise in any form of negotiation – they're a natural consequence of discussion; learning how to handle them can boost your sales.
The best strategy for handling objections is to try to prevent them from arising. You do this by understanding what your clients are likely to object to and addressing these concerns as part of the presentation. This comes with practice. The more presentations you deliver, the more objections you will hear—and the easier it will be to build in countermeasures to these objections in your sales presentations.
Until you reach that point, the method for handling objections is simple:
Check you've understood the issue properly. Repeat it back to the client as a form of question: "So, if I understand you right, you're worried about the use of Flash in a design because of the issues with browsers and Apple?"
Once you've gained understanding, explain what you will do to ensure this isn't a problem. "I completely understand your concerns. While this demonstration uses Flash, we've moved to using HTML 5.0 for delivering this style of design now. That's completely compatible with all browsers and with Apple devices, too."
Then ask if this addresses the client's concern. If not, elaborate further. If so, move on.
How to End the Meeting and Close the Sale – Summarize
Before you go forward to ask for the sale—summarize. Summarize the client's needs first, and get their agreement to this need. E.g., "You said at the start of this meeting that you needed to find a solution to increase sales via your website. At the moment you feel it is under-performing around 10% month on month, and that's costing you $150,000 a year in revenue. Is that correct?"
Then summarize your solution. "I propose to do XYZ for you. This should result in a 15% uplift in sales based on previous experiences with similar clients. This will result in $220,000 more in revenue each year and will only cost $10,000."
Once you've completed the summary—you can go on to closing the sale. The client should be clear at this point about the problem you are solving for them, why it needs solving, and the value that you bring to the process.
Author/Copyright holder: Arpit Gupta. Copyright terms and licence: CC BY 2.0

Scott Adams makes a great point in this Dilbert cartoon. A summary is only effective if it's brief and to the point.
The Take Away
Sales presentations vary dramatically from service to service. Yet, the best all have a common theme – they focus on the client, identify meaningful problems and offer valuable solutions. If you can learn to do this via questioning before you offer your services—you'll find it's not that difficult to close business sales in the long run.
If you're unsure as to how to persuade your customers, you might want to remember what Zig Ziglar, the marketing guru, had to say; "Every sale has five basic obstacles: no need, no money, no hurry, no desire and no trust." If you can navigate these obstacles, you're ready to ask for the order.
References & Where to Learn More
Hero Image: Author/Copyright holder: Cheryl. Copyright terms and licence: CC BY-SA 2.0
Neil Rackham, SPIN Selling, 1996
Neil Rackham, Major Account Sales Strategy, 1989
Zig Ziglar, Secrets of Closing the Sale, 2004
Jeffrey Gitomer, Little Red Book of Selling: 12.5 Principles of Sales Greatness, 2004
Daniel H. Pink, To Sell Is Human: The Surprising Truth About Moving Others, 2013
Frank Bettger, How I Raised Myself From Failure to Success in Selling, 1992
Art Sobczak, Smart Calling: Eliminate the Fear, Failure, and Rejection from Cold Calling, 2010
Brian Tracy, The Psychology of Selling, 2006
Jeffrey Gitomer, The Sales Bible: The Ultimate Sales Resource, 2014
Oren Klaff, Pitch Anything: An Innovative Method for Presenting, Persuading, and Winning the Deal, 2011
Tom Hopkins, How to Master the Art of Selling, 2005