There's an easy way to start your marketing for your freelance business or your business-to-business start-up – using freelance brokerage sites such Upwork, Guru and Freelancer. Unfortunately, this isn't as clear cut as it might appear at first glance, and there are potential downsides to this form of marketing, too. Make sure you're fully informed about how to market on freelance brokerage sites before you waste your time and money on them. Here, you'll learn all you need to know to get started. If others can make millions on these sites—so can you.
Upwork, Guru and Freelancer are freelance brokerage sites. That means they connect freelancers and business-to-business start-ups to clients and take a commission on the deal. The freelancer or start-up is paid by the client, not the brokerage site. The sites offer an easy way to get a business started.
If there's a more contentious arena of freelance and start-up marketing than using freelance brokerage sites, we've yet to come across it. You will hear, "They're full of criminals who pay no money."—and on the client side—"All the freelancers are amateur clowns."
There's some truth in both these positions, but it's certainly not the whole truth. At the Interaction Design Foundation we've found some of our loyal freelancers on Elance (now Upwork). We know several freelancers who, over the course of time, made more than $150,000 on that platform.
We tend to agree with Dennis Waitley, the American motivational speaker who says in his book "Seeds to Greatness":
"The winners in life think constantly in terms of I can, I will, and I am. Losers, on the other hand, concentrate their waking thoughts on what they should have or would have done, or what they can't do."
– Dennis Waitley
So, let's take a closer look at these platforms and how you can fairly easily get started earning your first income:
How Do Freelance Platforms Work?
All the platforms allow you to create a personal profile, and they give you a number of credits to "bid" on RFPs (Request for Proposals) submitted by would-be clients for services. If you run out of credits, you can buy more for a small fee. In some cases, you can also pay a little extra for enhanced profile options or to add additional information to bids you place.
In addition to these fees, the platforms also take a percentage of your earnings (approximately 10%) on any project. In exchange, they provide payment protection so that when you complete your work, as long as you have used their protection methods, you are guaranteed (to some extent) to be paid.
You also get paid much faster via these platforms than "in real life" – mainly because projects are already paid for (in escrow) when you start work. The client has no reason to hold back payment when work is complete – whereas many clients in the real world will expect terms of 30 days (or even 60 or 90) following completion of work.
Are Freelance Platforms Any Good?
We've spent a fair amount of time researching these platforms and talking to other freelancers and owners of business-to-business companies. In general, we're agreed on the following:
Upwork
Is the best general freelance platform. It replaces both Odesk and Elance, which were highly popular platforms before they merged. There are hundreds of freelancers earning all of their living on this platform and thousands more earning a part of their living.
Jobs from nearly all freelance specialisms are represented on Upwork and while not every client pays market rates, there are clients who do pay them (or thereabouts).

Author/Copyright holder: Upwork.com. Copyright terms and licence: Fair Use.
Upwork is considered to be the best general freelance platform.
Hubstaff Talent
Hubstaff Talent is a free directory for the world's top freelancers and is quickly growing in popularity each day.
The main thing that separates Hubstaff Talent from the rest is that it is completely free, there are no markups and no fees for both the freelancer or business owner.
The platform is easy to use for both business owners and freelancers. Business owners can quickly find and scale a remote team for their business, they are able to search thousands of contractors based on skill, location or category and contact the team member they feel will be a good fit directly.
Hubstaff Talent has thousands of remote startups, software companies, agencies and ecommerce businesses that are looking for talent just like you. Sign up for a profile so they can contact you directly for work they need done.

Author/Copyright holder: Hubstaff.com. Copyright terms and licence: Fair Use.
Hubstaff Talent is a great place to look for freelance work that is actually worth your time.
Guru
Guru is not bad, but it's definitely focused best on opportunities for developers. There are writing and design projects on Guru, but they're few and far between.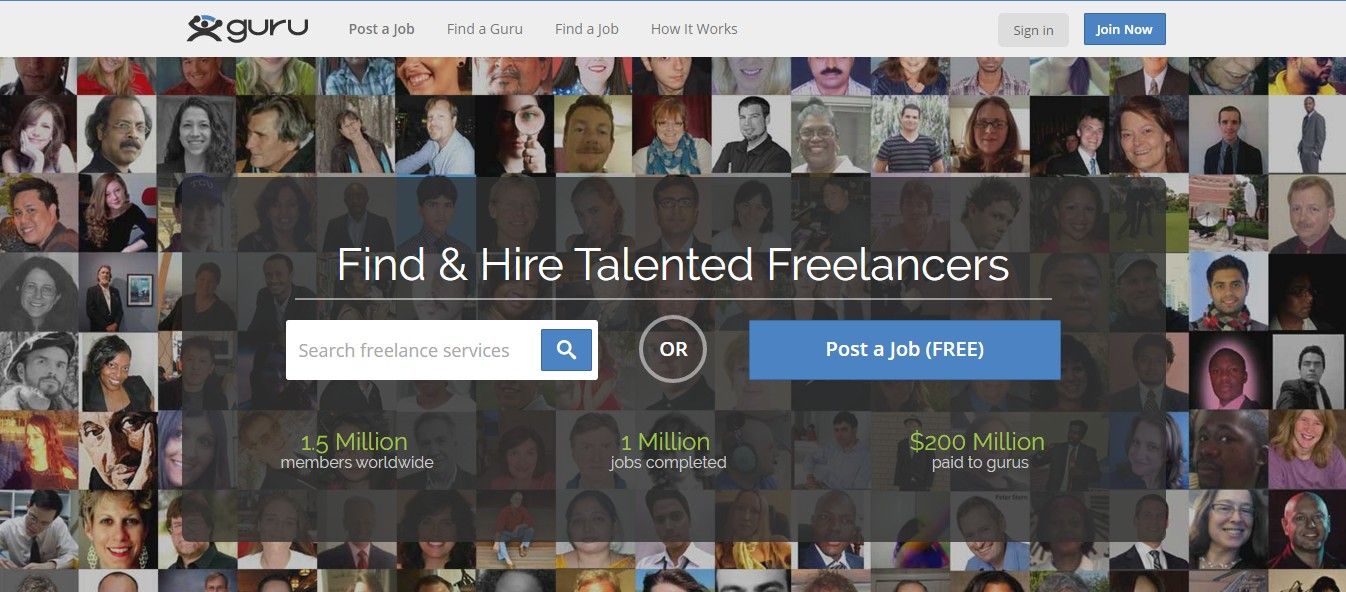 Author/Copyright holder: Guru.com. Copyright terms and licence: Fair Use.
A lot of developers make a good living through Guru.
Freelancer
Freelancer is definitely the worst of the three big name brokerage sites. We've tried in vain to find anyone clearing six figures on Freelancer. However, it does have the largest presence of the three, and if you're desperate for work—it's the easiest platform to win work on.
If you're not confident in how to approach your brokerage site marketing, Freelancer is a good place to give it a test drive.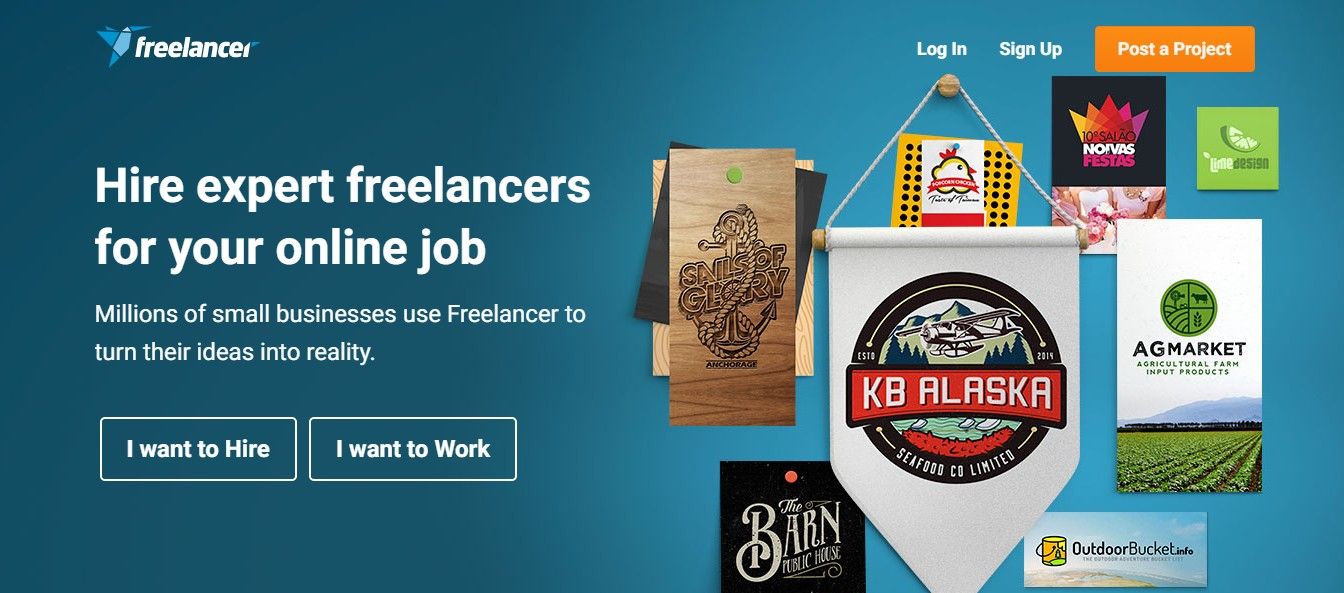 Author/Copyright holder: Freelancer Technology Pty Limited. Copyright terms and licence: Fair Use.
Freelancer is a good place to test the water to see if you can craft a good pitch. The downside is that rates on Freelancer tend to be pretty awful.
What about Fiverr?
Fiverr, as the name suggests is a site where people sell their services for $5 (less a fee for the platform). It is theoretically possible to earn more but on a careful examination of the site – most people don't. The maximum earning potential for someone working fulltime (and working very, very hard) is probably $30,000. This may not be much worse than Freelancer, in fairness. However, we would strongly discourage anyone from marketing his or her services on Fiverr. If you tell clients that your work is worth $5, how are you ever going to get them to pay more in the future?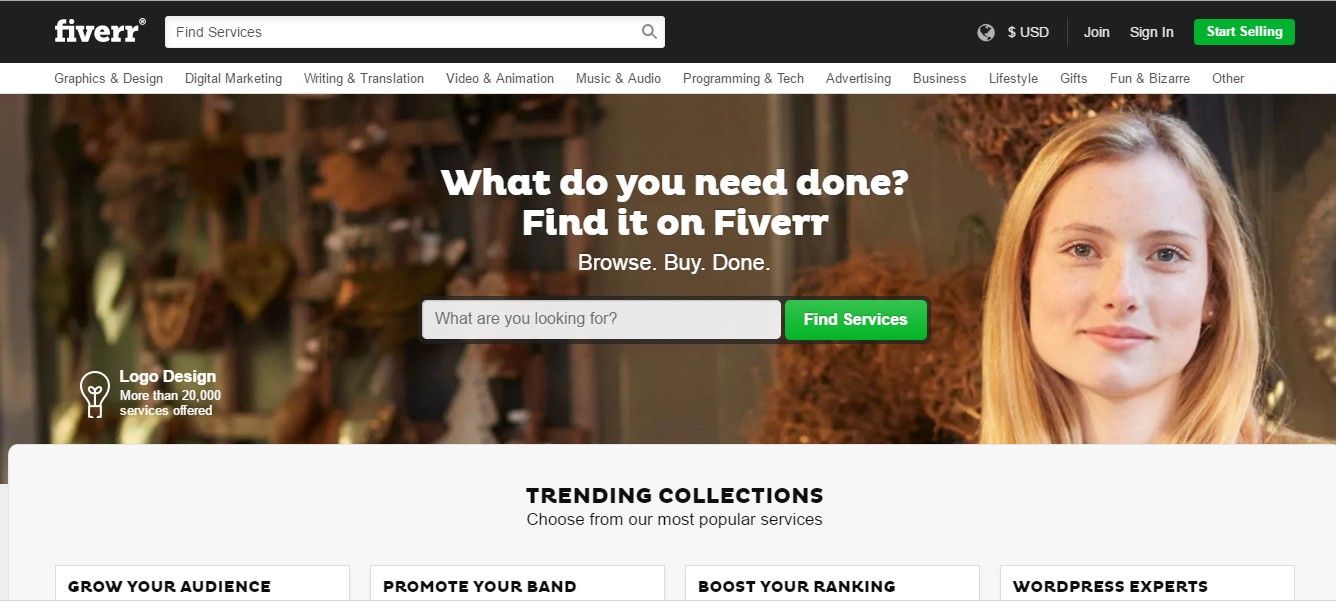 Author/Copyright holder: Fiverr International Limited. Copyright terms and licence: Fair Use.
Fiverr is a site where people sell their services for $5.
How to Do Marketing on Freelance Platforms
There are two types of marketing on brokerage sites; the first is passive and involves creating a profile to attract clients; the second is proactive and involves creating written bids for client RFPs.
Profiles on Brokerage Sites
It's clear that your profile isn't actually necessary to winning freelance work on these platforms. However, it certainly can't hurt to complete it. Don't expect huge quantities of leads from completing your profile, though – people won't see it in a search on the site until you've already completed a lot of work through active marketing.
What Should Your Profile Contain?
Your name—It sounds obvious, but I've seen a fair few profiles where people forgot to include this vital detail.

A strapline—This is a one-line summary of what you do for clients. Try to make the core service as well as the benefits of working with you clear—e.g., "Web design with proven ability to increase sales."

A description of your services—Tell clients what you do and the benefits of that in detail. Don't fill this with useless junk like, "I'm passionate."—or—"I'm enthusiastic."—or even—"I'm a mother of two." None of this adds value to your clients' businesses, and they're more likely to skip your profile and find someone who knows what businesses are looking for.

A professional photo—This should be a head shot. It should, at a minimum, have you smiling and dressed appropriately. It should not include your pets, members of your family, friends, etc.

A brief career history—Give clients some confidence that you know what you're doing.

Testimonials—If you have some great quotes from clients about your work, include them in your profile. Don't make clients hunt through feedback on the site.
And that's it.
So don't rely on your profile to win business. Complete it for professionalism's sake and to give a client some confidence when reviewing your bids.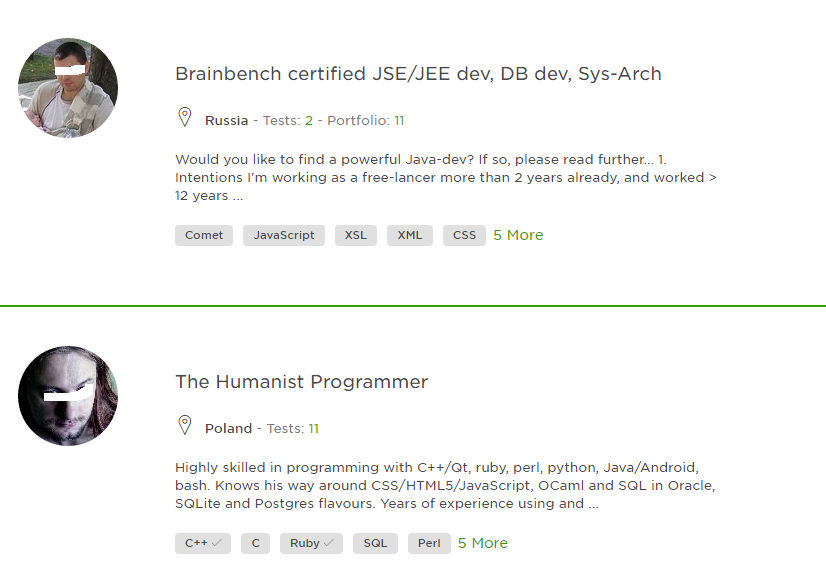 Author/Copyright holder: Upwork Global Inc. Copyright terms and licence: Fair Use.
Prospective clients can see your Upwork profile—essentially your shop window. A good profile—sharp, to the point, relevant, showing you and your skill set in the best possible way—increases the chance of a client's reaching out to you rather than your having to market to them.
How to Respond to RFPs (Bidding)
An RFP is a client's Request for a Proposal. Some are incredibly detailed descriptions of the job they want done; the vast majority are a couple of lines, briefly outlining what they want done.
E.g., "I want a logo for a travel company. We specialize in senior vacations."
Or—"I need a UX designer for a fitness product. We need to be ready in one month with an MVP."
You will spend some of the credits allocated (for free or paid for) to you by the brokerage site to respond to an RFP.
To get the most from the process:
Only bid on projects where you can add serious value. These should be in your areas of specialism. You'll find that while people can and do hire generalists on these platforms – they pay them very poorly.

Ensure that your bid is clearly written in good English and highlights your value to the project. The vast majority of bids read like this—"Hi, I'm a designer. I do logos. See the samples attached. I charge $500 for a logo." Short and to the point this may be, but it's dead wrong on so many levels. You "do" logos for $500, do you? With that, you're advertising that you're a mercenary, not a miracle worker who genuinely cares to help. "See the samples attached."—that smacks true of a scattershot approach, as if the freelancer had copy/pasted and attached this for his fourth bid of the day, probably with one hand whilst eating lunch. These bids are rubbish and the main reason that people struggle to get paid a decent rate on brokerage sites. Respectable business folk engage in a businesslike manner, not in soliciting with unimaginative pickup lines or labour-exchange casualness.

Introduce yourself. Informality is the rule on brokerage sites. Opening with a "Hi" is fine. Include the client's name if it's in the RFP (but most of the time it won't be) and offer a simple sentence to introduce yourself and get the client to read more. "I'm an American designer with an eye for detail and 10 years of experience in creating logos who adds huge financial value to brands in the travel industry."

Go into detail and suggest a process for the work. Clients don't design logos. It's why they outsource the work. So, don't look at "I want a logo for a travel company" and think "they have no clue!" Look at it as an opportunity to explain your process: "I will hold a Skype conversation with you to explore your brand values and identity. I will then create three sketches for your logo based on that conversation. After you review the sketches and decide which one to take forward, I will then create a master logo for you based on that sketch. This will be submitted for feedback and revised based on that feedback. Then I can create different versions depending on where the logo will be used—Facebook, Print, your letterhead, etc."

Explain what your value is in a clear and professional way. For example: "Logos are the first part of brand recognition. Research shows that brand recognition is often more valuable than the company itself. Establishing a clear brand identity could add tens of thousands of dollars to the value of your company."

Don't be shy about pricing. "The cost for this project using the process outlined is $5,000."

Explain your credentials. "I've worked on a number of high-profile logo projects in the past in your industry including ABC Travel, XYZ Trekking, etc."

Offer to discuss the project. "Obviously, this process is an industry standard, but if it doesn't meet your exact needs, I'd be happy to revise it and adjust my quote after a Skype call."

Thank the client for their time. "Thank you for taking the time to read my quote. I look forward to hearing from you."

Sign off with your name. "Kind Regards, Me Freelancer"

Make sure you attach a relevant portfolio and your freelance CV.
Things to avoid:
Don't try to be clever. These sites run across multiple cultures and different types of clients – not all clients are actually based where they say they are. Keep your language simple and to the point. Don't tell jokes or try to be witty—you'll fall flat on your face (perhaps with egg on it, too) as often as you may just succeed.

Don't be too casual. Never use profanity. Don't use slang. Remember you're a professional, and this is as formal as any other contact with a client. You may be sitting at home in your underwear but still think of a boss's office on the other side of your device's screen, not a bar, where you've known the client for twenty years and can chew the fat about everything under the sun. You're not friends—at least, not yet.

Don't talk disparagingly about previous clients or bosses. Two sides come with every story. Your client will wonder what you may have done for the "other side" to have treated you so rottenly. Apart from that, it's unprofessional—you may appear to be the sort who takes things personally, becoming distracted from the matter at hand. Last, and certainly not least, your client may wonder how soon it will be before your thin skin ruptures and you end up telling your next prospect about him or her. So, be nice, respectful, and if you have nothing good to say about a client, don't say it—or, at least, be constructive about it. For example, if the client asks why you left a previous role in mid-step, and the real reason is (for the sake of illustrating the worst-case scenario) because your client truly did turn nasty for no reason related to your performance and started making your relationship a living hell, then you could explain that the client seemed to have been experiencing operational difficulties and had to cancel the original plan. As long as that client hasn't left a scathing harangue of vitriolic feedback on your profile page, you'll have nothing to worry about. Not all clients give feedback, after all.

Don't ask too many questions. Some people say that this invites a conversation with a client. In reality, clients can see through this tactic – it smacks of desperation rather than expertise.

Don't send anything irrelevant. Only send material to clients if it helps further your case to be awarded the work.
The Big No of Freelance Brokerage Work
Don't discount your rates to win work. It's dreadful advice and leaves you having to explain to new clients why you no longer work cheaply.
To begin with, look for small projects where the project minimum is enough to earn a decent rate. These are often low-risk projects for clients where they are more likely to take a risk on a new freelancer.
Once you have a little feedback, start aiming for bigger and bigger projects.
After the Project Ends
If the client is happy with your work, ask for feedback. The more feedback you have on your profile, the easier it will be to win work. All the freelance sites have built-in mechanisms for clients to provide feedback.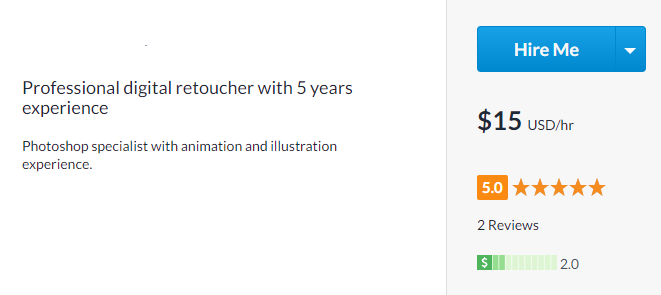 Author/Copyright holder: Freelancer Technology Pty Limited. Copyright terms and licence: Fair Use.
Feedback often takes the form of star ratings—as can be seen at Freelancer.com here.
The Take Away
Online brokerage sites may have a bad reputation, but much of that reputation is down to the freelancers' failure to use these sites properly. You need to practice writing quality responses to RFPs to win work on these sites.
Examine RFPs for signs that clients are professionals, not work-from-home part-time businesses, and that they will pay real rates. If others can make millions on these sites, so can you.
References & Where to Learn More
Hero Image: Author/Copyright holder: Upwork Global Inc. Copyright terms and licence: Fair Use.
Course: How to Become a Freelance Designer

Check out some cool sites, such as Upwork, Hubstaff, Freelancer, and Fiverr.