The Interaction Design Foundation is the world's most prestigious producer of free and low-cost educational materials for designers. We have the world's largest active specialist design community. We've spent the last 13 years building our community and library of literature and we need your help to spread our design knowledge to all corners of the globe.
This is a paid part-time (or possibly full-time) position. You'll be location independent and will be free to work from wherever you want in the world. You will have video-based contact with your colleagues. If you do really well, you will also get to meet them physically on team trips (see below).
If you're hungry to learn more about design in all its forms, to dramatically increase your global network among designers and design companies, and to develop yourself professionally - then you are reading the right job ad!
About you:
You have outstanding communication skills and the ability to influence other people.
You get excited about forming relationships with people in the design industry.
You have a strong social intelligence – and the ability to engage well with different types of people.
You are results-driven and motivated by achievement, targets, and goals.
You are resilient with the ability to bounce back when things aren't going according to plan.
You are self-motivated and have an exceptionally strong work ethic.
You have exceptional written English skills.
About your responsibilities
There is a large potential for professional growth in this position and in our organization.
This position is funded by the budget that we dedicate to spreading free design knowledge. To start with, your responsibilities include the following:
To reach out to communities and organizations and help them discover IDF's free educational materials. In that sense, you will be a "brand ambassador" for the IDF.
To help us partner with communities and organizations that share our values and our belief that great design can make the world a better place.
To help people find the (free) resources that can help them solve their problems. In that sense, you are responsible for improving people's lives and careers. That's a big responsibility but a rewarding one.
The feedback and insight you collect will help us not only grow but also to improve the overall user experience of the world's biggest and best design community.
About our work culture
We love results, productivity, focus and efficiency – achieved through an approach of "working smarter not harder", a love of what we do, and taking great care of each other and our community.
We're also friendly, compassionate, and supportive and bring a sense of fun to the things we do.
We're passionate about design and the difference it can make in the world.
We value concentration and believe that interruptions, meetings, and egos can kill productivity. That's why work often does not happen at work.
We believe awesome results are produced when being in flow. That's why we value location independent work.
We celebrate each other's work and consider what we do a labor of love.
We have no set hours, no uniforms to wear and no fixed location of work – we believe that creativity combined with motivation are the keys to success rather than meaningless conformity
Pictures from team trips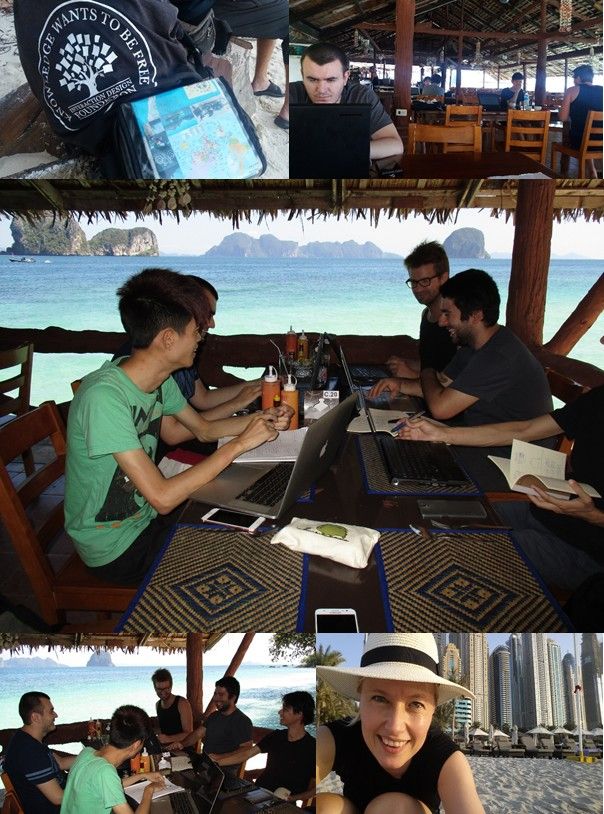 The team meets regularly in exotic locations around the world; these are some photos from our last meeting in Koh Ngai, Thailand. We have other awesome locations planned for future meetings. Not having an office doesn't mean that we don't have a strong team ethic – quite the reverse, it means we have a team that is dedicated to working together, everywhere and all the time.
About Interaction Design Foundation, IDF
We are based in Denmark and our goal is lowering the cost of high-quality design education globally. You can read about us at http://www.interaction-design.org/about
We reach around 4 million design-interested people every month on social media.
We help hundreds of thousands of professional designers improve their skills and careers.
Our educational materials are used in hundreds – if not thousands – of universities around the world.
How to apply
Please send an application to Rikke Friis Dam at rikke.friis.dam@interaction-design.org
Please tell us why you want to put your heart, mind and hard work into this job. And please tell us the 3 productivity tips/methods that work best for you.
Please apply as soon as you can – we're firm believers that "the sooner, the better". We're looking forward to working with you!