We all know that wireframing is a great way to test ideas in our UX projects but we also know that there are a ton of wireframing tools available to do it with. It can be hard to choose the right tool but one of the easiest ways to get an idea – is to get hands on with the tool and have a play with it.
The wireframing tools in this article are all free to a greater or lesser extent. Most of them have premium options that let you extend the functionality in some way or another but all of the free options let you get to grips with the way that they work.
Frame Box
Frame Box is completely free to use which may make it the right stop for those teams on incredibly limited budgets. The downside is that it's a bit basic and perhaps not the best tool for developing a detailed wireframe of a complex project on. It's perfectly OK for smaller, less complex projects though.
We think it's unlikely that Frame Box is going to be anyone's permanent option but it will get you started and without any strain on your wallet.
iPhone Mockup
As the name suggest this tool is designed for iPhone mockups. That's a feature that's often included in other wireframing packages but there is something quite nice about a targeted tool. It's completely free to use and images can be exported as PNGs or shared as URLs with a team. The toolset is simple and clean and you can choose between computer-style mockups or a hand drawn pencil interface style.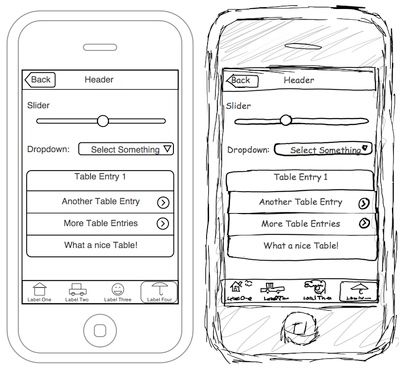 Author/Copyright holder: iphonemockup.lkmc.ch.Copyright terms and licence: Fair Use
Wireframe.CC
If you're into ultra-minimal interfaces then Wireframe.cc is a pretty nice tool. The premium licenses run from $12 to $100 a month depending on your needs, with the top of the range allowing unlimited users and projects which seems like a fair deal. It tries to be intuitive when you're using the mouse to draw to help deliver only the controls that you need at the time. It's very easy to turn items on and off when you're trying to decide whether to include something or not.
Cacoo
There are restraints imposed on free users of the Cacoo service, mainly relating to the number of pages you can create (a reasonably generous 25) and the fact that you can only export projects in PNG format. However, there's a lot of functionality on offer and the free package does support a number of users rather than just one. The basic upgrade is $4.95 a month for an individual package and runs up to $99 a month for the biggest version (which allows up to 100,000 pages).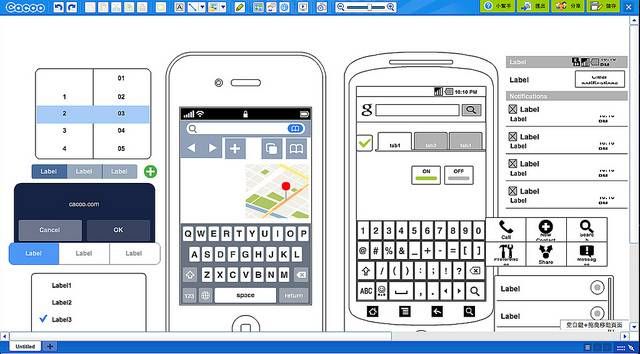 Author/Copyright holder: Angelo Su. Copyright terms and licence: CC BY-NC-ND 2.0
Jumpchart
Jumpchart, perhaps more so than other tools in this round up, is all about collaboration. It's very much designed so that a whole team can cooperate easily on a project. One of the nice features is that you can export the project to WordPress as a layout when you're done and that might sway web designers looking to create a fluid process between wireframes and finished designs.
MockFlow
MockFlow offers a suite of tools for designers. Wireframing is a smaller part of a larger whole. The free account lets you try things out but you're almost certainly going to have to upgrade to get all the functionality that you need. That starts at $14 a month and has a potentially unlimited cost as you need a license per user (though there is a value 3 user starter pack for $29 a month). In addition to the wireframing tools; you also get – an app project planner, a collaboration tool, the ability to create and publish websites and some content development tools for banners, annotations, and brochures.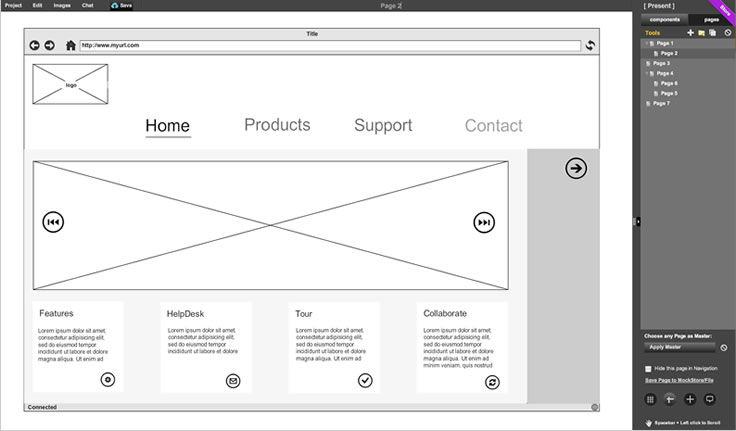 Author/Copyright holder: MockFlow. Copyright terms and licence: Fair Use
Wirefy
Wirefy's a downloadable project which goes through a reasonable number of regular iterations. It's not web hosted but rather requires installation. It is built with developers as well as designers and is perhaps a touch more complex to get to grips with than most of the other tools in this list. The flip side of that is that it's probably a little more flexible than the other tools too – you have a greater degree of control in the way that you approach things in Wirefy. It allows easy implementation of wireframes into other projects including but not limited to WordPress projects.
Lumzy
Perhaps the most interesting pricing model of the tools in this round up is the one used by Lumzy. The project is completely free to use but if you don't want regular reminders to support the project you can buy tokens to turn off the reminders. Each token gives you 12 hours of reminder free usage and you can buy tokens in different packs sizes from $5 for 10 tokens to 95 tokens for $25. It's a very flexible tool with collaboration support too.
Gliffy
This one is popular with some of the biggest names in the industry and Gliffy's ease of use is very appealing. It's a multi-faceted package and isn't limited to wireframes, it has support for a ton of different diagrams including UML support. There's an online version and plug ins for both Confluence and Jira too. Pricing is reasonable the full featured version is $96 a year with unlimited amounts of diagrams and storage included.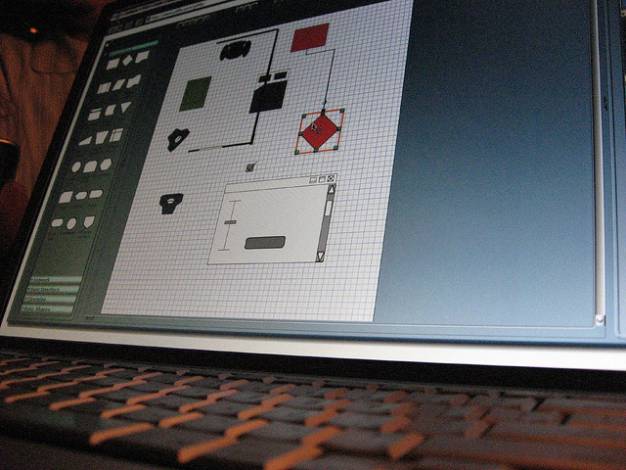 Author/Copyright holder: Joanne Wan. Copyright terms and licence: CC BY-NC-ND 2.0
Where's Axure?
As we said at the start; there are a lot of different products available today for wireframing. It's true that Axure is one of the big corporate names but this is a round up of free-to-use tools and it's likely that pricing is less of a concern to Axure users than it will be to those looking for free-to-use tools.
If you think there are any others we've missed, please let us know on our Facebook page or Twitter or LinkedIn. We'd love to know what you're using at the moment.
References
Header Image: Author/Copyright Holder: Aurimas. Copyright terms and licence: CC BY-ND 2.0