Lifecycle Maps
Your constantly-updated definition of Lifecycle Maps and collection of topical content and literature
What are Lifecycle Maps?
Lifecycle maps are high-level customer experience overviews that designers create to gain a holistic view of customers' relationships with brands and to understand the purpose of each step to design for. Charting the lifecycle from brand awareness onward, these serve as zoomed-out guides that can reveal vital insights.
"Whenever an organization makes the transition from one lifecycle stage to the next, difficulties arise."

— Ichak Adizes, Business consultant and developer of the Corporate Life Cycle Model
See how lifecycle maps can help you guide how your brand reaches, impresses and retains customers: 
Track Your Customers at Every Stage with Lifecycle Maps
The relationships people have with brands resemble the lifecycle as envisioned by Ichak Adizes, who developed the model for corporations to track their own development. Essentially, this lifecycle is a peak-shaped curve with the following points that correspond to the human lifecycle: Birth, Infant, Teen, Growth, Prime, Retirement and Death. In service design, these points represent where your users—who, hopefully, convert to remain as loyal customers—are during their user journeys with your service.
Lifecycle maps are different deliverables from customer journey maps. Journey maps offer more detailed views of (e.g.) customer pain points at the various touchpoints they encounter on their way to getting what they want from your service. Lifecycle maps complement journey maps, and can provide a vital vantage point when you're trying to design for the many variables that will decide if your customers fall in love with your service.
More precisely, lifecycle maps can help you:
Get inside your target market's minds while keeping an eye on the big picture during—what can be—long and complex journeys. Since service design is all about omnichannel and aiming to design the best experiences for customers as they switch between channels and touchpoints, you'll need to plan for the pitfalls and opportunities that arise as people interact with your service digitally (e.g., placing orders on their phones) and physically (e.g., receiving these at a store).

Spot disconnects in the customer lifecycle. For example, your service might accommodate users who love coffee and let them easily collect points they can use to buy other goods, perhaps even including some gamification aspects. But what happens, for example, when a user dies? Can their loved ones deactivate the account? What happens to their points?

Understand the customer experience holistically – so you have a guide that shows your team and stakeholders how the various steps combine to make the customer experience overall and leave lasting impressions.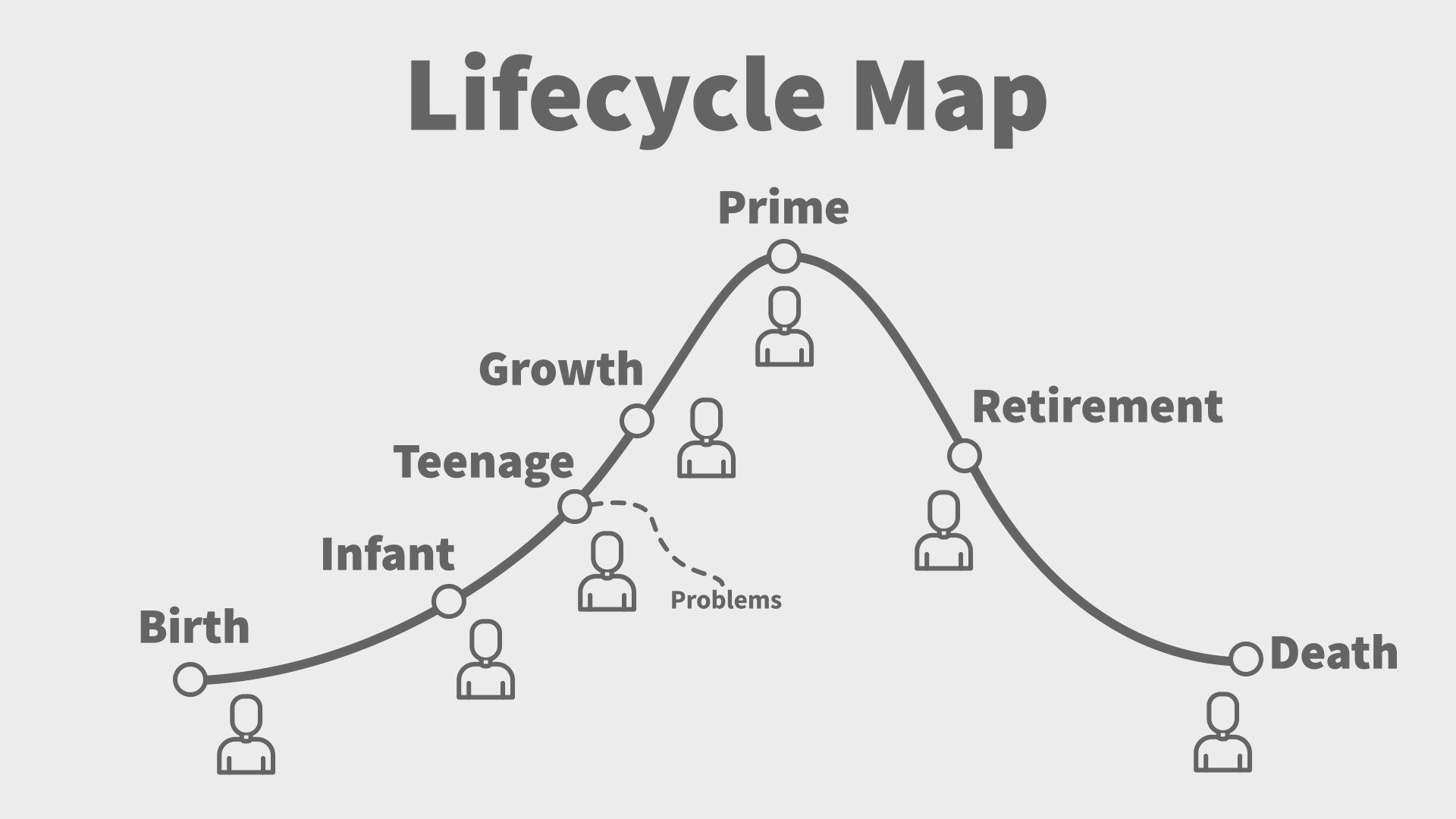 How to Create Lifecycle Maps
Create these from your user research as zoomed-out views of where your customers are throughout the timeline from when they learn about, decide to become involved with and onward until they leave your brand. You'll need to develop a solid understanding of your target service users (distilled as personas), what they stand to gain and lose (i.e., experience as pain points) and the value you can bring them.
Structure your map around the question "What is the customer doing (or trying to) at this stage of the lifecycle?" so you can envision the following:
Birth – You advertise (e.g., on social media) to prospective customers, who have a problem to solve or a need to fulfill.

Infant – You get them to start considering what your service offers. However, in their research they'll also look at the solutions that other brands offer.

Teen – You manage to convince them to engage with your brand by making a commitment (e.g., they sign up for your health-promoting app).

Growth – You get them to start using your service as customers (e.g., they collect points by logging workout hours at participating gyms to use towards healthy meals at participating restaurants).

Prime – You make them (at least) satisfied or (hopefully) fall in love with your service. As they become more familiar with it and appreciate the results (e.g., they're in better shape), they'll start to turn into loyal customers.

Retirement – You retain these customers and continue to make them feel valued over time. They might start buying other services or items your brand offers since they trust it so much.

Death – They leave your service, ideally because it's solved their problem, got them what or where they want and left them with deep positive impressions. They're likely to buy from you again if the need arises.
Tips
Keep an eye on the risks at every stage: early "death" (i.e., churn) can cost you many customers long before the Death stage. 

Retention is just as important as acquisition, so beware of what happens after the Prime stage as momentum might decay into disenchantment.
Overall, lifecycle maps should help you design how best to transition your customers from one lifecycle stage to the next. Remember to think beyond the series of tasks and objectives and aim higher, to accommodate customers at an emotional level throughout their relationship with your brand and the many turns and climbs on the way.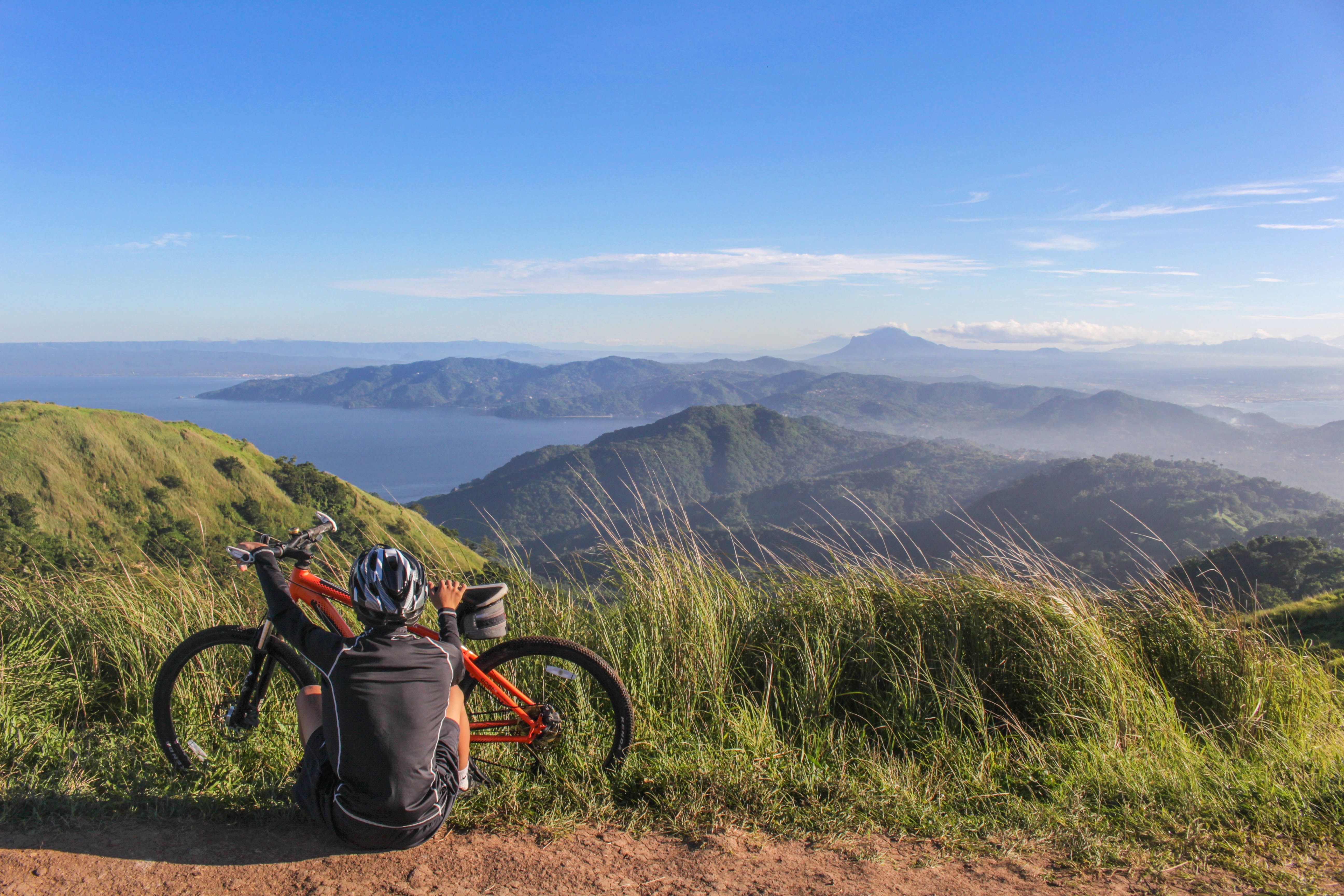 Learn More about Lifecycle Maps
Take our Service Design course, which includes a lifecycle map template: https://www.interaction-design.org/courses/service-design-how-to-design-integrated-service-experiences
This blog from a senior design researcher and UX lead in the BBC explores helpful insights about lifecycle mapping: https://medium.com/@karenyunqiuli/lifecycle-a-simple-service-design-mapping-technique-69bdec645ad6
Read this for useful insights into how lifecycle maps differ from journey maps: 
https://cx-journey.com/2014/09/whats-difference-journey-map-or.html
Literature on Lifecycle Maps
Here's the entire UX literature on Lifecycle Maps by the Interaction Design Foundation, collated in one place:
Learn more about Lifecycle Maps
Take a deep dive into Lifecycle Maps with our course Service Design: How to Design Integrated Service Experiences .
Services are everywhere! When you get a new passport, order a pizza or make a reservation on AirBnB, you're engaging with services. How those services are designed is crucial to whether they provide a pleasant experience or an exasperating one. The experience of a service is essential to its success or failure no matter if your goal is to gain and retain customers for your app or to design an efficient waiting system for a doctor's office.
In a service design process, you use an in-depth understanding of the business and its customers to ensure that all the touchpoints of your service are perfect and, just as importantly, that your organization can deliver a great service experience every time. It's not just about designing the customer interactions; you also need to design the entire ecosystem surrounding those interactions.
In this course, you'll learn how to go through a robust service design process and which methods to use at each step along the way. You'll also learn how to create a service design culture in your organization and set up a service design team. We'll provide you with lots of case studies to learn from as well as interviews with top designers in the field. For each practical method, you'll get downloadable templates that guide you on how to use the methods in your own work.
This course contains a series of practical exercises that build on one another to create a complete service design project. The exercises are optional, but you'll get invaluable hands-on experience with the methods you encounter in this course if you complete them, because they will teach you to take your first steps as a service designer. What's equally important is that you can use your work as a case study for your portfolio to showcase your abilities to future employers! A portfolio is essential if you want to step into or move ahead in a career in service design.
Your primary instructor in the course is Frank Spillers. Frank is CXO of award-winning design agency Experience Dynamics and a service design expert who has consulted with companies all over the world. Much of the written learning material also comes from John Zimmerman and Jodi Forlizzi, both Professors in Human-Computer Interaction at Carnegie Mellon University and highly influential in establishing design research as we know it today.
You'll earn a verifiable and industry-trusted Course Certificate once you complete the course. You can highlight it on your resume, CV, LinkedIn profile or on your website.
All Literature