What is somaesthetics and why should it appear as a core article in an encyclopedia devoted to Human-Computer Interaction and Interaction Design? Readers trained in design studies and informational technology should not feel guilty if the term strikes them as unfamiliar and even difficult to decipher or pronounce. As a new interdisciplinary field whose roots are in philosophical theory, somaesthetics offers an integrative conceptual framework and a menu of methodologies not only for better understanding our somatic experience, but also for improving the quality of our bodily perception, performance, and presentation. Such heightened somatic awareness and mastery offers benefits to many fields including design. Our experience of ourselves and our world is always embodied and involves somatic responses and feelings that are typically unnoticed though they are unavoidable and indispensable for our proficient functioning. We need a proper feel for our tools in order to use them most effectively; and this includes the use of one's own body in using other tools. For the body is our indispensable tool of tools, the necessary medium of our being, perception, action and self-presentation in the world. By exploring the fundamental features of our embodied ways of engaging the world and transforming it through action and construction, somaesthetics can provide useful insights and experiential skills to help designers produce products and situations that provide more rewarding and pleasurable experience.
21.1 Introductory Videos
Author/Copyright holder: Courtesy of Richard Shusterman. Copyright terms and licence: CC-Att-ND (Creative Commons Attribution-NoDerivs 3.0 Unported).
Somaesthetics Video 1: Introduction to Somaesthetics 1
Author/Copyright holder: Courtesy of Richard Shusterman. Copyright terms and licence: CC-Att-ND (Creative Commons Attribution-NoDerivs 3.0 Unported).
Somaesthetics Video 2: Ancient Culture
Author/Copyright holder: Courtesy of Richard Shusterman. Copyright terms and licence: CC-Att-ND (Creative Commons Attribution-NoDerivs 3.0 Unported).
Somaesthetics Video 3: Linking Theory with Practice
Author/Copyright holder: Courtesy of Richard Shusterman. Copyright terms and licence: CC-Att-ND (Creative Commons Attribution-NoDerivs 3.0 Unported).
Somaesthetics Video 4: Designing Interactive Products
Author/Copyright holder: Courtesy of Richard Shusterman. Copyright terms and licence: CC-Att-ND (Creative Commons Attribution-NoDerivs 3.0 Unported).
Somaesthetics Video 5: Maximize Business Value by Applying Somaesthetics
Though somaesthetics is grounded in philosophical theory and therefore does not command the wide media attention and advertising hype that technological inventions often receive, it is not a narrowly abstract discipline that advocates pure theory over practice and concrete applications. Nor does it hide behind abstruse technical jargon. It emerges from American pragmatist philosophy that insists on the primacy of practice even in the constructing and testing of theories and that equally insists on clear language, empirical evidence, and practical results. Somaesthetics reflects the pragmatist idea of philosophy as a means of improving experience through a reflective art of living. Philosophy, in this sense, is a tool for designing life.
Somaesthetics is an interdisciplinary research project devoted to the critical study and meliorative cultivation of the experience and use of the living body (or soma) as a site of sensory appreciation (aesthesis) and creative self-stylization. An ameliorative discipline of both theory and practice, somaesthetics seeks to enrich not only our discursive knowledge of the body but also our lived somatic experience and performance; it aims to improve the meaning, understanding, efficacy, and beauty of our movements and of the environments to which our actions contribute and from which they also derive their energies and significance. To pursue these aims, somaesthetics is concerned with a wide diversity of knowledge forms, discourses, social practices and institutions, cultural traditions and values, and bodily disciplines that structure (or could improve) such somatic understanding and cultivation, and it is therefore an interdisciplinary project, in which theory and practice are closely connected and reciprocally nourish each other. It is not limited to one theoretical field, academic or professional vocabulary, cultural ideology, or particular set of bodily disciplines. Rather it aims to provide an overarching theoretical structure and a set of basic and versatile conceptual tools to enable a more fruitful interaction and integration of the very diverse forms of somatic knowledge currently being practiced and pursued. There is an impressive, even overwhelming abundance of discourse about the body in many disciplines of contemporary theory and commercial enterprise. But such somatic discourse typically lacks two important features. First, a structuring overview or architectonic that could integrate their very different discourses into a more productively coherent or interrelated field. It would be useful to have a broad framework (which does not mean a unified, highly consistent system) that could connect, for example, the discourse of biopolitics to the therapies of bioenergetics, the neuroscience of hand gestures to their aesthetic meaning in Nõ theater. The second feature lacking in most academic discourse on embodiment is a clear pragmatic orientation — something that the individual can clearly employ or apply to his or her life in terms of disciplines of improved somatic practice. Somaesthetics offers a way to address both these deficiencies.
21.2 Genealogy and Emergence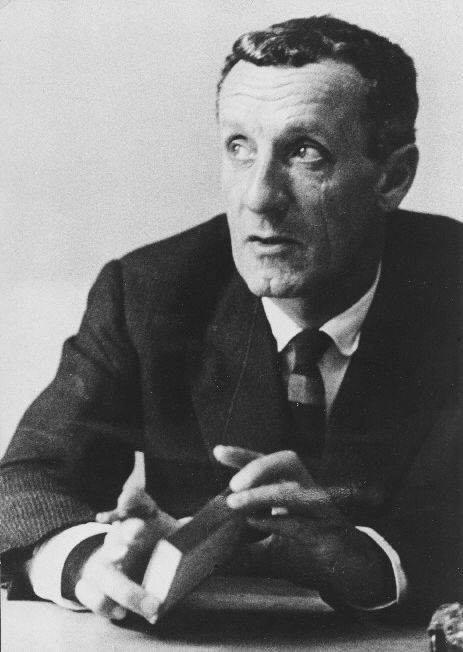 Author/Copyright holder: Courtesy of Pierre-Alain Gouanvic. Copyright terms and licence: CC-Att-3 (Creative Commons Attribution 3.0 Unported).
Figure 21.1: The French philosopher Maurice Merleau-Ponty (1908-1961) who affirmed the body as the centre of human cognition
The research project of somaesthetics delineated above began to emerge in the mid-1990s from two principal themes in my research: pragmatist aesthetics and philosophy as an embodied art of living. If pragmatist aesthetics rejects the traditional aesthetic attitude of distanced, disinterested contemplation by advocating an aesthetics of active, creative engagement, then it also should recognize that all action (artistic, practical, or political) requires the body, our tool of tools. Building on the pragmatist insistence on the body's central role in artistic creation and appreciation, somaesthetics highlights and explores the soma — the living, sentient, purposive body — as the indispensable medium for all perception. If experiences of art and beauty are distinctive for the powerfully gratifying ways they absorb our attention, unify our consciousness, and engage our emotions, then increasing our powers of awareness, focus, and feeling through better mastery of their somatic source could render more of our experience similarly rewarding in such ways. Not only art's creation and appreciation would be enhanced through this heightening of consciousness, but also the attractive shaping of our lives as an art of living could be enriched by greater perceptual awareness of aesthetic meanings, feelings, and potentials in our everyday conduct of life.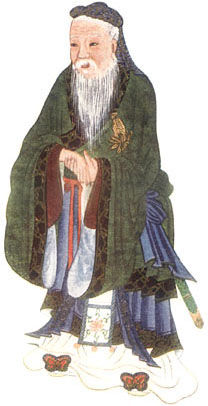 Copyright terms and licence: pd (Public Domain (information that is common property and contains no original authorship)).
Figure 21.2: Confucius (551-479 BC), the Chinese philosopher, who advocated cultivation and refinement of the body, particularly through art and ritual.
This ancient pragmatic idea of philosophy as a way of life or art of living is thus a second root of the somaesthetic project, with its integration of theory and practice. Embodiment has become an increasingly trendy theme in academia but somaesthetics takes the notion of embodied philosophy in a distinctively strong sense, even stronger than that of phenomenologies like Merleau-Ponty's in which the body forms a central perspective that structures the philosophical system and is celebrated as a sentient, intelligent, purposive, skilled subjectivity that likewise helps construct the world rather than being a mere physical object in it. Rather than the phenomenological quest to reveal an alleged primordial, foundational, and universal embodied consciousness that (in Merleau-Ponty's words) is "unchanging, given once and for all," and "known by all men" in all cultures and times, somaesthetics (as I conceive it) recognizes that somatic consciousness is always shaped by culture and thus admits of different forms with different cultures (or with different subject positions within the same culture) (footnote 1). Second (and more important than , somaesthetics is interested not merely in describing our culturally shaped forms of somatic consciousness and modes of somatic practice but also in improving them. Third, to effect such improvements, it also includes practical exercises of somatic training rather than mere philosophical discourse (footnote 2).
Building on pragmatic insights and ancient philosophical traditions from both the East and the West, somaesthetics advocates somatic training as a worthy dimension of philosophical cultivation and expression. Confucius clearly affirmed somatic cultivation as a crucial dimension of philosophical education, once informing his disciples that he could cease speaking and simply teach as nature does by embodying his philosophy in his bodily behavior. Daoism also advocated somatic cultivation, though sometimes in very different modalities. For more detailed discussions of Confucian and Daoist views relating to issues in somaesthetics, see Shusterman (2009). Greek and Roman thinkers often likewise advocated this ideal, sometimes by contrasting true philosophers who lived their philosophy to those who merely wrote philosophy and thus were denigrated as mere "grammarians." (footnote 3) Invoking this ancient tradition, I thus described somaesthetics "as a new name for some old ways of thinking," borrowing the shrewd formulation William James used to subtitle his first book on pragmatism. I used the term "soma" (a less familiar expression deriving from the Greek word for body) to avoid problematic associations of body (which can be a lifeless, mindless thing) and flesh (which designates only the fleshly parts of the body and is strongly associated with Christian notions of sin) and to insist that my project concerns the lived, sentient, purposive body rather than merely a physical body. The "aesthetic" in somaesthetics also originates in Greek, deriving from the word for sensory perception (aisthesis) that Alexander Baumgarten used to coin the modern philosophical discipline of aesthetics in 1758. So "somaesthetics" (a simple splicing of "soma" and "aesthetics") implies a project of appreciating and cultivating the body not only as an object that externally displays beauty, sublimity, grace, and other aesthetic qualities, but also as a subjectivity that perceives these qualities and that experiences attendant aesthetic pleasures somatically. When Baumgarten founded aesthetics, he intended it as a general science of sensory cognition rather than a field exclusively devoted to art and objects of beauty. But though his theory was focused on the senses, he excluded all considerations of the bodily dimension of sensation, believing that sensory perception was an entirely mental affair. Somaesthetics thus returns aesthetics to its roots as a science of sensory perception but insists on the somatic dimension of such perception and of our action, thought, and feeling as well.
From the outset, somaesthetics has had an international career. I first introduced it in a 1996 book in German, Vor der Interpretation, using the term "Somästhetik" to designate this project, before its initial English presentation in Practicing Philosophy: Pragmatism and the Philosophical Life (1996), and then the first detailed articulation of its structure in "Somaesthetics: A Disciplinary Proposal" (1999, reprinted in Pragmatist Aesthetics, 2nd edition, 2000). Performing Live (2000) represents a further stage in the development of somaesthetics in which its connection with the new media is discussed and different methodologies for heightening body consciousness are analyzed, while Body Consciousness (2008) constitutes my most comprehensive treatment of somaesthetics, though it focuses primarily on the experiential dimension of the somaesthetic field, whose general structure is outlined in the section 3 of this article.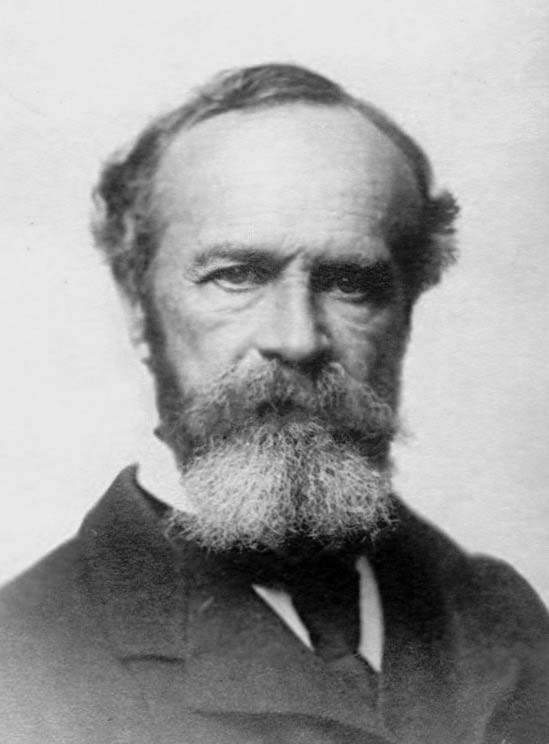 Author/Copyright holder: Unknown (pending investigation). Copyright terms and licence: Unknown (pending investigation). See section "Exceptions" in the copyright terms below.
Figure 21.3.A: The American psychologist and philosopher William James (1842-1910), whose pragmatist philosophy has inspired somaesthetics and its insistence on the interaction between theory and practice.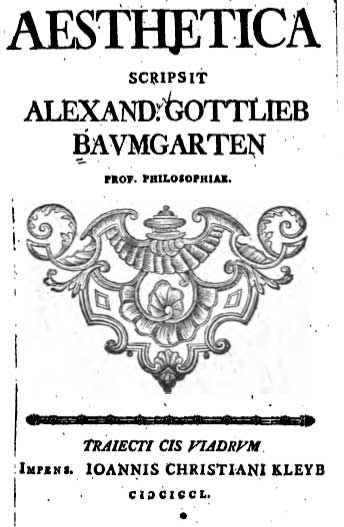 Author/Copyright holder: Unknown (pending investigation). Copyright terms and licence: Unknown (pending investigation). See section "Exceptions" in the copyright terms below.
Figure 21.3.B: In his book Aesthetica from 1750, the German philosopher Alexander Gottlieb Baumgarten (1714-1762) coined the philosophical discipline of aesthetics that rehabilitates the cognitive powers of the senses.
21.3 Somaesthetics as an Interdisciplinary Field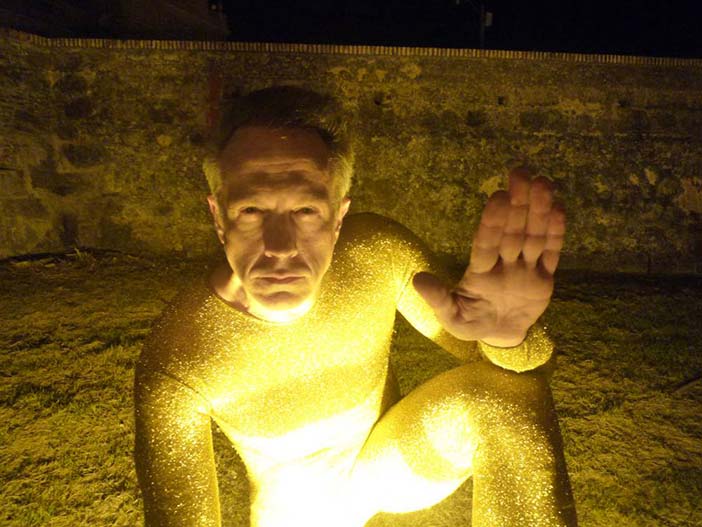 Author/Copyright holder: Yann Toma. Copyright terms and licence: All Rights Reserved. Reproduced with permission. See section "Exceptions" in the copyright terms below.
Figure 21.4: Somaesthetics as performance art and photography: From the Soma Flux series, photographed by Yann Toma at Cartagena, Colombia
Initially I thought of the somaesthetic project as being fully nested within the discipline of philosophy, perhaps as a branch of aesthetics. But I soon realized that somaesthetics should be an essentially interdisciplinary field, even if grounded in philosophy. As all human perception and action goes through the soma, many different academic disciplines can contribute significantly to the study and improvement of somatic experience and performance. It would be foolish, therefore, to limit somaesthetics to the methods and concerns of philosophy. Engaging a wide variety of knowledge forms and disciplines that structure our somatic experience or can improve it, somaesthetics is a framework to promote and integrate the diverse range of theorizing, empirical research, and melioriative practical disciplines concerned with bodily perception, performance, and presentation. While originally rooted in my philosophical research, it is not a single theory or method advanced by a particular philosopher but an open field for collaborative, interdisciplinary, and transcultural inquiry. Its applications already extend beyond philosophy to a broad array of topics ranging from the arts, product design, and politics to fashion, health, sports, martial arts, and the use of hallucinogenic drugs in education (footnote 4). Somaesthetics' most notable developments thus far can be grouped into three general areas: arts, politics, and design of technology.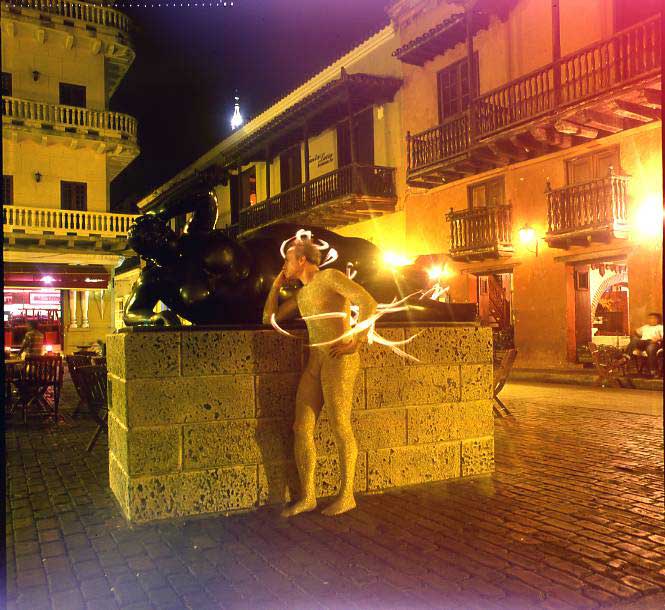 Author/Copyright holder: Yann Toma. Copyright terms and licence: All Rights Reserved. Reproduced with permission. See section "Exceptions" in the copyright terms below.
Figure 21.5: Somaesthetics as performance art and photography: From Yann Toma's Soma Flux series at Cartagena, Colombia
Though dance may be the most paradigmatic of somatic arts, somaesthetics has been equally applied to theatre in analyzing the somatic styles of movement and posture of actors on stage (footnote 5).
Somaesthetic concepts and theories have been even more extensively deployed for understanding music and music education (footnote 6). In visual arts, somaesthetics has been used to explain not only how artists use their bodies in making artworks but also how observers deploy themselves somatically to perceive such works. Many works of visual art (whether paintings, sculptures, photographs, or installations) consciously presuppose and play with the viewers' somatic standpoint, so that the soma can be powerfully thematized in a work without a body being visually represented in it (footnote 7). The body (with its multiple senses and movement through space) likewise plays a formative role in architectural design and experience. Performance art presents a distinctive case in which the body is not only a tool of creation and means of perception but also the expressive medium and visual end-product or art object. Building on my somaesthetic theory, Martin Jay shows the political import of body-centered performance works that challenge the prevailing norms of bodily form and comportment with their attendant sociopolitical hierarchies of domination (footnote 8).
Somaesthetics has begun to have an impact not only on the analysis of visual art, but also on its practice. One prominent example is its use as a generative theoretical background for Peng Feng's curatorial project for the Chinese Pavilion of the 2011 Venice Biennale. Entitled Pervasion, this show of five installation pieces (including clouds with tea fragrance; pipes dripping with Chinese schnapps; fragrant porcelain pots of herb medicine; fog of incense; and lotus-scented virtual snow) sought to emphasize that our appreciation of even visual art is always much more than visual and to highlight the soma's role as transmodal perceiving subjectivity by engaging also the pleasures of other bodily senses (footnote 9). Somaesthetics has also been used as a creative framework for a series of photographic and cinematic works that the Parisian artist Yann Toma has realized in close collaboration with me (footnote 10).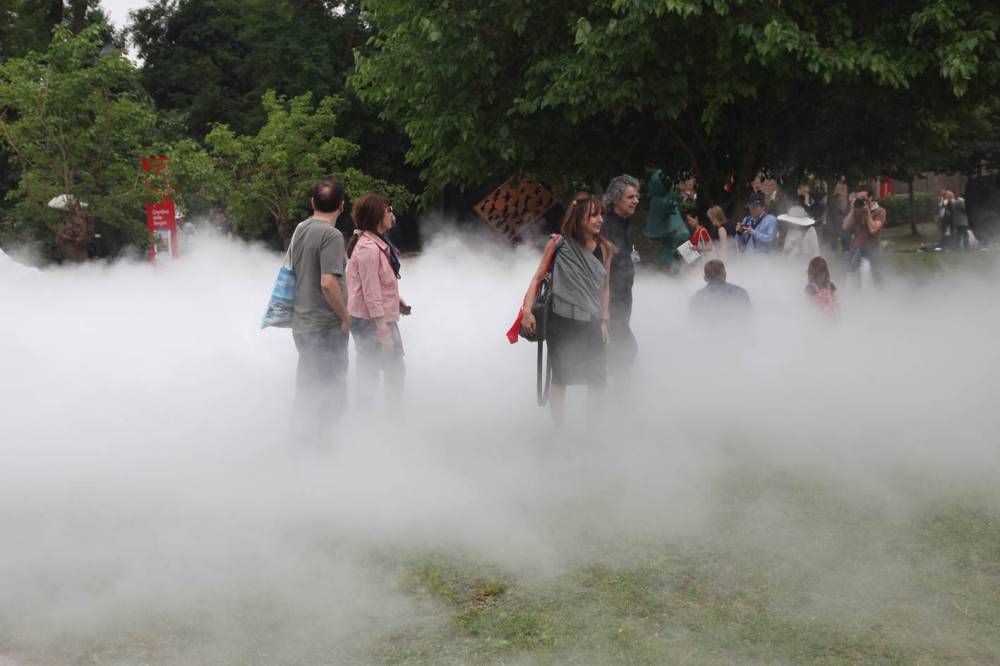 Author/Copyright holder: Peng Feng. Copyright terms and licence: All Rights Reserved. Reproduced with permission. See section "Exceptions" in the copyright terms below.
Figure 21.6: Picture from the Chinese Pavilion of the 2011 Venice Biennale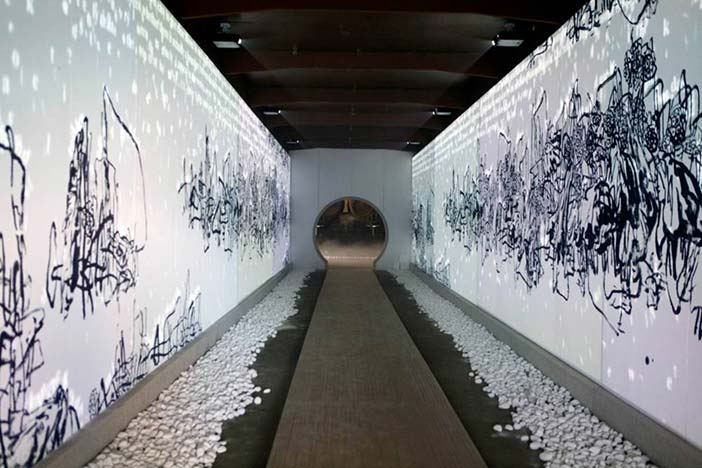 Author/Copyright holder: Peng Feng. Copyright terms and licence: All Rights Reserved. Reproduced with permission. See section "Exceptions" in the copyright terms below.
Figure 21.7: Picture from the Chinese Pavilion of the 2011 Venice Biennale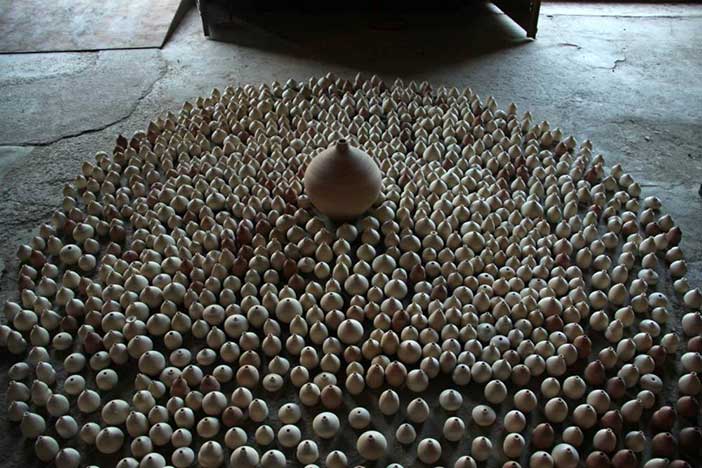 Author/Copyright holder: Peng Feng. Copyright terms and licence: All Rights Reserved. Reproduced with permission. See section "Exceptions" in the copyright terms below.
Figure 21.8: Picture from the Chinese Pavilion of the 2011 Venice Biennale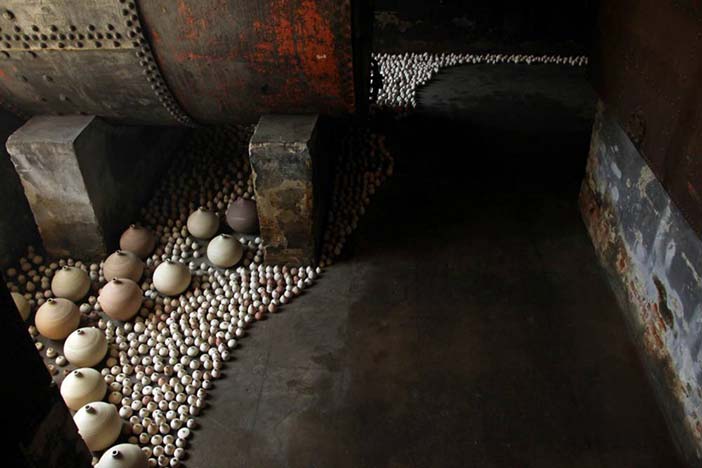 Author/Copyright holder: Peng Feng. Copyright terms and licence: All Rights Reserved. Reproduced with permission. See section "Exceptions" in the copyright terms below.
Figure 21.9: Picture from the Chinese Pavilion of the 2011 Venice Biennale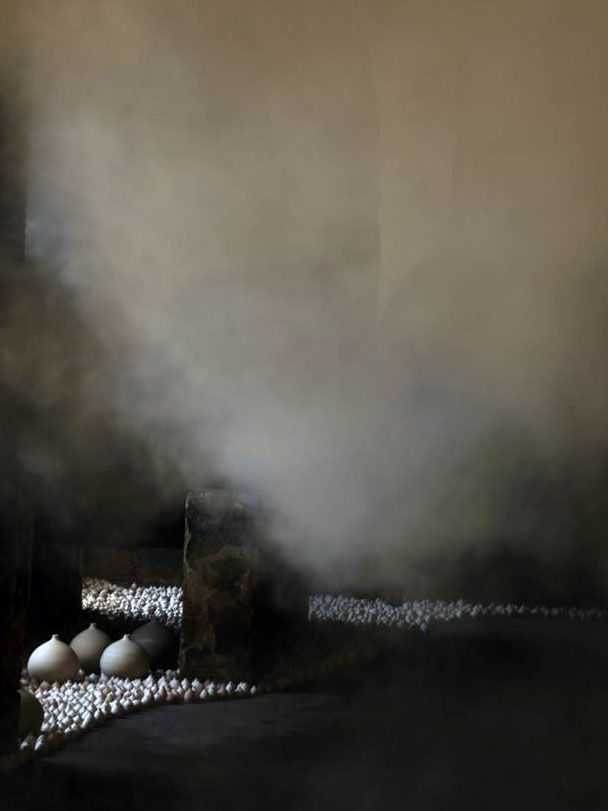 Author/Copyright holder: Peng Feng. Copyright terms and licence: All Rights Reserved. Reproduced with permission. See section "Exceptions" in the copyright terms below.
Figure 21.10: Picture from the Chinese Pavilion of the 2011 Venice Biennale
Among political applications of somaesthetics, feminist interventions loom large. This should not be surprising since women are traditionally identified with body and thus negatively contrasted with what our culture deems to be the superior male principle of mind. As Shannon Sullivan uses somaesthetic ideas to critique the devalorization of bodily practices associated with women and to insist (through notions of somaesthetic teaching, caring, and dialogue) that working on the body is not a merely selfish, unsocial project, so Cressida Heyes deploys somaesthetics as a model enabling "political resistance to corporeal normalization" that subjugates women and men. Since race, like gender, is perceived through somatic appearance, racism provides another political issue in which somaesthetic strategies have been proposed both as explanations and as therapeutic remedies (footnote 11).
For me, the most surprising extension of somaesthetics has been in the arena of high-tech design, particularly with new information technologies. I did not expect this because the somaesthetic project was initially inspired by ancient ideas of the embodied philosophical life and by traditional Asian somatic practices such as yoga and zazen or contemporary Western counterparts (such as Alexander Technique or Feldenkrais Method) that preserve a similar organic character by not treating the body with electronic appliances. Although my work addressed the new media's challenge to embodiment, I did so mainly by arguing two major points: First, no technological invention of virtual reality will negate the body's centrality as the focus of affective, perceptual experience through which we experience and engage the world. Second, that cultivating better skills of body consciousness can provide us with enhanced powers of concentration to help us overcome problems of distraction and stress caused by the new media's superabundance of information and stimulation. But I made no effort to envisage positive ways that our newest technologies might reshape somatic experience. How, for example, could future developments in genetic engineering, nanotechnology, robotics, and experimental drugs yield significant changes in our somatic powers either by changing the bodies which nature gives us or complementing them with prosthetic or chemical enhancements that dramatically augment the soma's perceptual, cognitive, and motor capabilities? How should somaesthetics prepare to deal with these changes and their corresponding new capacities for somatic self-cultivation, self-stylization, and social interaction?
Philosopher Jerrold Abrams has helped remedy this omission by exploring, in a speculative way, issues in what some might call posthuman somaesthetics because these issues involve significant alterations or enhancements to the traditional biological human soma (footnote 12). Of course, the human soma is already a product of considerable evolution, and it seems plastic enough to absorb significant change and prosthetic devices without condemning us to being posthuman cyborgs. That we can sometimes be considered human cyborgs by having manufactured enhancements incorporated into our embodied selves (contact lenses, pace makers, false eyelashes, wigs...) seems more or less evident. Questions such as the possible limits of the human soma and whether or how should we should speak of nonhuman somas are interesting topics for somaesthetic analysis that I cannot properly address in this article. They depend not simply on the future of technology but also on the evolution of our conceptual schemes concerning the human and concerning the notion of soma (footnote 13). But putting aside futuristic speculations, I will discuss some recent work relating somaesthetics to human-computer interaction research after the following section on the structure of somaesthetics
21.4 Structure of Somaesthetics
Somaesthetics, as I conceive it, consists of three branches that sometimes overlap to some extent.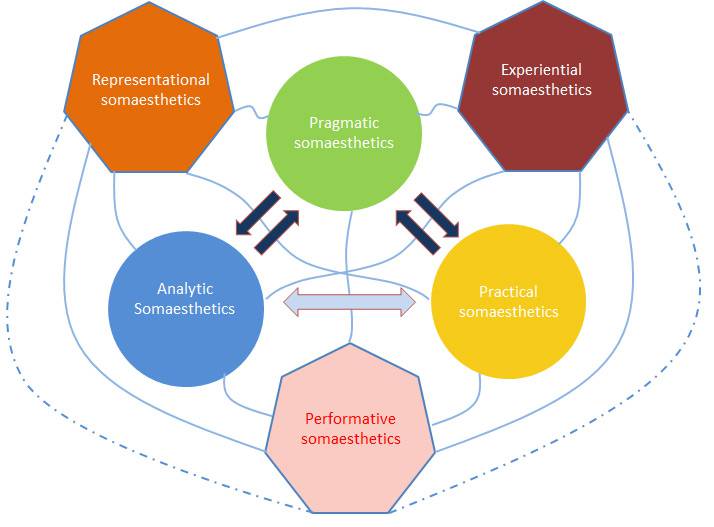 Author/Copyright holder: Unknown (pending investigation) Copyright terms and licence: Unknown (pending investigation). See section "Exceptions" in the copyright terms below.
Figure 21.11: Diagram of the different branches and dimensions of somaesthetics and of their interrelations, designed by Richard Shusterman and Hyijin Lee
21.4.1 Analytic Somaesthetics
The first, analytic somaesthetics, is an essentially descriptive and theoretical enterprise devoted to explaining the nature of our bodily perceptions and practices and their function in our knowledge and construction of the world. Besides the traditional topics in philosophy of mind, ontology, and epistemology that relate to the mind-body issue and the role of somatic factors in consciousness and action, analytic somaesthetics also includes the sort of genealogical, sociological, and cultural analyses of embodiment, including the body's role in sustaining social and political power. Such studies, most famously advanced by Simone de Beauvoir, Michel Foucault, and Pierre Bourdieu, show how the body is both shaped by power and employed as an instrument to maintain it — how bodily norms of health, skill, and beauty, and even our categories of sex and gender, are constructed to reflect and sustain social forces.
21.4.2 Pragmatic Somaesthetics
In contrast to analytic somaesthetics, whose logic is essentially descriptive, pragmatic somaesthetics has a distinctly normative, often prescriptive, character because it involves proposing specific methods of somatic improvement or engaging in their comparison, explanation, and critique. Since the viability of any proposed method will depend on certain facts about the body (whether ontological, physiological, or social), this pragmatic dimension presupposes the analytic dimension. However, it transcends analysis not only by evaluating the facts analysis describes but also by proposing methods to improve certain facts by remaking the body and the environing social habits and frameworks that shape it. A vast and complex array of pragmatic disciplines has been designed to improve our experience and use of our bodies: various diets, forms of grooming and decoration, martial and erotic arts, yoga, massage, aerobics, bodybuilding, calisthenics, and modern psychosomatic disciplines such as the Alexander Technique and the Feldenkrais Method.
These different methodologies of practices can be classified in different ways. We can distinguish between practices that are holistic or more atomistic. While the latter focus on individual body parts or surfaces — styling the hair, painting the nails, shortening the nose or enlarging the breasts through surgery — the former practices are emphatically oriented toward the whole body, indeed the entire person, as an integrated whole. Hatha yoga, t'ai chi ch'uan and Feldenkrais Method, for example, comprise systems of integrated somatic postures and movements to develop the harmonious functioning and energy of the body as a unified whole. Penetrating beneath skin surfaces and muscle fiber to realign our bones and better organize the neural pathways through which we move, feel, and think, these practices insist that improved somatic harmony is both a contributory instrument and a beneficial by-product of heightened mental awareness and psychic balance. Such disciplines refuse to divide body from mind in seeking the enlightened betterment of the soma (or body-mind) of the whole person.
Somatic practices can also be classified in terms of being directed primarily at the individual practitioner herself, or instead primarily at others. A massage therapist or a surgeon standardly works on others, but in doing t'ai chi ch'uan or bodybuilding, one is working more on one's own body. The distinction between self-directed and other-directed somatic practices cannot be rigidly exclusive since many practices are both. Applying cosmetic makeup is frequently done to oneself and to others; and erotic arts display a simultaneous interest in both one's own experiential pleasures and one's partner's by maneuvering the bodies of both self and other. Moreover, just as self-directed disciplines (like dieting or bodybuilding) often seem motivated by a desire to please others, so other-directed practices like massage may have their own self-oriented pleasures.
Despite these complexities (which stem in part from the deep interdependence of self and other), the distinction between self-directed and other-directed body disciplines is useful for resisting the common presumption that to focus on the body implies a retreat from the social. That presumption is surely wrong because not only is the body shaped by the social; it also contributes to the social. We can share our bodies and bodily pleasures as much as we share our minds, and they can be as public as our thoughts. Our bodies are visible social markers of our values, affiliations, and tastes. Somatic self-stylization generates an enormous commercial market that feeds the cosmetic, fashion, dieting, exercise, and plastic surgery industries, along with the advertising industry that supports them by stimulating our desire to stylize ourselves somatically. This desire typically takes the paradoxical form of wanting to fit in yet also stand out as distinctive. In other words, self-styling involves conforming in some way to the norms of some social taste group (even if it be a subculture that resists mainstream taste) yet not allowing such conformity to group style to preclude one's own individual expression (footnote 14).
Moreover, it is crucial to remember that caring for one's own body is essential to caring properly for others, since all helpful action requires bodily means. That is why the Confucian commandment to respect and care for one's parents carries with it the command to preserve one's own bodily welfare. My professional work as a Feldenkrais practitioner has taught me how important it is to pay careful attention to one's own somatic state in order to pay proper attention to one's client. When I give a Feldenkrais lesson of Functional Integration, I have to be aware of my own body positioning and breathing, the tension in my hands and other body parts, and the quality of contact my feet have with the floor in order to be in the best condition to gauge correctly the client's body tension, muscle tonus, and ease of movement (footnote 15). I need to make myself somatically comfortable so as not to be distracted by my own body tensions and in order to communicate the right message to the client. Otherwise, I will be passing my feelings of somatic tension and unease to the client when I touch him. And since one often fails to realize when and why one is in a mild state of somatic discomfort, part of the Feldenkrais training is devoted to teaching one how to discern such states and distinguish their causes.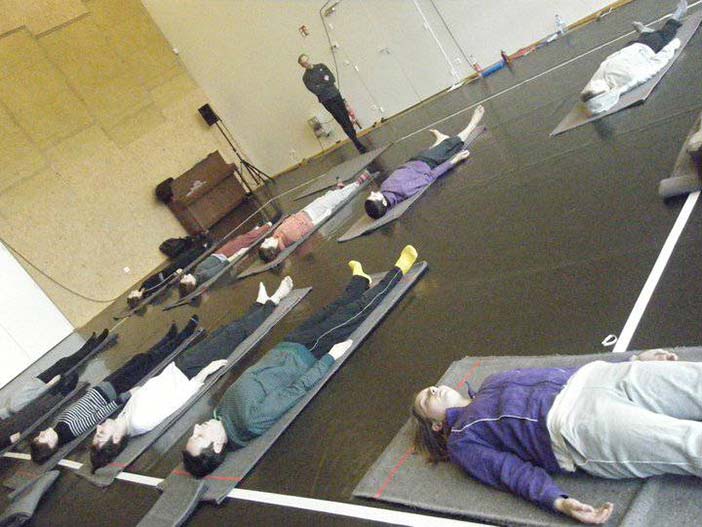 Author/Copyright holder: Hyijin Lee. Copyright terms and licence: All Rights Reserved. Reproduced with permission. See section "Exceptions" in the copyright terms below.
Figure 21.12: A somaesthetics body-scan lesson taught by Richard Shusterman, photographed by Hyijin Lee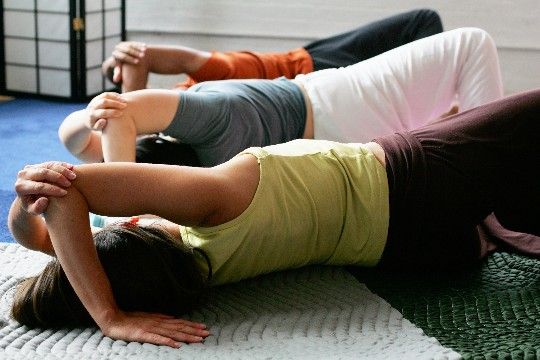 Author/Copyright holder: Unknown (pending investigation) Copyright terms and licence: Unknown (pending investigation). See section "Exceptions" in the copyright terms below.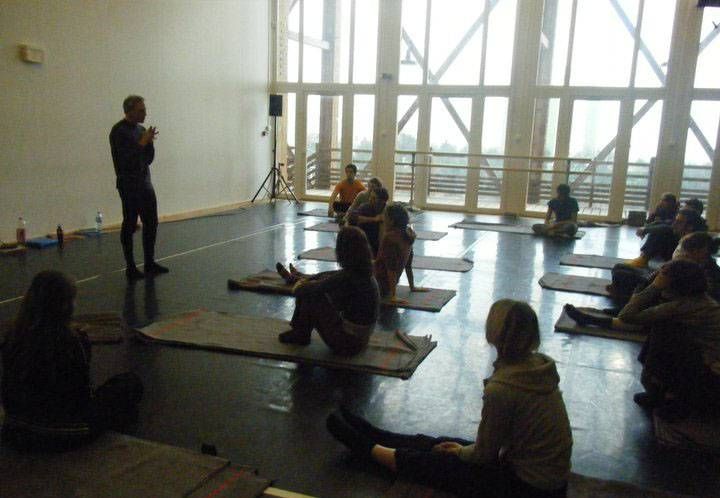 Author/Copyright holder: Hyijin Lee. Copyright terms and licence: All Rights Reserved. Reproduced with permission. See section "Exceptions" in the copyright terms below.
Figure 21.13 A-B: A Feldenkrais movement posture; a somaesthetics workshop lecture photographed by Hyijin Lee
Clearer awareness of one's somatic reactions can also improve one's behavior toward others in much wider social and political contexts. Much ethnic and racial hostility is not the product of logical thought but of deep prejudices that are somatically marked in terms of vague uncomfortable feelings and are thus engrained beneath the level of explicit consciousness. Such prejudices and feelings thus resist correction by mere discursive arguments for tolerance, which can be accepted on the rational level without changing the visceral grip of the prejudice. We often deny that we have such prejudices because we do not realize that we feel them, and the first step in controlling or expunging them is to develop the somatic awareness to recognize them in ourselves (footnote 16).
Somatic disciplines can further be classified as to whether their major orientation is toward external appearance or inner experience. Representational somaesthetics (such as cosmetics) is concerned more with the body's surface forms, while experiential disciplines (such as yoga) aim more at making us feel better in both senses of that ambiguous phrase: to make the quality of our somatic experience more satisfying and also to make it more acutely perceptive. The distinction between representational and experiential somaesthetics is one of dominant tendency rather than a rigid dichotomy. Most somatic practices have both representational and experiential dimensions (and rewards), because there is a basic complementarity of representation and experience, outer and inner. How we look influences how we feel, and vice versa. Practices such as dieting or bodybuilding that are initially pursued for representational ends often produce inner feelings that are then sought for their own experiential sake. Just as somatic disciplines of inner experience often use representational cues (such as focusing one's attention on a body part or using imaginative visualizations), so representational disciplines such as bodybuilding use experiential clues to serve their ends of external form, helping to distinguish, for example, the kind of pain that builds muscle from the pain that indicates injury.
A third category of pragmatic somaesthetics could be distinguished for disciplines that focus primarily on building strength, health, or skill and that would include practices such as weightlifting, athletics, and martial arts. This category could be called "performative somaesthetics." But to the extent that these disciplines aim either at the external exhibition of performance or at one's inner feeling of power and skill, they might be associated with or assimilated into the representational or experiential categories.
21.4.3 Practical Somaesthetics
The different methodologies of pragmatic somaesthetics need also to be distinguished from actual somatic practice, which I construe in more robust terms than the mere writing and reading of body-related texts, even those outlining pragmatic methods. Thus, besides analytic and pragmatic branches of somaesthetics, there is a further branch — practical somaesthetics —which involves actually engaging in programs of disciplined, reflective, corporeal practice aimed at somatic self-improvement (whether representational, experiential, or performative). This dimension of not just saying but of physically doing seems sadly neglected by contemporary accounts of the body in philosophy and other humanities disciplines, though it has often been crucial to the idea of the philosophical life, and it is essential to the idea of somaesthetics as integrating both theory and practice. I therefore teach workshops on practical somaesthetics to convey this practical dimension in a more embodied way than merely verbal insistence.
Figure 21.14: A video clip extract from a somaesthetics workshop for dancers and choreographers (in French), filmed by Damien Marteau
21.5 Somaesthetics and Human-Computer Interaction
Researchers and practitioners in the field of Human-Computer Interaction have been increasingly engaging with somaesthetics in their work, particularly in the field of HCI design. Though their interest initially surprised me, I should have expected it because the soma is central to everything that we do. Not only does it serve as the basic tool through which we perceive the world and deploy all further tools (including computers) but the soma is also our most intimate example of an interactive system of interdependent (but also to some extent autonomously functioning) interacting subsystems with extensive, complex, subtle, yet amazingly rapid and efficient feedback loops. In plotting how computers interact with human systems, the multifaceted somatic complex system should be at the core. At present somaesthetic-related HCI design research includes both theoretical models and more concrete productions. My discussion will choose an example from each.
One promising theoretical effort (developed by Youn-Kyung Lim and her colleagues) proposes a model that integrates the basic sensory and affective experience of the computer user together with the physical properties of the tools deployed in computer interaction and then explains how these and other factors produce higher, emergent qualities of interactive aesthetic Gestalt that belong to the overall interactive situation or experience (footnote 17). In this model, somaesthetics not only provides recognition that somatic feelings form an important part of user experience in the interaction but it also offers methods to heighten the user's (including the designer's) consciousness of those somatic feelings so their feedback into the interactive Gestalt can be more effective (and, with the designer, more effectively available for improving the design).
At this stage in somaesthetics research, we have only been concerned with somatic feelings of human bodies and thus with only one side of the HCI interaction. But, in principle, it may be possible to consider the somaesthetics of nonhuman somas, including computer bodies. If these are complex, sensitive, and responsive enough in their perceptions and reactions, perhaps we can eventually speak, in some way, of their somatic experience in the interaction. Perhaps we can speak of their own bodily experience of (or physical response to) rough or clumsy handling or smoothly flowing use, even if there is no good way of attributing to these computers human-like conscious feelings. This idea of computer or robotic somaesthetics may seem wildly futuristic, and it seems more promising for now to focus somaesthetic research on human somatic experience. But it would be wrong to preclude in principle that somaesthetics could be developed beyond the human soma to make its contribution to HCI research still richer by dealing with both sorts of bodies — organic and mechanical, particularly since the human soma is increasingly lived through mechanical enhancements, including such traditional ones as eyeglasses and hearing aids.
With respect to the lived integration of human and computer bodies I can bring an intriguing example of a practical application of somaesthetics to HCI research. Thecla Schiphorst "argues for the value of exploring design strategies that employ a somaesthetic approach" not only through theoretical texts but also by fashioning a series of interactive, networked artworks based on sensory interactions involving touch and breathing. Some of these works are "interactive wearable art" in which the garments react not only to the wearer's organic movements and breathing but also to tactile or breathing inputs from other participants interacting through computer networks, which includes iPhone inputs. Other works are soft computerized bodies that react to human touch (but also to their own movement) by responses of vibration, light, and sound which they can communicate wirelessly (to enlarge the network of interactive response) to other such bodies in the network (footnote 18).
21.6 Practical Applications
The practical applications of somaesthetics are as wide-ranging and diverse as the uses of the soma in our lives, for it is the core medium of all our perception, cognition, and action. Its applications to the arts, to health and fitness, to socio-political issues such as racism, sexism, and ethnic hatred, and to education have been discussed extensively elsewhere (footnote 19). I confine my remarks here to applications in product design, with special attention to HCI. But I believe that the design of any product (chair, cereal box, car, or cell phone) could beneficially employ somaesthetic principles. Somaesthetics is not ergonomics. One problem with ergonomics is its interactive deficiency; it does not really involve the subject's input in a serious way, and certainly not in a continuous way. In contrast, somaesthetic design does involve user input because it is essentially structured on body consciousness, how the user's body actually feels in the relevant actions performed and not simply how it is anatomically structured in general or in the abstract. Somaesthetics works not only with the level of explicit consciousness of bodily feelings but with reflective somatic consciousness, that is with how awareness of the somatic feeling modifies that feeling. In this way, somaesthetics can provide for more effective, richer feedback loops in interaction. Moreover, somaesthetic recognition that our bodily perceptions and feelings are transmodal can help designers avoid the mistake of not taking into account sensory integration but rather base their interactive design by considering individual senses in isolation and treating them as separate capacities (often to be ranked and hierarchized).
Somaesthetics appreciation of the particularities of individual body consciousness offers a further advantage for interactive design. Interactive products are not necessarily sensitive to individual tendencies so that each person must try to conform to the standards set by designers, which are often arbitrary and based on visual form. Somaesthetics can help design become more effective and pleasurable to the end-user not only by taking into account of bodily feelings appropriate to the product but also personalizing them based on the computation of an individual's preferences, habits, and performances. An example would be a touch screen that automatically calibrates the weight of an individual's touch, so that using the product would feel easier and more agreeable rather than frustrating, because it would be more responsive to the individual user. This greater responsiveness, if developed through changing input, could make the product interaction also more meaningful to the user, providing an input on his or her current state. Another example might be a hand-held object like a cell phone; how does the object feel in the hand. The emphasis on lightness in design can be exaggerated. Sometimes things with a greater weight feel better in the hand and are more effectively held and used.
The reasons for a heavier object feeling better to us can be very complex. They include not only sensory reasons and habitual expectations of certain weights but also psychological associations, for example the association of weight with sturdiness, durability, and thus reliability. The Danish audio-visual company Bang and Olufsen actually add unnecessary metal to their hand-held remote control products to give their consumers confidence that these products are well-made and sufficiently rugged to endure hard use.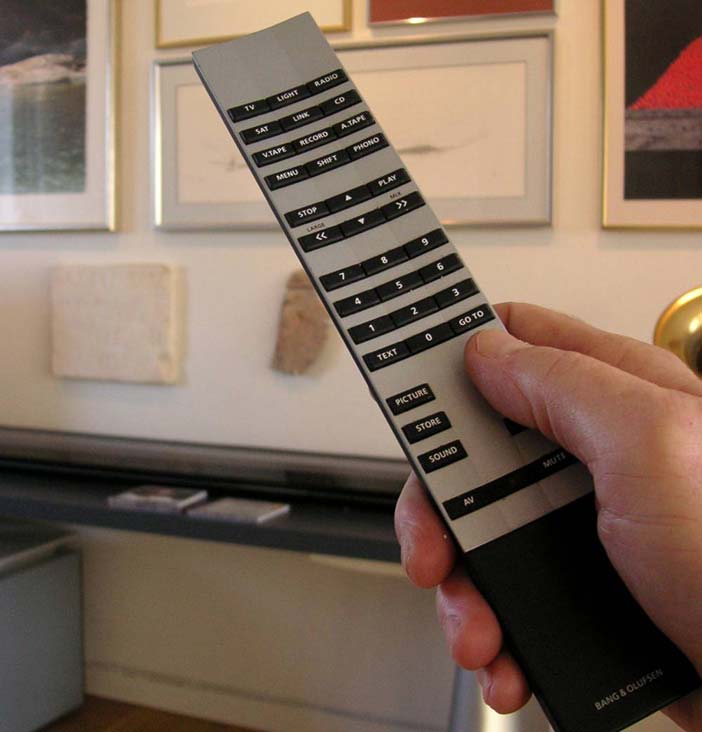 Author/Copyright holder: Courtesy of Holger.Ellgaard. Copyright terms and licence: CC-Att-SA-3 (Creative Commons Attribution-ShareAlike 3.0).
Figure 21.15: The B&O remote control - heavy seems to mean sturdy
More generally, designers could improve their design skills by becoming more aware of how they use themselves and how they feel when using particular products rather than merely thinking of how the product is conventionally used. A comparative study of how different shapes of cup handles affect one's feelings towards drinking, for example, could be used to improve cup design. Does the handle make your forefinger grip tightly, and how does this affect the rest of your arm, the rest of your body, and by extension, the feeling of drinking?
21.7 Future Directions
Rooted in ancient philosophical ideas and body disciplines that have been reconceptualized through contemporary pragmatist philosophy, somaesthetics is firmly grounded in philosophy, history, and theory, but its future directions, I hope, will be increasingly interdisciplinary and practical. It is a vast and extremely diverse research project that can welcome a wide variety of researchers. The most profitable interdisciplinary engagement I envisage for somaesthetics would not be a mechanical application of somaesthetic principles derived from philosophical speculation and then applied to another field such as health, design, art, and so on. A more rewarding future is for interdisciplinary teams to work together on somaesthetic questions in which experts in somaesthetic theory, disciplines of body consciousness, and other disciplinary fields interested in applying somaesthetic ideas would dialogue and experiment together. It is hard to combat disciplinary inertia due to the professionalization of knowledge in terms of compartmentalized disciplinary structures and specialties, each with their restricted vocabularies and restricting gatekeepers. One way of tackling that problem is through a practical workshop setting in which theoretical ideas not only can be exemplified and tested in real life somatic actions but can also be refined and new ideas generated through experiential input that is filtered and elaborated through transdisciplinary communication but rooted in a common experiential process structured by the workshop protocol. As disciplines such as HCI show greater interest in somaesthetics, I envisage working with IT and design experts in developing criteria for somatic profiles of use, comfort, ease, and pleasure that could be employed in interactive design. The field of robotics is another HCI area to which somaesthetics could contribute by analyzing how people feel in interacting with other bodies (both human and mechanical) in space. Such studies could teach us what robotic movements (and not simply what robotic shapes) are friendlier for human interaction.
21.8 Where to learn more
Shusterman, Richard (2012): Thinking through the Body: Essays in Somaesthetics. Cambridge University Press
In addition, there is a somaesthetics bibliography of the author and a somaesthetics bibliography of other authors.
21.9 References
Shusterman, Richard (2012): Thinking through the Body: Essays in Somaesthetics. Cambridge University Press