Mobile computing is the cutting edge frontier of technology in society today. It's perhaps worth considering the path we took to get where we are and to examine where we are going with mobile computing so that we can better design solutions for mobile computing. There have been 7 distinct phases or waves of mobile computing so far:
Portability
As you might expect the mobile movement began with a quest for portability. The first laptop computers might seem hugely bulky and awkward from today's point of view but the ability to work anywhere was a huge innovation at the time. Just being able to make things "mobile" at all was the first wave.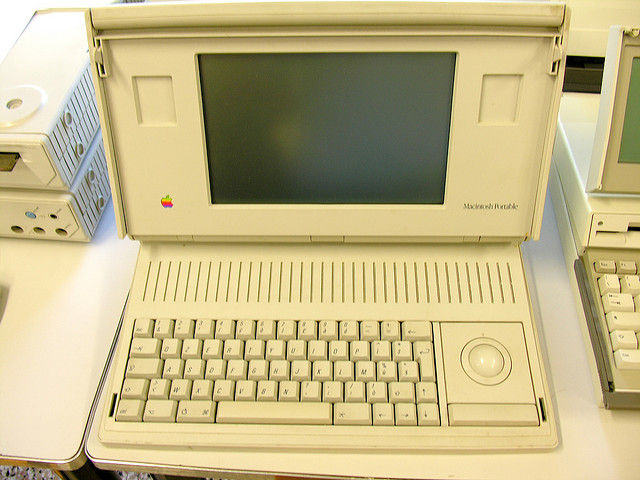 Author/Copyright holder: Paolo Tonon. Copyright terms and licence: CC BY-SA 2.0
Miniaturization
"Make it smaller"; this might have been the battle cry of electronics manufacturers in the 80s and 90s. The mobile telephone went from being the size of a house brick to being smaller, much smaller than the palm of our hands (in fact it turns out this was too small for people with ordinary sized fingers). This second wave reached critical mass when it turned out that you couldn't make things smaller forever.
Connectivity
Connectivity was a major phase for mobile computing; the drive to create solutions that allowed our mobile technology to keep us connected (either to other people or to other forms of technology) allowed the world to become socially connected at vast distances. Today nearly every single person in the world has a mobile phone. Connectivity is perhaps the largest driver for mobile computing.
Convergence
Convergence was the desire to enable as many different functions of mobile computing from a single device as possible. The smartphone is the prime example of a convergent mobile device; it acts as a phone, a camera, a computer, an MP3 player, etc. The convenience of a single device outweighs the minor shortfalls in functionality compared to separate devices for many people. The gap between the converged device and the individual devices continues to narrow today.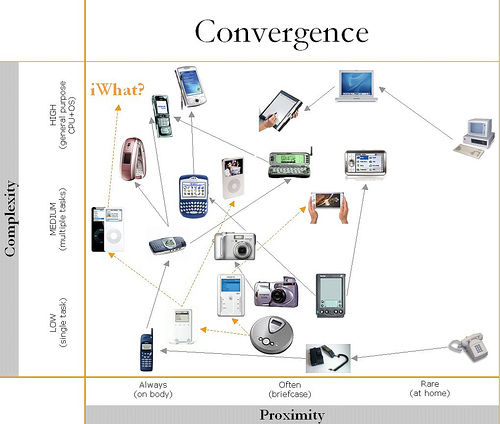 Author/Copyright holder: Forret. Copyright terms and licence:All rights reserved Img source
Divergence
Not everyone wants convergence. Some people, myself included, prefer converged devices. Single, best-of-breed devices that outperform the converged device. The iPod, the Kindle, the laptop, the mobile phone, the DSLR camera, etc. offer premium functionality and portability. Yet, no matter how divergent the mobile platform; most users expect their devices to be able to function together too.
Apps
The mobile application was enabled by the Apple iPhone platform. Once it was possible to gain a true broadband experience from the mobile telephone network; it was nearly inevitable that people would want to do the same things with their handheld mobile computing devices as they had done with their desktop computers. This phase of mobile computing is still in its relative infancy and yet, it's already a multi-billion dollar market.
Digital Ecosystems
The next phase of mobile computing, sometimes referred to as "the internet of things" is going to be about creating fully interactive ecosystems for devices. It is entirely possible that a single computer will follow us throughout our lives; becoming a broadcast receiver when in proximity to a television, transmitting pages to reading devices, recording details of our day-to-day lives for review, etc.
Fixed and mobile computing will become one and once that has been achieved; we will have reached the pinnacle of mobile computing and interaction design will start to reach its highest levels of creativity and productivity.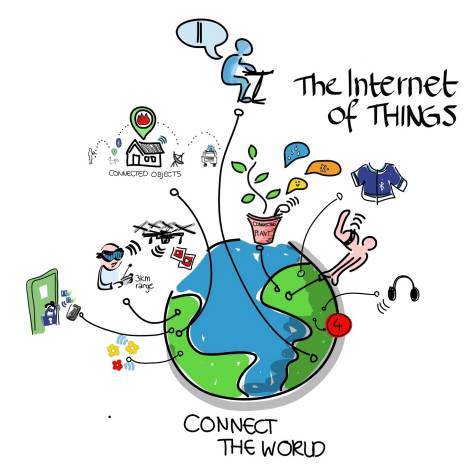 Author/Copyright holder: Albertojuanse. Copyright terms and licence: CC BY 2.0
If you'd like to find out more about Mobile Computing and Interaction Design why not read all of Jesper Kjeldskov's work here?
Header Image: Author/Copyright holder: Nokia. Copyright terms and licence: All rights reserved. Img