Designers are often fighting to fit everything into the available space, regardless of the medium and tools they are working with. Web designers must provide all of the necessary buttons, links, images, products, and so on within the constraints of each page and the site overall. Similarly, product designers usually have a small surface area to squeeze all of the features in without compromising their usability.

Author/Copyright holder: A List Apart. Copyright terms and licence: All rights reserved
Img source
Space limits pose a significant problem to designers, and that is how do they preserve all of the necessary features, functions and actions without sacrificing 'findability'? Findability is a term credited to marketing trainer and speaker in SEO and social media Heather Lutze, but Peter Morville has since popularised its use as a design principle, specifically web design, ever since.
If we increase the number of things on the screen it becomes more complex and the user is forced into a 'find the needle in a haystack' type situation. Increasing the number of elements, whether interactive or not, means the user has to scan more potential options when searching for a specific item. Findability has strong ties with the Hick-Hyman Law, which states that item detection speeds are predicted by the number of alternatives; the higher the number of alternatives, the slower the detection speed.
The Importance of Findability to E-Commerce
Low findability is not just an off-putting element of screen-based interfaces, it can have a significant impact on the success of websites (Jennifer Cardello, 2014). E-Commerce websites are dependent upon their users being able to find products and services. The longer it takes them to find these things, the more likely they are to abandon the site (E-Gain's Anand Subramaniam discusses site abandonments and findability).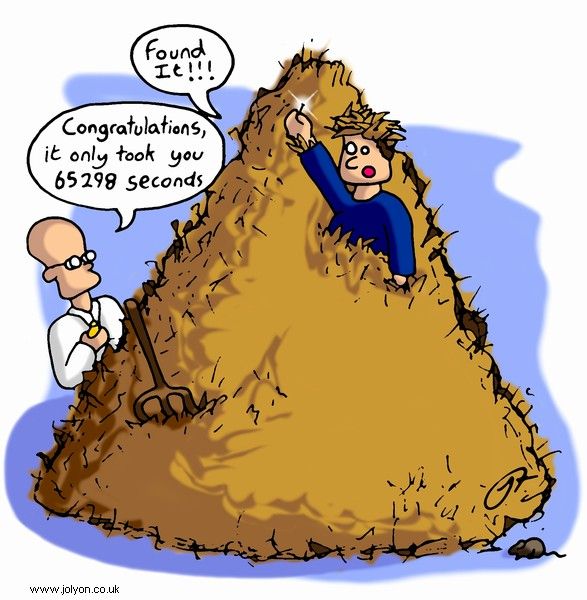 Author/Copyright holder: Jolyon. Copyright terms and licence: All rights reserved Img source
A complex or busy website is not destined to have low findability; various methods can be employed to help users find their target(s). For example, allowing users to save items for later, using cookies to separate previously viewed items from all other products, implementing intuitive and logical site architecture, and using well-organised menus and navigation tools.
Michael Henderon identified four key factors that influence findability in websites, which are the availability of site search, related links and products, the degree to which the site matches the user's needs and preferences, and, especially in the current market, the cross-device experience.
It would appear, even with all of the other potential attempts to improve findability, that the search function is an especially important aspect in web design. Research has shown that 50% of online buyers go directly to the search function, 34% of visitors leave the site if this search proves unsuccessful, and buyers are a staggering 91% more likely to use the search function on a site than browsers (Mahmood Ahmad, The Findability Blog, 2011).
Findability isn't just about whether something is slap-bang in the middle of the screen so the user cannot miss it. Designers need to use specific methods to provide an experience that is tailored to the user or visitor's needs and intentions. User research can provide a number of useful insights into the specific characteristics and drives of your particular audience, but for the most part the same methods can be applied across the board.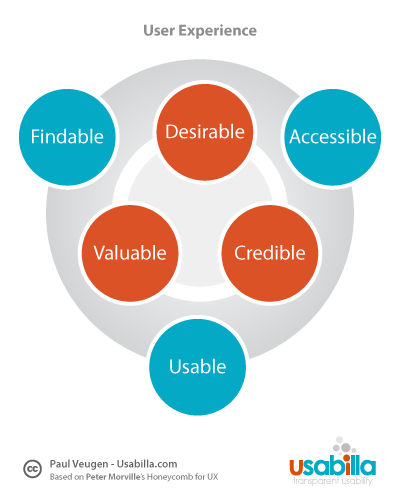 Author/Copyright holder: Paul Veugen. Copyright terms and licence: CC BY 2.0
Some of these basic methods include using familiar user interface design patterns, such as top-level navigation and dropdown menus, ordering menus and lists of items in a consistent fashion, allowing users to filter results, ensuring interactive elements and products are labelled and represented appropriately, and leading the user through the display with a strong information scent.
In Summary
Findability is an essential usability consideration for all products, regardless of whether they are physical devices, systems, or websites. At a fundamental level, if users and visitors are unable to find things, they will simply abandon the product or service and look for a better alternative. Research provides especially strong evidence in favour of implementing various features in websites to improve findability, as this seems to have a striking effect on the conversion rate (i.e. the number of purchases made by site visitors). To increase the chance of a visitor making a purchase, just make it easier for them to find exactly what they are looking for.
Header Image: Author/Copyright holder: Unknown. Copyright terms and licence: Unknow. Img Source