Copywriting
Your constantly-updated definition of Copywriting and collection of topical content and literature
What is Copywriting?
Copywriting is the art of creating text to optimize a design's usability and encourage users to interact with it. Designers should write in their brand's voice and prove a solid understanding of target users. Good copywriting means shaping brand experiences and driving conversion through clarity, helpfulness and trust.
"Writing is easy. All you have to do is cross out the wrong words."

— Mark Twain
See why copywriting is vital to your success.
The Critical Craft of Copywriting
Copywriting is vital to user experience (UX) design because an amazingly designed app could fail catastrophically if it contains confusing copy—for instance, if a button says "Get in" instead of "Log in". Similarly, a website could be brilliant in almost every respect but frustrate users with inappropriate humor or jargon. Traditionally, copywriting refers to marketing. However, it also applies to you as a designer because you should write copy that combines maximum ease of use with promoting your brand from the users' perspective—choosing words that complement the rest of your design consistently. Many brands used to focus on copywriting after design and development teams had completed work. However, because words are critical to successful designs, increasing numbers of organizations recognize copywriting as an invaluable ingredient early in the interaction design process.
Designers in different UX roles write copy—from generalists such as UI designers to specialists such as content strategists. In any case, it's crucial to get the wording right throughout interfaces and documents. Firstly, you should craft copy that maximizes usability. Before you can persuade users to do anything with your design, it must be intuitive and helpful and show you've applied design principles effectively overall. For example, the microcopy you write for buttons should clearly tell users what clicking those buttons will do. Every word your design displays should contribute to helping users find what they want fast and get tasks done with zero confusion. And when things go wrong, users should receive clear, polite and friendly error messages to help them get back on track. Perhaps most importantly, with so many users on mobile devices, screen space is limited—so, you'll need to complement a lean, tightly focused layout with succinct word choices.
Secondly, in designs you attract users by emphasizing why they want your product/service. Copywriting for conversion means you must portray a trustworthy brand presence by choosing words your target audience expects. So, your words must prove you empathize with these users—having pinpointed their needs from UX research—so that they easily understand your website, think your product sounds enticing, etc. To maximize relevance for these users, you should therefore write in their dialect—not only regionally (e.g., Australian English) but also regarding age, industry, etc. For example, the copy in a fashion app aimed at young women should have a casual tone with appropriate typography that matches the rest of the content. A picture may be worth a thousand words, but engaging words are crucial in enticing users to become customers.
Of course, as a designer you can also leverage good copywriting in your career. Specifically, the way you craft copy in your portfolio or personal website will affect how effective you are in job hunting or securing clients.
Copywriting – How to Weave Words that Win
To craft strong copy, you should:
Highlight the benefits—E.g., if you write "because you're safe from malware", it will resonate with users far better than highlighting features (e.g., "voice-controlled") or advantages (e.g., "is better than").

Make it about the users—Address them with "you" and "your" to get closer and increase their sense of ownership.

Get to the point, in the active voice and without filler words—E.g., write, "Log in to comment."—not, "You must be signed in to comment."

Keep copy simple, appropriate and jargon-free—Plain English works best, so choose words which a typical 12-year-old would understand. You won't patronize users if you keep the tone they expect from your brand. If you use unnecessary words that seem more impressive, you may confuse and irritate users. Similarly, be careful with humor.

Use the inverted pyramid to state your main points first.

Be concrete and walk down the ladder of abstraction.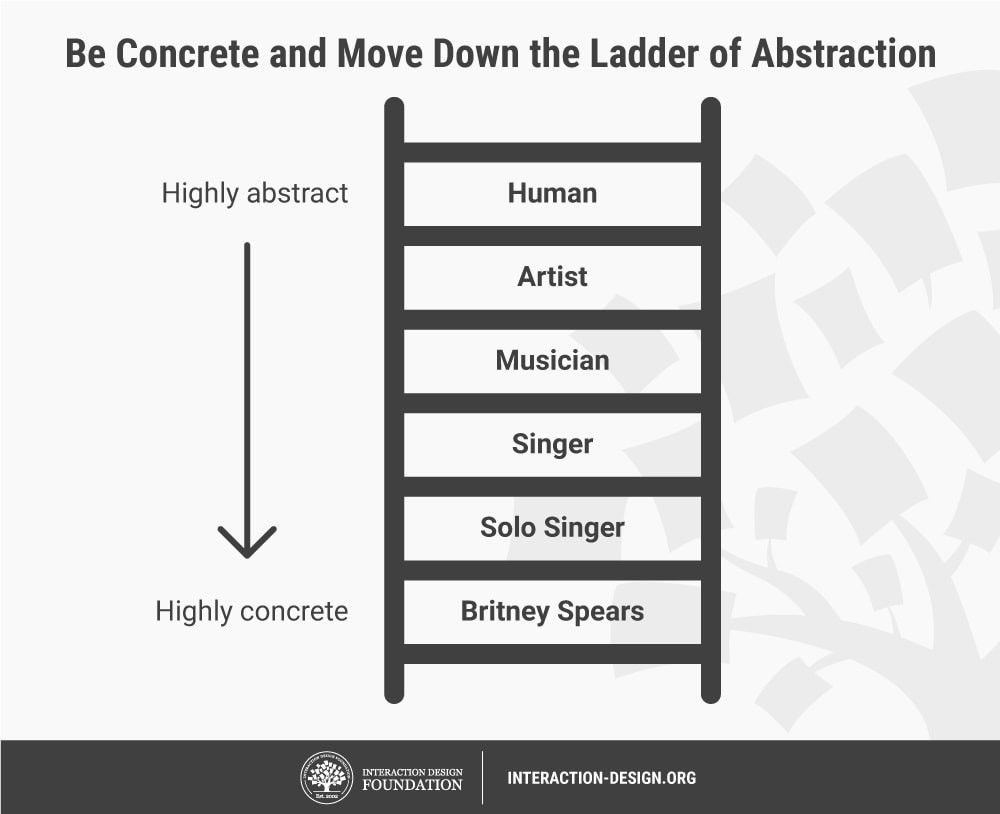 Mix short and long sentences to maximize readability.

Use clear labels, headings, bullet points and numbered lists to help users skim short chunks of copy.

Embed links with descriptive text for accessibility.

Keep copy consistent—Use the same words to describe the same things throughout the interface/document. Repetitiveness beats confusion.

Use progressive disclosure—Insert "Read more" links to avoid flooding users with additional information.

Test on real users—Put your copy through usability testing.
Your copy is a visual element. Alongside other content, it must appeal to users while making it easy for them to perform tasks—be it to use a website or decide to hire you. So, how your text looks (font, color) matters as much as its meaning. Decide how to complement your messages with images. With thoughtful editing, you can refine compelling copy that helps users forget they're using an interface—the hallmark of a seamless experience.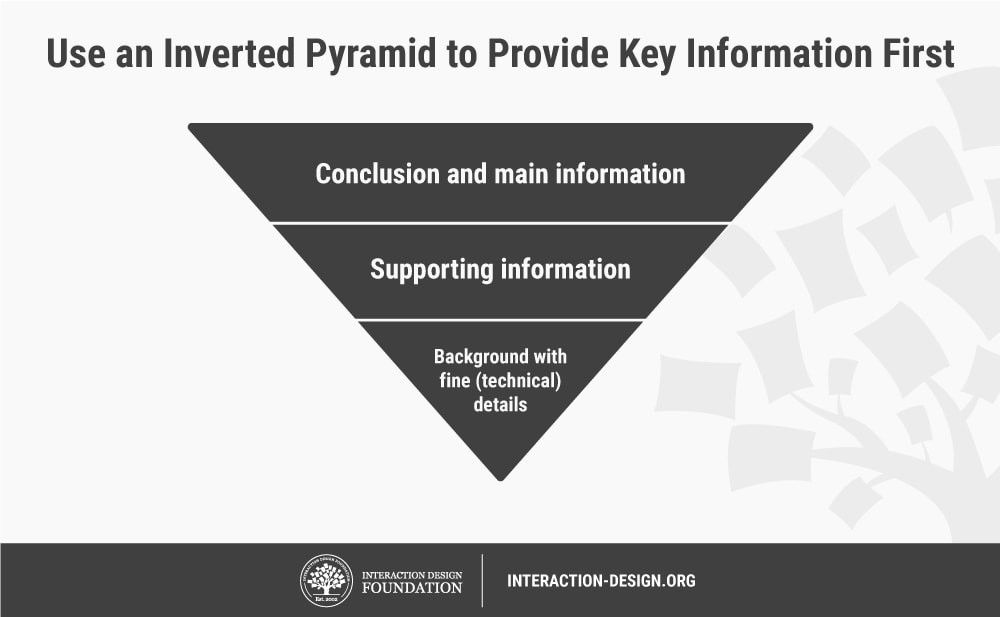 Learn More about Copywriting
Take our UX Portfolio course to explore copywriting: https://www.interaction-design.org/courses/How-to-create-a-UX-portfolio
Read some compelling insights on two dimensions of copywriting in regard to design: https://blog.prototypr.io/ux-writing-vs-copywriting-558c98c4809c
Find some more fascinating points about copywriting here, with examples: https://www.invisionapp.com/inside-design/good-ux-copy/
Literature on Copywriting
Here's the entire UX literature on Copywriting by the Interaction Design Foundation, collated in one place:
Learn more about Copywriting
Take a deep dive into Copywriting with our course How to Create a UX Portfolio .
Did you know the average UX recruiter spends less than 5 minutes skimming through your UX portfolio? If you want to join the growing and well-paid field of UX design, not only do you need a UX portfolio—you'll need a great UX portfolio that showcases relevant skills and knowledge. Your UX portfolio will help you get your first job interviews and freelance clients, and it will also force you to stay relevant in your UX career. In other words, no matter what point you're at in your UX career, you're going to need a UX portfolio that's in tip-top condition.
So, how do you build an enticing UX portfolio, especially if you've got no prior experience in UX design? Well, that's exactly what you'll learn in this course! You'll cover everything so you can start from zero and end up with an incredible UX portfolio. For example, you'll walk through the various UX job roles, since you can't begin to create your portfolio without first understanding which job role you want to apply for! You'll also learn how to create your first case studies for your portfolio even if you have no prior UX design work experience. You'll even learn how to navigate non-disclosure agreements and create visuals for your UX case studies.
By the end of this practical, how to oriented course, you'll have the skills needed to create your personal online UX portfolio site and PDF UX portfolio. You'll receive tips and insights from recruiters and global UX design leads from SAP, Oracle and Google to give you an edge over your fellow candidates. You'll learn how to craft your UX case studies so they're compelling and relevant, and you'll also learn how to engage recruiters through the use of Freytag's dramatic structure and 8 killer tips to write effectively. What's more, you'll get to download and keep more than 10 useful templates and samples that will guide you closely as you craft your UX portfolio. To sum it up, if you want to create a UX portfolio and land your first job in the industry, this is the course for you!
All Literature