It's always challenging running your own business and sadly, all too often, those challenges can often seem insurmountable. Many freelancers live on or close to the breadline and many more give up and go back to working for someone else. It doesn't have to be that way. In fact, you can run a very successful freelance practice and these 10 ideas should help you grow your freelance business so that it thrives:
Always Use a Contract
You are always vulnerable without a decent contract between you and your client. It makes harder to enforce payment, it also makes it much more difficult to say; "I'm sorry but I've delivered what we agreed on – if you want extra work from now, it's going to cost money."
There are freelance contracts available for free online but you're probably better off engaging a lawyer to help you deliver a contract with the highest level of enforceability in your jurisdiction. It may cost a bit of money but if it protects all your future income? It's worth it.
However, any contract is better than no contract at all and if you really can't afford to get a contract drafted by a legal professional – download a free one and use it until you can.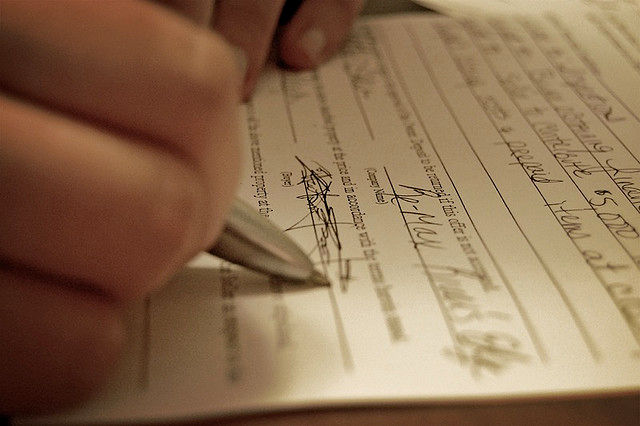 Author/Copyright holder: Juli. Copyright terms and licence: CC BY-NC-ND 2.0
Plan Your Proposals
When you get that lovely RFP (Request For Proposal); don't get all excited and send out a quick quote. Go through the RFP in detail and work out how long each task is going to take, it will be a rough estimate but it's better than no estimate.
It's amazingly easy to skim read an RFP and then underbid for the work because you missed the section on deliverables and didn't realise a 100 page report was required in the small print.
Planning your proposals stops you working for free or very low hourly rates. It also makes it easier to be competitive without being ridiculous in your bid pricing.
Always Ask For a Deposit
It is 100% normal for a freelancer to ask for a deposit of between 20% and 50% of the project value. You can become more flexible about deposits for long-term clients with a great history of paying on time and paying the right amounts.
For new clients? It's simple. Either they pay a deposit or you don't do any work. You don't start work until the money is in the bank either. A cheque can bounce, so allow time for it to clear, for example.
Your deposit terms should be in your contract and clearly show under what circumstances you will and won't issue a refund.
Learn to Say No
If you are too busy to take something on – say so. If you can't produce the best possible product for an RFP – let it go. It can be tempting to grab at any work that's passing by, particularly when you're new to the game but in the long run; it's a recipe for disaster.
Clients who are told you're fully booked will often look to book space further into the future and they'll respect you more either way than if you have to deliver half-quality work because you're trying to cram too much in to the diary.
Anyway, you freelance to obtain a work-life balance – why would you want to end up doing double or triple shifts round the clock? You wouldn't even do that in most corporate jobs.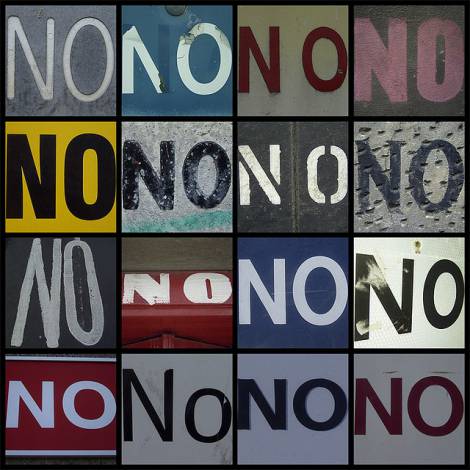 Author/Copyright holder: duncan c. Copyright terms and licence: CC BY-NC 2.0
Always Talk to Potential Clients Before Contracting
Want to avoid working for nightmare clients? Learn to talk to them. It can be tempting to send out RFP responses online and then wrap the whole deal up in a few e-mails.
There are two problems with this. The first, is that you are going to be seen as a commodity rather than a person, and some people are going to treat you badly for it.
The second is that you can't get a read on the client, help them identify any other problems they need solving, or broaden the scope of work if necessary.
Make SEO A Priority
Passive marketing is a big deal for freelancers. The more clients that come to you for quotes – the less time you have to spend on proactive marketing. Yes, you're a designer not an SEO person, so you can always consider outsourcing your SEO but you can't neglect it. SEO will make or break your web marketing. Don't build an awesome online portfolio that no-one can find.
Learn to Network
This means learn to network in real life as well as on LinkedIn. Local Chamber of Commerce groups, for example, can lead to a huge vein of rich leads. So can other business networking groups. There's also the added bonus that these get you out of the house and talking to people – it can relieve some of the monotony of freelancing.
People you know personally are much, much more likely to buy from you than random contacts from the internet. Networking can significantly boost your bottom line and raise your local professional profile.
Learn to Ask for Referrals
If you have a happy customer, ask them if they know anyone else that might benefit from your services. If they do – ask them for an introduction. Referrals are incredibly powerful marketing and better still; it takes no effort to add this into the wrap call on a project. Your current clients can be a rich source of leads if you let them be.