UX Cover Letters
Your constantly-updated definition of UX Cover Letters and collection of topical content and literature
What are UX Cover Letters?
UX cover letters are short letters or emails that designers send with their portfolios and resumes to apply for jobs. Designers personalize these to introduce themselves and briefly explain why they are a good fit for the business. These cover letters or emails often give recruiters their first impression of designers.
"A great, relevant cover letter can make me think twice even about weak candidates—think what it can do for strong ones."

—Joel Califa, Senior Product Designer at GitHub
Hook Recruiters with Powerful UX Cover Letters
When you apply for a job as a user experience designer, you need a cover letter to introduce yourself and support your UX portfolio and UX resume. A cover letter is therefore a vital spearhead in your initial contact with any recruiter. It must pack maximum persuasion into the least space and in the right words to make the best first impression. As recruiters consider applicants for UX roles, they evaluate what they declare and how. In one page, you should convince a recruiter why you're the best fit for:
1. The UX role offered.
2. Their organization overall.
When you bring your passion and dedication to life on your cover letter, you'll help a recruiter envision how you might be the best candidate for that role and their team and working culture. Your UX portfolio and resume should reinforce that impression. While your portfolio will carry the most weight as recruiters consider your application, your cover letter is how you get them interested enough to do so.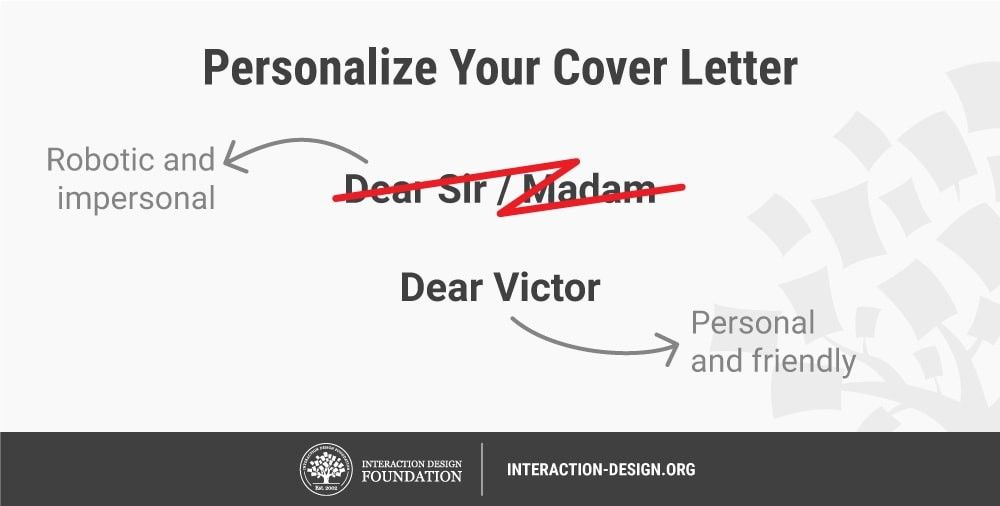 Author/Copyright holder: Yuval Yeret. Copyright terms and licence: CC BY-SA 3.0
Make your cover letter / email stand out and sound friendlier when you personalize it to the person who will receive it.
How to Write a UX Cover Letter
Email generally suits most situations. However, judge how formal your approach should be when you research the organization (e.g., banks may require paper letters) regardless of if someone you know has put you in touch with a recruiter. In any case, you should:
Personalize your letter.

Don't begin with "Dear Sir/Madam". This sounds lifeless and gives the impression you're applying to a generic recruiter in a scattershot approach. To prove a dedicated effort to reach that recruiter, find and use the name of the contact (typically in HR). Decide whether to use a title-and-surname approach (safer) or a first-name approach to access them in a friendly, professional way.
Match your tone of voice with the company's personality. If your recruiter is trendy and bubbly, reflect that nature in your email. If it's a more traditional organization, a formal writing style is better.
Keep it short and sweet.

Use one page. Recruiters are usually time-starved individuals who won't handle lengthy letters. This puts pressure on you to fine-tune a concise message in which you show extensive knowledge about the company and role.
Show why you're a good fit by explaining:

Why you want to work for their organization. Say what they have that attracts you: e.g., their values, teamwork style.
Why you want that UX role. Ensure you show you'd love it as a valuable next step in your career, rather than somewhere to escape to because you dislike your current situation.
How they will benefit from hiring you. You should declare your strengths and interests by showing how these can add value to a team. Flip your words around to hear how you sound from their side. Try to portray a proactive problem-solver who wants to grow with team-mates.
Read and re-read the job posting carefully.

Provide the materials they request. To filter out inattentive applicants, many recruiters include a question or prompt to mention a word/phrase.
Proofread, re-read and read it aloud.

One tiny typographical error will almost certainly ruin your application. So, use your spellchecking and grammar-checking software, re-read your letter and read it aloud until you're sure about it.
Remember, your cover letter is critical to what happens next with your application. You have only moments to represent yourself to the recruiter through it—every word must count.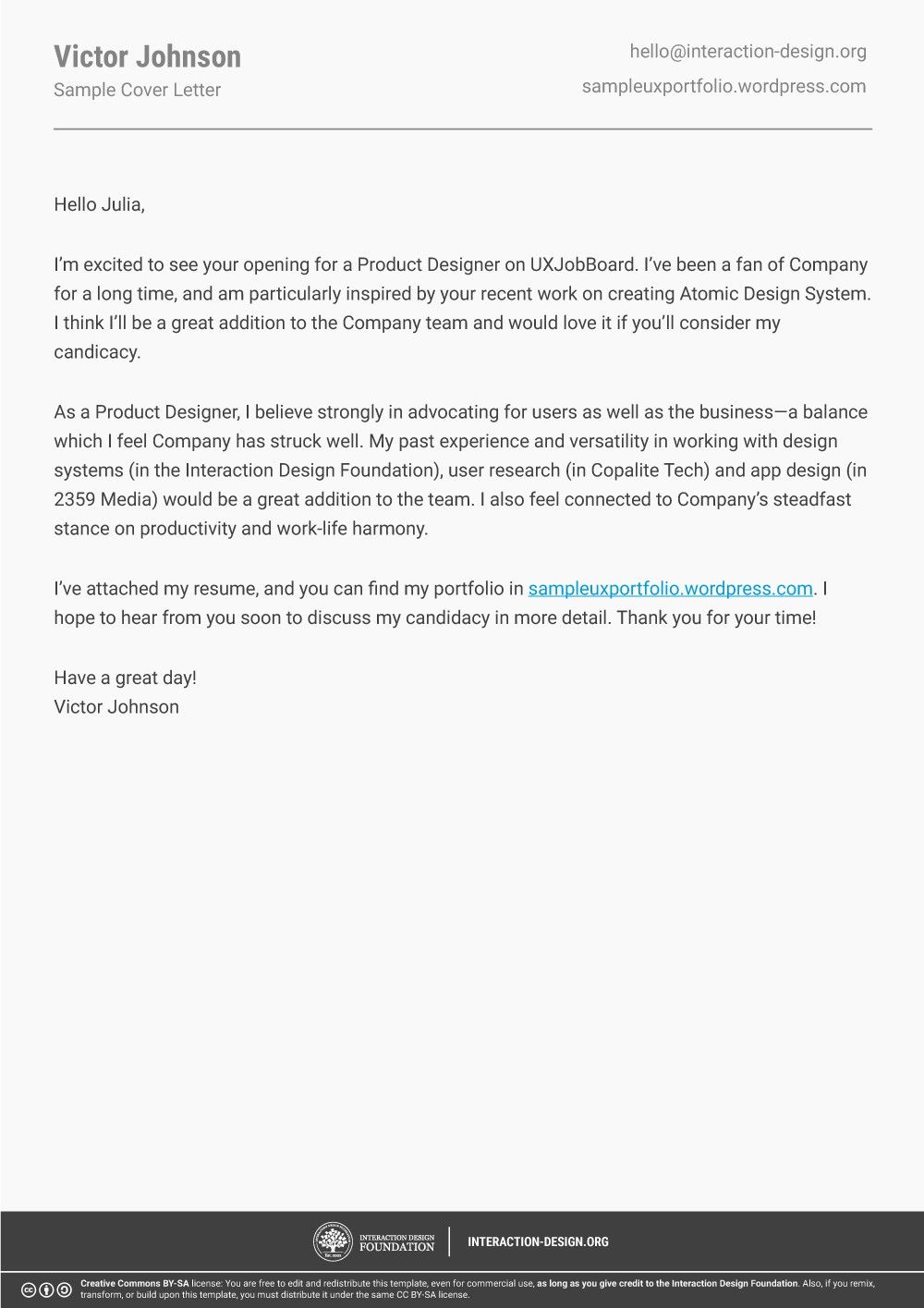 Learn More about UX Cover Letters
Take our UX Portfolio course for extensive insights and an essential template: https://www.interaction-design.org/courses/How-to-create-a-UX-portfolio
Read Smashing Magazine's incisive piece on writing UX cover letters: https://www.smashingmagazine.com/2010/03/what-makes-a-great-cover-letter-according-to-companies/
Case Study Club shares useful points to consider when crafting your UX cover letter: https://www.casestudy.club/journal/ux-designer-cover-letter
See some additional tips and links to sample UX cover letters: https://www.mockplus.com/blog/post/ux-designer-cover-letter
Literature on UX Cover Letters
Here's the entire UX literature on UX Cover Letters by the Interaction Design Foundation, collated in one place:
Learn more about UX Cover Letters
Take a deep dive into UX Cover Letters with our course How to Create a UX Portfolio .
Did you know the average UX recruiter spends less than 5 minutes skimming through your UX portfolio? If you want to join the growing and well-paid field of UX design, not only do you need a UX portfolio—you'll need a great UX portfolio that showcases relevant skills and knowledge. Your UX portfolio will help you get your first job interviews and freelance clients, and it will also force you to stay relevant in your UX career. In other words, no matter what point you're at in your UX career, you're going to need a UX portfolio that's in tip-top condition.
So, how do you build an enticing UX portfolio, especially if you've got no prior experience in UX design? Well, that's exactly what you'll learn in this course! You'll cover everything so you can start from zero and end up with an incredible UX portfolio. For example, you'll walk through the various UX job roles, since you can't begin to create your portfolio without first understanding which job role you want to apply for! You'll also learn how to create your first case studies for your portfolio even if you have no prior UX design work experience. You'll even learn how to navigate non-disclosure agreements and create visuals for your UX case studies.
By the end of this practical, how to oriented course, you'll have the skills needed to create your personal online UX portfolio site and PDF UX portfolio. You'll receive tips and insights from recruiters and global UX design leads from SAP, Oracle and Google to give you an edge over your fellow candidates. You'll learn how to craft your UX case studies so they're compelling and relevant, and you'll also learn how to engage recruiters through the use of Freytag's dramatic structure and 8 killer tips to write effectively. What's more, you'll get to download and keep more than 10 useful templates and samples that will guide you closely as you craft your UX portfolio. To sum it up, if you want to create a UX portfolio and land your first job in the industry, this is the course for you!
All Literature