Liam Friedland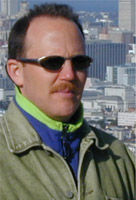 Personal Homepage

Employer

Informatica (http://www.informatica.com)

Email
Liam Friedland is director of User Experience at Informatica where he and his team drive Ux design & usability.

Liam researches, speaks, and writes on topics such as UX strategy, offshoring/outsourcing, design methods, and visualization.
Publication Statistics
Publication period start

1998

Publication period end

2007

Number of co-authors

5
Co-authors
Number of publications with favourite co-authors
Productive Colleagues
Most productive colleagues in number of publications
Publications
Friedland, Liam (2007): Onshore-Offshore: Product Development that Won\'t Break Your Designs. In Interactions, 14 (6) pp. 56-58.
Friedland, Liam (2007): Onshore-offshore: product development that won\'t break your designs. In Interactions, 14 (6) pp. 56-58. http://doi.acm.org/10.1145/1300655.1300689
Friedland, Liam (1998): Accessing the Data Warehouse: Designing Tools to Facilitate Business Understanding. In Interactions, 5 (1) pp. 25-36. http://www.acm.org/pubs/articles/journals/interactions/1998-5-1/p25-friedland/p25-friedland.pdf
Friedland, Liam, Innes, Jon, Longoria, Roman, Hom, Wayne, Henry, Pradeep, Anderson, Richard (2005): Outsourcing & offshoring: impact on the user experience. In: Proceedings of ACM CHI 2005 Conference on Human Factors in Computing Systems , 2005, . pp. 1170-1171. http://doi.acm.org/10.1145/1056808.1056866